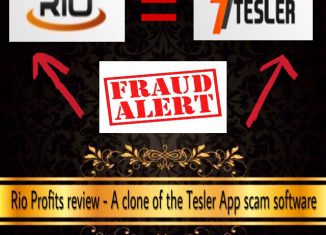 Hey y'all!
A brand new software called Rio Profits has recently been released, so I wanted to know if this one would be legit or would be another one of the countless online scams.
I didn't only find out Rio Profits is a fraud, I also found out it's the same as the Tesler App scam but with different name.
.
Rio Profits review
---
Name: Rio Profits
Websites: 
www.rioprofits.com

www.rioprofits.net

www.rioprofits.org

www.rioprofits.co

www.rio-profits.com

www.rio-profits.net
Owner: "Andrew Reynolds"
Created in: 2017
Price: "Free"
Overall Ranking: 0/10
.
---
If you're sick of scams, check out my 1st resource to make money online here!
---
.
What is Rio Profits?
---
Rio Profits is supposed to be a binary options auto trading software, but it has resulted in being another scam designed to steal people's money.
Just the moment I stumbled upon their website, I suspected it was a scam because of what I read. Here it is: 
Wouldn't it be amazing to make $237 per hour? Of course, yes. Let's say that you work 8 hours a day, therefore you'd earn $1896 per day if this software worked.
But is it realistic to earn this amount of money in such a short period of time? Yes and no. If you have a product and a large audience, it would be possible. However, it's not for most people who are just getting started in the online business world.
Anyway, it's not possible to make this big amount of money just the day you start trading binary options. 
That's why I was sure Rio Profits is a scam before watching the video you can find on their website. But I wanted to give it a chance and see how far these scammers can go so I watched it.
.
The promo video is just like other scam videos
---
Andrew Reynolds, the supposed owner of Rio Holdings, says that he invites you to take part of "Rio's dream maker survey". 
What are you supposed to gain by participating in it? $4250.
However, he also claims that he's only giving this opportunity to 15 people and that today is the final day. 
Saying that today is the final day creates a sense of urgency, and this is something scammers do to make you join their crap as fast as possible. Funny how I watched this video yesterday and nothing about it has changed.
According to Andrew Reynolds, in order to receive $4250 per day, you need to:
Watch a short video

Download the Rio Profits software or app

Set the Rio trader software to trade from any electronical device.
But what does he want from you? To be honest, nobody gives something for nothing. Then he explains that in 60 days you will have received at least $250,000 and that he'll ask you for feedback because that's when the Rio trader software will go live to the public and will apparently cost $5997 set up fee plus $559 per month.
The thing is, this so-called auto trading software is already public, like I found it through a Google search and anyone can access to it. However, he makes such claims because he wants you to believe that you're one of the lucky ones who will have free access to Rio Profits so you end up getting into it.
If you watch the full video, you'll see that their claims and lies are no different from other fraudsters. Some of these are the following:
They want you to think that their software will make you rich in no time and that you'll be able to live the luxury lifestyle without putting in the effort.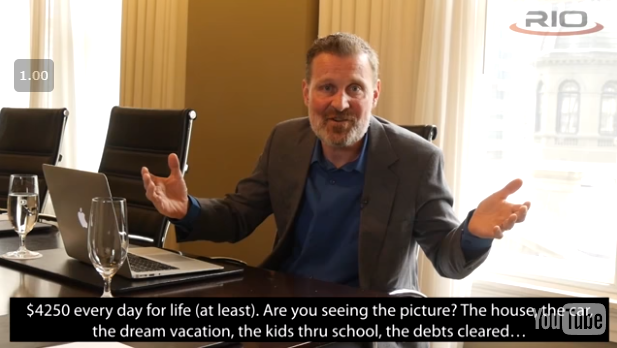 He wants you to imagine that you'll be able to buy a new house, a new car, you'll get out of debt… In other terms, he wants to convince you that you won't have to worry about money ever again and will be able to buy whatever you want.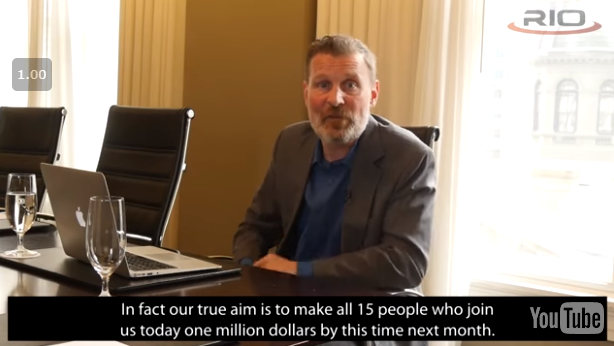 I couldn't help laughing with this one like who's going to believe this? In order to make one million dollars in a month, you need to make more than 30K a day, not $4250 as he claimed before. It just doesn't make sense at all. 
This one couldn't be further from the truth. If you join, you'll be asked to make a deposit of $250 because that's the broker's minimum requirement to start trading binary options, so it's not free.
.
What do Rio Profits and Tesler App have in common?
---
As the title of this post says, Rio Profits is like a clone of another scam software named Tesler App. If you take a look at their respective sites, you'll see that they're the same: same testimonials, same structure, same colors, same titles… The only difference is in their videos and the name of the "software".
The following pictures will show you what I mean: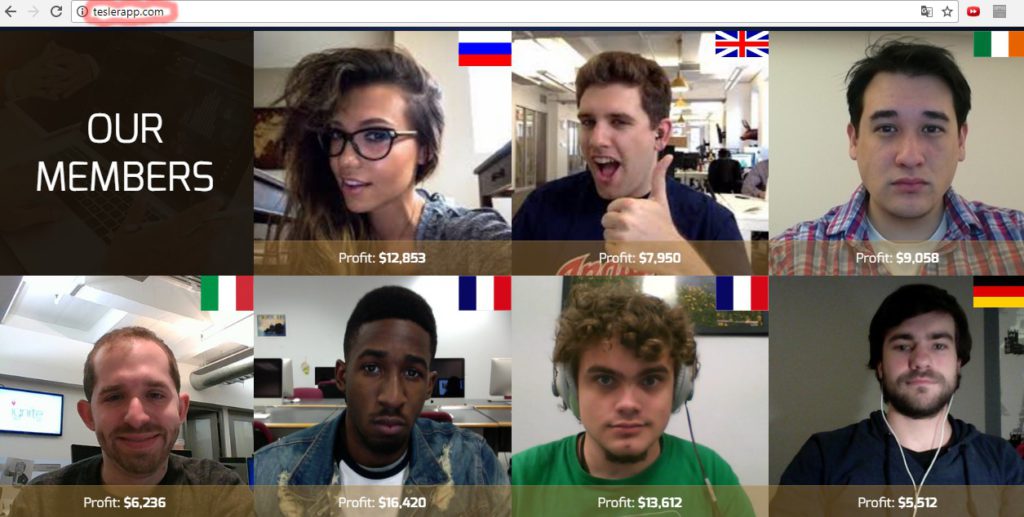 As you can observe, both sites have the same testimonials and the same profits, which means that's fake like those people can't be members of both softwares and earn the same. It's all made up by the people who designed Rio Profits and Tesler app (a.k.a. the scammers).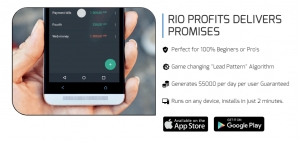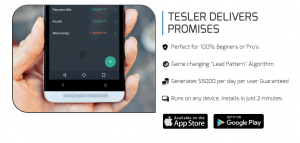 As you can see, the only thing that changes is the name of the software. The rest is identical, from the picture to the whole format. These scammers are so lazy that they didn't even change the filter of the picture lol.
.
Avoid Tesler App & Rio Profits!
---
All the false claims and lies have proved that Rio Profits is nothing different from a binary options scam software like Dubai Lifestyle App or 1K Daily Profit. Everything has been fabricated by unethical folks with the sole purpose of making money at the expense of other people.
Tesler App is also a fraud because it's the same crap as Rio Profits. I'm convinced that the same scammers have created both scam softwares.
Never believe someone who claims that you can get rich overnight without doing nothing, that person is surely trying to steal your money. It's more than possible to earn a living online and beyond in a legitimate way, but it's not easy neither fast.
.
A genuine way to make money online
---
One of the best ways to earn money online is through affiliate marketing. The affiliate (you) makes money by selling other people's products or services. It's a lucrative and easy-to-understand business model, the one that makes everybody involved win. 
Wealthy Affiliate is a platform that I've always recommended to people who want to start a digital business, since it includes step-by-step courses and tutorials, a website platform with hosting & security, a community of like-minded people, support & help from experts… I just love this platform! It's been more than a year since I joined and I have no regrets. 🙂 

.
I hope this review has been helpful to you and you never fall for scams like Rio Profits. Please feel free to share it on social networks to prevent other people from getting scammed.
If you have any questions or opinions related to scams, making money online or Wealthy Affiliate, don't hesitate to leave a comment below and I'll get back to you ASAP. Thanks for dropping by! 😀 
.