Hey there!
I found out about another network marketing company called Merlim Network so I wanted to know more about the opportunity they offer to find out the truth.
It's finally resulted in being another one of the countless pyramid schemes that have ruined a lot of lives, so I was like "I need to warn those who still don't know about this fraud".
In this review I will talk about Merlim Network's business opportunity, compensation plan and why you need to stay away from this company and its owners.
.
Merlim Network review
---
Name: Merlim Network
Website: 
https://en.merlim.network/ (English)

https://es.merlim.network/ (Spanish)

https://pt.merlim.network/ (Portuguese)
Owners: Fredy Morelo, Deison Valencia, Varinia Jouvin
Created in: 2015
Price: minimum $330
Overall ranking: 22/100
.
---
If you're sick of scams, check out my 1st resource to make money online here!
---
.
What is Merlim Network?
---
Merlim Network can be defined as a platform that's part of a company named "Magitek Internacional", a technological innovation center which is supposed to be focused on virtual reality developments, software, applications, business solutions, creative and innovative projects and ideas.
So how is Merlim Network supposed to benefit people who want to make money online? Well, Merlim Network offers a MLM business opportunity that enables folks to earn money by playing game apps or other Magitek's products and distributing them.
.
Who is behind Merlim Network?
---
These are the people who are behind Merlim Network and Magitek:
Fredy Morelo. CEO of Magitek and Merlim Network.

Deison Valencia. Operations manager.

Varinia Jouvin. Marketing director.
There's not much information about their corporate history, but I found out that they were involved in another pyramid scheme called Telexfree. That's one of the reasons why Merlim Network was not to be trusted since the beginning, it's not weird the fact that they've scammed people again. 
Why would someone want to be involved in a company whose owners are swindlers?
.
Merlim Network's products, compensation plan & memberships
---
In this section I'm going to talk about Merlim Network's products, the compensation plan and the packages.
.
Merlim Network's products
---
Merlim Network's products are the ones created by Magitek, most of them being mobile apps and games:
Mobile apps

Merlim hardware

Merlim gaming

App To Go

Merlim ads
The thing is, they don't allow you to buy the products if you're not an affiliate or independent distributor. In other terms, if you want to buy one of Merlim Network's products, you'll first need to sign up through an sponsor.
It doesn't look right to me because not everybody is interested in the network marketing part, there are people who are only willing to purchase a product.
In an ethical network marketing company, final customers have the choice to buy whatever product they want without the requisit of being affiliated. However, this is not the case in Merlim Network.
Why would you be affiliated to a company whose products you haven't tried?
.
Merlim Network's compensation plan
---
So what ways of making money does Merlim Network offer?
Direct sales commissions. You can earn up to 50% of sales commissions by selling Merlim Network's products (50% for mobile apps, 20% for Merlim ads and 10% for business packages).
Monthly residual commissions. You can make up to 2% of your team product sales volume (for example, if there were 216 affiliates on your team and each one of them made a $50 sale per month, then the total team sales volume would be $10,800, so you would earn the 2% of that which is $216).
Balance bonus. It's about generating commissions from sales of business bundles made by you and your team.
Daily cash rewards. They claim that you can earn up to $8.5 on a daily basis by playing games, depending on the package you choose to get started. 
.
Merlim Network's memberships
---
Now let's talk about the cost of acquisition of each Merlim Network's business package.
In order to get started, you'll need to purchase one of the below: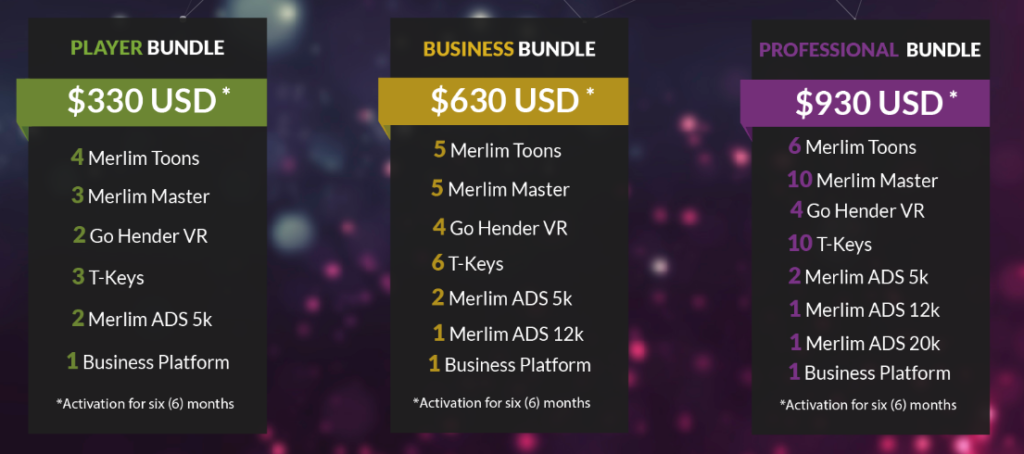 As I told you in the last section, depending on the entrepreneurship pack you acquire, you can get more or less daily rewards: $2,16 for player bundle, $5 for business bundle and $8,5 for professional bundle.
Another thing is, these packages are only active for half a year, which means that you'll need to buy it once every 6 months. 
Let's say that you spent $330 on the cheapest bundle, the player bundle, to get started. You'd earn $2.16 per day which would be $388,8 in 6 months ($2,16 x 30 days x 6), so the ROI (Return On Investment) would be $58,8. 
If you get the most expensive bundle, the professional bundle, you'd make $1530 in 6 months ($600 ROI).
Keep in mind that you'd have to dedicate time to play games every day to get some returns. According to Merlim Network's owners, this money comes from the ads you see when you play the games and apps included in the bundles.
Take into account that this would be the most you'd earn without making sales or doing the recruitment part.
However, if you stopped playing games, you wouldn't see ads, and that means that you'd stop making money. This would be something similar to earning money by completing surveys. 
.
Why is Merlim Network a scam?
---
I remember I was presented Merlim Network last month by one of their affiliates so that's how I got to know about it. When they told me about the prices and the compensation plan, I already started suspecting so I searched for more information and came up with the conclusion that it wouldn't be sustainable in the long term.
Let me explain you why Merlim Network is a scam you need to stay away from:
The prices to get started are pretty expensive. I know that all businesses require a minimum initial investment of time or money, but I won't pay for games or apps that I won't use or can't contribute anything positive to me. Who in the world would spend more than $300 in products that have no real value?
The owners have been involved in another scam named Telexfree. Why would I join a company whose owners have a bad reputation and have defrauded people in the past?
There's not much information about the owners. The more they hide, the less you can trust them. Why would they hide most of their corporate history?
Merlim Network hasn't been in business for a long time. Most pyramid schemes last 3 years or less, and Merlim Network has already started presenting pyramid schemes symptoms by stopping paying their affiliates.
The business model is not sustainable. Most money is made by selling the business packages and recruiting others into the scheme, so the less people who join the less money that comes in and the more unsustainable it becomes.
The daily cash rewards used to be higher ($4 for the player bundle, $6 for the business bundle and $11 for the professional bundle). The owners didn't explain why the daily cash rewards decreased, so this lack of transparency is another reason to stay away from it.
There have been a lot of complaints from affiliates for various reasons. There have been sooo many complaints because some affiliates aren't getting paid, others aren't receiving any response from the owners, and others have got their accounts cancelled without explanation.
A lot of Merlim Network's affiliates are currently asking for their money back but getting no response from the owners, who are being unethical and irresponsible for pretending everything it's ok and trying to hide the truth. This is something that scammers usually do, they don't face the truth, try to distract the victims and run away, but will eventually come up with another way to defraud people. 
I'm sorry for people involved in this scam who are now ruined and more desperate than before. Hopefully they get their money back and never again fall for this kind of scams. If you've fallen for Merlim Network or a similar scam like Speed Feeder, then I recommend that you go check out this article about ways to spot scams.
.
A better alternative to make money online
---
I know a lot of people lose hope in making money online after being scammed, it sucks how a bunch of people with malicious intentions put the whole Internet marketing industry in a bad reputation by scamming newbies and people in need.
Let me tell you again that easy money does not exist and anyone who says that you can earn a lot of money in a short amount of time is lying to you.
Earning a living online is possible, but it requires passion, effort and consistency. If you're struggling to get started and are also committed to building a digital business, then I highly recommend that you check out Wealthy Affiliate because it's free to join and the premium membership cost is nothing compared to Merlim Network's business packages costs.
Wealthy Affiliate is a platform where you'll learn to start and grow an online business based on your passions, which will make you enjoy the process more 🙂
You'll also get help and support from other members (included myself) and even the owners so you don't feel alone or stuck. If you want to know more just click the banner below:

.
I hope you've found this review useful and never fall for scams like Merlim Network. Please don't hesitate to share this review on social networks so other people can know about this scam and avoid it.
If you have any questions regarding Merlim Network or Wealthy Affiliate, feel free to leave a comment below and I'll reply as soon as possible. 
Thanks for dropping by 🙂