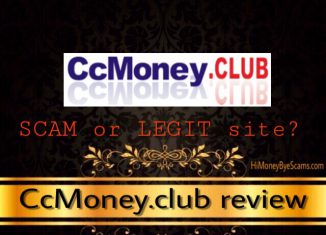 Hi guys!
You're here because you've come across CcMoney.club and are wondering whether it's a reliable site that will help you earn some cash or is CcMoney.club a scam that will take your money?
I'm glad that you've landed on this review because you're going to know the truth about CcMoney.club and you'll get to make the right decision at the end.
.
CcMoney.club review
---
Name: CcMoney.club
Website: ccmoney.club
Owner: unknown
Created in: December 2017
Price: Free
Overall Ranking: 10/100
.
---
If you're sick of scams, check out my 1st resource to make money online here!
---
.
What is CcMoney.club about?
---
CcMoney.club is a site that is supposed to pay you for viewing ads and getting referrals.
They claim you can earn up to 10 cents per ad view, so you can get to make $100 per day and $3000 per month if you view at least 1000 ad units per day. 
In addition, if you get people to join through your referral link and they're active, you can get to earn 50% of their earnings. 
They say they make payments via PayPal, Western Union or your bank account.
Overall, it sounds like a good opportunity to make a full-time income online, especially when we take into consideration that it's free to join and no special skills or prior experience are required.
The fact that the CcMoney.club site has a lack of information made me start suspecting about it. More on this later.
.
What can you find inside CcMoney.club?
---
In order to register, you'll first have to fill out a form with a username, an email address, a password and a number of a picture.
Once in the members area, you'll see an affiliate link similar to the one below:
When it comes to earning money by viewing ads, all you have to do is entering a number to earn 10 cents. See the example below:
So it seems pretty simple and easy, right? Like it doesn't take much to just type a number in order to earn 10 cents. 
So after surpassing $10, I tried to withdraw it via PayPal and I got the following message:

So I started wondering why they can't tell us that the minimum withdrawal amount is $150 before asking for our information. This is a red flag in my opinion. They should inform us about it before asking for any personal data.
After taking a closer look at the features and sections of the CcMoney.club site, I got an idea of what we can expect from it.
.
Can you make money with CcMoney.club?
---
I hate to be the bearer of bad news but CcMoney.club will not pay you. It was only created to make money to its owners. 
The reason because you won't get paid is because they're not getting paid. Yes, that's right. They're not getting paid by the advertisers they mention.
I know this because I found out they're not affiliated with those sites or brands they advertise. Each ad unit they show you is basically a composition of six images. If you click one of those images, you'll be taken to another site or online store. 
I've clicked some of them and found out that the links they use to take you to those sites are not affiliate links, which means that CcMoney.club is not getting any credit if you visit those sites or make a purchase.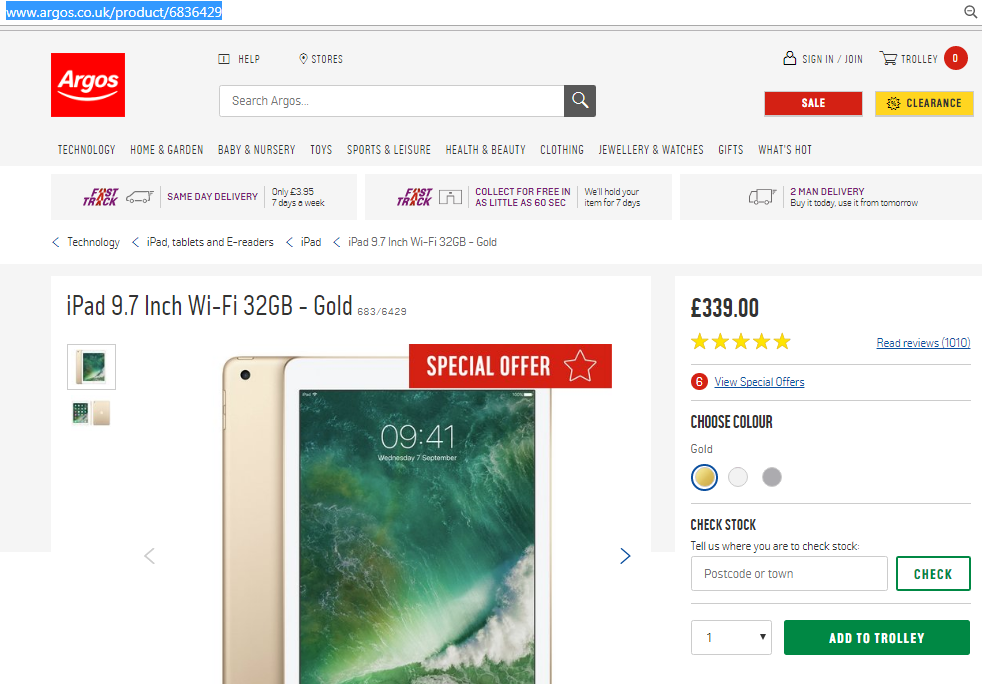 Apart from that, they're not offering any product or service and their site is free to join, so they're not getting paid like they claim.
That's why it wouldn't make sense that they paid you. Nobody gives away free money.
Therefore, why do they lie? What are they after? What's their main purpose?
Their goal is to collect as much personal information as possible in order to sell it to other companies. That's why you can expect to receive emails from people you know nothing about.
Apart from that, they also want to know your bank account or credit card information in order to charge you lots of times.
.
Is CcMoney.club a scam?
---
CcMoney.club can be considered a scam because it doesn't live up to its promises. They lie about their real intentions and they will not pay you.
In the previous section I've explained what's their real purpose and now I'm going to post some scam factors that tell me we definitely can't trust CcMoney.club.
No information about the owners. There's no way to know who's running the show. I noticed they have a footer menu where it says "about us", but I clicked and got taken to their FAQ section, so there's nowhere to know who's behind CcMoney.club. I personally don't trust sites or companies whose owners don't show up. 
They don't have any terms & conditions, privacy policy or legal warning pages. Why don't they let you know what they're going to do with the information you provide? This is essential to know in order to make an informed decision, so the fact they don't address it is an indication that they might not care about you making the right choice.
No contact information. They have a support section but the comments are more than likely fake. Other than that, they don't provide any email address or any other way to get in touch with them, which indicates that they don't want to hear from us.
Their news section is fake. They have a news section where you can read the updates they've made over the last few months but it's all fake because it's not even been a month since the CcMoney.club site was created. We can confirm this thanks to its domain information: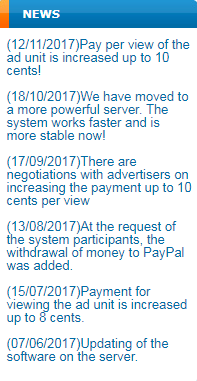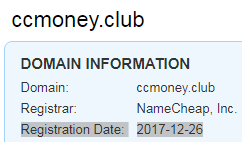 .
My closing thoughts
---
After everything I've posted and explained regarding CcMoney.club, I can conclude that it's not worth it and will only waste your time or money so there's no way I can recommend it.
I've reviewed other "make money online" opportunities similar to this one and I can say that they've only been created to benefit the people who own them. Other sites you need to avoid are MoneyMakeLife.com, sharesmore.com and thnews18.com.
If making an income online was that easy then everyone would be doing this, don't you think? I know it sounds kind of attractive the idea of start earning money as soon as you get into this but in the online world things don't work the way scam artists want you to believe.
Truth be told, if your goal is to earn a full-time income online, you'll have to put in the effort, dedicate time to this and be patient. Success won't happen overnight or in a short amount of time. Great things take time to build.
If you're committed to doing what it takes, then I strongly believe that my favorite digital marketing platform will benefit you.
This platform is very affordable (free to join) and provides step-by-step courses, video trainings and other useful tools that will guide you through the process of building your very own online business in a way that's viable for the long haul.
I also want to add that you can count on me and other bloggers & Internet entrepreneurs for help and support once you're inside this platform. It's great to know that you're not alone in this!
If you're interested in learning more, click the button below now:
Looking forward to seeing you inside! It's your time to get on the right track to success.
I hope you've found the answers you were looking for concerning CcMoney.club.
If you have any questions or opinions, don't hesitate to leave a comment below. I always love hearing from you!
All the best =)