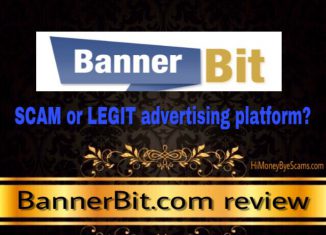 Hey everyone!
I recently came across a site called BannerBit.com, which looked legit but I thought I would look deep into it in order to find out what it was really about.
Make sure you read this review to find out whether BannerBit is the real deal or just another online scam that needs to be avoided.
.
BannerBit review
---
Name: BannerBit
Website URL: bannerbit.com
Created in: April 2017
Price: at least $250
Overall Rating: It depends
.
---
If you're sick of scams, check out my 1st resource to make a 4-digit monthly passive income here!
---
.
What is BannerBit.com?
---
BannerBit.com is said to be an online advertising platform where you can buy and sell ads. 
Their site looks professional and a place you would rely on to make money online. 
They claim to be the world's number 1 destination for buying and selling banner ads. 
Their team is allegedly composed of passionate people. Some of them are in sales, others in software development and others in customer support. 
It sounds good and I believe it's important the fact that they're passionate about their work, it's the key to doing a great job. 
They also have a presentation video where they explain the opportunity they offer but I don't really like the fact that the owners of Banner Bit don't show up.
.
How does BannerBit.com really work?
---
In order to join, you'll have to complete a form with your name, your email address, a password and your phone number.
Then you can search and buy ads from their marketplace, like the ones below: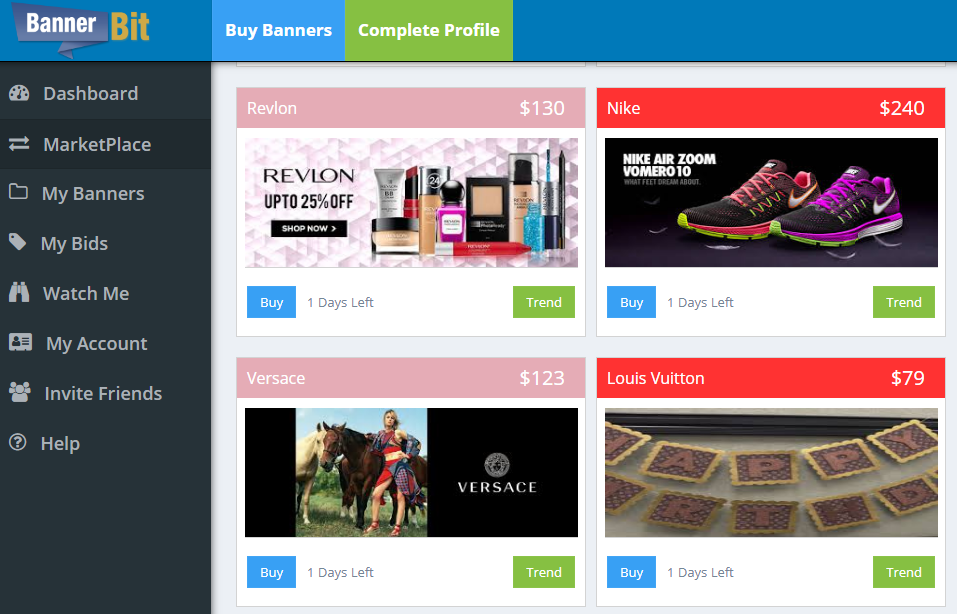 In order to buy one of those ads, you'll have to fund your account with at least $250. 
They claim the ad you buy runs on a network of publisher sites and reaches hundreds of thousands of people. And then you'll make money with every click your ad gets. 
You can also earn money by selling your ad to other BannerBit members for a higher price than you bought it.
Another way they claim you can make money is by inviting other people to join BannerBit.com. 
According to a member of this platform, here's how it's been for him:
Being a stay-at-home parent with two children, I have recently been on the lookout for ways to earn extra (or full, if possible) income online. What I found is that there are many opportunities available out there, but not everything comes easily. I just want to share this platform that I recently discovered. This may or may not work for you, but I found it intriguing.
What Bannerbit.com is all About?
Bannerbit.co is an online marketing platform designed for people to earn extra income. Members who join the banner advertising platform earn money by purchasing an ad. The ad that is purchased will run on a network of websites that will have worldwide reach. When somebody clicks on the purchased ad, it will generate income. The Dashboard will provide information on how many clicks your banner ads have received and how much profit these clicks have generated.
It sounded simple enough to me, so I took the plunge and decided to start advertising using the platform. Here's the step-by-step guide:
Registration is simple: just type in your name and password. Once you have entered the platform, a welcome video will give an introduction and will also give information on how to navigate the platform.
Before you can start earning money, you first need to purchase an advertising banner package. Click on Marketplace on the left-hand side of the screen, and then click on "packages." It lists down all packages available, and it is quite a range, starting from $5000, which consists of 55 banners which will run for 90 days, to $500,000, which consists of 1388 banners which will run for 360 days.
After purchasing the desired package, you're ready to buy ads. You can choose the ad that you like from a variety of categories: fashion, electronics, automotive, beauty, kids, and crypto. There are even other special categories such as BlackFriday, VIP, and Christmas. Many well-known, top brands are represented in the platform. Under the "Kids" category, I chose Lego and Fisher-Price. Under the "Automotive" category, I chose Jeep and Ford, and under the "Fashion" category, I chose Dolce and Gabbana and L'Oreal.
For every chosen ad, you can place a bid by simply clicking on the "Bid" button. A pop-up window will appear, highlighting the product. It displays the maximum offer, and all you have to do is to type a higher amount than the maximum offer.
The Verdict
With the Bannerbit advertising platform, the principle of "what you sow is what you reap" is true. The amount of money that you will earn is in direct proportion to the amount of investment that you will make. It is not a "get-rich-quick" scheme. Just like in any worthwhile endeavor, it requires hard work and investment. If you are willing to work and invest to earn more, then you should give this a try. The good thing that even if you have little or virtually no internet marketing experience, the interface is intuitive and easy to follow.
Click here to check out HOW I MAKE PASSIVE INCOME EVERY DAY (FREE to get started)!
.
Is BannerBit.com a scam?
---
BannerBit is a scam or not depending on what you consider a scam to be.
There are some people who have benefited from it, so it wouldn't be a scam for them. But there's no guarantee that you will make money so take into consideration that there's a risk involved.
I personally haven't tried it because I'm not into investments, but if you are someone who has a lot of money to invest, you may benefit from it.
In case you are on a low budget, I wouldn't recommend that you invest more than you can afford to lose. Also, there are other ways to make money online that don't require you to make a huge investment, so investing is not necessary if you are just getting started in the Internet marketing world.
Another thing I want to mention is that I haven't seen a single person report that they can get a payout from the platform.
Therefore, you are free to do whatever you want. This is just my opinion, I hope this review was helpful.
.
This is how I make money online every day 
---
If you asked me what business model I recommend for beginners, I would say affiliate marketing because it's simple to understand and doesn't require a big investment.
As an affiliate marketer, you make passive income when you get other people to purchase products/services through your affiliate links.
It's a business model that gives you the chance to talk & write about a topic you have a passion for and earn money. How awesome is that?
Also, it's the kind of business that doesn't require you to work at the same place all the time. You can work while traveling, eating and you can do it anytime you want as long as you have an Internet connection! =)
There are many people who are using this business model to generate a substantial income online, so if others can do it, who says you can't? If you believe you can and take action, you will make it!
I'm living proof that it works, as you can see, there are days that I have earned over $200: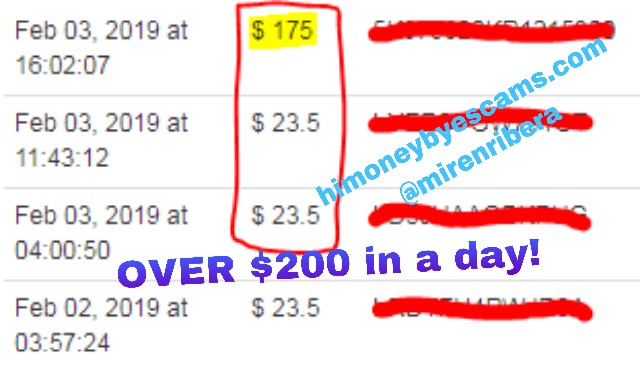 With that said, there's a lot to say about how this business works, so if you are someone who's committed to learning new things and taking action, I invite you to check out my FREE guide:
In my free guide, you will discover how I got started, the method I use to earn passive income, the reasons this method works…
Oh, and did I mention that you get the chance to start today for free!? In my guide I let you know my favorite Internet marketing platform where you can find step-by-step lessons and tools that will help you start the proper way.
And that's not all! I also reveal how you can get my personal guidance and how you can get help from thousands of affliate marketers who want to see you succeed!
I love the messages and feedback that I've been getting lately. This message below is from one of the +4K people who have taken action:
CHECK OUT MY FREE EARN MONEY ONLINE GUIDE HERE!
That's it for today! I hope this review has been helpful to you and you now have enough information to make the right choice.
If you have any questions or want to share your opinion regarding BannerBit or anything else, feel free to leave a comment below. I always reply to my readers! 🙂 
Have an amazing day =)