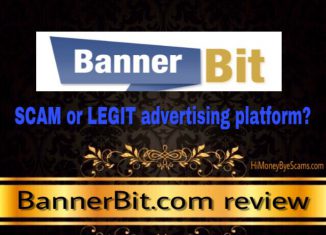 Hey everyone!
I recently came across a site called BannerBit.com, which looked legit but I thought I would look deep into it in order to find out what it was really about.
Make sure you read this review to find out whether BannerBit is the real deal or just another online scam that needs to be avoided.
.
BannerBit review
---
Name: BannerBit
Website URL: bannerbit.com
Real creators: hidden
Created in: April 2017
Price: at least $250
Overall Rating: 1/10
.
---
If you're sick of scams, check out my 1st resource to make money online here!
---
.
What is BannerBit.com?
---
BannerBit.com is said to be an online advertising platform where you can buy and sell ads. 
Their site looks professional and a place you would rely on to make money online. 
They claim to be the world's number 1 destination for buying and selling banner ads. 
Their team is allegedly composed of passionate people. Some of them are in sales, others in software development and others in customer support. 
It sounds good and I believe it's important the fact that they're passionate about their work, it's the key to doing a great job. 
They also have a presentation video where they explain the opportunity they offer but I don't really like the fact that the owners of Banner Bit don't show up.
.
How does BannerBit.com really work?
---
In order to join, you'll have to complete a form with your name, your email address, a password and your phone number.
Then you can search and buy ads from their marketplace, like the ones below: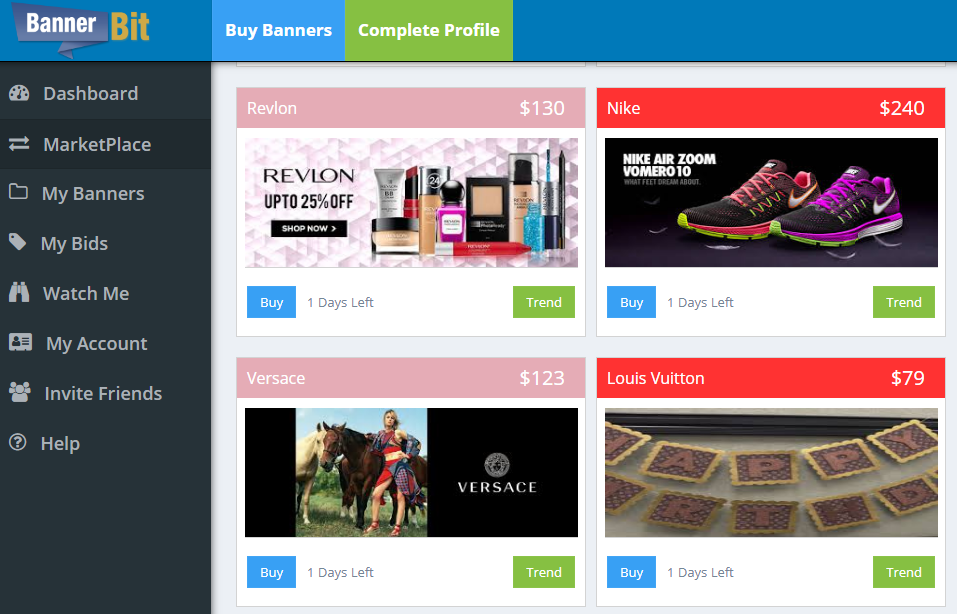 In order to buy one of those ads, you'll have to fund your account with at least $250. 
They claim the ad you buy runs on a network of publisher sites and reaches hundreds of thousands of people. And then you'll make money with every click your ad gets. 
You can also earn money by selling your ad to other BannerBit members for a higher price than you bought it.
Another way they claim you can make money is by inviting other people to join BannerBit.com. 
But I will not try to get anyone to join that site because BannerBit is not a trustworthy platform (more on this in the next section).
The problem here comes when you want to make withdrawals because they force you to verify your account first. And what does this mean?
What this means is that you'll be asked to provide personal documents like the following:
Your ID, your passport or your driver's license.

A bank statement or utility bill that must show your name, your address and the issuer name and logo.

The front and back of the credit card used to make deposits to your BannerBit account.
This is actually very dangerous as they can use this information to steal your credit card and for identity theft. That's how they'll try to get you.
Click here to check out my top recommendation (FREE to get started)!
.
Is BannerBit.com a scam?
---
I believe BannerBit.com is a scam because it will not make you any money. It wasn't created with your benefit in mind, it was created to generate profits for its owners.
There are several reasons why I don't trust that site and I believe you need to know them in order to make an informed decision.
.
Who is behind BannerBit.com?
---
I really dislike the fact that they lie about the people behind BannerBit.com. 
In their homepage there are pictures of people who're said to be part of the Banner Bit team.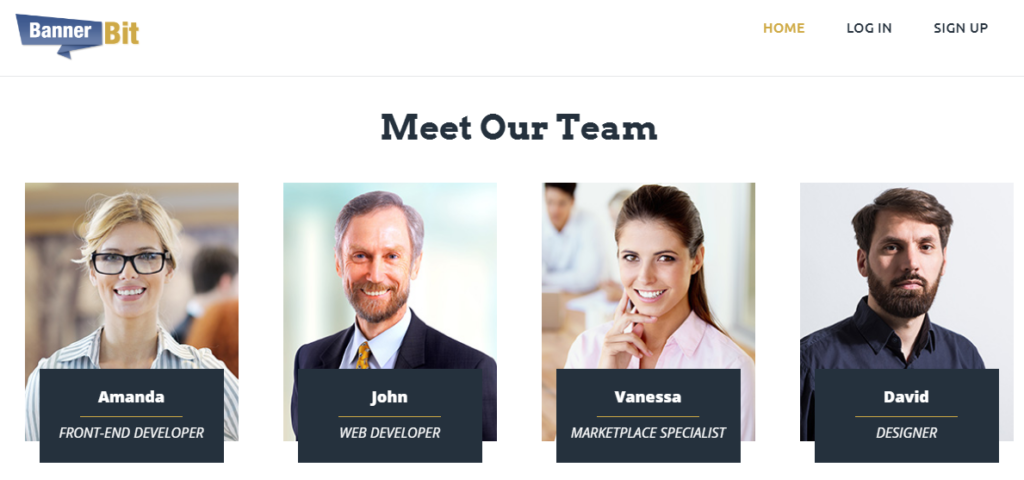 The problem here is that those people above are fake team members. They have nothing to do with BannerBit.
I did some images searches and found out their pictures can be found on other websites and stock photo sites.
As you can see, Amanda is not the front-end developer. That woman's name might not even be Amanda. She's a stock model whose pictures can be found on Shutterstock. 
And same happens with the other team members. They might not even know their pictures have been used to created fake characters.
.
The comments & testimonials are fake
---
After finding out that the BannerBit team members are fake, I wasn't surprised to find out that the testimonials are false too.
It looks like BannerBit is kind of a get-rich-quick scheme as well. "Laura A." claims she's made $100,000 in 47 days but this is far from the truth. Those comments are completely invented and haven't been written by the people who appear in those pictures.
"Michael Z." is not really Michael, that guy is part of a stock picture that I found out on 123RF.
And Laura A. is not even Laura. I know this because that picture has also been used to create a fake testimonial for the Bitcoin Code scam, which I remember exposing some months ago.

I wouldn't be surprised if the unethical people behind BannerBit were the ones who are behind The Bitcoin Code and other binary options scams.
.
They lie about the amount of years they've been around
---
In their homepage they claim to have already been 10 years in online advertising but that's not true.
I found out their domain was registered on April 27th 2017:
Why do they lie about the years they've been around? I guess they want you to believe they're experts in their field.
.
They're not transparent when it comes to the real cost
---
In their homepage they say nothing about how much you'll have to invest in order to buy ads. You find out you have to invest at least $250 once you've joined.
I don't like the fact that they don't address this important information in their homepage as this information is essential to make an informed decision.
.
Nobody has had success with BannerBit.com
---
Without taking the scammers into account, I strongly believe nobody has made money from BannerBit.com. One of the reasons I believe that is because BannerBit.com was created by the same scam artists who are behind other scam systems and the testimonials are fake, as I've made evident.
If people who have joined BannerBit had really benefitted from it then those con artists wouldn't have created unreal testimonials to make you believe that their platform works.
Apart from that, I found out this complaint on Scamguard: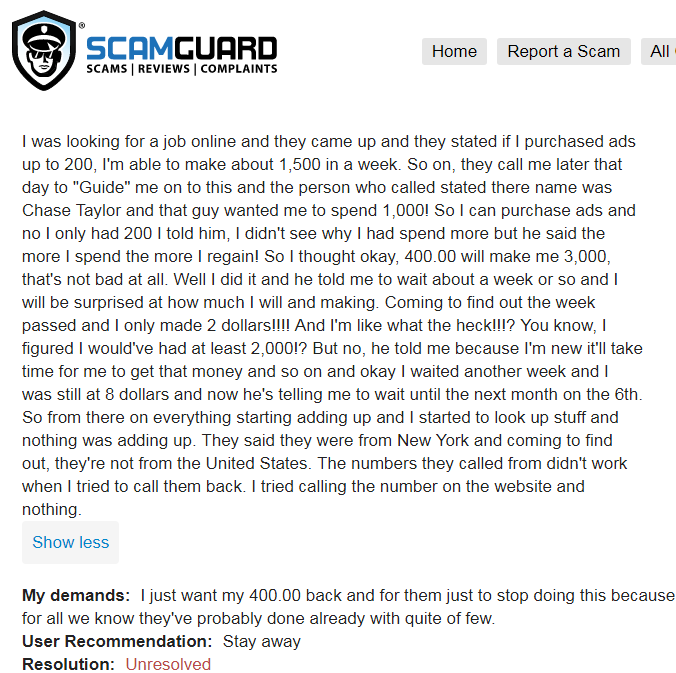 So you can expect those fraudsters to call you and ask you to deposit as much money as you can. They have no limits when it comes to the amount of money they can get away with.
And then you'll not hear from them again. That's what these scammers do. Once they have your money and information, they run away.
.
My final thoughts 
---
I highly recommend that you stay away from BannerBit.com because it's not a platform that will make you money. It's run by scam artists who are behind other scams so there's no way I can recommend it. 
Even if it were possible to make some money from that site, I know I wouldn't want to do business with those dishonest people.
It's not only what they're offering that matters, the way they're offering it is also important. And they're doing it in a very deceitful way.
This one wasn't like most scams as their site looks legit and professional but the final goal is the same as other scams. 
You can't never judge a book by its cover and can never judge a person by its physical appearance. What really counts is what's inside. 
When it comes to making money online, you can find lots of sites and programs that promise you'll make money the same day you join or purchase them, which can create unreal expectations because making money online is not easy or fast when you're starting out, it takes time and real work. 
The thing is, there are more scams than programs I can recommend. But the good news is that there are still reliable & ethical platforms that can help you make money online, like my favorite digital marketing platform.
This platform is very affordable (even free to join) and offers step-by-step courses, video trainings and other useful tools that will guide you through the process of building an online business the right way.
I also love the fact that this platform provides many ways to get help and support. You can literally ask questions and there's always someone there to help you out!
You can rest assured knowing you're not alone in this, you can also count on me for help and support =)
If you're interested in learning more, click the button below now:
.
That's it for today! I hope this review has been helpful to you and you now have enough information to make the right choice.
If you have any questions or want to share your opinion regarding BannerBit or anything else, feel free to leave a comment below. I always reply to my readers! 🙂 
Have an amazing day =)