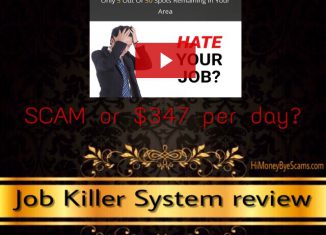 Hey there!
You've come across Job Killer System and are wondering whether this one will make you financially free or is Job Killer System another scam that will be put in the scams list?
I'm glad that you're here because you're going to find out the truth about Job Killer System if you read this review until the end and will end up making a good choice.
.
Job Killer System review
---
Name: Job Killer System 
Websites: 
jobkillersystem.com

jobkillersystem.net
Owner: it depends on the website URL
Created in: November 2017
Price: $37 or $49 + thousands of dollars in upsells
Overall Rating: 2/10
.
---
If you're sick of scams, check out my 1st resource to make money online here!
---
.
What is Job Killer System about?
---
The moment I came across one of the Job Killer System pages, I thought it was a scam because of the layout of the page. A page with a video, an income claim and lack of important information. 
Then I found out there's another page for the Job Killer System, so I thought the two pages were to promote the same scam as I've seen some scams like 1K Daily Profit that have many different domains to promote the same scheme.
But when I started watching the two sales videos I saw they're not narrated by the same man so I realized that the two pages are not being used to promote the same system.
They use the same sales pitch because the two systems they're trying to get you into have a lot of things in common:
They don't require you to have any prior experience or marketing & tech skills.

You can earn thousands of dollars in commissions.

They work on complete autopilot.

They do everything for you, which means that you won't have to create any products or do any sales. 

You're not required to do much work.

You'll get the sales pages, the websites, the tools, the products and a success coach after signing up.
Doesn't it sound amazing? The fact that these systems work on autopilot sounds fantastic as it makes you think that you'll only have to set this system up and then it will work for you. 
But truth be told, it's not as easy as they want you to believe. There are some important details that are not mentioned in the sales videos and you need to know them before getting yourself involved in the programs they're trying to sell you.
.
How does Job Killer System really work?
---
Job Killer System is not a system or program itself, it's a couple of pages that have been designed to get you into two high-ticket MLM programs: 
jobkillersystem.com funnels to the 6 Figure Business System, by Jeff Lerner.

jobkillersystem.com funnels to Aspire, which belongs to Digital Altitude, by Michael Force.
Let's talk about these two programs separately.
.
How does 6 Figure Business System work?
---
6 Figure Business System is also known as Ultimate Laptop Lifestyle, which I already reviewed.
It includes a 7 day laptop lifestyle training, done-for-you sales & marketing and one on one coaching.
You'll have to get people to purchase the 6 Figure Business System and other Jeff Lerner's products in order to make commissions off them. 
Keep in mind that the reason why they give you the marketing tools and your coach a.k.a. your sponsor will close the sales for you is because your coach and the rest of your upline get to earn money for each sale you make.
What Jeff doesn't say in the sales video is that you'll have to buy each product before promoting them.
The $49 initial fee is only to get you started but then you'll have to purchase the other expensive (and by expensive I mean you'll have to spend thousands of dollars) products in order to promote them and earn the big commissions. 
.
How does Aspire work?
---
Aspire is the cheapest membership level of a program known as Digital Altitude, which provides digital marketing training.
What I don't like about Digital Altitude is that the training they offer is geared towards getting you to promote Digital Altitude. 
It's very similar to the 6 Figure Business System as you'll have to pay to play, which means that you'll first have to purchase the Digital Altitude membership levels and packages before you get to promote them and make huge commissions.
You only get to earn commissions off the membership levels/packages you've purchased.  
You'll also get a coach (a sponsor) who will not only help you make sales, he/she will also try to get you to buy into the pricey Digital Altitude stuff. 
And by pricey I mean that they will cost you over $50,000 in total!! Yes, that's right. The Aspire membership costs $37 per month, which is cheap compared to the rest of the Digital Altitude memberships and products.
If you want to know more, you can check out the Digital Altitude review I wrote.
.
Is Job Killer System a scam?
---
Job Killer System can be considered a scam because it's not the real system and the whole sales video and page has some scam factors.
It's important that you are aware of them when you come across sites similar to the Job Killer System.
They claim you'll make money fast. They claim you'll earn $347 per day just after watching the sales video. This is completely misleading as it requires real work and time to make money.
They pressure you to purchase the programs. They say there are a few spots left but this is completely false. You can watch those videos later and see nothing has changed and the number of spots available is the same. What they really want is that you buy those programs as soon as possible.
They're not transparent when it comes to the real cost and the programs you're getting into. They don't mention anything about the other products you'll have to purchase in order to earn vast commissions. They don't even mention the name of the real programs they want you to purchase. This is a red flag because they know you would be able to make a better choice if you knew what they're really trying to get you into.
Not many people have had success with these programs. Most people who have joined Digital Altitude or 6 Figure Business System are not making much money. Below you can see the Digital Altitude income disclosure and notice that more than 60% of affiliates are making less than $100 per month.
.
You don't have to spend thousands of dollars to make money online
---
I don't recommend that you fall for Job Killer System and get inside Aspire or 6 Figure Business System. 
Even though Digital Altitude and 6 Figure Business System are not scams, I have several reasons why I don't recommend that you get into them:
You'll have to spend a looot of money before you get to earn a full-time income online.

They don't encourage you to build a business based on your passions.

They're MLM programs, which means that they're designed to keep you dependent on them.

They use scam and unethical tactics to get you to purchase them, something that tells me we can't trust them.
It's not only what they're offering that is important, the way they're offering it says a lot about them. I personally don't want to do business with liars and dishonest people.
My advice for you is that you avoid systems and sites that promise you'll generate profits fast and easily as most of those programs end up being bogus.
When it comes to making money online, it's essential that you know that you'll have to invest time and put in the effort if you're committed to being successful. 
If you're starting out and willing to do what it takes, I highly suggest that you check out my favorite digital marketing platform.
Thanks to this platform, I've learned a lot and I've also made money online. 
Inside this platform you'll find step-by-step courses, video trainings and other useful tools that will help you start an online business from scratch and take it to the next level.
I love that this platform is very affordable and lets you get started for free, so you can join for free and see if you like it.
You can also count on me and other bloggers & Internet entrepreneurs to help you out during your online journey. It's great to know that you're not alone in this =)
If you're interested in learning more about my top recommendation and how you can make money, click the button below now:
 .
Looking forward to seeing you inside! Now it's your time to stop falling for scams and get on the right track to making money online! 
I hope you've found the answers you were looking for. 
If you have any questions or opinions concerning Job Killer System or anything else, don't hesitate to leave a comment below. I always reply to my readers! 🙂
Best wishes! 🙂