Hey there!
Today I came across another page called DailyBannerProfits, which looks very familiar to me. 
I knew I had to take a look at it to find out whether this one was just another scam like it seems it is.
Make sure you read this review to get to know what DailyBannerProfits really is and why you should avoid it.
.
DailyBannerProfits review
---
Name: DailyBannerProfits
Owner: "Dave Johnson"
Price: "Free"
Created in: 2017
Overall Rating: 5/100
.
---
If you're sick of scams, check out my 1st resource to make money online here!
---
.
What is DailyBannerProfits?
---
The DailyBannerProfits sales video is just like other scam videos. 
Dave Johnson, the alleged creator of this system, claims you've received a private invitation from one of his contacts. 
Unless Google is one of his contacts, I haven't received any invitation. The private invitation claim is complete BS as that site is not private, anyone with a smartphone or laptop and an Internet connection can access that site.
And then he claims that's not another scam, which is something I've heard in other scam videos. Scam artists usually say their system/program is not a scam to make you believe that they're by your side.
You are not required to have any previous experience and won't have to work much to make this system work as it's been designed to operate on complete autopilot.
And the best part is, his system can make you $2000 per day and it's completely free. So will you start living the 1% lifestyle a.k.a. the lavish lifestyle for free?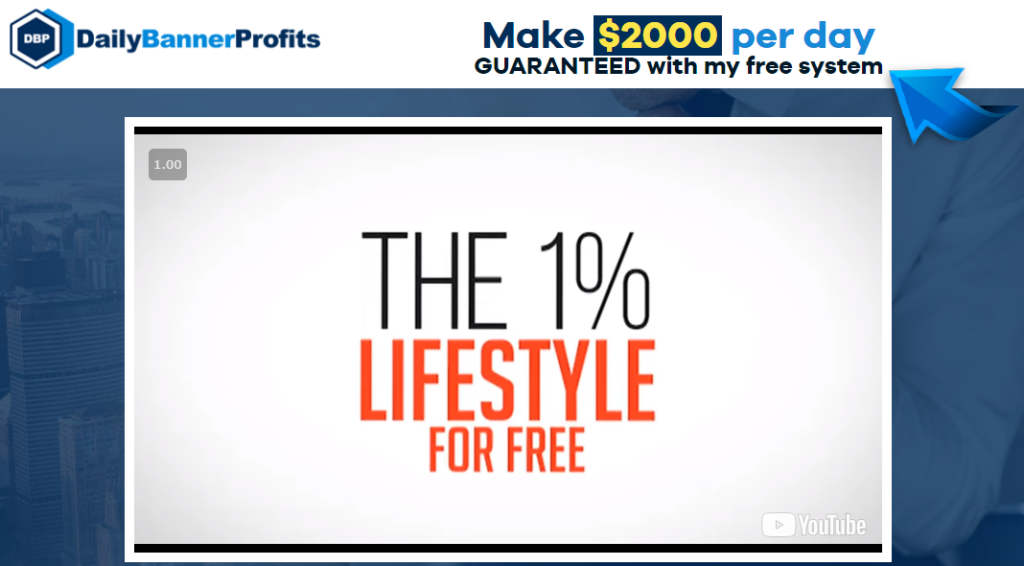 It just sounds too good to be true, doesn't it? Especially when we know that nobody gives away free money.
So what is DailyBannerProfits really about? It's nothing different than a binary options scam software. Even though they claim it's about buying and selling ads, it works the same way as a binary options scam software.
.
How DailyBannerProfits really works
---
I've reviewed plenty of other softwares like this in the past so I know how this fake system works.
Yes, "Dave" claims it's free but this is misleading. It's free to join the software, but it's not free to use it. After all, you need money to start trading.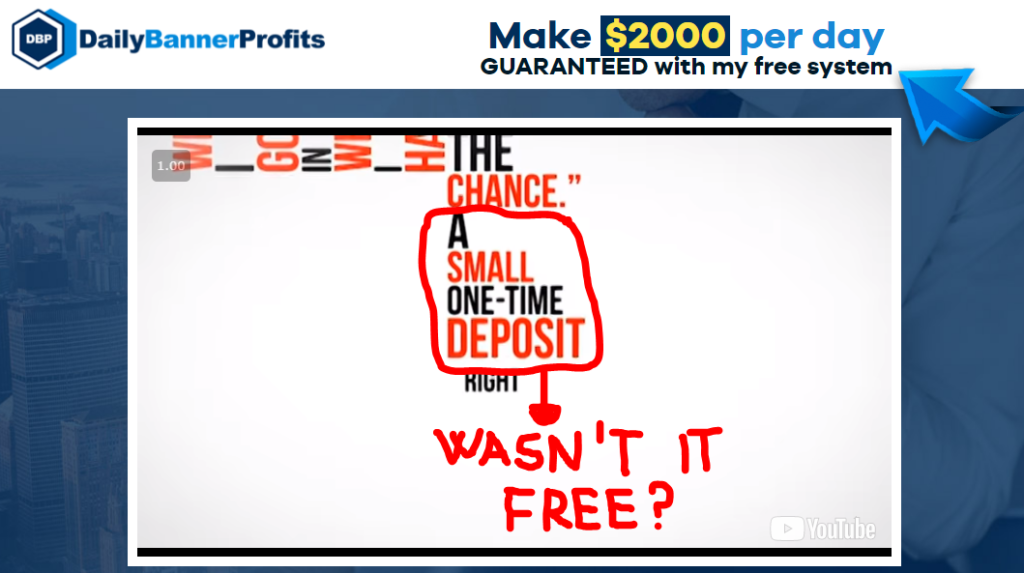 In this case, they'll ask you to fund your account with at least $250 and then you can turn the autotrader on to activate the software. This is when they get you. 
If you make that investment, you can expect to lose it as the software will make random trades, which means that it's likely to lose all your initial deposit.
And you can also expect the broker to pay a commission to the scammers behind DailyBannerProfits. The scam artists are affiliated with unregulated brokers, which means that they get paid each time someone makes a deposit through their affiliate link.
.
What can you expect from DailyBannerProfits?
---
Apart from losing your initial deposit, you can also expect those con artists to call you (they ask for your phone number before joining) and try to convince you to make another deposit.
Another thing you can expect is to receive spam emails related to other scam products/systems. 
In addition, you might receive undesired emails from people you don't know as those unethical people usually sell their victims personal details to other swindlers.
Those scam artists only care about their own benefit and don't care about you losing all your money or getting your information stolen.
.
Is DailyBannerProfits a scam? Yup
---
I can confidently say that DailyBannerProfits is a scam. Their sales video and page is full of red flags that tell me they can't be trusted.
Let's see some of the scam signs that expose DailyBannerProfits as the hoax it is.
.
Lack of information about Dave Johnson
---
Dave Johnson doesn't show any picture of him or tell us how we can get in touch with him. There's no way to know whether Dave Johnson is the real creator of DailyBannerProfits or not.
Perhaps he is a made up character and the man who narrates the DailyBannerProfits video is a voice actor, it wouldn't be weird as that's something very common in these kind of scams.
I personally don't trust sites or systems whose owners hide their identity.
.
No information about the company
---
In the DailyBannerProfits site there are no important pages. No privacy policy, no terms & conditions, no earnings disclaimer. That's not legit.
They should at least have one of those important pages. All legitimate sites & companies do have at least one of those pages.
Why do they hide that essential information? There's no way to know how those dishonest people will use the personal details you give to them, something that tells me they don't deserve our trust.
They don't even let us know how we can contact them, which tells me that they don't want to hear from us. They don't care if you have any questions or issues with their system.
.
It's like a copy of Profits Eternity
---
Profits Eternity is another binary options scam that looks similar to DailyBannerProfits when it comes to its layout, so I wouldn't be surprised if the con artists behind Profits Eternity were the same who're running DailyBannerProfits.
.
They pressure you to sign up
---
This one is another common tactic among scams. They usually claim there are a few spots left or that you don't have much time to join. 
It makes no sense that your link will be expired as your link is the same link for everyone. They make this fake claim so that you don't leave that page and join as fast as possible. 
But you can confirm they're lying when you check out that page from another electronical device. For example, if you're now using your laptop, you can check out the DailyBannerProfits page from your smartphone and see that nothing has changed.
.
My closing thoughts & recommendation
---
I recommend that you stay away from DailyBannerProfits as it will not make you any money, it will only waste your time and upset you.
They lie about their identity, they use unethical sales tactics to get your money, they also lie about the testimonials (yes, they're paid actors)… There's no way I can recommend a system like this.
Other scam systems that need to be avoided are the following:
I also suggest that you stay away from all programs and systems that promise you easy riches because most of these systems (not to say all of them) end up being frauds and have only been created to generate profits to its owners.
When it comes to making money online, there are more scams than programs I can recommend. It's important that you keep in mind that you will not get successful results overnight or without doing nothing, you'll have to put in the effort and time to make it happen.
If you're committed to doing what it takes to earn a living online, then I believe my favorite digital marketing program will benefit you.
This program includes step-by-step training, courses and other business tools that will help you start and grow an affiliate marketing business the proper way.
I also let you know that you can count on me and other bloggers & Internet entrepreneurs for help and support. My favorite platform offers many ways to get support so you can rest assured knowing that you're not alone in this!
I love the fact that this program has a free membership, which means that you can join for free and test this platform to see if you like it.
In case you're interested in learning more, you can click the button below now:
.
I hope this review has been helpful to you and you now have enough information to make the right choice.
Feel free to leave a comment below if you have any questions or opinions regarding DailyBannerProfits or anything else. I always reply to my readers! 🙂 
All the best =)