Hey guys!
Have you stumbled upon Home Online Profits and are wondering whether this one is your ticket to financial independence or is Home Online Profits another scam to stay away from?
That's what I was wondering so I decided to take a closer look to it and write this review to let you all know what you can expect from HomeOnlineProfits.com.
.
Home Online Profits review
---
Name: Home Online Profits
Website: homeonlineprofits.com
Owner: "Karen Daniels"
Created in: April 2015
Price: $49 + thousands of dollars in upsells
Overall Ranking: 2/10
.
---
If you're sick of scams, check out my 1st resource to make money online here!
---
.
What is Home Online Profits about?
---
The moment I came across Home Online Profits I thought it was a scam because it looks like other scam pages. A page with a sales video and a high income claim.
The spokeswoman claims to be Karen Daniels and she used to work very hard while hardly getting by and living paycheck to paycheck. She got divorced at a young age and got into over $9,000 in debt. 
What a sad story… but it's not the first time I hear something like that. I remember reading a similar (not to say the same story) in other scam pages called Automated Daily Income and Auto Home Profits.
So she solved her financial problems when she got into link posting and now she has an easy work from home job, she only has to work from 1 to 4 hours a day and she's already a millionaire!
Link posting sounds amazing as you can make a lot of money just for posting a link. She claims you can earn like $15 per link, so you only have to post 25 or 26 links per day to make the $379 mentioned at the beginning of the video. This is great as $379 per day equals over $11,000 per month!
So doesn't it sound too good to be true? Like anyone can do this as posting a link doesn't require any previous experience or special skills.
If it were real, don't you think everybody would be doing this? The truth is that Home Online Profits is not what "Karen" claims and there are some important details that she doesn't address.
Let's see what you're really going to get into if you join Home Online Profits.
What if you purchase Home Online Profits?
---
Home Online Profits is not the real name of the program they want you to get into here. Home Online Profits just serves as a page created to get you into a high ticket MLM program called MOBE (My Own Business Education).
The initial $49 fee is just to get you started and follow the 21 steps training. MOBE offers great digital marketing training but I don't like that it's merely focused on getting you to make money by promoting it.
I guess they don't mention the name of the real program because you would stay away if you knew it, since they'll try to get you to pay thousands of dollars before you get to earn a full-time income online.
MOBE works just like others MLM opportunities but the thing is, their packages and products are very expensive. 
Let's see the real costs below:
Standard affiliate – $19.95/month
Silver – $2,497 one time + $27/month or $216/year 
Gold – $4,997 one time + $64/month or $512/year 
Titanium – $9,997 one time + $121/month or $968/year 
Platinum – $16,667 one time + $198/month or $1,584/year 
Diamond – $29,997 one time + $295/month or $2,360/year 
Remember the people who claim to have made thousands of dollars in commissions in the second Home Online Profits sales video?
They've earned those commissions after having spent thousands of dollars in the MOBE packages, and that's what you'll have to do in order to earn thousands of dollars. Yeah, you'll have to spend at least $64,000!
And that's without taking into account the monthly or yearly fees and the money you'll have to spend on paid advertising to get leads.
You'll also get a coach a.k.a. sponsor who will not only help you get new recruits, he/she will also try to convince you to purchase the MOBE pricey packages just to make money off your purchases. 
Without purchasing those packages, you won't be able to earn the huge commissions. If you purchase the Silver package and recruit someone who buys the Gold package, your big commission will be for your sponsor. 
This business is so risky because you have to spend a lot of money before you get to make a lot of money, and there's no guarantee of financial success.
All businesses carry a certain level of risk but this one is just too risky when we take into account that you can start another kind of online business for little to no money.
.
Is Home Online Profits a scam?
---
This is debatable because if you take into account that Home Online Profits is not the real system or program then it can be considered a scam.
However, if you only considerate the fact that Home Online Profits takes you to MOBE, then it's not a scam because MOBE is an ok program, even though I don't recommend it.
With that being said, let's see some red flags found in the Home Online Profits video and page.
.
Who created Home Online Profits?
---
Karen Daniels claims to be the creator of Home Online Profits but I don't believe it's true. I believe she's a made up character and the real owner of Home Online Profits is a MOBE affiliate who doesn't want you to know his/her identity.
I believe Karen Daniels is a fictitous character because the picture shown in the sales video can be found in other sites: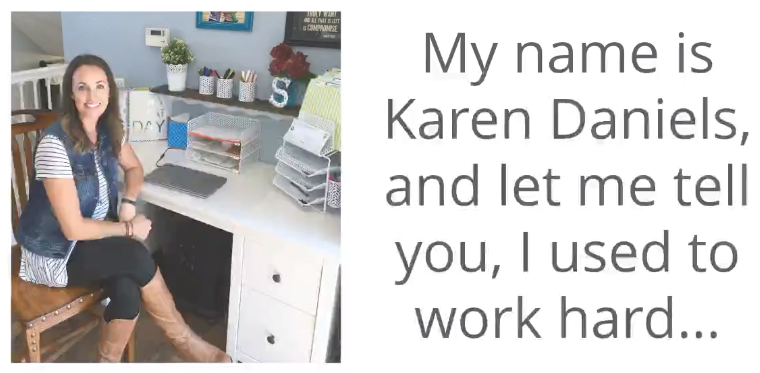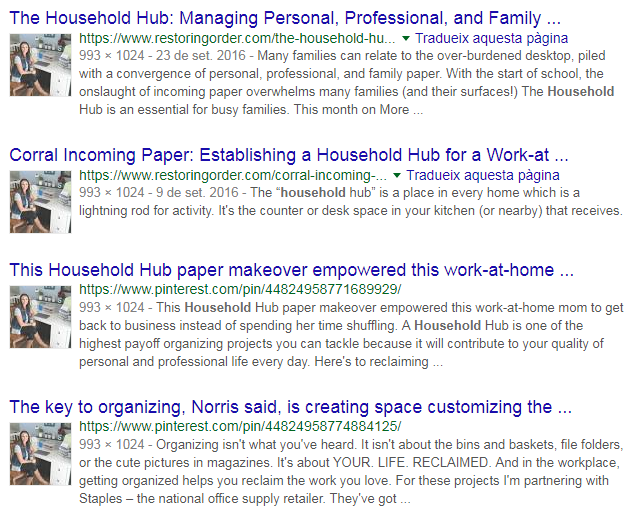 They are not transparent when it comes to the real cost
---
They don't mention the expensive MOBE packages you'll have to purchase in order to earn thousands of dollars in commissions. 
I don't like the fact that they're not honest about the money you'll have to spend. I believe knowing all the costs upfront is important in order to decide whether to get involved in a business opportunity or not.
.
They don't say the truth about how you'll make money
---
"Karen" claims you'll only have to posts links to get paid but this is not true. It doesn't make sense that you're going to make money just for posting links.
Let's say that you post 15 links per day but nobody clicks or makes a purchase. Will you get paid? No. 
Truth be told, you don't get paid per link, you get paid per sale. If you help a company make a sale, then they'll pay you a commission.
Companies will not pay you just to post links. You could post a thousand links and not make a single sale, so companies will not pay you without them getting paid first. 
If it were possible to get paid just to post links, everybody would be doing this. I know I'd tell my loved ones to get into this lol.
.
Have you got paid after watching the video?
---
If you had got paid then I guess you wouldn't be here reading this review. You and I have watched the Home Online Profits sales video but haven't got paid the $1,250 or $5,500 they claim in the sales page.

It wouldn't make sense that they paid you that big amount of money just for watching that video. Nobody gives free money and they would go broke if they paid more than a thousand dollars to every single person that watched that video.
.
My final verdict & a real way to make money online
---
I highly don't recommend that you get involved in Home Online Profits or MOBE.
MOBE is just very expensive and risky when we take into account that there are better and cheaper opportunities to make money online like my top recommended platform.
Apart from that, they use scam tactics which says a lot about MOBE and its affiliates. I personally don't want to do business with dishonest people that only care about their own benefit.
It's not only what they're offering that matters, it's the way they're offering it. What can you expect from people who deceive and mislead you? Nothing good. 
If you're looking for a legitimate place where you can learn to make a full-time income online the proper way, then I highly suggest that you take a look at my favorite digital marketing platform.
This platform provides courses, step-by-step training and other useful resourves that will guide you through the process of building your very own online business the proper way, the way that works.
You can expect to get help and support from me and other like-minded people, just know that you are not alone in this!
I also love the fact that you can test this platform without spending a penny, you don't even need to take out your credit card to join for free and see if you like it!
If you're interested in learning more, click the button below now:
.
Looking forward to seeing you inside! This is your time to stop getting scammed and get on the right track to making money online!
I hope you've found the answers you were looking for concerning Home Online Profits.
If you have any questions or opinions, don't hesitate to share your thoughts in the comments section below. I always reply to my readers  🙂 
Best wishes =)