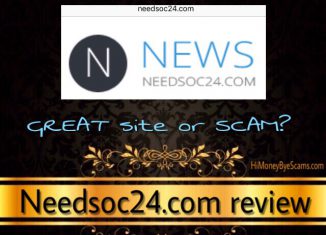 Hey there!
Have you come across Needsoc24.com and are wondering whether you'll make money with this one or is Needsoc24.com another scam that will join the list of countless online frauds?
So I came across that site some days ago and thought I would take a look at it and write this review to let you all know the truth.
.
Needsoc24.com review
---
Name: Needsoc24.com
Website: needsoc24.com
Creator: Unknown
Price: Free to join
Created in: July 2017
Overall Rating: 1/10
.
---
If you're sick of scams, check out my 1st resource to make money online here!
---
.
What is Needsoc24.com about?
---
Needsoc24.com is a website that claims you can earn money by reading the news.
I don't understand why their name is Needsoc24, like what does it have to do with the news?
I'm not a fan of reading the news, especially when they're negative but if I can make money by reading them, why not try?
They claim they're an agency that presents current news from news sites.
According to the information on their site, their clients are news sites owners that are looking to increase the amount of readers and become more popular.
So you can make $120 per day just by reading the news as you get to earn $4 for every piece of news you read and they allow you to read 30 pieces of news every day.
In addition, you can also earn money by referring other people to their site. They claim you'll get paid $170 for each person that joins the Needsoc24.com site through your affiliate link and 15% of their earnings will be yours too.
I personally believe that getting paid $170 for each referral is too much. I'll explain why later.
They make payments via Payza and PayPal once you have $2,400 in your account balance.
And the best part is, you can join for free and you don't need any special skills or previous experience.
Sounds good? Let's see what you'll find if you sign up.
.
What if you join Needsoc24.com?
---
In order to join, you'll have to complete a form with your email address and password.
Then you'll see your affiliate link ready to be shared, this is mine: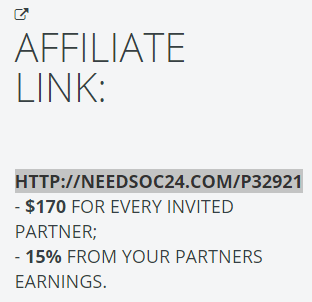 You can share your referral link on social networks, forums, blogs, private messages… and then you'll apparently earn $170 when someone joins through your link. 
I was wondering whether I should share that link or not and after looking deep into Needsoc24.com, I came to the conclusion that sharing that link will not be a good idea.
Then you'll find this list of 15 pieces of news:
I got kind of disappointed when I noticed they only have 15, why do they claim they have 30 pieces of news in their homepage?
If I can only read 15 pieces of news per day, I will only earn $60 per day, not $120 like they claim.
I've already managed to read the news and earn $60, as seen below: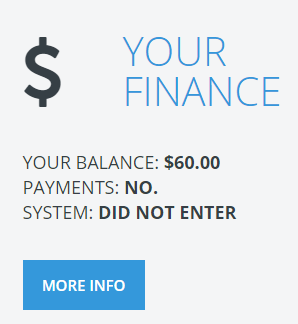 So how will I reach the minimum payout threshold of $2400? If I only earn $60 per day, I will have earned like $1800 in a month, which won't be enough to cash out.
Yes, I could share my affiliate link and try to get others to join, but I won't because it will do more harm than good and I will not get paid even if I reach $2400.
.
Can you make money with Needsoc24.com?
---
The outright answer is no, we won't make money with Needsoc24.com.
I've realized that that site was not created to help us earn money online. I was built to generate profits to its creators.
The truth is that we won't get paid even if we reach $2400 because the owners of Needsoc24.com are not getting paid by those news sites they list.
And why? How do I know? Needsoc24.com is not getting paid by news sites because they're not affiliated with them. I know this because they're not using an affiliate link to take you to those news sites, which means that they're not getting credit for each person that reads those news.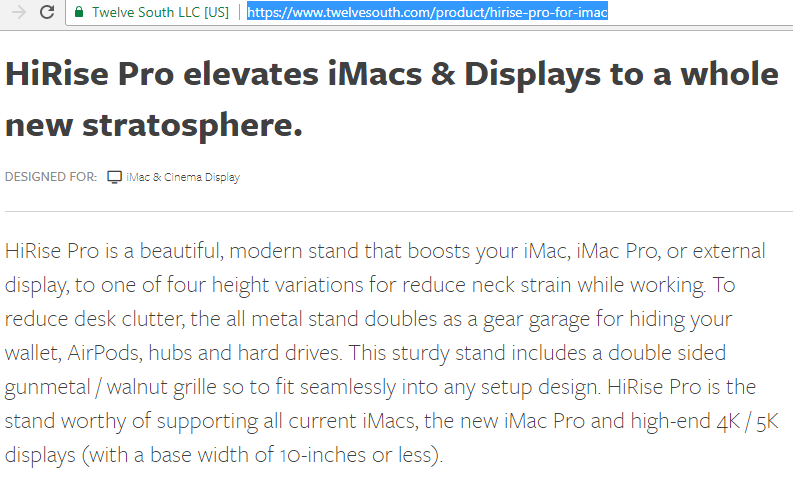 As you can see above, the link I highlighted is a normal link. Needsoc24.com won't get paid if we read those news.
Then it doesn't make sense that they're going to pay us, nobody gives away free money. Imagine if they paid us without them getting paid first, they would get into huge debt.
And they won't even pay us to get people to join their site. It doesn't make sense that they're going to pay us if they're not offering anything. They have no products or ads on their site.
If the people you refer join for free, then where will the money come from? That's why I won't share my referral link. I won't get paid so it wouldn't make any sense that I tried to get other people to sign up to needsoc24.com.
.
Why does Needsoc24.com exist?
---
Needsoc24.com exists to earn money to its owners. 
If it's free to join, how are they going to make money?
One of the ways they're going to make money is by collecting people's emails and personal information and sell it to other scam artists. 
That's why they let you join for free and that's another reason why I won't be sharing my link. I don't want others to join that site and get their information stolen.
If other scammers get your information, you can expect to receive unwanted emails related to other scam sites and programs.
And the other way the owners of Needsoc24.com will try to make money is by getting your PayPal or Payza account number as they'll try to steal your account.
When you try to cash out, they ask you for your account number, which is a red flag. Someone who wants to send you money to your Payza or Paypal account only needs your email address, not your account number.
.
Is Needsoc24.com a scam?
---
After everything I've explained, it's clear that Needsoc24.com is a hoax. 
Apart from the fact that it doesn't make sense that they'll pay us, there are other scam signs that you need to be aware of:
Their email address does not exist. If you look at the bottom of the needsoc24.com site, you'll see their email address. So I thought I would email them to see if I got a response but after sending the email I received a mail delivery subsystem that says the direction was not found. 
Lack of information about the owners. In their about page there's no information about the people behind Needsoc24.com. This is a red flag because it indicates they're trying to hide something. This is something con artists do in order not to be persecuted when their victims find out they've been ripped off.
Lack of important pages. They don't have a privacy policy, earnings disclaimer or terms & conditions page. It's not possible to know how these people are going to use the information we give to them. Why don't they address something as important as this? They should at least have one of those important pages, just like all reputable companies & websites have.
.
My final conclusion
---
I really don't recommend that you join Needsoc24.com because you won't get anything good from it. The only good thing I see about it is the fact that you can know about the latest news. But it's not a site we can rely on to make money.
I dislike the fact that they lie about their email address as it shows that they don't really care about the questions or issues you might have.
Imagine that you reach the minimum payout threshold of $2400 and then you decide to email them after seeing you haven't got paid. You'll get frustrated and upset when you realize that you've got scammed and that there's no way to get in touch with them.
Apart from that, the lack of transparency when it comes to who they are also tells me that they don't deserve to be trusted. 
When it comes to making a full-time income online, there are more scams than programs & sites I can recommend. But if you ask me for a legitimate and ethical place where you can achieve your goal of earning a living online, then this is it.
This is not a get-rich-quick program and the truth is that you won't make a penny if you don't work your butt off. But my top recommendation provides courses, step-by-step training and other marketing tools that will help you start an affiliate marketing business from scratch and take it to the next level.
I love the fact that it's free to get started so you can join without spending a penny and see if you like it. I've been a member of that platform since March 2016 and never looked back since.
I also let you know that you're not alone in this. You'll get help and support from me and other bloggers & online entrepreneurs! 🙂 
Click the button below now if you're interested in learning more:
.
Now is your time to stop getting scammed and get on the right track to make money online!
I hope I've answered the questions you had regarding needsoc24.com and you now have enough information to make the right decision.
In case you have any questions or opinions, don't hesitate to leave a comment below and I'll get back to you ASAP!
Have a great day! =)