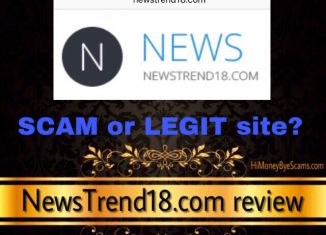 Welcome to my review of NewsTrend18.com!
I've found out NewsTrend18.com is a new site that came out some days ago so I thought I would check it out and determine whether this one is legit or just another scam that will get blacklisted.
Make sure you read this review in order to find out the truth about NewsTrend18.com and end up making the right choice.
.
NewsTrend18.com review
---
Name: News Trend 18
Website URL: newstrend18.com
Owner: hidden
Price: free to join
Created in: December 2017
Overall Rating: 1/100
.
---
If you're sick of scams, check out my 1st resource to make money online here!
---
.
What is NewsTrend18.com?
---
NewsTrend18.com is said to be an agency that presents current news from the media.
They claim their clients are news sites owners that want to increase the amount of readers and raise their popularity.
You can earn $4 for each piece of news you read, so you supposedly get to make $120 per day because they let you read 30 pieces of news per day.
Apart from that, they also have an affiliate program. They claim to pay you $170 for each referral and 15% from your referral earnings. 
It would be great that they paid you at least once a week but they claim you'll have to reach $2,400 to claim your payment. They say they make payments via PayPal and Payza.
In addition, it's free to sign up and you don't need any prior experience or special skills so anyone can do it.
Sounds great, right? I know it sounds amazing, I was about to sign up until I noticed some things I didn't like so I signed up with random details.
.
What's inside NewsTrend18?
---
After signing up, I got taken to the account dashboard where I saw this affiliate link: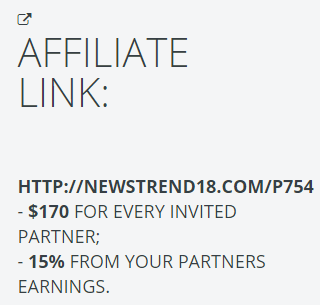 So I can share that affiliate link on Facebook, Twitter, this blog, forums, email… and will get paid $170 each time someone joins NewsTrend18.com through it, am I right? Wrong. 
The truth is that they won't pay me. They say they will but they will not, so I won't waste my time trying to get other people to join NewsTrend18. More on this in the next section.
Let's see what else we find inside that fake site.
I can get a $700 bonus just to do this: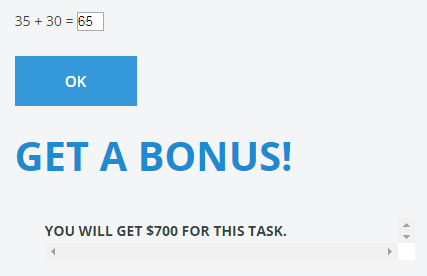 I've never seen an easiest way to earn $700! And you?
And what about the news? There are only 15 pieces of news to read, not 30 like they claim.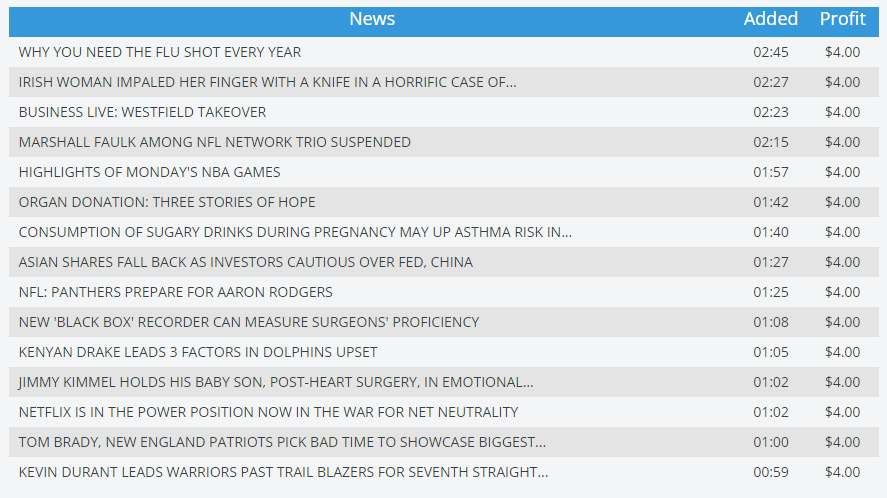 So I've already read them all, as you can see below: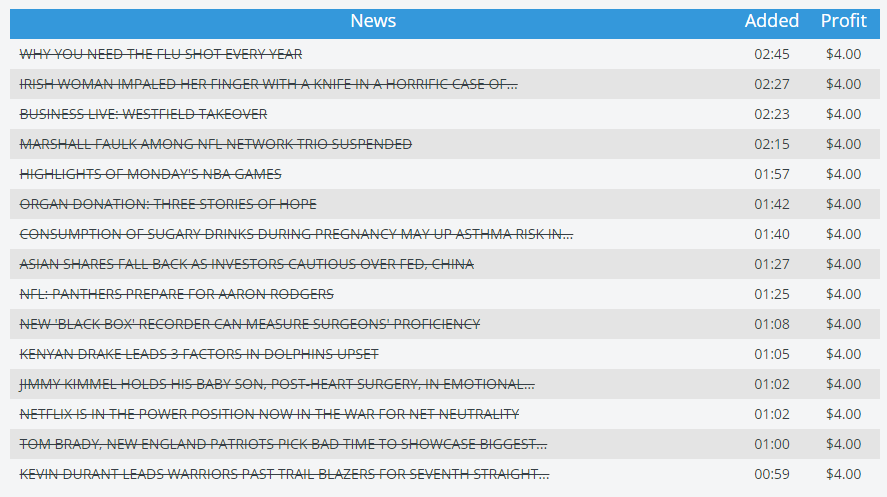 I have apparently earned $760! Now what?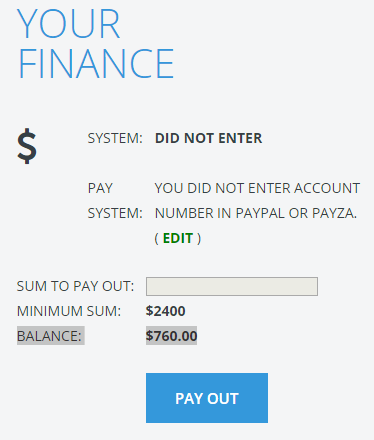 I can come back tomorrow and read more news to earn $60 more, right?
If I read those news everyday I'll manage to reach the minimum sum within a month. But even if I reach $2,400, I will not get paid so I don't think it's a good idea to spend time on that site.
.
Why NewsTrend18.com will not pay us
---
I don't like to be the bearer of bad news, but the truth is that NewsTrend18 will not pay us. That's why I won't spend time trying to get people to join that site.
They will not pay us because they're not getting paid by those news sites owners they mention. They're not going to give away free money.
How do I know this? NewsTrend18 is not affiliated with those sites. I know this because the links they use to take you to those news sites are not affiliate links, which means that those news sites will not know when they're getting visitors via NewsTrend18.
Apart from that, news sites don't pay more than $4 just for reading the news. Yes, some of those news sites have ads but they get paid waaay less than $4 for every single visitor that sees those ads.
They would pay NewsTrend18 if they helped them make sales, but this is not the case.
NewsTrend18 doesn't even have ads or products to sell on their site, they're not offering anything of value so why does NewsTrend18 exist? What's their purpose?
.
Why was NewsTrend18.com created?
---
NewsTrend18.com was not built to help you make money online. It was created to generate profits for the people who created it.
They want you to get people to join their site just to collect their information. This is one of their goals: collect as much information as possible to sell it to other con artists.
That's why you can expect to receive unwanted emails from people you don't know or emails related to other scam sites & programs. 
Apart from that, they also want to know your PayPal or Payza account number to steal your account.
If they really wanted to pay you, they wouldn't need to ask for your account number, they would only need to know your email address. 
.
Is NewsTrend18 a scam?
---
Yes, NewsTrend18.com is a scam. I've already explained why they will not pay you and what they want from you.
Now let's see some details that tell me NewsTrend18.com is not to be trusted.
Lack of information about the company. There's no information about the owners of NewsTrend18.com. Whenever I come across a site or program, I like to know who has created it to determine if I can trust them or not. The fact that the creators of NewsTrend18 don't show up is a red flag because that's something scam artists do.
No terms & conditions or privacy policy page. There's no way to know how they'll use the information you provide them. Why don't they address something as important as this? Having a privacy policy or terms & conditions page is essential and something legit sites and companies have.
They lie about the time they've been around. I noticed in their news project section they have 2 updates but the problem is that they lie about the date those updates were made. As of this review (December 12th 2017), they have only been around 5 days, not a month. I know this thanks to the newstrend18.com domain information.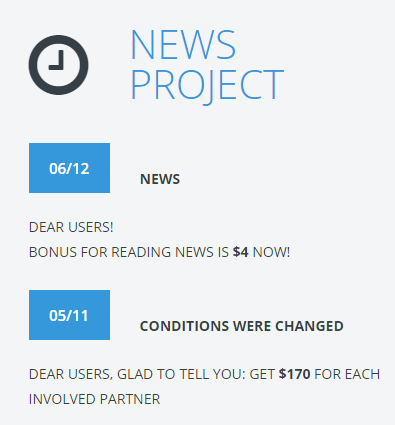 Easy money does not exist. The truth is that nobody's going to give you free or easy money for nothing. Don't you think that everybody would be using this NewsTrend18.com site if it were possible to get paid just to read the news? I know I would tell everyone I love to join that site if it worked, but such thing does not exist.
.
What's next?
---
My final conclusion is that NewsTrend18 is not worth your time or money. It won't benefit you in any way.
They don't pay anyone and the only thing they're after is our money and personal information so there's no way I can recommend that site.  
It's possible to make a full-time income online and more but it will not happen quickly or without doing nothing. Everybody would have already made a fortune if sites and systems that promise easy and fast money worked.
Things don't work like scammers want you to believe. They take advantage of people who know nothing about making money online. 
Truth be told, earning a living online requires you to put in the effort, have patience and stay persistent, among other factors. It's no different than making money offline. 
If you're looking for an ethical online money-making opportunity that works, I highly suggest that you check out my favorite digital marketing platform.
This platform offers courses, step-by-step tutorials, video training and other business tools that will teach you to build a successful business online.
I love the fact that this platform is very affordable and you can even sign up for free to try it out and see if you like it. 
I also love that this platform offers many ways to get help and support. You can ask whatever you want and there's always someone willing to give you a hand! I let you know that you don't have to do this alone, I and other bloggers & entrepreneurs will be there for you 🙂 .
Looking forward to seeing you inside! If you're interested in learning more about it, you can click the button below now:
.
This is your time to say bye to online scams and get on the right track to earning money online!
I hope I've answered the questions you had before reading this review.
Don't hesitate to leave a comment below if you want to share your opinion or have any questions concerning NewsTrend18.com. I always reply to my readers! =)
All the best 🙂