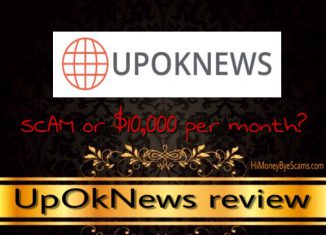 Hey there!
I recently came across a site called UpOkNews.com and thought it was a scam because it looked very similar to other sites I've stumbled upon before.
But I didn't want to judge UpOkNews just for its appearance so I took a closer look to it to find out what it's really about.
Make sure you read this review to get to know the truth about UpOkNews.com!
.
UpOkNews.com review
---
Name: UpOkNews
Website URL: upoknews.com
Owner: hidden
Created in: December 2017
Price: Free to sign up
Overall Rating: 0/10
.
---
If you're sick of scams, check out my 1st resource to make money online here!
---
.
What is UpOkNews.com?
---
UpOkNews.com is a site that claims you can make over $10,000 per month just for reading the news and getting other people to join through your link.
They allow you to read 30 pieces of news per day and you can supposedly earn $3.17 for each piece you read, so you can make over $90 per day just for reading the news.
In addition, you can also make $170 for every person that joins the UpOkNews site through your affiliate link. And you can also earn 15% of your referrals earnings. 
The minimum payout threshold is $2700, so you can reach this if you earn over $90 per day just to read the news.
It sound like a great opportunity to make a full-time income online, isn't it? I mean, everyone can do this as reading the news doesn't require any experience or special skills. 
And the best part is, it's free to get started and reading 30 pieces of news per day doesn't require much time.
.
How does UpOkNews.com work?
---
You'll have to complete a registration form with your email address and a password in order to join UpOkNews.com.
Then you'll get access to your account dashboard where you can find a list of news topics like the one below:
If you click one of these news topics, you'll get to another page where there's a list of the sites where you can read a news article related to a particular topic.
So I managed to read all the news and I also got a $700 bonus, so now I have $1005.10 on my account balance!!
To be honest, I've never found an easier way of earning $1000 than this, have you? 
So I can read the news everyday and earn over $3000 per month and then I can try to get others to join the UpOkNews site through my referral link in order to make more money.
Doesn't it seem way too easy? I mean, making money online has never been easy so is there a catch here? Yes, UpOkNews.com is not what it claims. Let's see the truth in the next section.
.
The truth about UpOkNews.com
---
The truth is that it makes no sense that UpOkNews is going to pay you just for reading the news and inviting others to join.
Why? Because they're not getting paid by the news sites where you read the news articles. If they're not making money from those sites, it doesn't make sense that they're going to pay you. Nobody gives away free money. 
I know they're not getting paid by those sites because UpOkNews is not affiliated with those sites, so they have no way to know when their visitors are coming from UpOkNews. This is why UpOkNews is not getting credit.
I want to add that they wouldn't get paid over $3 for each person that read the news. Even though some news sites have ads, they get paid waaay less than $3 for each person that views them, so it wouldn't make sense that they paid you $3 or $4 for just reading the news.
Imagine if they paid you without them getting paid first, they would get into huge debt! 
So then why do they claim you'll get paid? Why do they lie to you? What's their main purpose? 
Their goal is to collect your personal data and make money at your expense. 
They want as many people as possible to sign up to the UpOkNews site to get their email address, that's why it's free to join and they claim you'll get paid. 
And then after collecting as much personal data as possible, they sell it to other scammers, so you can expect to receive unwanted emails related to other scam sites and programs.
And there's still more. They'll also try to get your PayPal or Payza account number. Once you've reached the $2700 minimum payout threshold and want to claim your payment, you'll be asked to enter your PayPal or Payza account number.
This is a red flag because they don't need your account number in order to pay you. They just need your PayPal or Payza email address, not your account number.
The fact that they want to know your account number indicates that they're after something else, which could be stealing your account.
.
Is UpOkNews.com a scam?
---
I'm 100% confident that UpOkNews.com is a scam. 
Apart from the fact that they won't pay you and their goal is to get your personal information and money, there are some red flags that indicate what their real intentions are.
Let's see these scam signs:
The owners don't show up. I guess the reason why they don't present themselves or mention their names is not to get persecuted when people find out it's a scam. That's what scam artists do to protect themselves.
No way to contact them. Why don't they give us their email address or another way to get in touch with them? This is an indication that they don't want to hear from us, they don't really care about us.
Lack of important pages. They don't have a privacy policy, terms & conditions or earnings disclaimer page. Why are they hiding this important information from us? Note that all legit sites & companies have at least one of those pages.
.
My closing thoughts
---
My final conclusion is that UpOkNews.com isn't a site you can trust to become financially free. It was only created to benefit its owners, not people who are looking for ways to make money online.
The only good thing I see about it is that you can get to know about the latest news, but if your purpose is to make money then I suggest that you stay away from that UpOkNews.
When it comes to earning money online, there are more scams than sites or programs I can recommend.
Keep in mind that most sites that promise you easy riches are sites you need to stay away from as most of these sites (not to say all of them) turn out to be scams.
Making money online is like making money offline. You'll have to put in the effort and dedicate time to it in order to succeed. All great things take time and work to build.
With that being said, if you're committed to doing what it takes to earn a living online, then I strongly believe that my top ranked digital marketing platform will benefit you.
This platform provides courses, step-by-step training and other useful tools that will guide you through the process of building an affiliate marketing business in a way that's sustainable for the long-term. 
I love the fact that this platform offers many ways to get help and support so you can literally ask any question as there's always someone willing to give you a hand. It's great to know that you're not alone in this!
I also let you know that this platform is free to join so you can get inside without spending a dime and test it.
If you would like to know more, you can read my full review by clicking the button below now:
It's your time to get on the right track to success!
I hope this review has been useful to you and you now have enough information to make the right decision regarding UpOkNews.
If you have any questions or want to share your opinion, don't hesitate to leave a comment below and I'll be very glad to connect with you!
Best wishes 🙂