Welcome to my review of Post2Profits.com!
Today one of my readers asked me if Post 2 Profits is a scam so I thought I would check it out to see what's really about and write a review.
In this review, I'll show you what Post2Profits really is, whether you can make money with it or not and more.
.
Post 2 Profits review
---
Name: Post 2 Profits
Website: post2profits.com
Created in: January 2017
Owner: Johnny Ganoza
Price: $25, $40 and $250
Overall Rating: 32/100
.
---
If you're sick of scams, check out my 1st resource to make money online here!
---
.
What is Post 2 Profits about?
---
Post 2 Profits claims to be a program that provides a Facebook Auto Poster Service that enables you to post in groups without needing to be online.
All you have to do is to set the campaign and then the software does all the work for you. 
It actually sounds good as I'm sure there are people who want to post in multiple Facebook groups automatically without having to do it one per one, so this software they're offering seems to be good to save some time.
Wondering what you'll have to do in order to make money? Well, you'll have to recruit others into joining and then teach your referrals to do the same.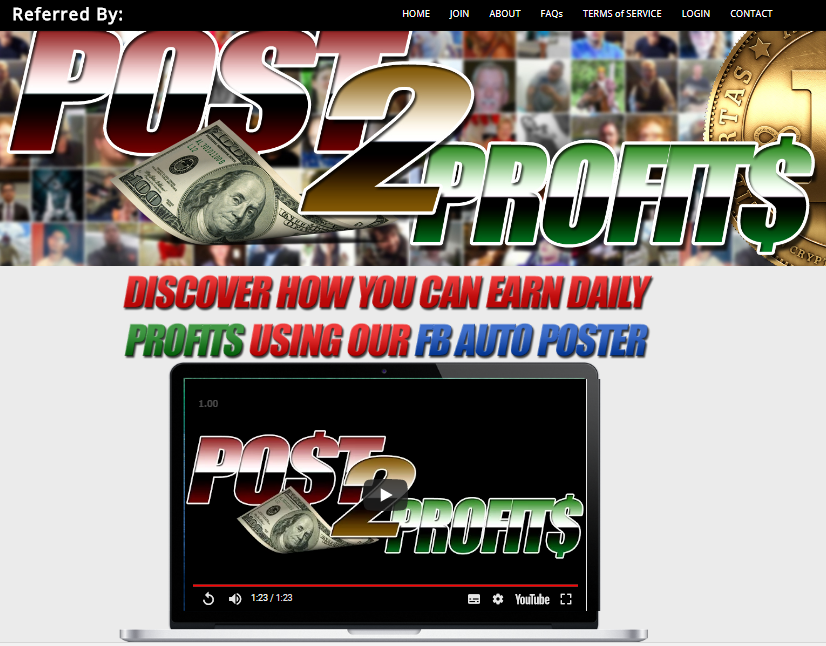 Post2Profits looks like another MLM business opportunity so let's see what their compensation plan is.
.
How does Post2Profits work?
---
In order to sign up to Post2Profits, you'll have to join through someone who is already a member (your sponsor) and pay $25.
After paying $25, you'll get 25,000 ad credits and access to the Facebook auto poster.
In order to earn $35, you'll have to get three people to sign up to Post2Profits through you. That's the 1st level of a 3×3 matrix cycler.
In order to get to the 2nd level and get 40,000 ad credits, you'll have to pay $40.
They claim you can make $110 if you get 9 people to upgrade below you.
And then, in order to get to the 3rd level, you'll have to pay $250 and will get 250,000 ad credits.
According to them, you can earn $6,500 if you get 27 referrals.
Every level of the matrix works as an independent cycler, and once every position on a level is filled, affiliates get paid a commission and unlock the next level of the matrix.
.
Is Post2Profits a scam?
---
It's possible to make money with Post2Profits.
However, will it last? Probably not.
Post2Profits only relies on the investment of each member to make money. Therefore, if people stop paying for the membership levels, no money will come into the system, something that will terminate Post2Profits.
Therefore, is it a scam? It's not a complete scam as you can make money from it, but it can be considered a ponzi scheme.
With that being said, I noticed some red flags that you need to be aware of as these red flags might appear in other scam programs.
.
No information about the people behind Post2Profits
---
There's no information about the owners of Post2Profits, which is a red flag because this means that they're trying to hide something.
However, I managed to find a YouTube video uploaded by a YouTube channel called "The PLR System" that has the referral link of Johnny Ganoza, as I highlighted:
Therefore, Johnny Ganoza is more than likely the owner of Post2Profits. 
Ganoza is known for having created other MLM programs like the Xtreme Pro System and PowerPost Profits, which have already come to an end as they turned out to be ponzi schemes.
I personally don't like the fact that he doesn't present himself in the Post2Profits site as this indicates a lack of transparency.
I don't trust sites or programs whose owners don't show up because that's something that scam artists usually do.
.
They don't offer refunds
---
They don't give you the option to get your money back, so it's kind of risky if we take into account that there's no guarantee you'll recruit at least 3 people and make money.
At least it's not that expensive to join, but it has a level of risk unlike my top recommendation that lets you get started for free.
.
It keeps you dependent
---
The truth is that Post2Profits keeps you dependent because you're relying on only a source of income. 
You need to keep recruiting and recruiting in order to make money, and if this program gets shut down, then you stop making money.
In fact, this happens in all MLM programs. For example, Digital Altitude (a high-ticket MLM program) got recently sued by the FTC, which means that now all their distributors no longer make money from it.
.
It's not for everyone
---
Not everyone will be interested in joining Post2Profits.
If you think about it, Post2Profits is only for people who have an online business or people who usually post on Facebook groups as that's what the Post2Profits Facebook auto poster is for.
Why would someone that is not promoting their business on Facebook be interested in paying for the Post2Profits memberships? No one is going to pay for nothing.
.
My final thoughts
---
My final conclusion is that Post2Profits is a ponzi scheme that can make you some money, but you can't rely on it for the long-term so I don't recommend it.
If Post2Profits didn't require you to join to get their Facebook auto poster, then there would be retail sales, what means that they wouldn't only be relying on the investments of their affiliates. But that's not the case. 
Once people stop paying for the Post2Profits levels, it will come to an end. They've been around for a year already so I wouldn't be surprised if this year or next year it gets shut down.
In fact, most ponzi and pyramid schemes only last 2 or 3 years (for example Digital Altitude).
If you're looking for a way to make money online that you can rely on for the long haul, then I believe that my top ranked digital marketing platform will benefit you.
This platform (free to join) is where I got started back in 2016 and I've never looked back. The business model they teach enables me to help people while earning consistent income month after month.
Inside this platform, you'll find step-by-step training, video tutorials, a keyword research tool, a website builder and other useful tools that will guide you through the process of building your very own online business.
This is not a get-rich-quick scheme and doesn't require you to recruit anyone to make money. You're going to learn to build a long lasting business, which takes time and real work. But I don't see why you can't do it if you're willing to put in the effort.
If you're interested in learning more, click the button below to read my full review now:
I also let you know that you'll have my personal support and help after joining. Looking forward to seeing you on the right track to make money online!
I hope this review has been helpful to you and you now know what to do next.
If you want to share your opinion or have any questions regarding Post2Profits, feel free to leave a comment below and I'll get back to you soon.
Cheers 🙂