Hey there!
You've come across a site called Bitcoin Duty, right? And you might be wondering whether that site is a good oppportunity to earn free Bitcoins or is bitcoinduty.com just another scam that will not make you a dime?
I thought I would write this review because I know some people might want to know what they're really getting into and if they can really make money by trying out BitcoinDuty, so keep reading this post until the end to find out the truth about BitcoinDuty.com.
.
BitcoinDuty.com review
---
Name: Bitcoin Duty
Website URL: bitcoinduty.com
Owners: Hidden
Price: Free to join
Overall Rating: 0/10
.
---
If you're sick of scams, check out my 1st resource to make money online here!
---
.
What is BitcoinDuty.com?
---
Bitcoin Duty is supposed to be a website that claims you can earn money just for sharing your referral link on social networks, private messages, blogs, forums… wherever you can think of.
And then, when other people click your link and join BitcoinDuty.com, you'll make money. They claim you'll make $5 for every link visit and $10 per referral.
Pretty simple and easy, isn't it?
I mean, anyone can share links so is BitcoinDuty.com a site that will definitely help everyone make money?
And most importantly, will they let you get your money out of there once you've reached the minimum payout threshold ($300)?
Well, they claim to make payments via PayPal, cheque, bank transfer, MoneyGram and Bitcoin. So what's wrong then?
I personally don't like the fact that they claim you can earn free Bitcoins and then say nothing about it. Perhaps they make this claim because one of the payment methods is supposed to be BTC, but they're not transparent about it.
Anyway, I've come across many sites similar to BitcoinDuty so I know how it works, and the truth is that they don't have your best interest at heart.
.
Can you make money from BitcoinDuty.com?
---
Frankly, I don't believe you'll make money from BitcoinDuty.com.
At first it might seem that you're earning money because you'll see your account balance rise and rise if you share your referral link and people click on it, but then when you try to cash out, they are not going to pay you.
They will not let you get any money out of Bitcoin Duty.
How do I know that they're not going to pay you? Because they're not getting paid like they claim.
According to them, they get paid for bringing traffic to some advertisers, but this is fake because they have no ads on their site.
Yes, after signing up you will not see any ads so they're not getting paid for bringing visitors.
It makes no sense that they're going to pay you for getting others to sign up because joining is free.
Therefore, why do they want you to get others to join their site? What are they after? Let's see.
.
How BitcoinDuty.com really works
---
Bitcoin Duty doesn't work to make you money. It only works to make money to the people who are running it.
They're letting you to join for free in order to collect your personal details like your email address, your name and your address.
And then, they want you to get other people to sign up because they want to collect their personal information.
Wondering what they're going to do with this information? They're going to sell it to other companies or unethical individuals. That's how they make money.
Apart from that, they're going to send you to CPA (Cost Per Action) offers when you try to cash out. These offers are about signing up to other sites, filling in forms, downloading apps… Offers that are time consuming and never ending.
And if you complete them, they're going to make money as they're affiliated with those other sites. 
Even if you do all those offers, they will still not pay you.
There are and have been many other sites similar and almost identical to Bitcoin Duty like FixMonthlyIncome (already shut down) and they haven't paid anyone. 
Below you can see how similar FixMonthlyIncome and BitcoinDuty are: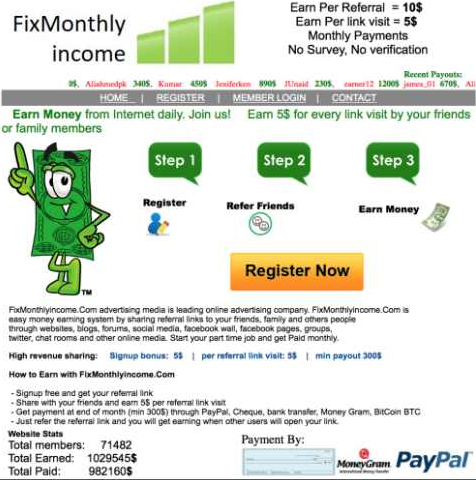 As you can observe, their sites stats are the same lol. Same number of members, same "total earned" and same "total paid". Completely fake sites.
.
Is BitcoinDuty.com a scam?
---
When a site wastes your time and doesn't live up to its promises, it's a scam. This is what's wrong with BitcoinDuty, they lie to you with the purpose of making money themselves. Very selfish of them, in my opinion.
To be honest, I wasn't even surprised that it was a scam when I noticed some red flags. These scam signs below prove that their real intentions are not good.
.
No information about the people behind BitcoinDuty
---
You can notice that the BitcoinDuty site has no section about the people who are running it.
I personally like to know who's created a site or program whenever I come across one because it helps me determine whether I can trust it or not.
Therefore, when people behind a site don't show up, I don't trust them because it means that they're trying to hide something.
That's what most scam artists do, they hide their identities or fake them.
.
Lack of important information
---
They don't have any of the legal pages like privacy policy, terms & conditions or earnings disclaimer. 
What does this tell us? They don't want us to know how they're going to use our personal information and they don't want us to make an informed choice regarding them.
That's why I thought I would contact them to see if I could ask them some questions. 
However, their email address is fake.
I know this because I sent them an email and got the "mail delivery subsystem" telling me that their email address hasn't been found.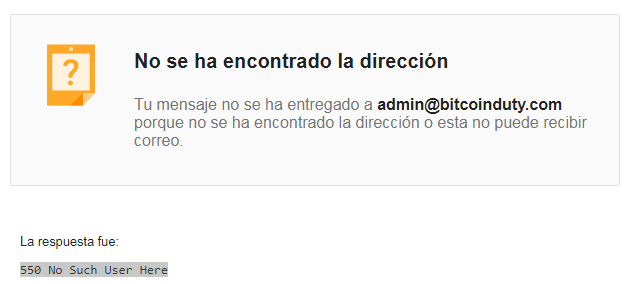 So I'm not going to get my questions answered regarding BitcoinDuty 🙁 
This proves that they don't really care about us. They don't care about our questions. They don't really want to hear from us. They wouldn't have lied about their email address if they really wanted to help us.
.
It has nothing to do with Bitcoin
---
Remember that they claim you can earn free Bitcoins? Well, that's not true.
They claim you can withdraw your money via BTC but you can see that's fake because they don't let you choose the withdrawal type.
It says the withdrawal type is cheque and they don't let you change it, so this has nothing to do with earning Bitcoins.
I was going to ask them if I could choose how to get paid but their email address is fake, as I proved before.
.
My final conclusion
---
My final conclusion is that BitcoinDuty is not worth your time so there's no way I can recommend it. 
They will not benefit you in any way, if you try it out to see if you get paid when you reach $300, you'll be there waiting and wondering why they don't pay you and will get frustrated when you never receive the payment.
If you've already joined BitcoinDuty and have been sharing your link, you might want to stop as it's not going to benefit anyone but the scammers.
When it comes to making money online, you need to know that it's not easy or fast like these scam sites want you to believe.
Making a full-time income from home requires you to work hard, learn, be patient, stay persistent… If it were easy, then everyone would have made a fortune already.
If you're willing to put in the effort and time, I don't see why you can't use the business model I'm using to make money online.
This business model makes it possible to generate a consistent income in an ethical way. And the best part is that it enables you to make money while doing something you love.
If you're interested in learning more about what I'm doing and where you can get started for free, I suggest that you click the button below now:
You'll see that you can get free lessons, marketing tools and also my support and help.
This is not a get-rich-quick scheme or a MLM, it's a real business that it takes time and effort to build but it's worth it in the end when you see your hard work pays off.
I hope this review has been helpful to you and you now know what to do next.
In case you have any questions or opinions concerning BitcoinDuty or anything else, don't hesitate to leave a comment below and I'll get back to you ASAP.
All the best! 🙂