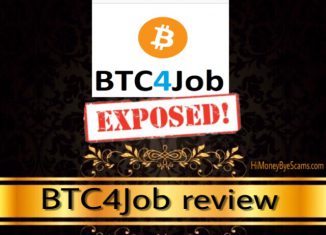 Hey guys!
Have you come across a site called BTC4Job.com and are wondering whether this one is going to make you money or is BTC4Job just another scam that will take your money?
I'm glad you've found my review because you're going to find out the truth about BTC4Job, you'll find out the reasons why it's different from what they claim and what you can expect from it.
.
BTC4Job.com review
---
Name: BTC4Job
Website URL: btc4job.com
Owners: Hidden
Price: Free to sign up
Created in: February 2018
Overall Rating: 0/10
.
---
If you're sick of scams, check out my 1st resource to make money online here!
---
.
What is BTC4Job about?
---
BTC4Job sounds like an opportunity to get a job that enables you to earn Bitcoins, doesn't it?
But the truth is that it's very different from that. BTC4Job has nothing to do with Bitcoin.
In fact, they don't even mention Bitcoin. So what is BTC4Job about?
They claim you can make money just by sharing your referral link and getting clicks and sign ups.
They'll supposedly pay you $5 for every click. Sounds amazing, right?
I mean, it's free to join and anyone can share links so is BTC4Job a great money-making opportunity for everyone? 
It surely sounds like an easy way to earn money fast, right? 
I personally don't like the fact that on their homepage they don't explain where the money comes from and they don't even mention what the minimum payout threshold is.
They make it sound like it's so easy and simple, but the truth is that it's not. I've reviewed many sites like BTC4Job and can say that they don't really want to help you make money.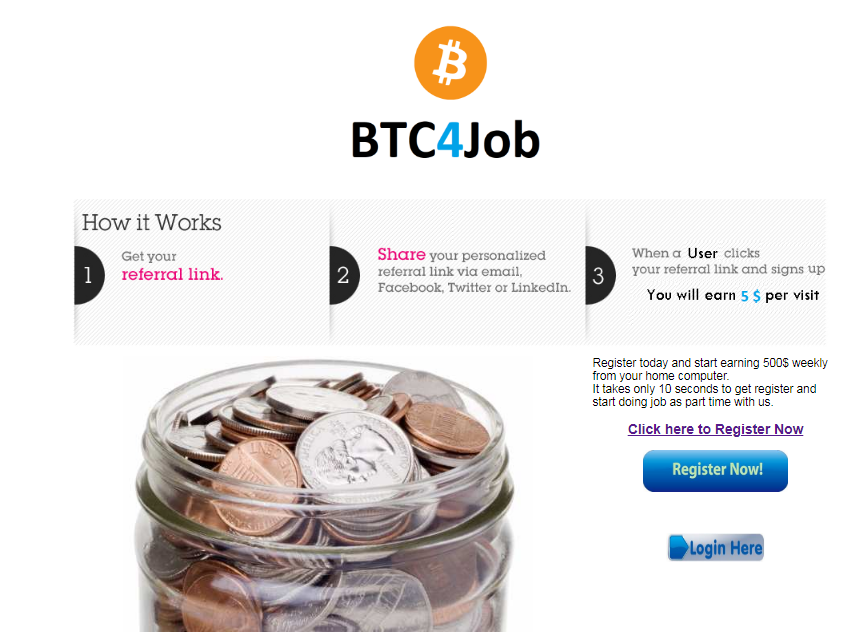 .
Will BTC4Job pay you?
---
No, the people behind BTC4Job are not going to pay you. In fact, it would make no sense that they did.
First of all, how are they getting paid? They claim they're getting paid from their advertisers for the traffic they bring to them. 
However, their site has no ads so it makes no sense that they're getting paid from some advertisers. They're not advertising anything.
They are not even offering any product or something of value, so they're not getting for what they claim.
This is why they're not going to pay you for getting people to click your referral link or getting others to join their site.
Therefore, why do they lie? Let's see what their real goals are.
.
How BTC4Job.com really works
---
The people behind BTC4Job.com just want you to do all the work to make them money.
First of all, they want you to get other people to join their site because they want to collect as many personal details as possible.
And the, when they have a lot of information from different people, they'll sell it to other companies or con artists.
Therefore, if you've signed up to BTC4Job with your personal details, you might receive unwanted and junk emails from people you don't know.
I don't recommend that you click any of the links you find in these spam emails because some of them will take you to scam programs and others contain some kind of malware and virus.
But this is not all, there's more.
When you reach the minimum payout threshold of $300 and try to cash out, they will put you through offers like filling in forms, completing surveys, signing up to other sites, downloading apps… 
The thing is, these offers never end and are time-consuming. The reason why they want you to do these tasks is because they are affiliated with those offers so they'll make money if you go through all those.
Therefore, they want as many people as possible to join because more people means more money for them.
This would be fine if after going through those offers they paid you, but they never will.
I've come across many sites like BTC4Job like CoinHitPay, DollarTable.online, Fix Monthly Income… and no one has got paid from those sites.
In fact, after having ripped off lots of people, they change the names of those sites to confuse other people.
.
Is BTC4Job a scam?
---
Yes, BTC4Job is a scam without any doubt.
They lie to you, waste your time and don't help you make money, so that's a fake site.
Apart from that, there are some red flags that expose BTC4Job as the scam it is, let's see them.
.
It's not possible to know the people behind BTC4Job
---
There's no information about the people who are running BTC4Job, which is a red flag because it indicates that they don't want us to know who we're dealing with.
If they really wanted to help us, they would let us know who they are. But that's not the case.
I personally don't trust sites whose owners don't show up because that's what scam artists do. They usually hide their identities or create fake characters.
In this case, the scammers behind BTC4Job remain hidden because they don't want to get persecuted by their victims.
.
Lack of the main pages
---
They have no disclaimer, terms & conditions or privacy policy pages.
Whenever you don't find these pages on a website, start suspecting because this means that they can terminate your account whenever they want.
They don't even let you know what they're going to do with the information you provide, something that is important to know in order to make an informed decision regarding a site.
Keep in mind that a legitimate company or site would have at least one of thoese three pages.
.
They lie about the payment methods
---
How can you trust a site that is not even transparent about the payment methods? 
In their homepage, they list these 4 payment methods I highlighted:

But then, once you have an inside look at the account area, you can observe that the withdrawal type is Bitcoin:

If they let you change Bitcoin for another payment method of the ones they list in their homepage, there would be nothing wrong.
However, they don't let you choose it. It says "Bitcoin" and there's nothing you can do to change it. 
.
No support
---
When I saw that they don't let you change the withdrawal method, I thought I would contact them to find out if there was a way I could change it.
But guess what, they don't provide any contact information. No email address. No phone. Nada. Then how are we going to get our questions answered? No way.
This proves that they don't really care about us. They don't want to hear what we have to say. If they really wanted to help us make money, they would let us know how to get in touch with them or they would have a customer service.
.
A real way to earn money online
---
I obviously don't recommend that you try out BTC4Job.com because they're not going to benefit you in any way.
Sites that waste your time in order for them to generate profits don't deserve anything from you. What they're doing is highly unethical so stay away from it.
I've come across and reviewed many sites like BTC4Job and they all turn out to be scams. Whenever you read or hear things like "make $500 today" or "earn money easily", start suspecting because anyone who makes that kind of claims is lying to you.
Making money online is like making money offline. It requires real work and time. Honestly, without working you're not going to earn anything. 
If you want to avoid all these scams, the best you can do is to build your own online business using a lucrative business model like the one I'm using, which allows me to earn consistent income month after month.
Yes, it takes work, learning, patience and time. But I don't see why you can't do it if you have the proper training, guidance and marketing tools.
If you're committed to doing what it takes to build a successful online business, I believe that my top ranked platform will benefit you.
This platform is free to join and where I got started back in 2016 and I've never looked back. I've learned so much and also made money.
If you're interested in learning more, click the button below to read my full review now:
Looking forward to seeing you on the right way to make money online!
I hope you've found the answers you were looking for regarding BTC4Job.
If you have any opinions or questions, don't hesitate to leave a comment below and I'll get back to you soon.
Best wishes! 🙂