Welcome to my review of Invitearn.com!
I guess you've found this page because you've come across Invitearn.com and are skeptical about it, am I right?
Well, it's great that you've done your research because you want to ensure you really know what you're in front of before getting involved in any money-making opportunity.
In this review, I'm going to show you what Invitearn.com is really about, how it works and what you can expect from it.
.
Invitearn.com review
---
Name: Invitearn
Website: invitearn.com
Creator: Unknown
Price: Free to join
Created in: January 2018
Overall Rating: 1/10
.
---
If you're sick of scams, check out my 1st resource to make money online here!
---
.
What is Invitearn.com?
---
Invitearn.com is a website that is supposed to help you make money online by sharing your referral link and completing easy tasks.
According to them, you can earn $1 each time someone visits the Invitearn.com site through your affiliate link, $20 per bonus and $5 per task.
When it comes to payments, you need to reach $100 in order to cash out and they make payments via PayPal, Payza, Payoneer, Western Union and bank wire. 
It sounds amazing as this is something that everyone can do. I mean, this doesn't require you to have any experience or special skills.
Anyone can share links and complete simple tasks.
And the best part is that Invitearn is free to join, so will this be the best money-making opportunity that you've been looking for?
To be honest, I don't think Invitearn is what they claim because I've noticed some things I don't like in their homepage, that's why I start suspecting and didn't sign up with personal details.
.
How Invitearn.com really works
---
In order to join, they first tell you to take a survey regarding your experience in the online marketing world, how much money you want to make and how much time you can dedicate to it.
After completing the survey, you can sign up by completing a form with your name, your email address and a password.
Once inside, you'll see a referral link similar to the one below:

So you're supposed to earn $1 for each person that visits the Invitearn.com site through your link. You can share it on Facebook, Twitter, LinkedIn, Instagram, Google+… wherever you can think of.
Apart from that, they also claim you will earn $5 for uploading a YouTube video about Invitearn: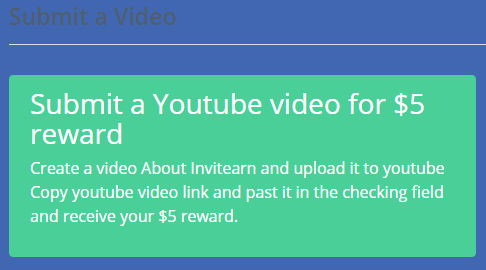 They also have a section named "Make more money" that I thought would include surveys to complete or simple tasks, but it includes "make money online" programs instead.
I personally don't like the fact that some of these programs they want you to join are low-quality programs or scams.
So why do they want you to purchase those programs? What's their purpose?
.
The truth about Invitearn.com
---
The reason why Invitearn.com lists those poor quality programs is because they're affiliated with them.
I know this because they're using affiliate links. As you can see in the picture below, I highlighted their Take Cash For Surveys affiliate link:
This means that the owners of Invitearn.com will make commissions if you purchase Take Cash For Surveys or the other poor quality programs that they promote.
They're trying to make money with affiliate marketing, but they're not going it the right way.
If they were promoting sites or programs that can help you make money, then there would be nothing wrong with promoting it.
However, it's not ok that they want to make money this way because they're only benefitting the scam artists and themselves. They're not doing yourself any favour.
But this is not the only way they make money. Guess why they tell you to get other people to join.
Well, they want to get as many personal details (email addresses, names) as possible in order to sell them to other con artists or companies.
That's why you can expect to receive spam and junk emails if you've joined Invitearn with your personal information.
I recommend that you see if you can unsubscribe if you receive undesired emails. Apart from that, I don't recommend that you click any link of those emails because they take you to other scam sites that might contain some kind of malware and viruses. It's quite dangerous.
.
Is Invitearn.com a scam?
---
A website that doesn't live up to its promises and wastes people's time like Invitearn.com can be considered a scam.
I've found out some scam signs and red flags that tell me Invitearn is not going to pay you what they claim.
Let's see them.
.
No information about the owners of Invitearn.com
---
There's no information about the people who have created Invitearn.com. 
This is a red flag because it means that they don't want us to know who we're dealing with. Why are they hiding from us?
I personally don't trust sites or programs whose owners don't show up because that's what scammers do. They usually create fake characters or hide their identities in order not to get persecuted by their victims.
.
The comments are not real
---
They have a section with positive comments, but I'm sure that they're fake.
They don't provide any pictures of the people who are supposed to have written the comments, but there are some details that tell me they're invented.
Let's take a look at them:

In the second comment we can read that someone named Amir has supposedly joined Invitearn some months ago, but this is not true because I found out that it's not even been a month (today is 18th February 2018) since Invitearn.com was created.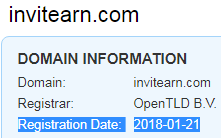 Therefore, all the comments of the Invitearn.com site are fabricated. Scammers usually create fake comments and testimonials to make you believe that what they're offering is worth it.
.
They will not pay you
---
They claim they're going to pay you $1 each time someone visits their site through your affiliate link, but this is not true.
If you think about it, it would make no sense that they paid you because they're not getting paid for bringing traffic to their site.
Their homepage doesn't have any ads so there's no way they'll pay you for getting others to visit their site.
Even if they had ads, it would make no sense that they paid $1 per visitor.
With that being said, their terms & conditions make it clear that they're not going to pay you.

As you can read above, they say that you cannot get paid from their site.
By saying that their site was created for a commercial purpose, they mean that their purpose is to make money themselves. 
As I've already explained, their goal is to earn money by selling other people's information and by getting others to buy the low quality programs they're affiliated with.
.
Use affiliate marketing the proper way
---
It's obvious that I don't recommend Invitearn.com because it will not make you any money.
I can't recommend programs or sites whose owners are trying to deceit people to make money themselves. What they're doing is unethical.
They're not even transparent about what it takes to make money as they make it look like it's easy when the truth is that it's not. 
Making a full-time income online requires real work, patience, learning, perseverance… Everyone would be already making money online if it were easy.
With that being said, remember that they're using affiliate marketing to make money?
I'm also using affiliate marketing but the difference between what they do and what I do is that I don't promote scam sites or programs to make money.
In fact, you don't need to deceit people to earn money. You can do the same I'm doing: helping people while making money.
That's right, as long as you put in the effort and time, I don't see why you can't build a successful affiliate marketing business.
You can use the exact training and tools I've been using since I got started back in 2016. In fact, I'm always learning something new because the platform I'm in is getting updated every day with new training and help.
You can learn more by clicking the button below now. You'll learn what you'll have to do and how you can get started for free.
The fact that you've made it this far tells me that you're really serious about making money online. In fact, if you've been able to read this review, you'll be able to learn what you need to do to build an online business.
Looking forward to seeing you in the right track to make money online! I'll personally be there to guide you =)
I hope you've found the answers you were looking for concerning Invitearn.
If you have any questions or opinions, please feel free to leave a comment below and I'll get back to you ASAP.
Best wishes 🙂