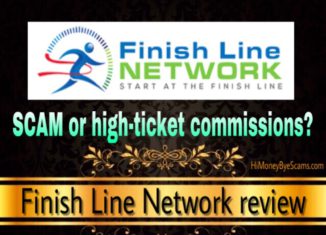 Will Finish Line Network scam you out of your hard-earned money?
Or will this system help you become financially free?
Well, first of all, I need to congratulate you for taking the time to do your own research before getting involved in another money-making opportunity.
There are too many scams out there so doing your due diligence is the way to avoid the horrible scams and find the real way to earn money online!
To be completely straightforward with you, I am not affiliated with the Finish Line Network so here you are going to get an honest review.
I'm going to show you how this program really works, their compensation plan and some red flags that you need to be aware of.
Finish Line Network review
---
Name: Finish Line Network
Websites:
finishlinenetwork.com

lockinyourprofits.com
Owners: Chad Stalvey, Greg Chambers and Doug Wellens
Launched in: 2018
Price: $20/month + $1,000s in upsells
Overall Ranking: 2/5
---
If you're sick of scams, check out my 1st resource to make money online HERE!
---
What is Finish Line Network about?
---
Finish Line Network is a new MLM (multi-level marketing) business opportunity that has been created by three guys who have been involved in programs like Traffic Authority a.k.a. Push Button Profits.
I remember not recommending Push Button Profits, but I didn't want to think Finish Line Network operated the same way so I did my homework before coming to a final conclusion.
They claim this system will help you start your online business in a way that you will not have to wait much to start making money.
It's a "done-for-you" system that provides you with products, training and tools that are designed to get you to promote the same exact system.
In other terms, this is no different than other programs where you make money by recruiting other people into the same program.
I know lots of people love the idea of having most of the work done for them but the truth is that it's not that awesome. More on this later.
The sales video they use to get people involved in this opportunity makes this system sound quite easy to earn money with.
They provide four product lines that you can earn money from, but before making money you will have to spend hundreds (if not thousands) of dollars.
How Finish Line Network really works
---
Finish Line Network does not work as easily as advertised. It works no differently than other schemes that require you to recruit other people into the same system.
In order to qualify to promote their products, you will have to pay $20 a month and purchase each product or sell six of each product.
They will recommend that you buy all products so that you can start earning the high-ticket commissions from day 1.
I mean, if you tried to qualify by selling their products, it might take you longer than if you first buy their products.
The thing is, their products cost hundreds and thousands of dollars so you would have to spend over $1,000 just to get the right to sell their products.
If you don't qualify, you will miss out on commissions (more on this later).
Finish Line Network's product line
---
There are 4 products to buy and make money from:
This is a lead management platform that helps you bring leads and sales to FLN and other business opportunities. It also comes with an app, which is great because it enables you to run your business from your phone. 
Gold ($130/month or $2,997 for 3 years)
With this one you get access to virtual live events run by influencers and strategic speakers. They also provide some training that is focused on getting you to promote FLN.
Email Profits On Demand ($1,997)
This product is very pricey in my opinion. It's about creating email marketing campaigns to market Finish Line Network and make sales.
Digital Domination – Live Event ($997)
This is an event where the top network marketers meet and share their experiences with other members. They basically talk about what has worked for them and their strategies/methods.
In the Finish Line Network they sell these products in packages: the Silver & Gold package that you can get for a monthly fee of $177, and the All In Bundle, which includes all products and costs $4,997.
These products might help you earn some money by promoting them.
You will learn how to drive leads to the sales pages you're provided with, which is something important no matter the business you're in.
Even though they are valuable products, they are quite expensive so I would suggest that you don't spend more money than you can afford to lose.
In other words, don't invest in these products just to qualify to earn commissions from them. It's essential to take into consideration if they will benefit you in a personal level, not just for the business opportunity.
Get my FREE Earn Money Online Guide HERE!
Finish Line Network compensation plan
---
How much can you earn with Finish Line Network? How does it work? Let's see their "profit maximizer compensation plan".
There are some ranks within the network that you need to reach in order to make money.
The higher your rank is, the more you can profit.
Let's see each rank from lower to higher:
Rising Star. This is where everyone starts out. 
1 Star rank. You reach this rank after having sold 6 Silver packages. 
2 Star rank. You need to sell 6 Gold packages to qualify.
3 Star rank. 6 Email Profit On Demand packages are required to be sold to reach this rank. 
4 Star rank. You will have to sell 6 Digital Domination tickets to qualify.
Now let's see the ways of earning money with their compensation plan:
When one of your referrals purchases one of the four products, you will earn a direct commission.
Depending on the product you sell, you will make more or less money.
When you start out, you will make 50% commission on the commissionable amount until your 6th sale. From your 7th sale onwards, it will be 80%.
Example: The Gold package costs $130/month and the commissionable amount is $65. From this amount, $13 is for the bonus pool and $52 is split 50/50 between you and your recruiter a.k.a. sponsor. So you can earn $26 a month if the first person you recruit pays the monthly fee of $130. From your 7th Gold monthly subscription sale onwards, you will earn $41.6/month.
Here's what you get to earn for each product:
Silver. $10/month until your 6th sale, then $16/month.
Gold. $26/month until your 6th sale, then $41.6/month.
Gold Pro subscription. $500 (every 3 years) until 6th sale and then $800 (every 3 years).
Email Profits On Demand. $400 until 6th sale and then $640.
Digital Domination event. $160 until 6th sale, then $256.

These commissions depend on the sales made by your downline.
As I said before, when you start out you will split 50/50 commissions with your sponsor a.k.a. upline, so you will do the same with your referrals.
When one of your direct referrals makes their first sale, they will share 50% commission with you. And from their 7th sale onwards, it will be 20% (for them it will 80%).
Another thing is, you can also make money from the referrals of your referrals if they are not qualified. 
Example 1: your referral makes a Silver package sale for the first time so they will make $10 and so will you. Once they have made their 7th Silver package sale, they will earn $16 and you will earn $4.
Example 2: someone who is 3 levels under you but not qualified makes their first Digital Domination sale, the system will look for the next qualified member and if it's you, you will get paid $160 (50% commission).
As you can see, you can earn commissions from anyone within your downline, depending on their rank and the product they sell. 
This is where members can share the companies profits. Each time someone makes a sale, the company takes 20% of the commissionable amount and leaves it in the bonus pool.
You can make more or less money depending on the value of each share, the quantity of shares you earn and your affiliate rank.
The value of each share depends on the monthly revenue of Finish Line Network.
The amount of shares you acquire depends on the product you sell each month, since not all products pay out the same number of shares. 
Also, each time you qualify for a new rank, you get to earn between 1-4 shares depending on the rank you reach. The higher the rank, the more shares you earn.
And your affiliate rank also determines how much you earn from each share. When you first start out as a Rising Star affiliate, you get to earn 60%, 1 Star affiliates earn 70%, 80% for 2 Star affiliates, 90% for 3 Star affiliates and 100% for 4 Star (the highest rank).
Apart from that, 4 Star affiliates also get to earn unpaid shares from affiliates on other ranks. 
Example: there are 2 shares that are worth $200 each one of them. A 2 Star affiliate had 2 shares, so they would earn $320 (80% of $400) and the rest ($80) would go into the 4 Star bonus pool, which would be shared between 4 Star affiliates.
Finish Line Network scam signs & red flags
---
Even though you can earn money by selling Finish Line Network's products and recruiting other people into the system, there are some red flags that I'm going to point out because you need to take them into consideration.
It's a done-for-you system
---
Something I don't like about this system is the fact that it's a done-for-you system, which means that keeps you dependent.
I know that many people love "done-for-you" stuff but the truth is that it's a disservice when it comes to the long run.
Everyone involved in this system does the same, which means that they don't encourage creativity. 
The problem with this type of systems is that they leave you with nothing if they shut down. 
Because of this, I believe it's best to create your own system.
Other done-for-you systems I have reviewed are the following:
They are marketing it as a way to make money fast
---
The sales page they use to market this business opportunity is overhyped because they claim you can start making money immediately.
Telling someone that they can start making money fast is a red flag because this is what you hear in all the get-rich-quick scams out there.
The truth is that there's no program or system that you can use to make money in no time so I don't like the way they are promoting it. 
In my opinion, it's very misleading and people who don't earn much will get disappointed when they realize it's not as easy and fast as advertised.
Also, I took a look at their income disclosure and it seems that most affiliates don't get to earn that much.
See what I highlighted below:

In other words, the average income would be between $25 and $150 a month which is not enough if your goal is to make a living online.
Honestly, I didn't get surprised when I saw their income disclosure because this kind of income is very popular in MLM programs.
Most of the money that comes into the system is for the ones at the top, most affiliates don't get to earn much.
Check out my FREE Earn Money Online Guide HERE!
It could be a pyramid scheme
---
Is Finish Line Network a pyramid scheme? Well, maybe it's still early to call this company a pyramid scheme because it's recently come out.
However, the way it works is similar to other MLM programs that have turned out to be pyramid schemes.
What all these programs have in common is that the focus is on recruiting, not on the products. 
Even though the products are valuable, the only people who get to purchase them are affiliates. These products are not available for people outside Finish Line Network.
In other terms, if you want the products, you are forced to join and participate in the business opportunity. 
If they provided some tangible products or had retail sales, then I don't think it could be a pyramid scheme. But that's not the case…
In my opinion, their business model is unsustainable for the long-term because the money only comes from members, which means that the system could collapse when people stop signing up.
It's quite risky
---
The reason this is risky is because it requires you to make a big investment and there's no guarantee that you will make that money back.
First of all, if you don't want to buy the most expensive products, you will have to make 6 sales of those products, which is not easy if you are starting out.
Systems like this usually do paid advertising so you would have to spend lots of money on paid traffic to find the people who are willing to buy the pricey products.
So if you don't want to miss out on commissions, get ready to spend hundreds (if not thousands) of dollars on promoting this system.
That's the reason systems like this are not that easy to make money with. 
From what I've seen, people who make the huge bucks are usually marketers who already had some experience in Internet marketing. 
Conclusion on Finish Line Network
---
It's possible to make money with Finish Line Network, but most affiliates don't earn that much.
This kind of programs always benefit the people at the top, while most people at the bottom spend more money than they earn.
So is it a scam? It's really up to you how you call it. 
For some people it might be a scam because it requires you to spend a lot of money before you can make money, and it also requires you to recruit other people into the system. It operates similar as a pyramid scheme so that's why there are people who will call this program a scam.
Other people will not call it a scam because they provide something for your money and it's possible to get a refund on your first purchase.
With that being said, this business is not newbie-friendly because it's quite expensive and is not sustainable for the long-term because it's focused on recruiting.
Because of this and everything mentioned, my final verdict is that I do not recommend Finish Line Network.
It's best to build your own system
---
If you are someone who is serious about making a full-time income online for the long-term, I believe it's best that you focus on building your own business.
I personally got involved in some done-for-you systems in the past and some of them have already shut down. They usually last 3-7 years before they collapse or get shut down by the FTC.
So when I learned the truth about these systems, I decided to focus on my own business instead.
I'm grateful that I came across a business model that is newbie-friendly and has given me a way to earn a consistent monthly income online.
It's a business model that allows you to earn money from different products that are available online. It's not like an MLM because it doesn't limit the amount of products you can promote.
There's a lot to say about this business so I created a FREE step-by-step earn money online guide where you can find what this business is about:
By clicking the button above now, you will learn how this business works, why it works, the 4-step formula I followed, the step-by-step training and marketing tools I used…
This proven method doesn't require you to do paid advertising so you will not have to spend thousands of dollars on traffic.
Not only that, you will find out how you can start today for free!
That's right, you don't need to spend a dime to determine if this business is right for you =)
In addition, you also get the chance to get free help and support from me and thousands of like-minded people so you can rest assured knowing that you are not alone in this new adventure.
I'm so excited for you to stop wasting time on done-for-you systems and start building your online asset today!
CHECK OUT MY FREE EARN MONEY ONLINE GUIDE NOW!
I hope this Finish Line Network review has been useful to you and you will make the best possible decision.
Don't hesitate to share it with whoever you believe that will benefit from it!
If there's something else you want to know or you have any questions, feel free to leave your thoughts below and I'll get back to you ASAP! ? 
Whatever you do next, I wish you the best =)