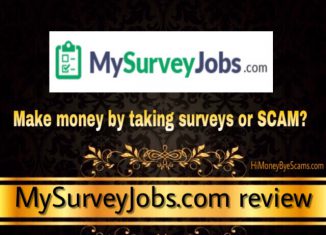 Welcome to my review of MySurveyJobs.com!
You're here because you might be wondering whether MySurveyJobs.com is a great money-making opportunity or is My Survey Jobs just another scam program that will not make you the money you deserve?
Well, I'm glad that you've decided to do your research and have come across my review because here you will find out the truth about MySurveyJobs.
I'll be covering what this program is about, whether it can help you make money or not and my advice. 
.
My Survey Jobs review
---
Name: My Survey Jobs
Website: mysurveyjobs.com
Owner: "John Anderson"
Price: Free and $24.95
Created in: May 2017
Overall Rating: 1/10
.
---
If you're sick of scams, check out my 1st resource to make money online here!
---
.
What is MySurveyJobs.com?
---
MySurveyJobs.com is a platform that is supposed to work as an intermediate between companies and consumers to offer a win-win situation for everyone involved. 
They claim there are many companies that need to know your opinion about their products or services in order to make better decisions regarding their products and increase their revenue.
My Survey Jobs is alledged to have exclusive relationships with the largest market research companies that offer people the chance to make extra cash for completing paid surveys.
They claim there are companies that pay between $3 and $45 per survey and others pay $500 per survey.
I personally believe that's an unrealistic claim because companies don't pay that much just to know people's opinions. Most companies pay between $0.50 and $5 per survey, so claiming that you can get paid like $25 per survey is outrageous.
.
How does MySurveyJobs.com work?
---
In order to sign up, you have to click the "Start Survey" button, then they're going to ask you some questions like how much money you want to earn per month taking surveys, how many hours you can dedicate, when you can get started…
After completing the poll, you'll be able to join MySurveyJobs by completing a form with your name, your email address and your phone number.
Then you'll get to watch an introduction video where John Anderson, the alleged owner of My Survey Jobs, introduces himself and this opportunity.
Once the video has finished, they only give you the option to pay $34.95 for the Premium VIP membership.
In order to login to your free account, you'll have to check out the email they've sent you to find your login details (they create the password for you).
I didn't give them my personal details because in their homepage I had noticed some things that didn't give me good vibes.
Once inside, you can already notice some red flags:
The first red flag is that they pressure you to purchase the VIP membership by saying "today only". This is not true because I created my free account yesterday and nothing has changed. The offer is still available today.
The second red flag is the step 2. There's no such thing as making $100 fast just by taking surveys. As I've explained before, most companies pay between $0.50 and $5 per survey, so you would have to take lots of surveys to make $100.
In fact, filling out paid surveys is not something you do in 1 minute. It can take you 15 minutes or more, and you can't answer just whatever you want. 
The third red flag is support. As you can observe above, the support section is locked, what means that it's only for paying members. This is a red flag because it means that they're just after the money.
Why can't they let you know how to contact them if you have questions? 
Another red flag is the fact that no matter where you click, for example if you click "work at home jobs" or "make money", you're going to find the exact same thing. The content is repeated no matter the section you check out.
Click here to check out my top recommendation (FREE to get started)!
.
Is MySurveyJobs.com a scam?
---
The answer to this question really depends on what a scam means to you.
If a scam to you is something that runs with your money without delivering anything, then MySurveyJobs.com would not be a scam because they deliver something for the $24.95 fee, even though it might not be worth it.
If you define a scam as a site or program that doesn't live up to its promises, then MySurveyJobs can be considered a scam. 
I personally believe MySurveyJobs.com is a scam because I've found out too many scam signs and misinformation that prove this money-making opportunity is not worth my time or energy.
In the previous section I've told you about some of the red flags I've noticed, but there are more that you're about to see in this section.
.
John Anderson is not the real owner of MySurveyJobs.com
---
In the MySurveyJobs.com sales video, we're told that John Anderson is the man behind this company, but this is not true.
While doing my research, I found out that this guy who appears in the picture above is not John Anderson and he might not even know about the existence of MySurveyJobs.com.
His real name is Christopher Cane and he has a Twitter account, as you can see in the picture below:
The fact that they lie about the people behind this program is something that tells me the real owners of MySurveyJobs are not to be trusted.
.
The testimonials are fake
---
They don't only lie about the owner, they also lie about the members.
Both in the homepage and the sales video, they show some people with checks to make you think that they've made a lot of money by taking surveys.
But the truth is, there's no way to verify whether they've made money taking surveys or with another method of making money online.
I know they have not tried MySurveyJobs because those pictures can be found on other sites.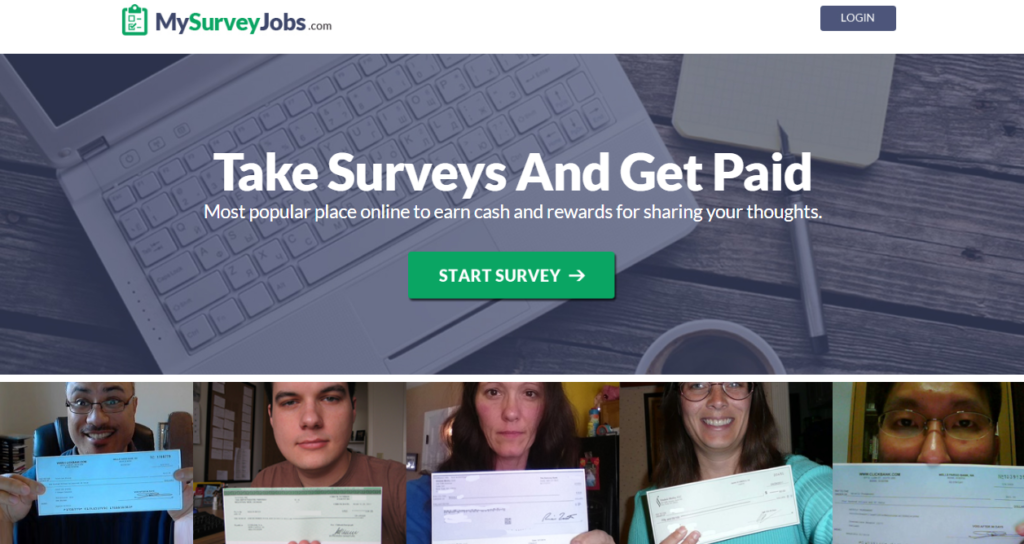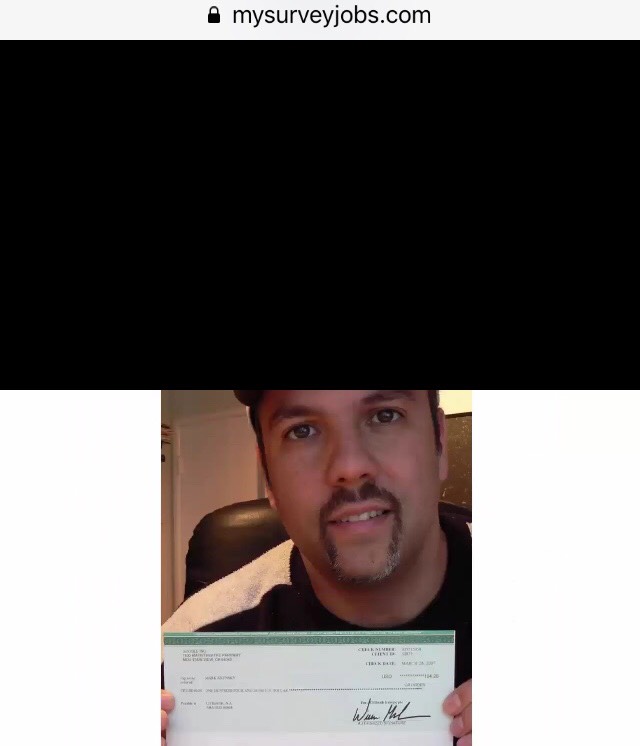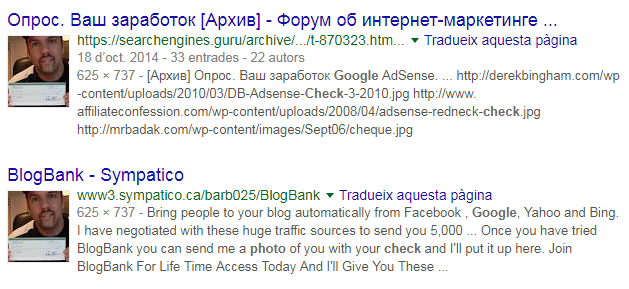 If there were people who had actually benefitted from MySurveyJobs.com, their owners wouldn't have created fake testimonials.
.
They link you to other scam programs
---
In all the sections of the MySurveyJobs.com account area, you can see a list of some sites and money-making opportunities, the problem is that some of these sites are scams, like Home
Home Job Position and $500 Cash Club are two online money-making pages that have nothing to do with paid surveys, but this is not the main issue here.
The problem is that they're scam pages that take you to a high-ticket MLM program that got shut down named Digital Altitude. I explain what this is about in my $500 Cash Club review.
But this is not all. If you click where it says "click here" or "click here to learn more", you're going to be taken to other scam programs like this one below:
QuantumAdCode is the same as FreeAdCashSystem. In fact, you can observe that the link highlighted is "freeadcashsystem.com". I remember exposing this scam in the past and found out the scammers are using FreeAdCashSystem to get people to pay for BannerBit.com, which is another scam I exposed.
You can observe it looks like a get-rich-quick scheme. They usually make high income claims in a short period of time. 
Therefore, why do the owners of MySurveyJobs.com promote other scam programs? Because they're affiliated with them, which means that they'll make money if you fall for those scams.
.
Use your time wisely
---
There's no way I'm going to recommend MySurveyJobs. 
Let's recapitulate what we've seen:
They lie about the testimonials.

They are not transparent when it comes to the amount of money you can make.

They lie about the owner.

They don't offer support if you're not a paying member.

They're not making money taking surveys. They're making money by selling the Premium VIP membership and promoting other scam programs.

They use fake scarcity tactics to get you to purchase the membership.
After all this, I've come to the conclusion that MySurveyJobs.com is not worth it.
It's not only what they're offering that matters, it's also the way they're doing it. The fact that they're lying makes me believe they don't really want to help us make money. They're wasting our time to make money themselves.
When it comes to paid surveys, yes you can make money. But it's just extra money. I mean, completing paid surveys is not the best way to make a full-time income online because companies don't pay that much for each survey you take. You would have to take a lot of surveys to make a decent income.
Apart from that, it's very time-consuming and what if you stop taking surveys? You stop getting paid. Do you think taking surveys is a wise way to use your time? I personally like to earn money in another way.
I like to make money in an ethical way that enables me not to be active all the time. For example, doing something once and getting paid over and over again (what could be writing a book and getting paid for each sale).
Yes this is possible, but you need to keep in mind that it requires a lot of work, learning, time, patience and persistence. But it's worth it in the end.
The affiliate marketing business model enables me to do this and I believe you can do it too if you're committed to putting in the work and have the right business tools, step-by-step training and support.
All of this is included in the training platform I'm a member of. I've been using their training since 2016 and still using it. The platform is being updated and improved constantly, which enables me to learn something new everyday.
I've never looked back as this business model has given me the way to earn a consistent income month after month. Yes, it didn't happen easily or quickly, but this is just like anything great achieving in life. You need to make efforts to make it happen.
If you're interested in learning more, click the button below now:
You'll see everything that's included and how you can get started for free! I want to add that you'll also receive help and support from me and other bloggers & Internet entrepreneurs 🙂 
Looking forward to seeing you get in the right track to make money online!
I hope you've found the answers you were looking for regarding MySurveyJobs.com. 
If you have any questions or opinions, feel free to share your thoughts in the comments area below and I'll get back to you ASAP.
Blessings!