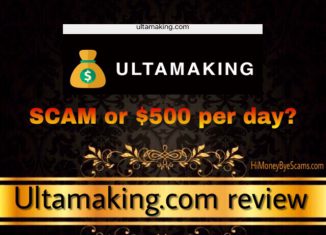 Welcome to my review of Ultamking.com!
You are wondering whether Ultamaking.com can help you become financially free, right? Or is Ultamaking just another scam site like the it seems it could be?
Well, I'm glad that you have taken the time to do your research because there are many scams out there so you need to make sure you know what you're in front of in order to make the right decision.
In this review, I'll show you what Ultamaking is really about, how it works and whether it can benefit you or not.
.
Ultamaking.com review
---
Name: Ultamaking
Website URL: ultamaking.com
Owner: Hidden
Created in: February 2018
Price: Free to join
Overall Rating: 10/100
.
---
If you're sick of scams, check out my 1st resource to make money online here!
---
.
What is Ultamking.com about?
---
Ultamaking.com is a website that is supposed to offer an easy way to earn money online.
All you have to do is to share your Ultamaking.com affiliate link on Twitter, Facebook, forums, blogs, Instagram… wherever you can think of.
And then they claim they'll pay you $1 for each visit your link gets.
In addition, they also offer some tasks that you can complete and earn at least $5 per each one.
According to them, you can earn $100-$500 per day by only working 2-3 hours daily.
When it comes to payments, you only have to reach $100 in order to claim your payment. They allegedly send the money via PayPal, Payoneer, Western Union, bank wire and Payza.
Sounds good, right? Especially when we take into account that this is something anyone can do.
Anyone who has basic computer skills can do this because it doesn't require you to have previous experience.
And the fact that it's free to join makes it seem too good to be true, especially because making money online doesn't happen fast or easily.
Therefore, let's see what's inside Ultamaking.com.
.
What can you find inside Ultamaking.com?
---
In order to sign up, you'll have to take a survey about how you want to earn money, your experience in the "make money online" world, how much money you want to make and how much time you can dedicate to it.
After completing the survey, you can sign up by filling in a form with your name, your email address and a password.
Once inside, you'll see a referral link similar to the one below:

Apart from that, they claim to offer you the chance to earn $5 for uploading a YouTube video about Ultamaking.
You can also check out a section named "Make more money" that I thought would be about making money by taking surveys, but it's about online money-making opportunities instead.
The problem here is that those programs don't offer training that can help you make money online. Those programs are low-quality or scams that you need to stay away from.
Therefore, you may be asking why they promote those programs. Let's see what is the real goal of Ultamking.com.
.
The truth about Ultamaking.com
---
If you're wondering why the owners of Ultamaking.com want you to purchase scammy products is because they're affiliated with them.
I know this because I noticed that the links they're using are affiliate links.
As you can see in the picture above, I highlighted the Paid Social Media Jobs affiliate link.
The people behind Ultamaking.com will earn commissions if you decide to purchase Paid Social Media Jobs and the other scam programs through their link.
If they were promoting good programs that can help you make money, then there would be nothing wrong. But they're not doing this, they're promoting low quality programs that contain many red flags and don't live up to their promises.
In my opinion, it's not ok that they want you to purchase programs that will not benefit you because it means that they only care about making money themselves.
They're using a business model called affiliate marketing, which can be lucrative when used properly. But they're not using in the right way.
With that said, there's another way they try to make money.
They want to collect as much personal information as possible in order to sell it to other companies or scammers.
Therefore, the more people who sign up to Ultamaking.com, the more personal details they get and the more money they make. This is why they want you to get other people to join.
If you've joined Ultamaking.com with your main email address, you can expect to receive unwanted emails from people you don't know. If that's the case, I don't recommend that you click any link of those emails because they might take you to other scam sites.
.
Is Ultamaking.com a scam?
---
When an online money-making opportunity wastes your time and doesn't live up to its promises, it can be considered a scam.
I've explained what the people behind Ultamaking.com are really after and now let's see some of the red flags that expose Ultamaking.com as the scam it is.
.
The comments are fake
---
If you take a look at the Ultamaking homepage, you'll read some positive comments that are supposed to have been written by people who've made money with Ultamaking.com.
However, there are no pictures of the people who've written these comments and they're all way too positive that seem unrealistic.
Kathleen allegedly claims to have been able to quit her job in a short period of time after joining Ultamaking. This makes it sound like a get-rich-scheme because there's no push button system or program that will make you a job-replacing income just after joining it.
Apart from that, I know these comments are fake because Amir claims he joined Ultamaking a few months ago, something that makes no sense as Ultamaking has only existed for 1 day!! Yes, that's right.
Today it's February 25th 2018, and Ultamaking.com was registered on February 24th 2018, as you can observe in the domain registration information: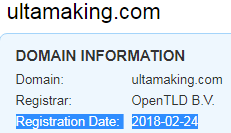 Therefore, the people who have written those positive comments are the con artists behind Ultamaking.com. No one has had a great experience using this program. 
If you think about it, there would be real positive reviews on the net, but there is none.
.
The people behind Ultamaking.com don't show up
---
The fact that the people who created Ultamaking.com don't reveal their identity is a red flag because it means that they're trying to hide something.
Why don't they want us to know who they are? 
I personally don't trust sites whose owners don't show up because that's something scam artists do. They fake their identities or hide them in order to avoid persecution.
.
Their terms & conditions say it all
---
Before joining, you can check out their terms & conditions page which reveals the truth.

They claim you cannot get paid from their site, as you can read above.
The truth is that they created Ultamaking.com to make money themselves, this is what they mean with "created for a commercial purpose".
If they were making money in an ethical way, then there would be nothing wrong. But they're using you to make money, which is not ok and very unethical.
.
Build an ethical affiliate marketing business
---
Let's recapitulate what we've seen about Ultamaking:
The owners don't show up.

The comments are invented.

In their terms & conditions they claim you can't get paid from their site.

They want you to get other people to join in order to collect their information and sell it to other people.

They're affiliated with scam programs that they want you to buy in order to make them money.
After all of this, I highly do not recommend Ultamaking because it's not going to help you earn money.
I personally use the affiliate marketing business model to make money, but the difference between what the owners of Ultamaking.com do and what I do is that I don't promote BS programs. 
The truth is that you don't need to deceit people to earn money. You can make money while helping people. I personally believe business should be about creating win-win situations.
I believe you too can make a full-time income through affiliate marketing if you have the proper training, business tools and support.
Of course, you also need to keep in mind that this is not going to be easy or fast. You need to be committed to learning, working hard, being patient and staying persistent. 
The training platform I joined back in 2016 has given me a way to learn to build an affiliate marketing business from scratch and make a consistent income month after month.
I've never looked back because I'm not only making money, I'm also learning something new everyday as there's always a new tutorial or new blog post to read inside the platform. 
If you want to learn more, click the button below now:
You'll learn how you can get started for free and more!
Note that you'll be well supported, not only by me but also by a huge community of bloggers and business owners. You can ask whatever questions you have as there's always someone willing to help you out.
Looking forward to seeing you in the right way to make money online! 🙂 
I hope you've found the information you were looking for regarding Ultamaking.com.
If you have any opinions or there's something you wanted to know that I haven't talked about, don't hesitate to leave a comment below. I'll get back to you ASAP.
Best wishes =)