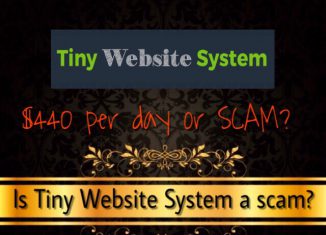 Hi guys!
Have you stumbled upon Tiny Website System and wondering if it's the real deal or is Tiny Website System a scam? 
Well the good news is that you've landed on this review where you can find everything you need to know about Tiny Website System so that you end up making the right decision for you.
.
Tiny Website System review
---
Name: Tiny Website System
Website: http://tinywebsitesystem.com
Owner: "Jack Ryder"
Price: $1 + $49 per month + upsells
Created in: 2016
Overall Rating: 12/100
.
---
If you're sick of scams, check out my 1st resource to make money online here!
---
.
What is Tiny Website System?
---
I didn't like what I saw the moment I came across the Tiny Website System first page. It's a landing page where they claim you can make from $160 to $440 per day giving away free stuff and then they ask you for your email address to access the "free" report.
How come they claim you can earn money by giving away something for free? It's very misleading as someone has to pay for something in order to make money.
And the fact that they ask you for your email address without explaining what this is really about made me start suspecting so I gave a random email.
Then I got access to another page where I started watching the first sales video. 
Jack Ryder, the alleged owner of the Tiny Website System claims that he's going to reveal his secret to making money online for free. 
He claims you don't need any kind of experience or special skills and you will not even have to work hard. His system is automatic and easy so you'll only have to set it up and then see the money roll in. 
You can start making money the same day you join his system, according to him.
His method is about helping other people, which sounds good. He's supposedly giving you his money-making secrets for free because he wants you to profit with him so this is based on revenue sharing.
.
How does Tiny Website System work?
---
At the end of the first sales video "Jack" tells you to complete the form below the video with your name, your email address and your phone number.
I obviously didn't give my information as I didn't believe this system was what "Jack" claims it to be.
They ask you twice to give them your information without actually explaining what you're going to get or do to make money, they lack important information so I don't believe it's a good idea to give them your personal details.
Then you get taken to another page where you can watch another sales video, which is kind of long.
He claims that he uses a very weird trick for setting up tiny websites that make him a fortune and he's going to give you one of these websites, which is going to help people keep their important documents safe.
This is very misleading because he first claims you're going to profit with him and now he says that this website he's giving to you is going to help people save their valuable documents. How is he going to profit from that? What kind of website are you really getting?
There are many important things he doesn't address which makes it sound deceptive. 
So your "profit website" is going to be created by a company called AffiliateSitePros.com and this costs money, but "Jack" claims he's going to pay it for you. How generous of him, isn't it?
The price of this amazing website is $397 as AffiliateSitePros.com is said to have a skilled team of experts who are going to create the website and put it online for you. "Jack" is going to pay $396 so you'll only have to pay $1.
But then when you go to the checkout page you get a little surprise:
As you can see above, after paying the $1 you'll have to pay $49 per month. And this is something they don't mention in the sales video. 
The question is, is the Tiny Website System membership worth $49 per month? Didn't Jack claim he was going to reveal his secrets for free? Why didn't he mention the real price in the first sales video?
Oh, and I found out it doesn't finish here. After paying the $1, you can expect to get taken to another page where they try to sell you 10 landing pages.
The man who narrates the third sales video claims to be Dave Ryder (Jack Ryder's brother) and he's giving you the chance to grab 10 "done-for-you" landing pages like the one below: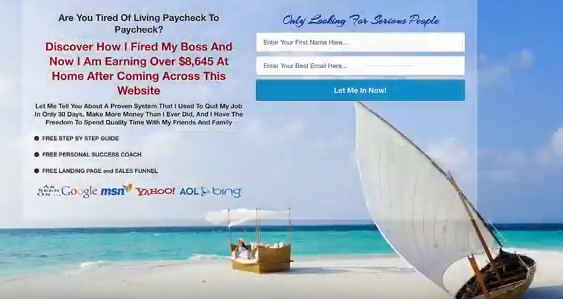 He claims you can make hundreds of dollars thanks to these landing pages starting the same day you purchase them for $97.
Another thing he doesn't explain is what you're going to promote in order to make money. I believe you're going to promote "make money online" products because the landing pages he shows in the sales video look like other scam pages I've come across lately.
As you can observe above, that "done-for-you" landing page looks like a scam page because of the high income claim and the "as seen on Google, Bing, Yahoo…". Most pages that make those kind of claims take you to scams or low quality products.  
The truth is that it's not going to be as easy as he claims. He doesn't even explain that getting traffic to those landing pages will not happen overnight.
If you have lots of followers on social media, have a mailing list with lots of subscribers then it will not be that hard to get traffic to those landing page or have enough money to invest, then it will not be that difficult for you to bring visitors to that landing page. 
However, if you're just starting out and are on a low budget, it will take you a lot of time and work to get traffic and make money.
.
Is Tiny Website System a scam?
---
I consider Tiny Website System to be a scam because of all the red flags we can find on the sales videos and pages. 
Let's see some scam signs that tell me Tiny Website System is not worth it.
.
They hide their identity
---
Jack and Dave Ryder don't show their faces and don't even mention how we can find more information about them or how we can contact them. 
Jack claims to have worked with online millionaires and successful people but he doesn't mention anyone.
I also searched for information and there's nothing about them outside the Tiny Website System site.
There's no way to know who these people really are so there's no way I'll be trusting them.
Why are they hiding their identity? That's a red flag as that's something scam artists do so that they're not persecuted when people realize they've been scammed.
.
They mislead you with the price
---
"Jack" first claims he's going to give you everything for free and that he would never sell his secrets.

But then you find out that's a complete lie as the Tiny Website System membership costs $1 the first 7 days and then $49 per month. 
Apart from that, they offer you 10 landing pages that will merely serve as a way to promote their system, as they're related to the "make money online" topic and they contain red flags, as I've explained in the previous section.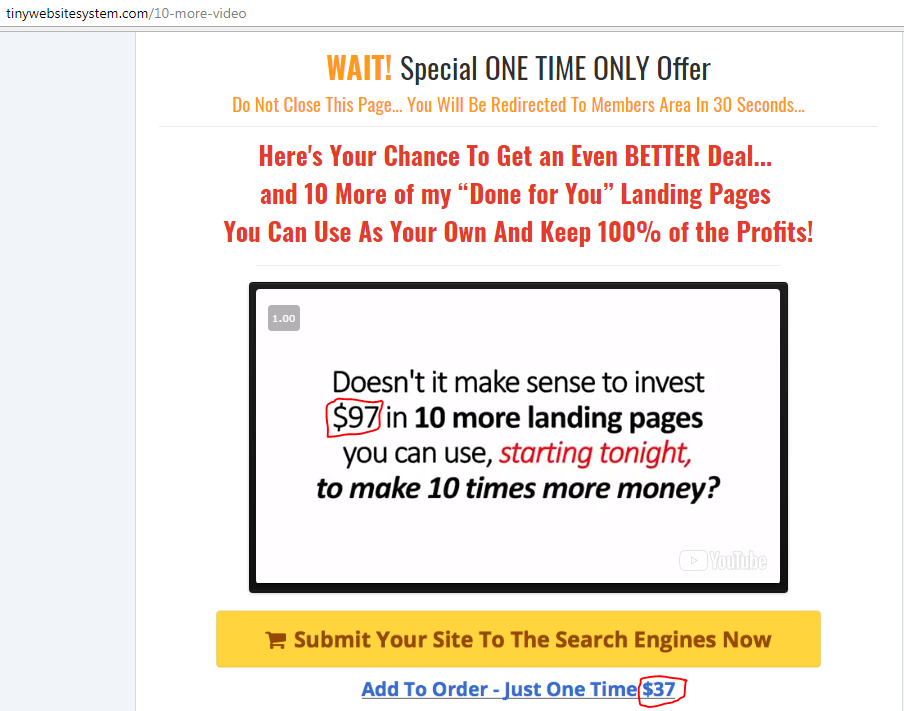 As you can see below, they also try to confuse you with the price of the 10 landing pages, since in the video they claim it costs $97 but below the video you can see it says $37.
The real price is $97 (you can see it in the checkout page), so why did they post $37 below the sales video?
.
They push you to buy their offers
---
This snapshot below is from the third sales video but they use high pressure sales tactics to get you to do what they want (giving them your personal information and buying their stuff) as fast as possible.

But don't worry, you can take advantage of that offer whenever you want, even though I don't recommend it to you after having found out so many red flags. I came across it some days ago and I've checked it out today and nothing has happened. 
.
AffiliateSitePros.com doesn't exist
---
In the second sales video, "Jack" claims that AffiliateSitePros.com is going to create your website.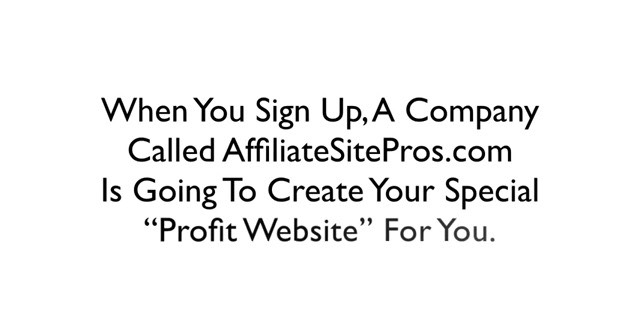 The problem here is that AffiliateSitePros.com doesn't exist. I found out it existed last year but got shut down because it was a scam site.
.
Their disclaimer doesn't make sense
---
If you check out their disclaimer, you can notice that what they say makes no sense.

Why are they talking about tading commodities when they're supposed to be offering websites?? This makes me think that the Tiny Website System page was previously used for a trading scam.
.
The little note at the bottom of the page says it all
---
While I was reading their earnings disclaimer page, I noticed a little note at the bottom.
As you can read above, the typical purchaser doesn't make any money using that system. They can make all the promises they want in the sales video but the truth is that people who have tried it haven't made any money.
The only ones who are making money here are the owners of the Tiny Website System and their affiliates.
.
My final conclusion
---
This Tiny Website System has too many red flags and scam signs so there's no way I can recommend it.
They're not offering any value as you'll basically get landing pages to promote the Tiny Website System as an affiliate.
This is something that can be done without purchasing the Tiny Website System and I won't be surprised if I see some fake reviews sites promoting it just to make a quick buck. 
Those "scam artists' affiliates" don't really care about the customer as they claim these kind of systems to be legit and they haven't even tried them. 
Apart from that, they say that you can make money fast without working hard, which is completely fake.
It's possible to make money online but without putting in the work you won't earn anything. This is something that requires real work, patience, persistence, among other factors.
I suggest that you avoid all sites and systems that promise you easy and fast money because they only work for the unethical people who have created them.
My favorite digital marketing platform will benefit you if you're looking for a legit money-making opportunity and are committed to doing what it takes to earn a full-time income online.
This platform is very affordable (free to try out) and offers step-by-step training, courses and other useful tools that will help you build a successful business online in a way that is viable for the long-term. One part of the training is about building websites/blogs and ways to monetize them.
I also love how supportive and helpful the members and owners of this platform are. You can ask any question and there's always someone willing to give you a hand. This is where I got started and never looked back since.
There are many things I love about this platform so if you're interested in learning more, you can click the button below and read my full review now:
.
I hope this review has been useful to you and you now have enough information that answers the question "is Tiny Website System a scam?". 
In case you have any questions or would like to share your opinion with us, don't hesitate to leave a comment below and I'll get back to you ASAP.
Best wishes! 🙂