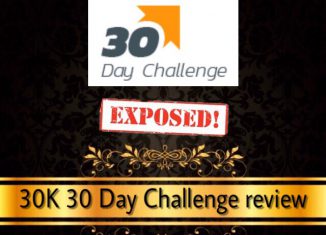 Hey everyone!
You've stumbled upon 30K 30 Day Challenge and are suspicious of it, aren't you? 
I'm glad that you've done some research before getting into the 30K 30 Day Challenge because it turns out to be a scam so I hope you haven't fall for it.
In this review I'm going to explain what you need to know about 30K 30 Day Challenge and the reasons why it's a fraud.
.
30K 30 Day Challenge review
---
Name: 30K 30 Day Challenge
Websites:
30k-challenge.com

30k-challenge.co

the30kchallenge.com/en

30k-challenge.org
Owner: "Joey Altair"
Price: at least $250 to get started
Created in: 2017
Overall Rating: 0/10
.
---
If you're sick of scams, check out my 1st resource to make money online here!
---
.
What is 30K 30 Day Challenge about?
---
30K 30 Day Challenge is a binary options trading software that claims you can earn over $30K within 30 days which equals $1000 per day delivered to your bank account.
Joey Altair, the alleged owner of this system, claims all the people who have joined have already earned over $30,000 in 30 days and they don't stop profiting because "the money never stops" rolling in.
He claims you'll only have to work 30 minutes per day because this software is automated so you just have to turn the auto-trader on and then sit and see the money coming in. 
And you don't even need to worry because this software only places a trade when it can be profitable, it has a 99.3% winning rate so it hardly ever loses.
Oh, and this magical system is free so you don't have to worry about risking your money. 
Then Mr Altair is claiming that you can make $1000 per day for free without making any kind of effort, right? 
So this system is amazing because you just have to activate it and then it works for you, what means that you can start living your dream lifestyle. You can go on vacation whenever you want without any worries or financial stress.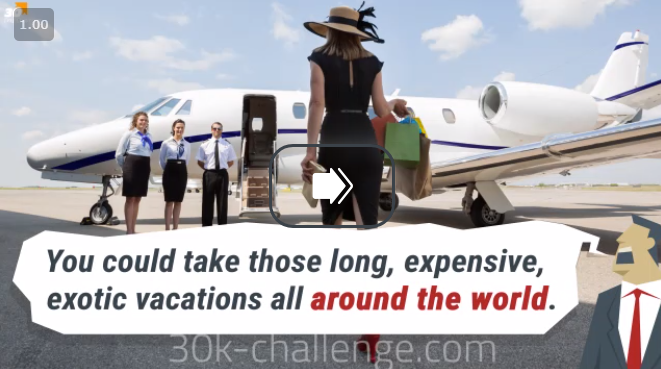 Ok, back to reality. 30K 30 Day Challenge is nothing more than another binary options scam designed to make money to the people who have created it.
If it was really true that it can generate those massive profits for the average person then everyone would be rich by now, don't you agree?
.
Is 30K 30 Day Challenge a scam?
---
I'm 100% confident that 30K 30 Day Challenge is another one of the countless scams created to part with your hard-earned money.
There are many lies and red flags all over the sales video and page.
Let's unveil this scam in this section.
.
The presumed owner of 30K 30 Day Challenge has five different names
---
30K 30 Day Challenge is in 5 different languages (English, Spanish, German, Italian and Swedish) and if you check out each version you can see that the man who has allegedly created 30K 30 Day Challenge has different names.
In the English version he's Joey Altair, in the Italian version he's Giuseppe Trevigiani, in the German version his name is Oliver Michalski, in the Swedish version he claims to be Jonas Forsgren and in the Spanish version he's named Rodrigo Arévalo.
Let's see the English and Spanish version below:
If his software works that well, why would he change his name? Lol.
The truth is that his real name is none of the mentioned above. This man from the picture above is a stock model and he has nothing to do with 30K 30 Day Challenge. The real creators of this system have used this stock photo to create fake character. 
.
The testimonials are fake
---
The people who appear in the sales video and claim to have made $30K in 30 days are paid actors that can be found on Fiverr.
And the Twitter and Facebook comments are completely fabricated and fake.
Some comments are merely translated from one language to another and you can notice how the names of the testimonies are not the same if you check it out the different versions.

It's not even funny how they've used a picture of a man for the "Susana Renato" comment as that's a female name. 
If you search for those people or comments on Twitter and Facebook, you will not find them. 
Another thing is, what version of Twitter do these scam artists have? Don't they know that it's already been two years since Twitter replaced its stars with hearts?
When it comes to the pictures of those testimonials, the con artists have downloaded or purchased them on other sites. The people who appear in those pictures have nothing to do with 30K 30 Day Challenge.
.
The trades are false
---
As you can observe below, there are trades that supposedly took place on July 31st 2016 which was Sunday. This is not possible because markets are not open on weekends so the trades below are completely fake.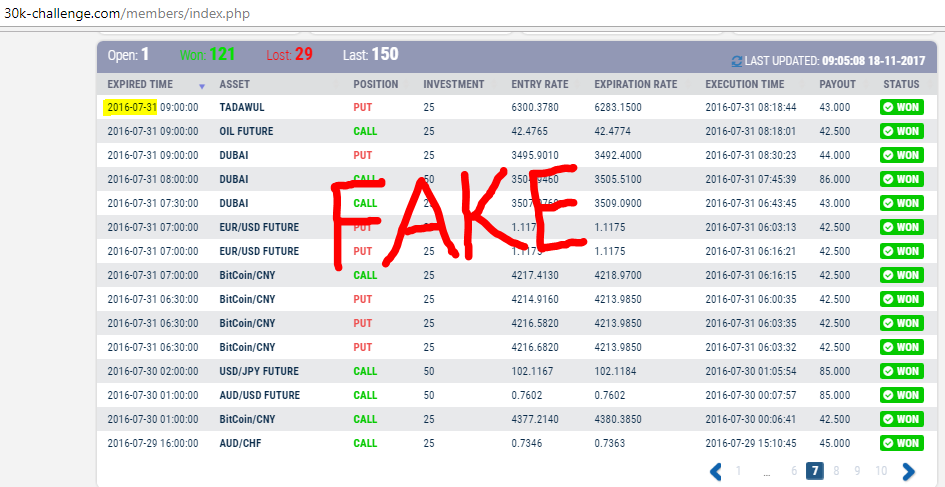 Apart from that, it's impossible for this system to never lose, there's no such thing as having a 99.3% winning rate.
.
Fake scarcity
---
Another tactic these swindlers use to get you to get into their scam as soon as possible is telling you that there are only 25 spots available and that they're filling out fast.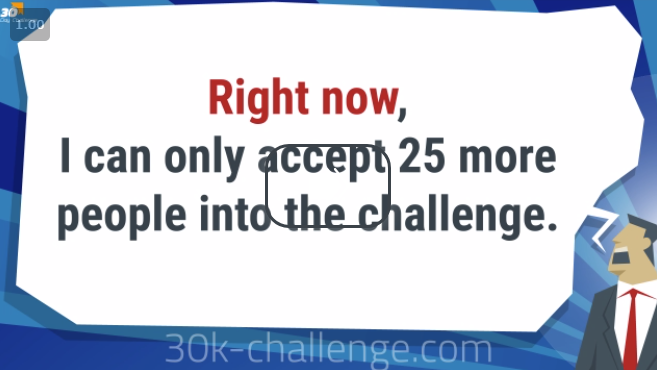 They do this to create a sense of urgency so that you don't think too much about it and join as fast as possible.
The truth is that there's no limit and they want as many people as possible to get into this system. These crooks never limit themselves when it comes to the amount of lives they can ruin.
.
How does the 30K 30 Day Challenge scam operate?
---
This fraud operates the same way as other binary options automated trading scams like the ones listed below:
They claim that you won't be asked for money but that's completely fake.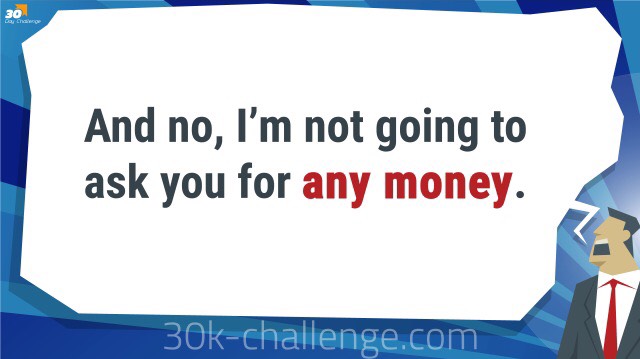 I guess they say that so that you don't worry and give away your personal information like your name, email address, password and phone number. 
And once they have your information, they'll call you to convince you to fund your trading account with at least $250. 
They tell you not to worry because that money is yours and you can withdraw it whenever you want but that's not true. 
Once you have made the $250 deposit, their recommended broker will manage your account in a way that's not beneficial for you.
You can expect to lose your initial investment because this software is created to lose the trades. And then the unregulated broker will pay commissions to the scam artists behind 30K 30 Day Challenge. 
But the scam doesn't end up here. They'll try to get as much as possible from you so they'll call you and send you spam emails related to other scam systems/products. You can also expect them to sell your information to other scam artists.
These scammers don't even care about the amount of money you have, they won't feel sorry if you've lost all your life savings. They only care about their own benefit. 
.
What to do next
---
I highly do not recommend that you try this 30K 30 Day Challenge. 
I believe I've provided enough information to let you know that this system is not worth your time or money. The fake testimonials, the lies, the empty promises… there are too many red flags that expose 30K 30 Day Challenge as the hoax it is.
Nobody who has tried it has benefitted from it, the only ones who have made money are the scammers behind it.
I suggest that you avoid these systems that claim you'll make a lot of money in no time without putting in the work, people who make those kind of promises just want to make a quick buck at your expense.
Earning a full-time income online requires you to learn, take action and stay persistent, just like all great things worth achieving.
If you're looking for a legitimate money-making opportunity, then you might want to check out my favorite digital marketing platform. 
This platform provides training, video tutorials, courses and other useful tools that will help you build a successful business online.
This is where I got started and I've never looked back since. I love many things about this platform, two of them is that it's very affordable (free to join) and it has a community full of supportive and helpful people =)
If you're interested in learning more about my top recommendation, you can go read the review I wrote by clicking the button below now:
.
I hope you've found the answers you were searching for before landing on this review and I've saved you from falling for the 30K 30 Day Challenge scam. 
If you have any questions or opinions, don't hesitate to share your thoughts in the comments section below and I'll get back to you as soon as possible.
Best wishes! 🙂