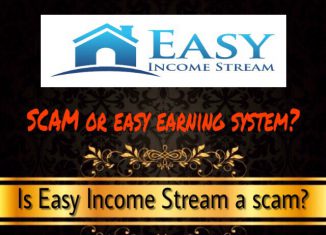 Welcome to my review of Easy Income Stream!
I suppose you're here because you've come across a site named Easy Income Stream and are wondering whether it's your ticket to financial freedom or it's just another scam, am I right?
Well you're in the right place because I'm going to explain what it really is, what you're going to get and more so that you can make the right decision by the end of this review.
.
Easy Income Stream review
---
Name: Easy Income Stream
Website URL: easy-income-stream.com
Owner: hidden
Price: $47, $27 or $17 + upsells & downsells
Created in: 2017
Overall Rating: 10/100
.
---
If you're sick of scams, check out my 1st resource to make money online here!
---
.
What is Easy Income Stream about?
---
Easy Income Stream claims to be a program that can make you money starting today by setting up your online business.
They claim that anyone can do it as you don't need any previous experience, training, knowledge or skills. 
According to them, it's very easy to earn money with their system and minimal work is required as this is a "done-for-you" system and all the hard work has been done. 
And the best part is that you don't need to spend money to start making money.
So they're saying that you can make money fast (the same day you try Easy Income Stream) for free.
Sounds amazing right? Especially when we know that it's not possible to make money just by joining a program or system so how is Easy Income Stream different? What does their system have that will make you money just after joining?
Their proven money-making method works and it's done-for-you so that's why you're not required to work hard and it can work for anyone, according to them. 
The problem here is that there's important information they don't talk about that you need to know in order to make a good choice.
.
What does Easy Income Stream offer?
---
The problem is that they don't explain what kind of business they're going to teach you to build. There are various business models so they should at least specify it.
They show snapshots of affiliate accounts, which makes me think that they're going to teach you to build an affiliate marketing business. An affiliate marketer is basically in charge of promoting other people's products and gets to earn a commission per sale. 
However, they don't even explain what kind of training you're going to get, which is a big red flag.
They don't say whether their training is about SEO, keyword research, paid advertising, blogging, sales funnels… There are many factors to take into account when it comes to a business, but they say nothing!
They even mislead you with the price. They first say you won't have to spend anything but then when it's the time to join and you go to the checkout page you can see it costs $47, but if you try to exit the sales page twice you can get it for $17.
They say you can get the whole package for only $17, but after paying that they'll try to sell you other stuff instead of taking you to the members area. And keep in mind that you will not get anything if you don't pay for what they're offering after paying the $17.
The first upsell is about 10 revenue streams (what they say) and it costs $97 but you can get it for $49 if you try to exit the page twice. But then if you go to the checkout page you can read that you're getting 10 "free" websites. 
The second upsell is about highly-targeted traffic and it costs $47, but they don't explain where the traffic comes from.
It's so easy to say it's targeted traffic but I don't really believe it because they're offering traffic before giving you the websites and they don't even tell you whether you'll have to choose a niche or they've already chosen the niche for you.
For what they say it seems that they've chosen the topic of the sites as the traffic wouldn't be targeted if you had to choose the topic of the sites.
I really don't like what they're doing as you should be the one who chooses the topic. You don't want your business to be about something you don't like as this means that you'll end up quitting because you'll be doing something that bores you.
And if they haven't chosen the topic of your business then there's no way the traffic is highly-targeted, as they claim. This is very misleading as they're not being transparent about what they're offering.
.
Is Easy Income Stream a scam?
---
In my opinion, Easy Income Stream is a scam because it doesn't live up to its promises.
In the previous section I've explained that they don't say what you're really going to get for what they're asking you to pay, which is one of the biggest scam signs.
And now I'm going to talk about some red flags I noticed in the Easy Income Stream sales page and video.
.
No information about the people behind Easy Income Stream
---
There's no about section where you can read who the owners of Easy Income Stream are. They man who narrates the sales video doesn't show up and doesn't mention his name.
There's no way to know the real identity of these people. What are they try to hide and why are they hiding? A legitimate company would let you know who is behind it. 
I don't know about you but I personally don't trust sites whose owners don't show up.
.
No one has benefitted from Easy Income Stream
---
In the Easy Income Stream main page you can read some comments from people who are supposed to be members of this program but the problem is that these comments are completely fake.
Let's see one of them below:
This man from the picture above doesn't have anything to do with Easy Income Stream and his real name is not Sam. I did an image search and found out his real name is Ross Szabo: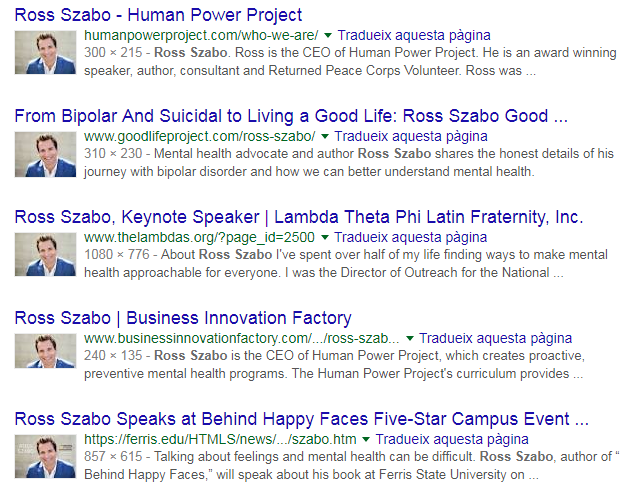 .
Fake endorsements
---
They claim to have been featured on famous news networks like ABC, Wall Street Journal, CNN… but that's not true. They haven't appeared in any of those news networks.
I guess they've used this tactic just to gain credibility. It's not the first time I've seen scam sites use this "fake news" tactic.
.
They pressure you to sign up
---
They claim there are limited spots/positions available and they're filling up fast just to make you afraid of missing out so that you end up signing up as soon as possible.
Truth be told, positions available are unlimited because you can check out the Easy Income Stream page some hours later and see that you still have the chance to join.
.
Can you really make money with Easy Income Stream?
---
If you read the little note you can find at the bottom of the Easy Income Stream page, you'll know the truth about this program.
"The typical purchaser does not make any money using this system"
The disclaimer says it all. People who have purchased this program haven't made any money. That's why they invented the positive comments and fake testimonials, as nobody who has tried it earned money. 
The truth is that Easy Income Stream was only created to make money to the scammers behind it.
.
A real online money-making opportunity
---
I highly recommend that you avoid Easy Income Stream as it will not make you any money.
Let's recapitulate the reasons why Easy Income Stream is not worth it:
They lie about the number of spots available.

Lack of information about what they're offering.

They lie about the cost.

They use fake testimonials.

They use fake endorsements.

They claim you'll make money in no time.

They don't reveal their real identity.
I clearly can't recommend a program like this. They use unethical marketing tactics and and lie to you, which proves that they don't really care about you and only care about making a quick buck. 
The only good thing I see about it is that you can ask ClickBetter for a refund as they use ClickBetter as a payment processor.
My advice for you is to stay away from programs and systems that claim you can make money minutes after using them as people who make such claims are trying to scam you.
It's possible to earn a full-time income from a website through affiliate marketing but it will not happen overnight. You first need to learn some skills, work hard and take action. Success will not come without doing nothing.
If you're committed to doing what it takes to generate an income online, then you'll love my favorite online business platform.
This platform is low-cost (even free to join!) and offers courses, step-by-step training and other useful tools that will teach you to start an affiliate marketing business from scratch and take it to any level of success in a way that's viable for the long haul.
You can also count on me and other bloggers & entrepreneurs for help and support. There are many ways to get help inside this platform, I've been a member for over a year already and never looked back since.
There are many things I love about this platform, honestly. If you're interested in learning more, you can click the button below now and read my detailed review:
.
That's it for today! I hope you've found the answers you were looking for before reading this review. 
If you have any opinions or questions regarding Easy Income Stream or anything else, feel free to leave a comment below and I'll give you a prompt response.
All the best! 🙂