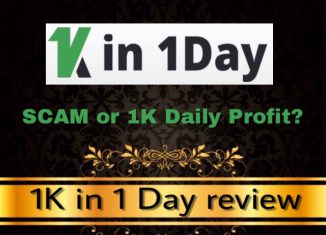 Hey there!
I just came across a site called 1K in 1 Day, which is not what it claims to be.
If you've stumbled upon it and are wondering why you need to avoid 1K in 1 Day, look no further as I'm about to explain what you need to know about it and why this is not a reliable system to make money.
.
1K in 1 Day review
---
Name: 1K in 1 Day
Website: 1kin1day.co
Owner: "John Becker"
Price: "Free"
Created in: 2017
Overall Rating: 5/100
.
---
If you're sick of scams, check out my 1st resource to make money online here!
---
.
What is 1K in 1 Day about?
---
The man who narrates the 1K in 1 Day sales video claims to be John Becker and he says that he and his partner from Goldman Sachs found a way to profit from the uncertainty we're all too familiar with.
He claims the system they created can make you $1000 every single day starting today. 
According to him, this system won't require you to do much work as you only have to turn the auto-trader on and let the program work its magic.
And the best part is that this system is free and has a 99.8% accuracy so it usually wins the trades. 
The truth is that these claims are completely BS and 1K in 1 Day doesn't work to win the trades. There's no software that has a 99.8% winning rate as it's not possible to always predict when the market is going to go up or down.
The truth is that professional binary options traders spend a lot of time researching markets and don't always win. 
If these so-called automated softwares really worked that well then they wouldn't be given away for free, they would cost a lot of money that the average person wouldn't be able to afford it.
Apart from that, they claim that you can make $1000 per day the seven days of the week, which is another fake claim if we take into consideration that markets are only open from Monday to Friday. 
.
Is 1K in 1 Day a scam? Yup
---
I can confidently say that 1K in 1 Day is a scam. I rated it 5 out of 100 because they say some truths like "there are scams everywhere".
In fact, it's a rehashed scam, something I'm going to prove in this section.
.
John Becker, from 1K Daily Profit to 1K in 1 Day
---
John Becker is not the real creator of 1K in 1 Day, he's a fictitious character created to scam you. The real creators of 1K in 1 Day are scam artists that never show up. The man who narrates the 1K in 1 Day sales video is just a voice actor.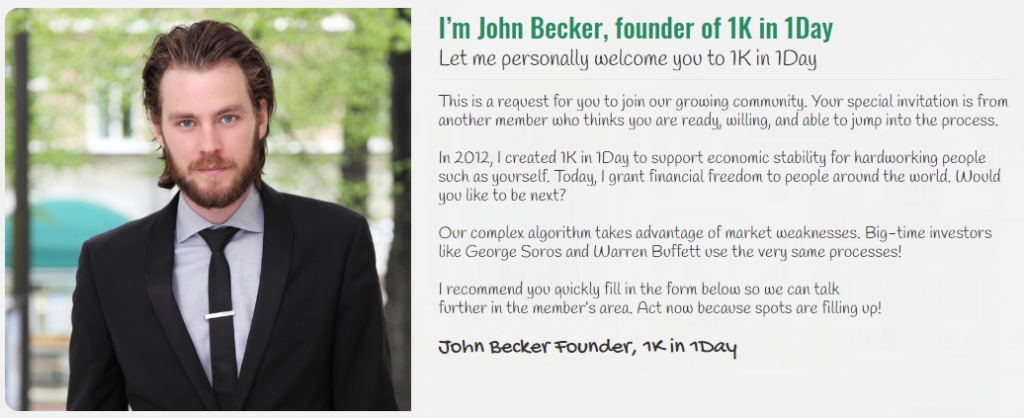 This guy who appears above is a stock model. The stock picture can be found on Shutterstock as you can see below:
The John Becker fictional character was first used in the 1K Daily Profit vile scam, which I exposed some months ago. 
.
The fake testimonials
---
Below the 1K in 1 Day sales video you can watch 2 videos where 2 testimonials claim to have made a lot of money with this software but this is completely false.
These two testimonials are actors that have been paid to recite a script the scam artists have given to them.
This woman below has appeared in various scams like 1K Daily Profit, Million Dollar Months, Monaco Treasure and Fast Lane Lifestyle. 
She sells her acting services on Fiverr for something like $5 so that's no big deal for the scammers.
The truth is that 1K in 1 Day doesn't and will not work for anyone. If this miraculous software could really make you money then the scam artists wouldn't need to pay for positive reviews.
.
Another private invitation
---
At the beginning of the 1K in 1 Day sales video they claim that you should feel fortunate because you've received a private invitation that only a few people have received.
To be honest, I couldn't help but laugh at this absurd claim as it makes no sense because the 1K in 1 Day sales page and video are public so anybody can access them.
They also claim that your private invitation will expire if you don't act quickly. They use high pressure sales tactics to get you to join as fast as possible.
The truth is that you can close the 1K in 1 Day page and check it out tomorrow and you'll see that nothing about it will have changed (as of this review).
.
 The new version of 1K Daily Profit 
---
1K in 1 Day is a new version of the 1K Daily Profit scam, one of the oldest binary options scams. 
In the form you can find at the bottom of the 1K in 1 Day sales page, you can see how they forgot to change 1K Daily Profit for 1K in 1 Day.
I guess the scam artists behind 1K Daily Profit have created this new version to see if it lasts as much as 1K Daily Profit.
.
How can it be a scam if it's free?
---
"John" claims you can start living the fancy lifestyle for free as his magical software is free, so he doesn't want your credit card or bank account information as there's nothing to sell. But don't be fooled by this false claim.
Do you believe that someone will give you a software that can make you a lot of money for free? The truth is that there's no such thing as free money, keep in mind that nothing great has ever come free, easy or fast.
We can see how 1K in 1 Day is not really free when he claims that you'll have to make a "small one-time deposit", which means that you'll have to give your credit card information to start trading.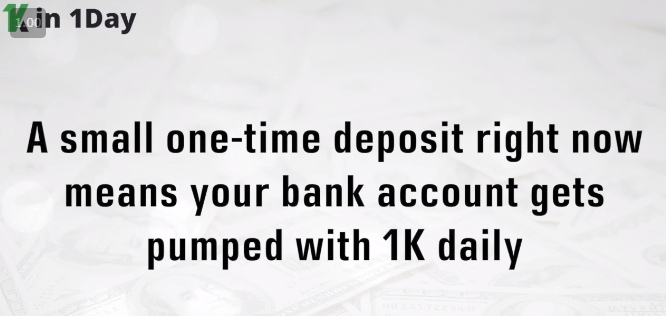 So the access to the software is free but without making the initial deposit (a $250 deposit) it will be useless as you need money to start trading. 
In order to join you'll be asked to complete a form with your name, email address, password and phone number. 
Then you'll have to fund your trading account with $250 and then the scam comes into play. The unethical people behind 1K in 1 Day work with unlicensed brokers who part with the traders money so you can expect to lose your money after making the $250 investment. 
And then the scammers will get paid big commissions for having got you to making a deposit.
Sometimes they pretend you're winning the trades just to get you to invest more but don't fall for that because they won't let you withdraw your money.
In case you don't make the $250 investment but give them your personal information you can expect them to sell your information to other scammers, send you spam emails related to other scam offers and call you to ask you to deposit $250 or more into the trading account. 
I've come across lots of other scams like 1K in 1 Day so I know how they operate.
.
My last thoughts on 1K in 1 Day
---
1K in 1 Day is designed to generate profits to the scam artists who have created it. I highly recommend that you avoid it at all costs as it will not make you any money, it will waste your time and leave you frustrated.
Other similar scams you should stay away from are:
It's possible to earn $1000 per day online but keep in mind that it requires lots of work, patience and persistence, among other factors. 
If you're serious about making money online, I suggest that you avoid all systems and programs that promise easy and fast cash as most of these programs (not to say all of them) turn out to be frauds. The swindlers are the ones who want to get rich quick at other people's expenses.
If you're looking for a legitimate place where you can find step-by-step training, courses and other tools that will help you start a digital business and take it to any level of success, I recommend that you check out my favorite online business platform (free to join).
You'll build this business based on your passion so you'll enjoy working on this everyday because you'll be doing something you love!
You'll also get to meet like-minded people who will help and support you during your online journey.
If you're interested in learning more about this business and my top recommendation, I encourage you to read my full review by clicking the button below:
.
Thanks for reading this review, I hope I've saved you from getting scammed. 
If you have any questions or opinions regarding 1K in 1 Day or anything about making money online, please feel free to share your thoughts in the comments section below. I'll get back to you ASAP!
Cheers =)