Welcome to my review of Simple Wealth Creators! 
I recently came across Simple Wealth Creators and thought I had to take a closer look at it and write a review to let you all know if this program is a good opportunity to make money online or not.
If you're wondering whether you should give Simple Wealth Creators a try or you should avoid it, make sure you read this review to find out the truth about this program.
.
Simple Wealth Creators review
---
Name: Simple Wealth Creators
Website: https://www.simplewealthcreators.com
Owner: unknown
Price: $597, $2097 and $3597
Created in: 2017
Overall Ranking: 33/100
.
---
If you're sick of scams, check out my 1st resource to make money online here!
---
.
What is Simple Wealth Creators about?
---
Simple Wealth Creators is a MLM (Multi Level Marketing) business opportunity that is getting lots of buzz lately.
They claim you can easily earn $10,000 per month on autopilot, which is a claim I don't like because making money online has never been easy or fast, and most programs and systems that make high income claims are usually scams.
It kind of reminds me of other MLM programs like MOBE or Digital Altitude as you'll also have to purchase the Simple Wealth Creators packages to sell them and earn commissions. 
The thing is, the Simple Wealth Creators product packages are quite expensive so you'll have to spend thousands of dollars to make those $10,000 they talk about in the sales video.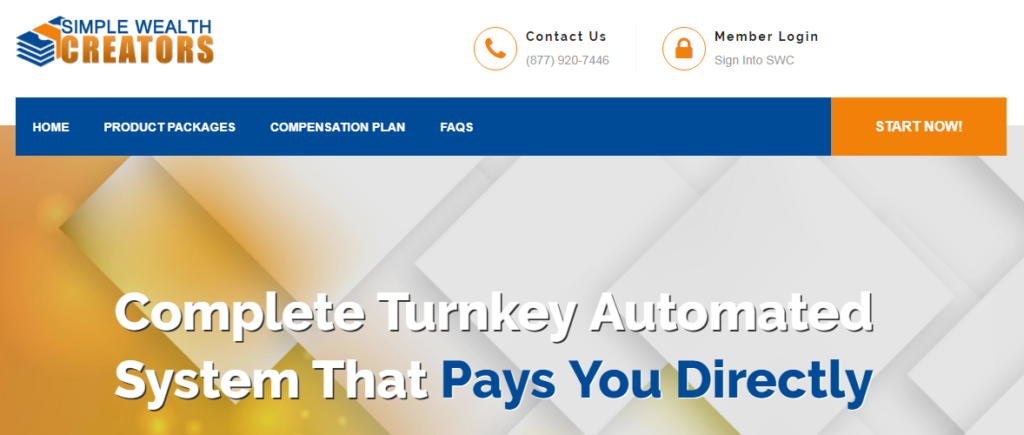 .
How does Simple Wealth Creators work?
---
In order to join, you must have your sponsor ID code and then call a "Wealth Coach". Then this Wealth Coach will try to sell you one of the Simple Wealth Creators product packages. 
There are 3 Simple Wealth Creators product packages:
Starter Suite. It costs $597 and you can earn $350 per sale.
Deluxe Suite. It costs $2097 and you can make $1400 on each sale.
Premium Suite. Its price is $3597 and you get to earn $2450 per sale.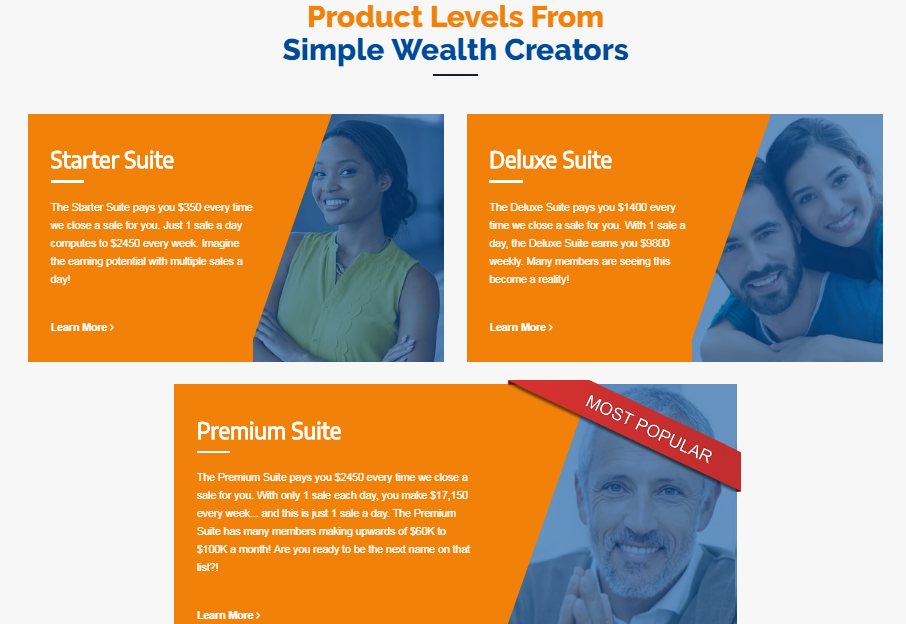 Note that if you purchase the Starter Suite and recruit someone who purchases the Premium Suite, you won't earn $2450, you'll get to earn $350 and your sponsor $2100. That's why this is MLM. If your sponsor didn't benefit from the sales you make, it would just be an affiliate program.
You can only earn commissions on all packages if you purchase the Premium Suite a.k.a. the most expensive package.
They also say they let you first purchase the Starter Suite and then upgrade to Deluxe or Premium. 
They claim it's automated because they'll close the sales for you but it's not really automated as you'll have to get referrals and that will take time and effort.
Keep in mind that the product packages costs don't include the advertising costs. They'll give you the done-for-you sales pages but you'll have to pay for advertising to get referrals, unless you have lots of followers on social media or have a mailing list with lots of subscribers.
.
What does Simple Wealth Creators include?
---
Simple Wealth Creators includes 6 products, which are the following:
How to master social media and dominate Facebook. Courses that will teach you to promote your offers on social networks like Twitter and Facebook.
How to put webinars up and host them for any business. A video course that will show you how to run a webinar and make sales.
How to successfully talk to prospects. An e-book about what to say, not to say and how to begin and end conversations with potential buyers.
How to integrate YouTube advertising. Video series that will teach you to place videos on YouTube and dominate rankings to market your offers.
How to explode profits with sales funnels. This will make you understand the ins and outs of sales funnels and use them to grow your business.
How to master your mindset. A course that will teach you to have a positive mindset so that you start getting great results and accomplish your goals faster.
.
Is Simple Wealth Creators a scam?
---
I will not call Simple Wealth Creators a scam as you can make money with it but I see some problems and red flags I'll be going over in this section.
.
The owners of this program remain hidden
---
There's no section where you can find out who the owners of this system are and this is a big red flag because it means they're trying to hide something. A legitimate company would show you the people behind it.
The man who narrates the sales video doesn't show up and doesn't even say his name, he sounds like a voice actor to me.
.
The products don't have a price
---
The products I've talked about in the previous section are included in the product packages you have to initially buy and they can't be sold to people who are not members of Simple Wealth Creators. In order to get those products, you first have to join Simple Wealth Creators.
The thing is that all the products are included regardless of the package you buy so you're going to get the same no matter if you buy the Starter Suite or the Premium Suite. Then the reason why people would purchase the Premium Suite package is just to promote it to others and earn thousands of dollars in commissions.
If the Deluxe and Premium packages included more products than the Starter one then I wouldn't see this as a problem but the fact that they include the same shows that the value revolves around getting others to join the program. 
If you're more interested in the products Simple Wealth Creators offer than in promoting it then I would recommend that you get the Starter Suite as it's the cheapest one and it includes the same as the Deluxe and Premium.
.
It's not sustainable in the long term
---
Simple Wealth Creators is not sustainable in the long run as it only relies on their product packages fees new members pay to join.
The old members get paid some of the money the new members pay to sign up, so the moment people stop getting into Simple Wealth Creators will be the moment that money stops coming into the scheme and the moment old members will stop getting paid.
This is what happens in most pyramid and ponzi schemes so I wouldn't be surprised if Simple Wealth Creators turns out to be a pyramid scheme.
If their products could be sold without getting others to join the program then it would be more viable, but this is not the case as of this review.
.
They don't offer refunds
---
I don't like the fact that they don't offer refunds as it's not cheap to join. If you pay $597 for the Starter Suite but don't make any sales or the products they offer don't benefit you, you can't get your money back so it's kind of risky in my opinion. 
I know other high ticket programs like Digital Altitude that at least give you the chance to get a refund of the initial fee.
.
A better place to make money online
---
I don't recommend Simple Wealth Creators because it's not viable for the long term and you will have to pay thousands of dollars before you make the $10,000 they talk about in the sales video.
Another thing that tells me Simple Wealth Creators is not worth of trust is the fact that people who have created don't show up as this is something that most scam artists do.
I don't even like programs or systems that focus on getting you to promote them. I believe you should only promote them if they have made a positive impact in your life or you believe in the value they provide. That's just my opinion but what you end up doing is up to you.
If you're starting out and are committed to doing what it takes to earn a living online, then I highly suggest that you check out my favorite digital marketing platform.
This platform is very afforable (not to mention it's free to join) and offers step-by-step training, courses and other useful tools that will show you to create and grow a thriving business online in a way that's sustainable for the long-term.
I love that this platform offers a lot of ways to get support and help from the owners and other members (included myself) inside the platform, you can rest assured knowing that there's always someone out there willing to answer your questions!
I personally love many things about this platform but I'm not going to post them all here as this review would be too long lol. 
If you're interested in learning more, click the button below and read the review I wrote about my top recommendation now:
.
I hope you've found the answers you were looking for before coming across this review and you now have enough information to make the right choice for you.
In case you have any questions or want to share your thoughts, feel free to leave a comment below and I'll be very glad to reply to you. I always love hearing from you!
Cheers =)