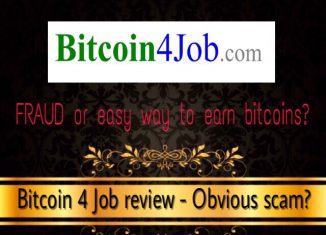 Hey everyone!
Today I'm going to review a site that I came across some days ago called Bitcoin 4 Job.
I'm going to talk about what it really is, what you can expect and whether it will benefit you or not.
By the end of this review you'll have enough information to make the right choice concerning Bitcoin 4 Job.
.
Bitcoin 4 Job review
---
Name: Bitcoin 4 Job
Website: bitcoin4job.com
Owner: Unknown
Price: Free to join
Created in: 2017
Overall Rating: 0/10
.
---
If you're sick of scams, check out my 1st resource to make money online here!
---
.
What is Bitcoin 4 Job about?
---
Bitcoin 4 Job claims you can earn free bitcoins by getting traffic to the Bitcoin 4 Job site through your referral link and by inviting other people to join.
So you basically have to join Bitcoin 4 Job for free by completing a form with your name, your email address and a password. They will not even ask you to confirm your email.
Then you are taken to your account dashboard, where you can see your affiliate link. Mine is the one below:

According to them, all you have to do to start earning bitcoins is sharing your affiliate/referral link wherever you want like Facebook, Instagram, Twitter, Whatsapp, email, private messages, forums, websites… 
And then when someone visits the Bitcoin 4 Job page through your link you'll get to earn half a bitcoin (1/2 bitcoin). 
Apart from that, you can also earn 1 bitcoin for everyone who signs up to Bitcoin 4 Job through your link. 
But I won't be sharing my referral link because I don't want to get others into this Bitcoin 4 Job site as it's malicious. I'll be talking about it in the next section.
Now let's talk a bit about Bitcoin…
Bitcoin is a cryptocurrency that was created in 2009 by Satoshi Nakamoto and is used to make transactions between users without an intermediary like banks.
It can also be exchanged for other currencies and many companies and vendors have been accepting bitcoin as a form of payment.
Lots of people have become interested in Bitcoin lately, so its value has been increasing a lot.
As of this review (November 2017), one Bitcoin costs approximately $8,200 so it looks like Bitcoin 4 Job is claiming it's very easy to make a lot of money thanks to Bitcoin.
If every day you got 10 people to join Bitcoin 4 Job through your affiliate link, you would allegedly earn 10 bitcoins which would at least be $80,000 per day.
Doesn't Bitcoin 4 Job sound way too too good to be true?? Yes, it's not what it claims.
Let's see how it works in the next section.
.
Can Bitcoin 4 Job make you money?
---
The truth is that Bitcoin 4 Job only makes money to the people who have created it. It won't make you any penny.
They claim they make money from their advertisers but do you see any ads on their site? I don't.
It doesn't make sense that they're going to pay you 1 Bitcoin just for getting someone to join their site.
If they were selling any products or services or had some ads on their site then we would know where their money comes from, but that's not the case.
And if you're wondering how they make money if it's free to join, I'm going to explain it now.
They claim that you can get paid when you reach the 30 Bitcoins but that's not true as when you try to cash out they'll ask you to complete a fake captcha test, which is full of offers related to surveys, free gifts and other stuff.
If you click the links to complete those offers you can expect to be taken to other sites where they ask you for your personal or financial information and they can even ask you to pay for something you don't really need and all that annoying and time consuming stuff.
And this is only one of the ways they make money. People behind Bitcoin 4 Job are affiliated with those sites and offers listed in their fake captcha test so they'll earn commissions if you make some kind of payment through their affiliate links.
Another way they make money is via your personal information. If you gave them your personal details like your email address, you can expect to get spam emails related to other scam sites or offers and they. Oh, and you can also expect these unethical people to sell your information to other scam artists.
I've come across other sites similar to Bitcoin 4 Job like Fix Monthly Income, so I know how these scams work.
.
Is Bitcoin 4 Job a scam?
---
Bitcoin 4 Job is not legit and will only waste your time and money. 
In the previous section I've explained how that fake site works and now I'm going to post some red flags that tell me this site should not be trusted.
The owners remain hidden. There's no information about the people who own this site, they don't mention any names and don't show any pictures of them. This is a red flag as they don't let you know who you're dealing with and this is something scam artists do not to get caught.
No privacy policy page. There's no way to know how they're going to use the information you give them or whether your information is safe or not. Their website is not secure so that's why I don't recommend that you give them your personal details.
The terms & conditions page doesn't work. I wanted to read their terms & conditions but the URL was not found as you can see below. Note that legitimate sites have a privacy policy or terms & conditions page.
No way to get in touch with them. They don't even have a "contact us" section so there's no way to contact them, which proves that they don't really care about their clients questions or concerns. I personally don't trust sites that don't offer any way to contact them. 
They don't explain what you have to do before joining. When you take a look at the Bitcoin 4 Job homepage you can read "Start earning bitcoins from home today" and "Earn free bitcoins" but they don't tell you how you'll be earning them. This is a red flag because they tell you to give them your personal details before getting to know what you'll be doing.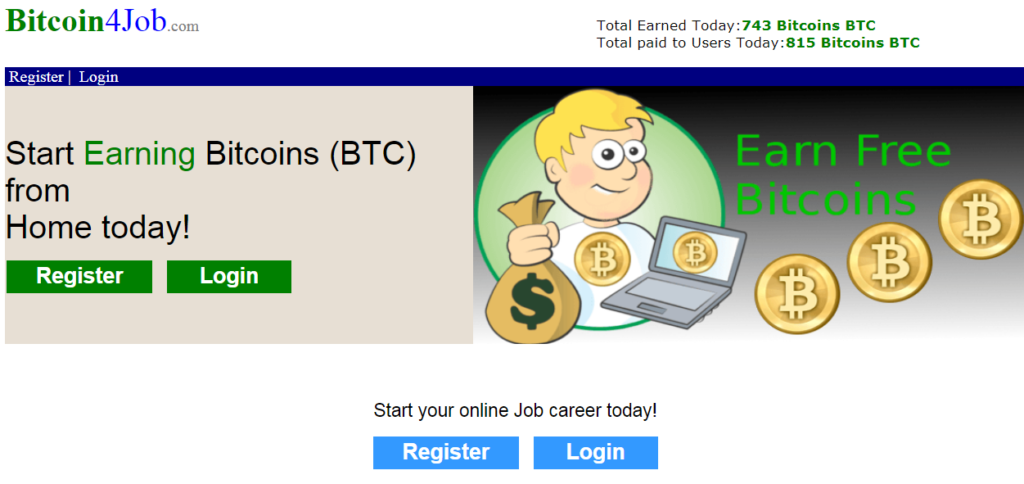 The site stats are fake. At the right corner of the Bitcoin 4 Job homepage you can see some stats about the bitcoins earned and the bitcoins that have been paid to the members, which is completely fake because those details change to dollars after joining. It makes no sense because 723 bitcoins are waaay more than $77,172 (1 BTC = $8,200 approx.).

.
My final verdict
---
I can say with conviction that Bitcoin 4 Job is a scam designed to take advantage of people who know nothing about Bitcoin and people who are looking to earn easy and fast money.
I believe I've provided enough information and proofs that expose Bitcoin 4 Job as the hoax it is. 
Sites like Bitcoin 4 Job don't seem dangerous but when you take a few factors into account you find out their true nature.
I know the idea of sharing links to make money sounds amazing but things are not that easy.
The truth is that making money online is like making money offline, without putting in the effort and time you will not earn money.
Nobody will give you free, easy and fast money. Anyone who makes promises of quick riches is trying to scam you.
If you're looking for an ethical and affordable money-making opportunity and are willing to do what it takes to make a full-time income online, then my favorite digital marketing platform will be of benefit to you.
This platform (even free to join) offers courses, step-by-step training and other useful tools that will teach you to start your online business from scratch and take it to any level of success the right way, the way that works.
Once you've become a member of this platform, you can expect to get help and support from me and other members, and even the owners of the community. You can rest assured knowing that you're not alone in this! I've been a member for over a year already and I've always had my questions answered =)
This platform has many things I love, if you're interested in learning more you can click the button below and read my detailed review now:
.
That's it for today! I hope you've found the answers you were searching for and I've saved you from falling for another fraud.
If you have any questions or want to share your opinion concerning Bitcoin 4 Job or anything else, feel free to leave a comment below and I'll give you a prompt response. 
Have a great day! 🙂