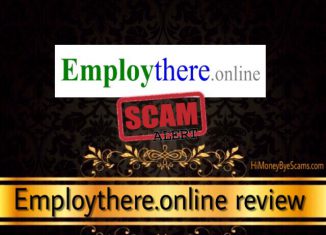 Hey there!
I guess you're here because you've come across Employthere.online and are wondering whether it's a legit site or just another scam, am I right?
Well done on doing your research as there are many scams out there and you want to ensure you really know what you're in front of in order to make educated decisions.
In this review, you'll find out why Employthere.online is not a good money-making opportunity, what you can expect from it and more.
.
Employthere.online review
---
Name: Employthere.online
Website URL: employthere.online
Owners: Unknown
Price: Free to join
Created in: November 2017
Overall Rating: 0/10
.
---
If you're sick of scams, check out my 1st resource to make money online here!
---
.
What is Employthere.online?
---
When I first heard the name Employthere.online, I thought it was a site that offered a list of online jobs.
But then, when I saw the homepage I got kind of disappointed because there's a lot of information they don't address.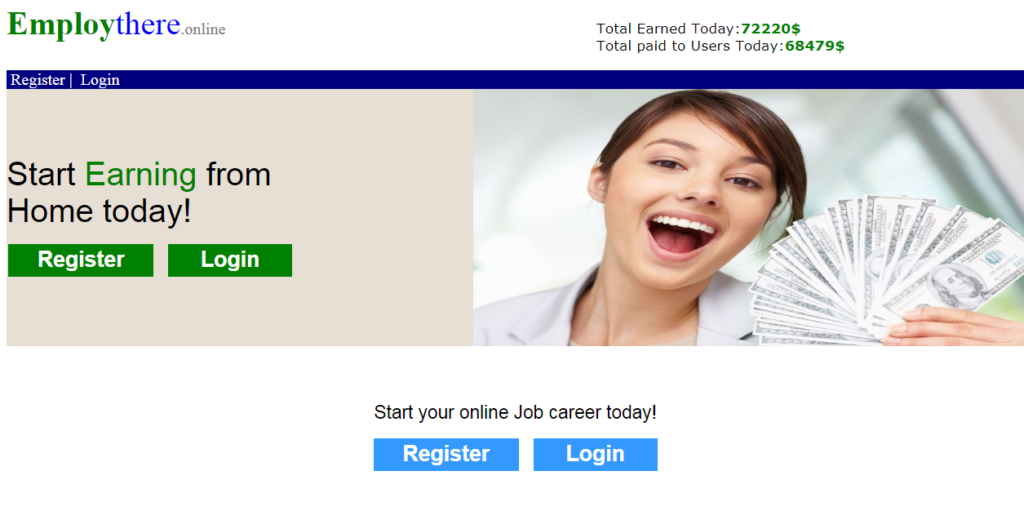 They claim you can start earning today without saying what you'll have to do. I personally don't like sites that claim you can make money the same day you join and tell you to register without explaining what you'll exactly be doing to make money.
Why can't they give us more information before asking us to register? I mean, even if joining a site is easy, there's some essential information you need to know before entering your personal details in a form, especially if you don't know who you're dealing with.
Therefore, I decided to join by entering some dummy information and found out the this "job" they're offering is very simple: sharing your referral link on social media to bring traffic to the Employthere.online.
In fact, I've seen some people promote it on Twitter and hope they stop because they're going to get nothing out of that site.
According to them, you can earn $5 to $10 for every person that visits their site through your affiliate link, but don't you think it's too much?
I mean, anyone can join employthere.online and share links, it sounds way it's too easy to make $5-$10.
And yeah, it feels good when you're seeing your balance rise and rise, but is that money real? No. 
Let's see the truth.
.
Why Employthere.online will not pay you
---
The truth is that Employthere.online has not paid their members, so they're not going to pay you either.
How do I know this? Because they're not getting paid like they claim.
According to Employthere.online, they get paid by some advertisers for the traffic they bring to them, but this is fake.
There are no ads on their site so there's no way they get paid for bringing traffic to their site.
So they're not going to pay you without them getting paid first. They don't give away free money.
Now you may be wondering, if they're not getting paid why do they claim they're going to pay us? What do they want from us?
Let's see what the owners of Employthere.online are after.
.
The reason why Employthere.online was created
---
The owners of Employthere.online created it in order to make money themselves.
How are they making money if they're not getting paid when people join Employthere.online? They want as many people as possible to join because they want to collect as much personal information as possible.
And then, what are they going to do with this information? They're going to sell it to other companies or swindlers.
Therefore, if you've signed up to Employthere.online with the email address you use the most, you can expect to receive junk and spam emails from people you don't know. 
But this doesn't end up here. There's more.
When you manage to reach the minimum payout threshold of $300 and try to cash out, you're going to realize you've been sharing your link for nothing.
When you claim your payment, they're going to ask you to do some tasks like filling out forms, downloading apps, signing up to other sites… These are CPA offers that they want you to complete in order to make money. Yes, they'll get paid if you do those tasks.
If they paid you after completing those tasks then there would be nothing wrong, but they will never pay you.
.
Is Employthere.online a scam? Yup
---
Employthere.online is a site that will not make you any money, so it can be considered a scam.
They waste your time just to earn money themselves, which is very unethical.
Let's see some red flags that prove how much of a fraudulent site Employthere.online is.
.
Lack of essential information
---
What about a privacy policy? And a earnings disclaimer or terms & conditions page? Employthere.online doesn't have any of those pages.
This is a red flag because those pages contain important information that you need to know before getting involved in a site or program.
The fact that they don't say anything about how they're going to use the information we give to them or what are their rules when it comes to terminating accounts is one of the reasons why they're not to be trusted.
.
No way to know who's behind Employthere.online
---
Not only they do not provide the important pages I've mentioned before, they don't even let us know who they are.
I'm not actually surprised to be honest, I've come across many scam sites and this is something scammers usually do. They usually hide their identities or fake them.
I believe the owners of Employthere.online don't show up because they don't want their victims to know who they are in order to avoid persecution.
.
No contact information
---
What if you have questions regarding Employthere.online? They don't even let you know how to get in touch with them.
They don't provide any email address or way to contact them, which is an indication that they don't want to hear from you.
If they really wanted to help you, they would have a customer service or they would let you know how you can ask them questions.

.
They lie about the payment methods
---
In the member guide section they claim they make payments via PayPal, Money Gram, bank transfer, Western Union and cheque, as I highlighted.
However, if you observe the payment withdraw section, you can notice the withdraw type is cheque, and they don't let you change it.
They don't let you choose another payment method, which makes me wonder why they don't let us decide how we want to get paid.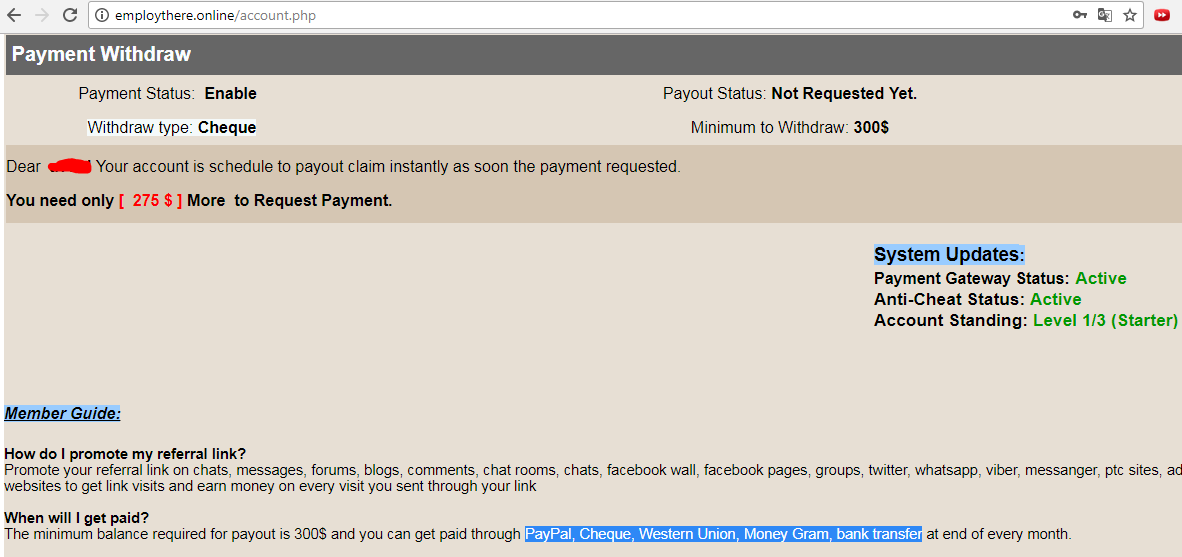 If I had the chance to contact them, I would surely ask them why they don't let us choose the payment method.
Anyway, they're not going to pay us so maybe that's why they haven't even bothered with the withdraw type. 
.
Do what I do to make money online
---
I highly do not recommend Employthere.online because it's not going to benefit you in any way. 
If you've already joined Employthere.online and have shared your referral link, I recommend that you stop because it's not going to make you money. The money you see in the account balance is all fake.
If you want to make money online, you need to keep in mind that it's not easy or fast. Yes, it's possible to make a full-time income online, but you'll have to put in the effort and time in order to get there.
In my case, I love using a business model that has given me a way to make a consistent income month after month. And it's also a great business model for beginners =)
As long as you're committed to learning, working hard, being patient and persistent, I believe that you can do this too.
This business model will allow you to make money while helping other people and doing something you're passionate about.
With the right marketing tools, step-by-step training and support, you'll be able to build your very own online business that is viable for the long haul.
If you're interested in learning more, click the button below now:
You'll learn how this business works, where you can get started for free and more!
I also let you know that you'll get help and support by me and other bloggers & Internet entrepreneurs, you don't have to do this alone!
It's your time to stop falling for the scams and get on the right track to success 🙂 
LEARN ABOUT MY TOP RANKED PROGRAM NOW!
I hope this review has been helpful to you and you now have enough information to make an informed choice.
If you have any opinions or questions concerning Employthere.online, feel free to leave a comment below and I'll get back to you ASAP.
Have a great day! 🙂