Welcome to my review of the AAA Top Secret System!
Have you stumbled upon aaatopsecretsystem.com and are wondering whether this is the definitive system that will help you quit your job, or is AAA Top Secret System just another scam that you need to avoid?
I know there are going to be people asking these questions so this is the reason I decided to write this review. Keep reading until the end to find out the truth about this money-making opportunity and make an educated decision.
.
AAA Top Secret System review
---
Name: AAA Top Secret System
Website URL: aaatopsecretsystem.com
Owners: "Jake Crisper"
Created in: December 2017
Price: $47
Overall Ranking: 21/100
.
---
If you're sick of scams, check out my 1st resource to make money online here!
---
.
What is AAA Top Secret System about?
---
The moment I came across aaatopsecretsystem.com I felt something was not right because I noticed a lack of important information on the sales page.
I started watching the sales video and saw some people claim to have made thousands of dollars just by sharing links.
If you've watched the video, you might remember the first testimonial claim to have made like $23,000 just for sharing a link.
This sounds quite unbelievable when we take into consideration that making money online is not that easy.
Then a spokesman introduces you to this amazing "secret" system that is supposedly about to change your life, your bank account and your future.
He claims you can make over $379 per day just by working part-time from the comfort of your home.
And the best part is that this magical system works on complete autopilot. Once setup it allows you to make money just by clicking a few buttons.
So what is this system exactly about? AAA stands for Automated Amazon Associate, which basically refers to the Amazon Associates program (the Amazon affiliate program).
.
How does AAA Top Secret System work?
---
"Jake" doesn't let us know how this system exactly works, but what I know for sure is that it's about promoting Amazon products and making commissions for each sale you make.
He doesn't explain it this way, which can be confusing for people who are new to the online marketing arena and know nothing about affiliate marketing or Amazon Associates. 
He claims Amazon does everything (the shipping, payments processing, customer service…) except the marketing, which is what they leave to us.
The problem here is that he doesn't exactly explain what he uses to market Amazon products, like does he have a website or how does he get bring traffic to the products? 
He shows this snapshot of his earnings, what can give us some clues: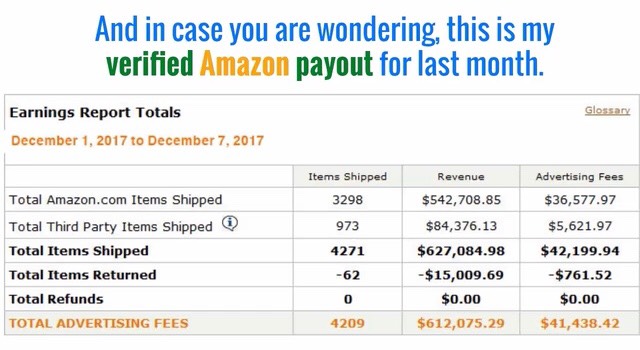 See the advertising fees? This means that he's spent a lot of money on advertising, something he doesn't mention.
Do you think that he's going to sell a system that can supposedly make you tons of money for only $47?
According to the checkout page, this system includes a website builder, hosting for your "Amazon" website and access to a personal coach. 
However, he doesn't even mention what training you're going to get. Is he going to show you how to choose a niche or how to get traffic to the Amazon products you promote? This is an important question, since you can't make money without traffic.
And what about your personal coach? You can expect he/she to try to get you to purchase other products.
Most programs/systems like AAA Top Secret are not transparent when it comes to the hidden costs. 
But there's more, check out this little note I found out at the bottom of the AAA Top Secret System members area:

As I highlighted, the typical purchaser does not make any money using this system. This is the actual truth.
They can say whatever they want in the sales videos but as long as they have a little disclaimer like this one, they're not responsible for the results their members get.
.
Is AAA Top Secret System a scam?
---
This question actually depends on what your definition of scam is. 
If you take into account that you actually receive something in exchange of your money, then AAA Top Secret System would not be a scam.
If you define a scam as something that doesn't live up its promises, then AAA Top Secret System is a scam because it's not going to help you make the money they talk about.
To me, it would be a scam because of the lies, the misleading information found and the fact that it's not going to suit your needs. It's not going to help you achieve your goal of financial freedom.
For example, imagine you purchase a book about personal development but then you receive a science fiction book, you would feel ripped off, right? This is similar to what happens with this system.
Let's see some of the red flags that prove this system is not reliable.
.
The testimonials are fake
---
The people who claim to have earned thousands of dollars with this system are not real members of this system and haven't tried it.
They're paid actors who sell their services on outsourcing platforms like Fiverr.
Let's take a look at this one below: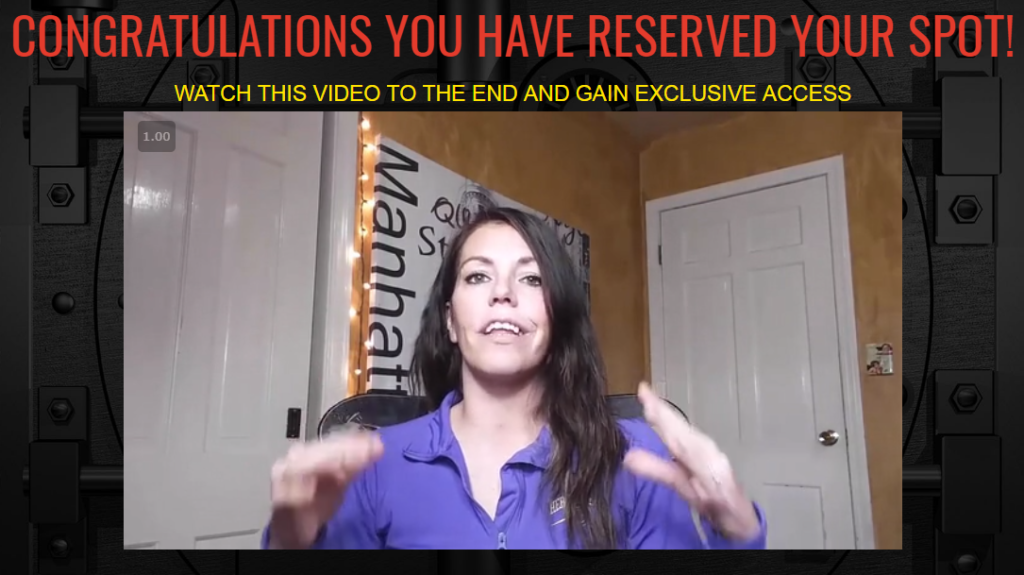 While doing my research, I found out a YouTube video of this woman talking about BitConnect: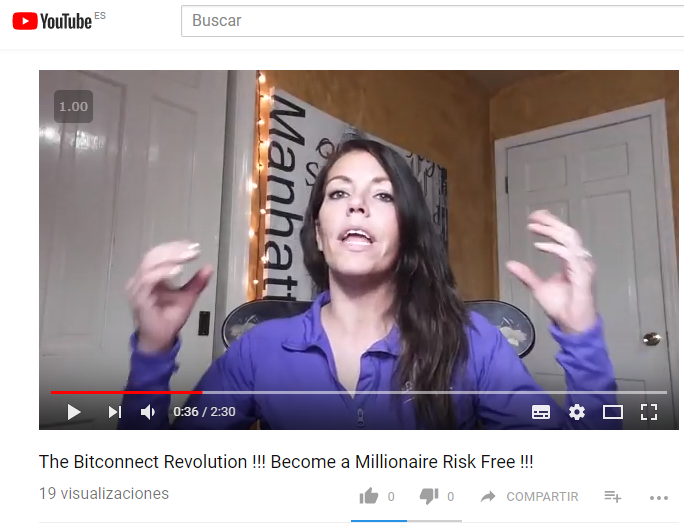 If this AAA Top Secret System has made her this much money, why is she promoting Bitconnect? Not to mention that Bitconnect has recently been accused of being a Ponzi scheme. 
The truth is that she hasn't tried AAA Top Secret System. She's got paid just to talk positive about it.
This system has not benefitted anyone (as stated in the disclaimer) but the scam artists behind it.
.
What about the $500?
---
If you search aaatopsecretsystem.com on Google, this is what you'll find: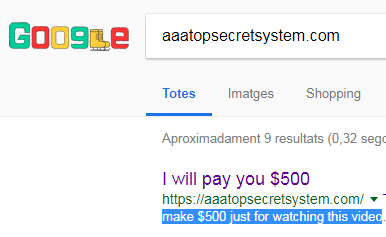 I honestly couldn't help but laugh when I read that. I've seen this claim in many other scam pages that I know it's complete nonsense.
I haven't got paid $500 to watch the two sales videos, and I guess you haven't either. If you had got paid, you wouldn't be wondering if this system is a scam.
.
Jake Crisper is not the real owner
---
After finding out that the testimonials are fake, I thought that Jake Crisper would be a made up character.
We're shown a picture of him, which looks like a stock picture to me.
But this is not all, what about his luxurious mansion and his cars? He doesn't own them.
I did some image searches and found out those pictures can be found in many sites:
I also searched for information about Jake Crisper but found nothing. I'm 99.99999% confident that he's not the real owners of AAA Top Secret System.
The fact that the people behind this system are not being transparent about their identity is another reason not to trust this system.
.
Learn affiliate marketing the proper way
---
I definitely don't recommend that you purchase AAA Top Secret System because it doesn't live up to its promises.
The only thing I like about it is that the method they're talking about is a proven method to make money, but they don't teach everything you need to make money using this business model called affiliate marketing.
First of all, making a full-time income online is not as easy as clicking a few buttons like "Jake" claims. There's no push button system that will make you a living online in a short period of time.
You'll have to put in the effort and time if you're really serious about making a substantial income online.
If you're committed to building an affiliate marketing business the right way, you'll need the proper step-by-step training, video tutorials and business tools. 
You can find all of this in the training platform where I got started back in 2016 and still use today. 
I always learn something new in this platform because the training and features keep getting updates and improved, and there's always people talking about their successes and experiences.
You can learn more by clicking the button below now:
You'll get two free websites along with free hosting and free training that will help you start your affiliate marketing business!
You'll also learn about affiliate programs like the Amazon Associates, how and where to use affiliate links…
Can't wait to see you in the right track to make money online! I believe you can do this if you're willing to learn, take action and be patient.
I hope you've found the answers you were looking for regarding AAA Top Secret System.
In case you have any questions or opinions, don't hesitate to share your thoughts in the comments area below and I'll get back to you ASAP.
Blessings!