Hey guys!
I've just come across a site called ThSocNews17.com, which looked very similar to other scam sites I've come across in the past.
I knew I had to look deep into it and write a review to let you all know the truth and help you make an informed decision concerning Thsocnews17.
In this review, you'll find out what thsocnews17 is really about, what you can expect from it and more.
.
ThSocNews17.com review
---
Name: ThSocNews17
Website: thsocnews17.com
Owners: Hidden
Created in: January 2018
Price: Free 
Overall Ranking: 10/100
.
---
If you're sick of scams, check out my 1st resource to make money online here!
---
.
What is ThSocNews17.com about?
---
ThSocNews17.com is said to be a company that connects news sites with readers.
They're supposed to get paid by the owners of news sites for bringing visitors to their news articles.
According to the information on their site, ThSocNews17 offers two ways to make money online easily:
The first way is about reading news. They claim they're going to pay you $4 for every piece of news that you read. They allow you to read like 30 pieces of news per day, so you can supposedly earn $120 per day just for reading news.
The second way to earn money is by sharing your referral link and get others to join. They claim you can earn $170 per referral and 15% off their earnings.
Sounds good, right? Yeah, especially when you take into account that it's free to join and anyone can do this. 
Sharing links and reading is something we all do, so wouldn't it be amazing to get paid for it?
And when it comes to getting paid, they claim you need to reach $1700 in order to claim get your money sent to your PayPal or Payza account. I personally believe this payment threshold is way too high.
.
What can you expect from ThSocNews17.com?
---
After doing some intensive research, I've reached the conclusion that ThSocNews17.com will not pay us.
First of all, it's free to join. That's why it makes no sense that they're going to pay $170 for every person who signs up through your link.
They're not going to give away free money if they're not getting paid when someone joins their site. Imagine that they paid $170 everytime someone joins (without them getting paid first), they would get into massive debt.
And what about making money for reading the news? Are they going to pay us? The truth is that no, they're not going to pay us a dime.
I know that they're not going to pay us because I found out that they're not affiliated with the news sites.
Why? Because they don't use affiliate links for the news articles listed on their site.
An example of a news article they list on their site is this:
You can notice that the link I highlighted is not an affiliate link, which means that the owners of the news sites will not know when their visitors come from ThSocNews17.com, so there's no way they can get credit.
Even if those news sites paid ThSocNews17.com, they would pay them way less than $4 for each piece of news because those news sites don't get paid that much when someone reads their articles. 
Therefore, why does ThSocNews17 claim they're going to pay us for reading news if they will not? What are they trying to achieve by lying to us?
Let's see what their real purpose is.
.
The real purpose of ThSocNews17.com
---
What the owners of ThSocNews17.com really want is to collect as much personal information as possible in order to sell it to other con artists or companies.
This is why they're letting everyone join for free and why they tell you to get other people to join.
If people believe that they can make money easily and for free, they'll end up entering their email addresses to sign up.
Therefore, if you've joined ThSocNews17.com with your main email address, you can expect to receive spam and junk emails from people you don't know. I don't recommend that you click any link on those emails because they might contain malware or viruses or even take you to other scam sites.
But this is not all. There's another way they try to make money.
In the payment system section, they ask for your PayPal or Payza account number: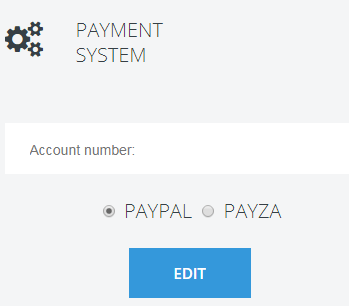 This is a scam sign because they don't need to know this number in order to send payments. If they really wanted to pay you, they would only need to know your email address linked to your PayPal or Payza account.
So why do they want to know your PayPal or Payza account number? Because this number gives them access to your bank account. 
This proves that they don't really want to pay you, they just want to rob you blind.
.
Is ThSocNews17.com a scam?
---
Of course, ThSocNews17 is a scam site that will not help you make any money. 
As I've explained before, it was only created to generate profits for the scammers who created that site.
With that being said, let's see some red flags that prove ThSocNews17 is not a reliable site to make money online.
.
No information about the creators of ThSocNews17
---
The people behind ThSocNews17.com are doing what other scam artists do: hiding their identities.
There's no section on their site about them. They don't even show any pictures or mention any names, so there's no way to know who we're dealing with.
I like to know who's behind every site or program I come across in order to determine whether I can trust it or not.
I personally don't trust sites whose owners don't show up.
Imagine if someone who's hiding their face came to your home and asked you for personal information, you wouldn't give it to them, right? Here happens the same. There's danger in giving personal and financial information to people who don't show up.
.
Lack of important pages
---
They don't even have the legal pages (privacy policy, earnings disclaimer, terms & conditions) that you expect to find out on legit sites or programs.
Why can't they let us know how they're going to use the information you provide and their "rules"?
This means that they don't care if we make an educated decision concerning ThSocNews17 because this information they don't address is essential in order to decide whether they're worth it or not.
.
Some contradictions and stuff that makes no sense
---
If you've joined and have taken a look at the account area, you might have noticed a contradiction.
In the left side, they claim you'll earn $90 for each involved partner a.k.a. every referral, but then, in the affiliate link section, they say that they pay $170.
See the contradiction?
Anyway, they haven't paid any of the people who've joined so maybe that's why they're not clear about how much they'll pay you.
Apart from that, I noticed another thing that doesn't make sense.
They have a news project section where you can see two updates but I found out that they're invented.
As you can observe below, these updates are supposed to have been made in November and December 2017.
However, if you check out the ThSocNews17.com domain registration date, you'll find out that it was registered in January 2018, which means that it didn't exist in 2017. That's why those updates are invented.

.
Stop the scams by building an online business
---
Obviously, I don't recommend ThSocNews17.com because it's not going to help you make any money.
If you try it, it's only going to leave you frustrated and upset when you wait and wait and realize that they're not going to pay you.
The way you can stop falling for these scams is by keeping in mind that making money online doesn't happen easily or quickly. This requires you to put in the effort and time. 
If you think about it, everyone would have already made a fortune online if it were that easy.
So whenever you come across a site or program that promises you'll make money without working much, I suggest that you stay away from it because most sites like that (not to say all of them) are scams.
If you're willing to do what it takes to make a full-time income online, I suggest that you use the same business model I've been using to make a consistent income month after month.
This business is highly lucrative when done the right way and doesn't require you to make a huge investment. In fact, when I got started back in 2016 I found a place that let me start for free.
This place has the proper business tools, step-by-step training and tutorials that will help you build your very own online business. If it's working for me, I believe you also can make this work if you're committed to learning and taking action.
Want to know more? Click the button below now and find out how this business works and where you can get started for free:
Looking forward to seeing you on the right way to earn money online!
I also let you know that you will be well supported, not only by me but also by a big community of bloggers and Internet entrepreneurs! =)
I hope this review has been of help to you and you now know what to do next.
If you have any questions or opinions about ThSocNews17.com or anything else, don't hesitate to leave a comment below and I'll get back to you ASAP.
Best wishes! 🙂