Welcome to my Fast Cash Club review!
Are you wondering if you can earn $2000 a day thanks to fastcashclub.co or is this another ugly scam that you need to stay away from?
Firstly, I must congratulate you for taking the time to do your own research before investing in another money-making program.
There's a jungle of scams out there… so doing your due diligence is the way to avoid scams and find the real way to earn money online!
If you're looking for a short answer, know that Fast Cash Club is not as great as they say in the sales video.
I have come across many sales videos and pages like that, so I know how to spots the red flags.
In this honest review, you will find the complete truth about this program, which will help you make an educated decision.
Fast Cash Club review
---
Name: Fast Cash Club
Website URL: fastcashclub.co
Owner: "John Harris"
Launched in: October 2018
Price: $37 + upsells
Overall Ranking: 2/10
---
If you're sick of scams, check out my 1st resource to make money online HERE!
---
What is Fash Cash Club about?
---
Someone sent me an email concerning a digital product called Fast Cash Club, so I thought I would have a look at it to see if this one would offer a legitimate way to earn money online.
The moment I landed on their sales page, I thought it was another system that wouldn't deliver much because it looked very similar to sales pages I have come across in the past.
However, I always take my time and do my homework before coming to a final verdict, so that's what I did this time as well.
I found out that there was another program called Fast Cash Club, which was a scam that existed back in 2016. This one I'm talking about today has come out this month (October 2018) so it's new. 
Just the name of the product didn't give me confidence because the words "fast cash" make it sound like a get-rich-quick scheme.
So what is Fast Cash Club really?
According to the spokesman, this is the world's first ever drag and drop ecom profit system.
He claims this system has helped 117 ordinary people earn $2,000 a day without doing much work.
Everything he says about this system sounds great, doesn't it? He wants you to believe that this is the perfect product that will solve all your money problems.
From my experience, as someone who has reviewed hundreds of products, I can say that Fast Cash Club is no better than the following:
Check Out My FREE Earn Money Online Guide Here!
How Fast Cash Club really works
---
Fast Cash Club doesn't really work in a way that you can make money the same day you get started.
The way they're promoting it can make you believe that it is very easy and quick to make money with this system, when the truth is that it is not.
You're not even getting a system that is connected to Shopify and can make you sales on complete autopilot. 
What you really get after buying this product is some basic training on how to get started to create an online store with Shopify.
They will also show you how to do dropshipping, which is a type of ecommerce.
Dropshipping consists in selling products that you don't own, create or ship. You don't need to buy them before selling them, you only need to purchase them after selling them because it represents that you're buying them with the customer's money.
Your job is to find products on other websites and then put them on sale on your own store at a higher price. After making a sale, you will purchase the product and tell the provider/supplier to send it to your client.
Also, you're the one who is responsible for customer service and refunds because customers don't know that the products you're selling are not yours.
Anyway, when it comes to the training, I can tell you that you might learn something from it but it will not be enough for you to reach the point where you're making the kind of money they say.
Products like this usually provide outdated training or YouTube videos that you can find yourself for free. They don't provide anything special that can help you make your online store profitable in no time.
They're not transparent when it comes to the cost
---
Something that you need to know is that $37 is just the beginning when it comes to the money you will have to spend to build a profitable ecommerce business.
If you decide to purchase Fast Cash Club for $37, you will be bombarded with some upsells before getting access to the training area.
I actually didn't get surprised when I found that this product has upsells because most ClickBank products have upsells.
Their sales funnel can help affiliates earn $398.25 in commissions, as you can see below: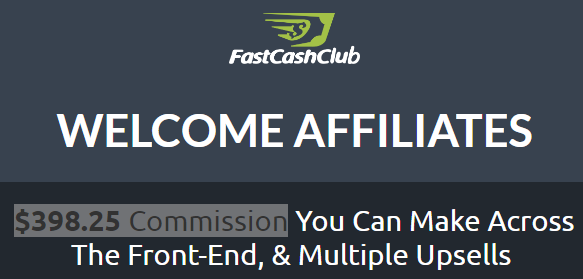 The fact that they have upsells is an indication that the front-end product, Fast Cash Club, is not as awesome as they claim.
When a product is complete, it doesn't need upsells!
Not only that, keep in mind that there are more costs involved. Costs like paid advertising, Shopify hosting, an email autoresponder…
The more you want to grow your business, the more time and money you will have to invest in. This is something they don't tell you but you need to take this into account before deciding whether or not this is right for you.
Lack of real success stories
---
Is there anyone who is successful thanks to Fast Cash Club? Are there any real positive reviews?
The short answer is no, there are no real members who have had any financial success thanks to this system.
In the sales video, we can see some people who claim to have earned thousands of dollars but the truth is that they're not genuine members.
In other words, the video testimonials are fake and I have some proofs.
These testimonies are Fiverr actors that have got paid just to recite the script given to them. Below you can see some undeniable proofs:
These people haven't purchased the Fast Cash Club system so there's no way we can believe what they say. They have appeared in other scam videos like AD Formula,  Kindle Sniper, AZ Code, Digital Payday…
If this system worked like they told you, don't you think there would be genuine positive reviews? 
Everything the spokesman claims concerning the earnings of these people is completely fake. They just want you to believe that this is your "fast" ticket to financial freedom.
No privacy policy
---
I clicked on the "privacy policy" button from their bottom menu and I was taken to the same Fast Cash Club sales page I was in front of. 
So they apparently have a privacy policy page but when you want to check it out, you realize they don't have it.
This is a big red flag because it means that they're not honest about the way they're going to use our information. Are they going to keep it safe or are they going to sell it to other people? No way to know.
Get My FREE Earn Money Online Guide Now!
Can we trust the people behind Fast Cash Club?
---
We're told that the CEO and founder of Fast Cash Club is John Harris, but after doing some image searches I can confirm they're lying about this.
The man who appears in the picture above is not the real founder because that's a stock photo that can be found on stock photography sites like Shutterstock: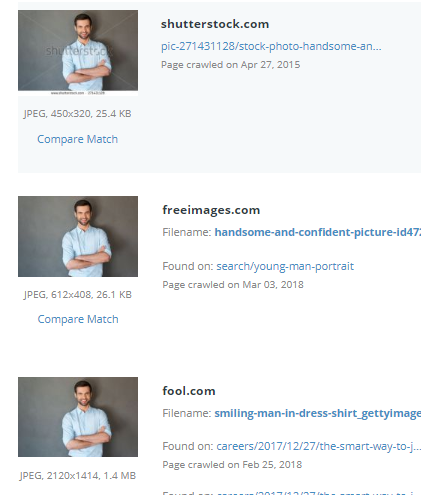 So how can we trust what the spokesman tells us in the sales video if he doesn't show up?
I personally believe that the whole story they tell us is fake because they lie about the testimonies and the founder, so is there anything that is not fake in Fast Cash Club? This place just cannot be trusted.
Fake scarcity
---
Last but not least, they claim they are only giving this opportunity to 20 members, which is the same as saying that there are limited spots available.
I'm 100% sure that this is fake because you can check out their page tomorrow and you will see that they say the same thing. 
This is an old trick scam artists use to get you to sign up as fast as possible, but you can see it's 100% fake.
There's no limit when it comes to the amount of spots available a.k.a. the number of people who can purchase this product because con artists are never going to limit the amount of money they can earn.
They have affiliates who promote this kind of systems so the truth is that they're trying to reach as many people as possible. The more people who pay for their product, the better for them. It's just common sense.
Is Fast Cash Club a scam?
---
I'll let you be the one who decides whether Fast Cash Club is a scam or not.
There are people who will not call it a scam because it gives you some training for your money and you can also learn something from it.
But there are others who will consider it a scam because it doesn't live up to its promises and they tell lots of lies to get you to buy. They're doing false advertising, which is not ethical.
In my opinion, Fast Cash Club is just another low-quality product that is sold on ClickBank. I'm not calling it a 100% scam because they allow you to get a refund within 60 days from the day you buy the product.
I personally don't like products like this because they're very misleading and give a bad name to the Internet marketing industry. It's not ok to take advantage of beginners or people who are in need so I just cannot trust this Fast Cash Club product.
When it comes to the business model this product is focused on, I have to say that dropshipping is legit and can help you make a full-time income online, but there are better business models in my opinion.
Because of everything I have mentioned in this review, I conclude that I do not recommend Fast Cash Club (fastcashclub.co).
A simple but lucrative business model that you can use
---
As someone who has made money dropshipping, I can tell you that I prefer the business model I use now.
Just after learning about this business model, I quitted dropshipping because I didn't like the feeling of my clients not knowing that the products I were selling were not mine. I felt it was a lack of transparency and I do value transparency when it comes to doing business, so I decided to quit even though I was making money.
Also, I didn't like dealing with refunds so that's another reason I quitted. I'm glad that the business model I use now allows me to earn a monthly 4 digit income in an honest and ethical way.
This business takes commitment, work and time to make it profitable but you do get satisfied when you see all the effort you put in pays off.
It's a business model that allows you to earn money from products/services related to a topic you are passionate about, which is very cool because this is something that will make the process very enjoyable for you 🙂
There's a lot to say when it comes to what I do and why this business model works, so I decided to create a FREE step-by-step earn money online guide where you can find how it all works:
My free guide reveals the 4-step formula I used, the main reason this business works, success stories, the in-depth training and marketing tools I used…
And that's not all! If you decide to check out my guide, you will discover how you can start today for free!
That's right, I'm not kidding, it's risk-free to determine if this is the right business for you! 
In addition, you also get the chance to receive free help and support from me and other like-minded people who are on the same path as you =) You will see that all your questions will be replied to because there's always someone willing to help.
I'm so excited for you to say bye to the low-quality products and start building your own online biz today!
CHECK OUT MY FREE EARN MONEY ONLINE GUIDE HERE!
I hope this Fast Cash Club review has been helpful to you and you will make the best possible decision.
Feel free to share it with whoever you believe that will benefit from it!
If there's something else you want to know or you have any questions, please leave your thoughts below and I'll get back to you ASAP! ? 
Whatever you do next, I wish you the best =)