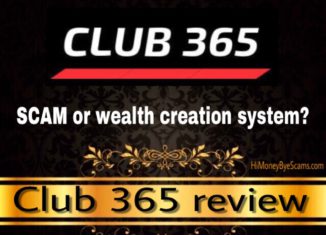 Is Club 365 a scam you need to avoid or is this system your ticket to becoming financially free online?
First of all, congratulations on doing your own research before spending your hard-earned money on another money-making program!
The Internet is full of bastard scams so doing your own research is the key to avoid the scams and discover the genuine way to earn money online!
When it comes to Club 365, it's not as amazing as they tell you in the sales video and my honest review is going to show you the truth.
Not only that, I'm also going to expose some red flags that you need to be aware of.
Club 365 review
---
Name: Club 365
Website URL: club365.co
Owner: "Justin Powell"
Launched in: September 2018
Price: $27.99 + upsells
Overall Rating: 25/100
---
If you're sick of scams, check out my 1st resource to make money online HERE!
---
What is Club 365 about?
---
I got sent an email regarding Club 365 so I thought I would take a look at this system to see if there's something good.
The moment I landed on their sales page, I felt something was not right because it looked very similar to other products I had come across before.
However, I didn't want to judge it based on its appearance so I watched the sales video, did extensive research and also bought it to see if there was something good.
The spokesman claims Club 365 is different from everything you've seen before.
Club 365 claims to provide you with different methods to create wealth online: affiliate marketing, list building, paid surveys, e-commerce, cryptocurrency, software for automation.
These are legit ways to earn money online. Some can get you to the point where you are making a full-time income online, while others can only earn you some extra cash.
Justin Powell, the alleged creator of this program, claims you can earn $1,297 just working 1 hour a week, which sounds very unrealistic.
In the online world, some strategies that worked years ago might not work today, so the Club 365 is said to be updated each and every month.
It's supposed to keep you informed about the latest news and methods concerning the online money-making world.
Everything the spokesman says sounds great but I have to say that the sales video is a overhyped as well.
That's why I'm going to reveal what you will find inside the members area if you decide to purchase this product.
Does Club 365 work?
---
Club 365 does not work like the spokesman claims, that's what I can say after having accessed their members area.
This program is no better than other products I have reviewed because they promise you the world but then they underdeliver.
I got quite disappointed when I saw what's inside the members area because the training is generic and basic.
Inside the Club 365 members area
---
Let's take a look at how their members area looks like:
Inside the cryptocurrency tab, you will find the following:
Millionaires calendar

A PDF of 6 pages called "AirDrop Secrets – Get Free Cryptocurrencies"
The millionaires calendar is an excel document that they use to keep track of opportunities to get free cryptocurrency using something called AirDrop.
I'm not sure if this is a great option to earn money trading crypto because not all cryptocurrencies increase that much in value.
Also, keep in mind that the crypto industry is highly risky and volatile, so it's not a way of earning a stable income. You can make lots of money but can also lose so never invest more than you can afford to lose.
If you decide to get involved in the crypto market and follow their "millionaires calendar", I suggest that you do some research on the websites or brokers they recommend before joining them.
When it comes to the eCommerce tab, you will find these 4 PDFs:
The Ultimate Guide to Shopify (56 pages)

Ecommerce Kickstart (59 pages)

eBay eCommerce Secrets (51 pages)
The Amazon Rush (59 pages)
These guides are basically about e-commerce and affiliate marketing, which are two business models that can be very profitable when used the proper way.
They will teach you to set up a Shopify store, promote Amazon products to earn commissions as an affiliate and also how to become an eBay seller.
Apart from those guides, there's the schedule tab where it says what's to come to the Club 365. They are going to add 2 softwares and more training, apparently.
There's nothing concerning paid surveys, list building or case studies, so we'll see if they add something in the future.
Will you earn money with these methods?
---
Like I said, it's possible to make money with these methods but the training provided by Club 365 is not enough.
I noticed that the Ecommerce Kickstart and The Amazon Rush guides is the same PDF where they talk about making money as an Amazon affiliate, so not sure if they got confused and will change one of them if they notice it.
What I don't like about these guides is the fact that they don't contain lots of pictures that can help you see what you have to do.
Most content from these guides is text and there's no step-by-step training, so it's easy to get confused and lost.
They don't provide any action plan so it's easy not knowing what to do next if you have no previous experience.
You will have to spend time on research to find out what step to take next, since they don't even provide a section where you can ask for questions and get answers.
I read some pages from these guides and noticed that some information is out of date.
For example, when they talk about websites that you can use to drive traffic to your site, they mention websites that don't exist anymore.
The fact that these guides are outdated is a big red flag because it means that you will need to spend money and time on other sources to learn more.
Remember that in the sales video they claim the Club 365 is up-to-date? So it doesn't seem so after having looked deep into it.
It would be great if they provided a step-by-step guide or some kind of tutorial that could help you choose a method to get started with.
I mean, if you are a beginner I don't recommend that you get into eCommerce and affiliate marketing at the same time.
It's best that you focus on a business model so that you don't get too confused and overwhelmed.
Get my FREE affiliate marketing guide here!
Club 365 red flags
---
There are some scam signs that you need to take into consideration because they are present in other BS products or websites.
Lack of legal pages
---
One of the red flags is the fact that Club 365 does not provide any legal information.
They do not provide a privacy policy, earnings disclaimer or terms & conditions page, which are very important and something you can find in legitimate websites.
There's no way to know how they will use your information or if they will share it with third parties.
I have reviewed many websites and have noticed that the ones that don't reveal this kind of information end up being scams.
Honestly, I got surprised that they don't provide this information because that's not something that happens with most ClickBank products I have reviewed.
They are promoting Coolhandle
---
When I got inside their members area and saw that they recommend that you build your profit website, I clicked "sign up now" to see what they are recommending.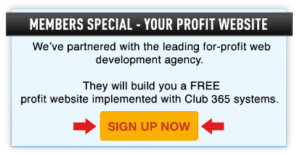 I got very disappointed when I saw that they recommend Coolhandle, since it has a really bad reputation.
Not only that, this is not free at all!
They are being very misleading for that. Why do they say it's free when this is far from free?
Honestly, I have no problem with them recommending a service, but the fact that they are recommending something that will not benefit their customers, is a huge red flag.
I mean, they are not doing you any favour by promoting this. The reason they want you to spend money on Coolhandle is because they are affiliated with them, which means that the owners of Club 365 will get paid if you make the investment.
People who really care about you would not promote scam hosting services like Coolhandle.
Just take a look at some of their complaints here:
Customers complain for various reasons: they haven't got their money back, they have had their money taken without their permission… 
People behind Coolhandle only care about their own benefit, so why is Club365 recommending them?
Click here to check out my FREE affiliate marketing guide!
Justin Powell is not the real owner
---
The spokesman claims the founder of Club 365 is named Justin Powell, but this is not true.
If you scroll down to the bottom of their page, you will read that Justin Powell is a pen name to protect the privacy of the owner.

Let me ask you this…
Why would someone, who claims to have created an amazing money-making platform, hide?
From my experience, websites whose real owners don't show up tend to be scams or low-quality programs.
Unethical marketers don't show their faces to avoid putting their reputation at risk.
False scarcity
---
Another way they try to get you to purchase this ASAP is by claiming that they will close soon.
This is the same as saying that there are limited spots available, when in reality there are no limits.
Do you think these people are going to limit the amount of money they can make? No way!
They have been sending this system to many people so there's no way they are closing soon.
The truth is that they want you to buy into this as fast as possible, so they are making this seem a limited opportunity.
It's marketed as a get-rich-quick scheme
---
Last but not least, the Club 365 sales video is quite overhyped, just like other sales videos for get-rich-quick scams.

The truth is that you will need to learn new skills in order to make the kind of money they are talking about.
If it were that easy to earn hundreds and thousands of dollars a day online, don't you think many people would be doing this?
I'm sure lots of people wouldn't be working 40 a weeks on a job they hate.
Don't be fooled by scam artists who make the concept of earning money online seem easy or fast!
Is Club 365 a scam?
---
Whether or not Club 365 is a scam depends on how you define a scam.
If you take into consideration that you get something for your money, then you will not call Club 365 a scam.
But if you judge this product based on the fact that their sales video is ovehyped, they recommend a scam service and the training provided is a little outdated, then you will think of it as a scam.
In my opinion, Club 365 is not a complete scam because you can get a refund since it's a product sold on ClickBank.
But it's clear that the creators of this product care more about their own benefit than anything else. 
If they really cared about you, they wouldn't recommend Coolhandle.
With that being said, these are other low-quality products that you need to avoid:
After everything I have mentioned in this review, I have to conclude that I don't recommend Club 365.
Learn a proven method to make an income online
---
Making a full-time income online takes time, commitment, learning and work.
It's just like anything worth achieving, without putting in the work you will not reach your goals.
The day I realized this is when I stopped wasting time on get-rich-quick schemes and focused on a single business.
I personally use affiliate marketing to earn a consistent income online month after month.
It's a business model that has been working for many years and there are many people using it to make money online.
There are various method to earn money as an affiliate marketer, so I'm glad that I learned a proven, newbie-friendly method.
This method allows me to drive free targeted traffic to my offers, so I don't have to pay a single cent on paid advertising.
Sounds cool? 
There's so much to say about this business model so I created a FREE step-by-step earn money online guide where you can learn more about what I do:
In my free guide, I explain the 4-step method I followed, why this method works, what you need to make it work, proofs that it works…
Not only that, you will also find out how you can start today for free!
Your free account will give you access to step-by-step training and tools that will guide you through the process of getting your affiliate marketing business started.
Furthermore, you wll also be able to receive free help and support from me and other successful affiliate marketers! =)
Building your business is not easy or fast, but it's worth it in the end. All the effort you put in will end up paying off!
So what's stopping you from getting your biz started today?
CHECK OUT MY FREE AFFILIATE MARKETING GUIDE HERE!
I hope this Club 365 review has been helpful to you and you will make the best possible decision.
Don't hesitate to share this post with whoever you believe that will benefit from it!
If there's something else you want to know or you have any questions, feel free to leave a comment below and I'll get back to you ASAP! ? 
Best wishes =)