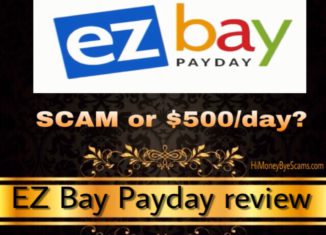 Welcome to my EZ Bay Payday review!
Has someone sent you a link to this system and wondering if it's a scam to avoid? Or do you hope that you can make huge profits thanks to it?
First of all, I need to congratulate you for taking the time to do your own research before purchasing another money-making product.
As you might already know, there are sooo many scams out there so doing your due diligence is the way to avoid scams and find the real way to earn money online!
To be completely straightforward with you, EZ Bay Payday does not work like they claim!
Yes, that's right. This product is not as amazing as they have told you and my honest review will show you the truth.
EZ Bay Payday review
---
Name: EZ Bay Payday
Website URL: ezbaypayday.com
Owner: "Steve Richards"
Launched in: September 2018
Price: $37 + upsells
Overall Rating: 21/100
---
If you're sick of scams, check out my 1st resource to make money online HERE!
---
What is EZ Bay Payday about?
---
Someone sent me an email that contained a link to the EZ Bay Payday sales page, so I thought I would take a look at it.
Perhaps you have come across this system through an email as well.
The moment I landed on their sales page, I thought I was in front of another BS or scam product because of some red flags I had noticed.
But we can't judge a book by its cover so I decided to watch the sales video and do intensive research.
According to the spokesman, EZ Bay Payday is an incredible system that you can use to earn $500 a day from eBay.
He makes this system sound amazing when he says that it only takes 17 minutes to set up and then you can already enjoy your profits.
You allegedly only need to work 20 minutes a day to make $500 every single day for the rest of your life. 

It sounds like the ideal system for everyone because it doesn't require you to have any marketing skills or previous experience.
And the fact that this system can supposedly make you money starting today sounds way too good to be true, don't you agree?
Truth be told, he just tells you what you want to hear instead of what you need to hear.
He tries to convince you that this system is the only thing you need to solve your financial problems and live the lifestyle you desire.
Everything he says is to get you excited so that you end up purchasing this system, and once you are inside is when you realize it's not as awesome as advertised.
Does EZ Bay Payday work?
---
The truth is that EZ Bay Payday doesn't work as advertised because there's no system that can make you hundreds of dollars a day with minimal effort.
I noticed that the spokesman doesn't even explain how this system exactly works.
Everything he says is that you just need to follow these 3 steps:
Log in

Pick a product to sell

Connect your EZ Bay Payday cash magnet

Make money
The way he talks about it makes this system sound as if it were some sort of magical system that you only need to connect to eBay in order to make money.
Why doesn't he mention what's included or what you are going to get after paying for it?
Such a big red flag, honestly.
I mean, you don't pay for stuff without knowing what you are buying, don't you?
The truth about EZ Bay Payday
---
These are some of the questions I had after watching their sales presentation:
Where do you have to pick the products from?

How will people find the products you are selling?

What makes this EZ Bay Payday system special?
Here's the truth:
This EZ Bay Payday system is nothing special because it doesn't have anything magical that enables you to make sales instantly.
Also, the spokesman says that when you make a sale, you are the only one who gets paid, but this is not true.
Each time an item gets sold on eBay, they earn a little commission. 
If you think about it, it would make no sense that eBay allowed people to sell items on it without making any money. eBay is a business that needs to make money to be sustainable.
"Steve", the alleged owner of EZ Bay Payday, makes selling items on eBay seems so easy but he has not mentioned how competitive this is.
In order to make sales, you first need to do some research to pick a good product. Before choosing something, there are various factors you need to take into consideration like the competition and the price.
Also, he has not told you that you will have to go to another online store to find the product you want to sell on eBay.
This is called dropshipping, which is a type of ecommerce where you find products on an online store like Amazon and put them on another store like eBay at a higher price so that you can profit.
When you make a sale, eBay earns a commission and you get paid the rest. Once you have the money, you have to buy the product and tell the supplier (the store where you picked the product from) to send it to the customer.
Note that you are the one who needs to take care of refunds and customer service.
Why you will not make $500 within 24 hours
---
It's possible to make money dropshipping and I personally have used this business model to earn some money.
But the truth is that you cannot expect to earn $500 in 24 hours for several reasons.
EZ Bay Payday provides you with some training videos that you need to watch before applying everything, which takes time.
When it comes to researching good items/products, it's something that also takes time.
Listing items also takes time, so you will not list hundreds of products the first day.
And then, you cannot expect many people to find the items you are selling the first day because you first need to become a trusted eBay seller!
The first day not many people will find the products you are selling, that's why you cannot expect to earn $500 in less than 24 hours.
This is just like any business, it takes time and effort to build and succeed.
Don't be fooled by scammers who tell you that you don't need to do any work to make money.
Check Out My FREE Step-By-Step Earn Money Online Guide here!
EZ Bay Payday scam signs exposed!
---
Let's see some red flags that you need to be aware of because they prove EZ Bay Payday is not that awesome of a system.
Fake testimonials
---
Something that I usually notice is when these products have fake testimonies.
I have reviewed many products like EZ Bay Payday and most of them provide false testimonials.
In this case, the people who appear in the sales video and claim to have earned hundreds of dollars are really lying.
They have not bought this system so they are not real members.
These people are Fiverr actors that have appeared in other scam products I have reviewed like Tube Crusher, Clicks Dealer and CB Cash Code.
Let's take a look at these proofs: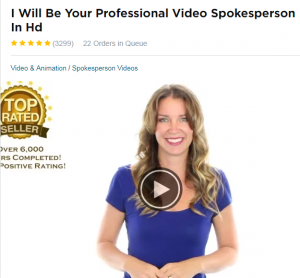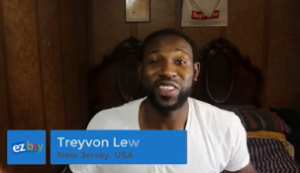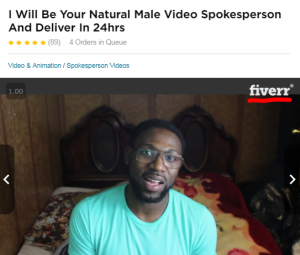 None of these people have earned the kind of money they talk about.
Do you think these con artists behind EZ Bay Payday would use false testimonials if this system really worked as advertised?
I believe there would be positive reviews on the Internet, but I still haven't found any EZ Bay Payday review.
Get My FREE Step-By-Step Earn Money Online Guide here!
Steve Richards is not the real owner
---
Another thing that tells me this system is not that good is the fact that the real owner does not show up.
Products like this are usually promoted under fake names so this is one of the reasons why I don't believe Steve Richards is the owner of EZ Bay Payday.
Also, in the sales video he shows a picture of one of his friends but the truth is that he's not reallt his friend.
The whole sob story he tells you is invented and I know this becausI found that picture on multiple different websites. See the proof: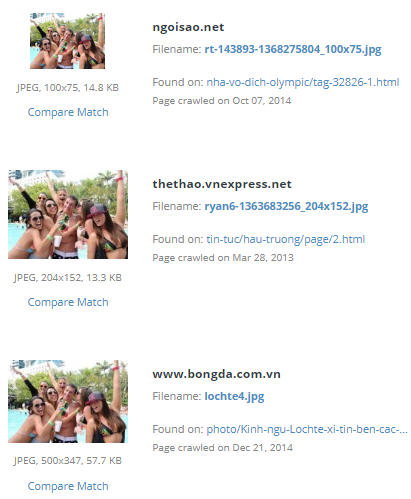 What does this mean? The real owner of EZ Bay Payday has downloaded that picture to use it to market this product.
Just like I said, the whole story is a sham which is something that I don't like.
I mean, how can we believe someone who lies about his background? No way I can trust the creator of EZ Bay Payday.
Fake scarcity
---
One tactic they use to get you to purchase this product as fast as possible is the "limited spots available" thing.
The spokesman claims he's letting a limited amount of students get this system when in reality he wants as many people as possible to buy it.
It would make no sense that he put a limit to the amount of money he can earn.
These products usually get sent to email lists with lots of subscribers, which means that these con artists want to make as many sales as possible.
The upsells
---
You also need to know that they will bombard you with upsells if you decide to buy this product.
I checked out their page for affiliates and read that they have one click upsells.
Not only that, they claim each affiliate can earn over $450 per sale, which is a 60% commission. So this means that the upsells cost hundreds of dollars.
They will tell you that these upsells will accelerate or increase your profits to convince you to purchase it.
But what can we expect from people who lack transparency and use unethical sales tactics? 
When a product has upsells, it means that the initial offer is not as good as advertised because a "complete" product wouldn't need any additions.
It's a "done-for-you" system
---
Last but not least, EZ Bay Payday is a done-for-you system, which is no different from these other systems I have reviewed:
These done-for-you systems are not as attractive as they seem because they don't encourage creativity and keep you dependent.
The problem with these systems is that they do not teach you to build something of your own, which means that you will be left with nothing when these systems shut down.
Because of this, I believe a done-for-you system is not the way to go if you want to make money online for the long-term.
Is EZ Bay Payday a scam?
---
The answer to this question really depends on how you define a scam.
If you take into consideration how misleading the sales page is because you will not make $500 a day with this system, then it's ok to call EZ Bay Payday a scam.
However, if you take into account that you will learn something and might earn some money, then you can consider it legit.
In my opinion, it's a low-quality program because it doesn't live up to its promises but you can get your money back because it's a ClickBank product.
I don't usually call these ClickBank products scams because ClickBank has never failed me when it comes to refunds.
With that said, I have to conclude that I do not recommend EZ Bay Payday because of everything I have mentioned in this review.
What about building your own asset?
---
Remember that I said I used to make money as an eBay seller?
Well, I quitted it after finding out about a business model that looked more sustainable and simple to me.
This business model doesn't keep me dependent on a determined system and I don't even have to deal with refunds.
I realized that it was better to build a business that didn't keep me dependent on a single platform so that's what I did.
To be honest, it's not easy or fast to make money using this business model but putting in the effort and time pays off in the end.
After all, this is like anything worth achieving in life. It takes commitment, time and work.
This business has many benefits so I am not going to explain it all here because this post would be too long lol.
If you want to learn what this business is about, go check out my FREE step-by-step earn money online guide here:
In my free guide, you will find how this business works, the main reason it works, the income potential, proof that it works…
Best part is, you will be able to start today for free!
You heard that right, you don't need to spend a coin to check it all out and decide if this is right for you =)
Not only that, my free guide also reveals how you can get help and support from me and thousands of people who want to see you succeed!
Are you ready to say bye to the scams and start building your online asset today?
CHECK OUT MY FREE EARN MONEY ONLINE GUIDE HERE!
I hope this EZ Bay Payday review has been helpful to you and you will make the best possible decision.
Don't hesitate to share this post with whoever you believe that will benefit from it!
If there's something else you want to know or you have any questions, feel free to leave a comment below and I'll get back to you ASAP! ? 
Whatever you do next, I wish you nothing but the best =)