Looking for a real Online Innovations review?
Are you wondering if online-innovations.net is a scam or legit system that can help you make $1,000 per day starting today?
If your answer to these questions is affirmative, I'm glad that you have landed on this post because here you will find the complete truth.
As you may already know, the world wide web is full of frauds designed to take your hard-earned money, so I'm glad that you are doing your due diligence. 
That's the way to avoid scams and discover the legitimate way to make passive income every single day!
When it comes to Online Innovations, it's no different than other websites I have reviewed and here I'm going to explain why.
Keep reading to learn how this program really works and whether or not you can benefit from it.
Online Innovations review summary
---
Name: Online Innovations 
Website URL: online-innovations.net
Owner: Teo Vee
Price: $97 + upsells
Recommended? No
---
If you're sick of scams, check out my 1st resource to make a 4-digit monthly passive income HERE!
---
What is Online Innovations about?
---
Someone sent me an email concerning the Online Innovations system, so I was like "what if this one is worth it?" and decided to check it out.
However, when I saw the sales page, I started suspecting it was no different than other scams because of the high-income claim "$1,000 per day starting today".
But I don't like to come to final conclusions before knowing what something is really about, so I looked deep into it and did my homework.
According to the spokesman, there's a secret code that is based on a money-making formula that taps into online purchases and rewards you with commissions.
I didn't like the fact that he claims there's some kind of secret code, since this is the kind of words that scam artists use to lead you to believe that there's a secret to making money online, when in reality there's nothing secret that can help you achieve overnight success.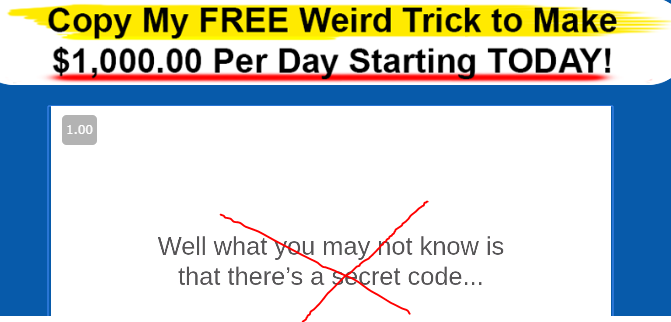 This system doesn't require you to have any special skills or previous experience, and your age doesn't matter either. He claims there are people in their nineties who are making money with this.
So what is this system about? Can it really work for anyone?
Online Innovations is not an appropriate name for this program because this is nothing new or innovative. 
Have you noticed that the spokesman doesn't even mention "Online Innovations" as the name of this program? He mentions "The Ecom Cash Code", which has been around for some months already.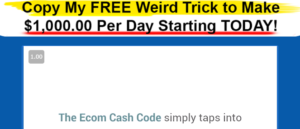 They are using the same video they were using for Ecom Cash Code, so they are no different. I believe they are promoting this same program under the online-innovations.net domain name to look like it's another program, which is misleading.
They want to test out which sales page converts better and they also do this to prevent you from finding the negative reviews, since they know that if you found those reviews, you would probably not buy this program.
Not only that, they haven't only used these sales pages. They have also been using another one called The Ecom Freedom Blueprint, which I exposed some months ago. 
RECOMMENDED: Check Out My FREE Earn Money Online Guide Here!
Does Online Innovations really work?
---
According to Teo, this is what you have to do to make this system work for you:
Select a website that interests you

Use the code they provide you with

Hit "go"
And then, you are supposed to sit back, relax and enjoy your profits.
Lol if making money online was that easy everyone would be doing this. Don't you think that lots of people would have already quitted their 9 to 5 jobs?
The truth is, this program does not work like Teo tells you because if you buy it, you will not find any code that can help you make money overnight without doing much work.
The whole sales video is quite misleading because it's focused on how much money you can easily make and how your life can change for the better.
Many sales videos for scam products usually play with people's emotions and prey on their hopes & dreams of never having to worry about money and being able to go on vacation to exotic locations.
In fact, all of this is achievable but it does not work the way they have told you because it takes a lot of work and time.
There's definitely not a code or shortcut to reach all your dreams. Just because it's online, it doesn't mean it's easier than if it was offline.
Online Innovations is not a real program
---
Like I said, Online Innovations is the same as the Ecom Cash Code and the Ecom Freedom Blueprint, which are not even real programs.
They are sales pages that are being used to funnel people into My Ecom Club, which is the name of the real program.
I remember writing a My Ecom Club review last year and I can say that it's a legitimate platform, but it's definitely not for everyone and the way they are marketing it is not ethical in my opinion.
First of all, this is not about earning commissions so I don't understand why they mention this in the sales video. This is about building an online store with Shopify.
If you purchase Online Innovations, you will get taken to the My Ecom Club members area, where you will find step-by-step training on how to build your online store with the dropshipping business model.
This is nothing new because this business model has been around for many years, so this is nothing innovative. Dropshipping is about selling other people's physical products without having to touch or see the products yourself.
The concept is simple: you find products to sell, you list them on your site, and make money when you make sales.
However, it's not as easy as it sounds because it takes way more work than it initially seems. 
First of all, you need to do a lot of research to find products that are relevant to your audience, and you also have to research your competition and take into account their prices, product descriptions… Note that when a product is being sold by many people, it's more difficult to have a high profit margin.
Apart from that, you have to work on getting traffic to your store, which is one of the most important tasks because without people coming to your store you can't make any money. 
The fastest way to get traffic is to pay for it, but this is also highly risky and not recommended if you are on a low budget. If you don't want to spend any money on traffic, you can also work on driving visitors to your store for free, but free traffic methods take a lot of time.
And this is not all! After making sales, you need to tell the supplier to ship the products directly to the buyers, which also takes time. The more sales you make, the more time you'll have to spend on this.
Also, you are the one who's responsible for responding to any questions or issues that your customers may have. If they're not satisfied with their products and want their money back, you are responsible for refunds. 
What about the personal advisor?
---
Teo claims he's going to give you a personal advisor who knows how to use the code inside and out, which sounds great until you discover that there's no code to use.
So who's this personal advisor? The person who's going to try to get you to upgrade!
That's right, they will try to get you to spend way more than $97. 
$97 is just the cost of getting started, but building this business has other costs that they don't tell you about:
Paid advertising costs, which could be thousands of dollars.

Upsells, one of them is a done-for-you option that costs $1997.

Shopify monthly fees (at least $29 per month).

Autoresponder, given that you build an email list to market your products. 
You see, building this kind of business can cost you thousands of dollars, which is something that they don't mention. 
They never mention all the costs involved and they are marketed as if you were getting so much for a very low price, when it's the complete opposite. 
In my opinion, it's not ethical to tell you that you only need x amount of money to start making money, but ask you for more money once you have made the first payment.
Not only that, they also claim this is risk-free, which is not true because you can only get your money back for the $97 initial offer. The rest of the offers are not refundable and you can't even get your money back when it comes to paid traffic costs.
RECOMMENDED: Learn How I Make a 4-Digit Monthly Income Here!
Some red flags
---
Something that I want to let you know is that the testimonials you saw in the sales video are fake.
There are probably some people who have succeeded thanks to My Ecom Club, but now I have my doubts.
I mean, why are they using actor portrayals if there are people who have succeeded? 
If they have some successful members, why are they spending money on these actors? There's no need to hire these actors, in my opinion. Don't you think successful members would be happy to talk about their successes?
When I discover that a program has false testimonies, I immediately start suspecting it's not as awesome as they claim. They wouldn't need to deceive people if it were true that there are real people who are succeeding.
Apart from that, another lie they tell you is that there are only 200 spots left and lots of people are watching the video. This is another tactic con artists use to make you buy on impulse. 
Why would they limit the amount of sales they can make? It just makes no sense because they never limit the amount of money they can earn.
Is Online Innovations a scam?
---
The answer to this question really depends on your point of view. 
On one hand, if you take into account that Online Innovations is not even a real program and the sales presentation is very misleading, then it's fine if you call it a scam.
Have you read the little note you can find at the end of the Online Innovations sales page? They state that the typical purchaser doesn't make any money using this system.
On another hand, it wouldn't be a scam if you consider that you get something for your money and you can also get some money back.
When it comes to My Ecom Club, it's not a complete scam but it's not for everyone because not everybody wants to make money by building an online store and not everybody has those thousands of dollars needed to build this business.
Also, I don't believe you need this program if you want to build a dropshipping business because there's a lot of free information out there and there are other courses that wouldn't cost you that much.
Sure, you can benefit from the information provided by My Ecom Club, but just the fact that they are not being transparent about how it all works is enough for me to decide that I don't want to get involved. I don't want to do business with people who lack honesty.
What you end up doing is up to you, but my final verdict is that I do not recommend Online Innovations.
The simple business model I use to make passive income
---
You know what? A while ago I used to make money dropshipping, but I ended up quitting when I learned about the business model I'm using now.
This business model is similar to dropshipping because it doesn't require you to create your own products, so you can make money from other people's products and services.
One of the differences between dropshipping and the business model I use is that this business doesn't require me to deal with refunds or manage arrangements, so it's less complicated.
Not only that, I don't have to spend money on paid traffic, so I didn't have to risk thousands of dollars before I started making money. Sounds cool?
I want to be completely honest with you, so I'm not going to say that it's easy or fast to start making money with this business. For me, it's better than dropshipping, but I still need to put in the effort and time to make passive income every day.
With that said, it's completely worth it and I'm living proof that it works. There are days that I have earned over $200, as you can observe in the screenshot below: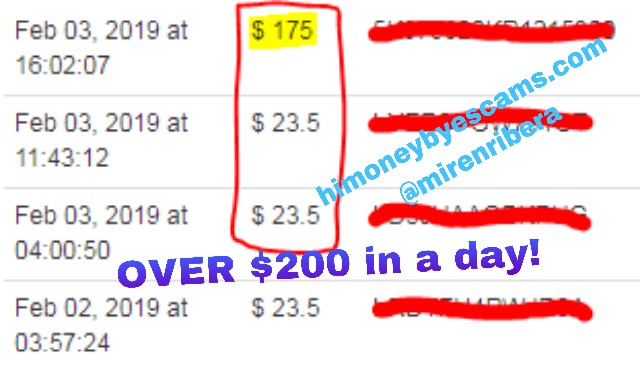 This business has been working for many years and there are many people who are using it to make a full-time income online. It's not MLM or a pyramid scheme, so don't you worry if recruiting is not your thing =)
Instead, you will build a business based on a topic you have a passion for, so you will get to enjoy the process because you will be talking & writing about something you love.
If you are committed to learning and taking action, I invite you to check out my FREE guide where I tell you more about this business:
If you read my free guide until the very end, you will learn what business model I use, the main reason this business works, motivating success stories from people who started from scratch…
There are many people who started without any experience or skills and they still have managed to succeed. It's all in the mind, if you believe you can reach your goals, you will.
Oh, didn't I mention that you can get started today for free? You will be able to make sure this business is right for you risk-free! 
In addition, you will discover how you can get my personal guidance and how you can get help from thousands of online business owners, so you can rest assured knowing that you are not alone in this new venture!
I really appreciate the messages that I have been receiving lately. This message you can read below is from one of the +4,000 people who have checked out my guide and taken action:
And now let me ask you: Will you keep looking for money-making codes that don't exist? Or will you get on the right way to start building your business today?
CHECK OUT MY FREE EARN MONEY ONLINE GUIDE HERE!
I hope this Online Innovations review has been helpful to you and you will make the best possible decision.
Don't hesitate share it with whoever you believe that will benefit from it!
If there's something else you want to know or you have any questions, please feel free to leave your thoughts below and I'll get back to you ASAP! 
Whatever you do next, I wish you nothing but the best =)