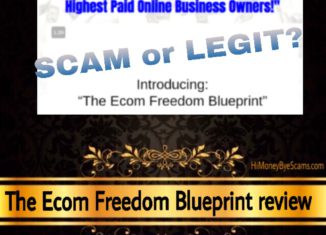 Welcome to The Ecom Freedom Blueprint review!
Wondering if this system is a scam or a legit way to earn money online? If your answer is yes, you're in the right place!
First of all, I need to congratulate you for taking the time to do your own research before getting into another business opportunity.
There are too many scams out there, so doing your due diligence is the way to avoid frauds and find the genuine way to make passive income online!
This honest review will let you know everything you need to know about The Ecom Freedom Blueprint, so you will be able to make an educated decision.
The Ecom Freedom Blueprint review
---
Name: The Ecom Freedom Blueprint 
Website URL: leadmagnetspecial.com
Created in: 2018
Owner: Teo Vee
Price: $47 + $1,000s in upsells
Overall Rating: 2/5
Recommended? No
---
If you're sick of scams, check out my 1st resource to make money online HERE!
---
What is The Ecom Freedom Blueprint about?
---
Someone sent me an email concerning The Ecom Freedom Blueprint, so I decided to check it out to see if this one was legit or just another dangerous scam.
The moment I landed on the sales page, I didn't like it because it looked similar to some scam pages I have come across before.
But we cannot judge a book by its cover, so I did my homework to see what this is really about.
Teo Vee, the spokesman, claims he's going to show you the fastest way to get your own online business set up and make you money.
He says he's going to reveal a secret that has helped over 1,400 online store owners clear out debts.
He shows you some people who are earning $1K a day with their online store, which sounds amazing because it seems that there are real people who are making money thanks to this program.
Oh, and they supposedly didn't have any prior business experience, so is The Ecom Freedom Blueprint the ultimate program that is going to help everyone build a profitable ecommerce business?
There are some factors that you need to take into consideration, which I'll go over in a bit.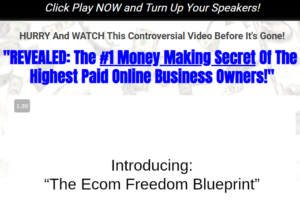 Teo defines this program as a "simple 6-step ecommerce roadmap distilled from over 18 years of ecommerce experience".
But in the sales video he doesn't tell you everything you need to know to decide if this is the right business for you.
In my opinion, he's making it seem easier than it really is and is hiding something that you definitely need to know, so let's see how it works.
RECOMMENDED: Check Out My FREE Earn Money Online Guide Here!
How does The Ecom Freedom Blueprint really work?
---
The Ecom Freedom Blueprint is not the real name of the program they're trying to sell you.
Teo Vee has been using different sites to drive people to the same program, which is called My Ecom Club.
The reason he's doing this is because this is the way he can appeal to different audiences and it also allows him to see which page converts better.
But I personally don't like the fact that he doesn't reveal the real program is My Ecom Club because it shows a lack of transparency.
You probably received an email about this opportunity and then you clicked a link that took you to The Ecom Freedom Blueprint page. 
The sales video was designed to get you super excited about this opportunity. Teo basically tells you what you would like to hear, not everything you need to know.
I have watched lots of sales videos like this one, and some of them were even more exaggerated than this one, but this one is still hyped up.
If you go to the checkout page, you're not even told that the underlying program is My Ecom Club, so it seems like Teo might not want you to know the name of the real program.
Is he hiding the real name to prevent potential customers from looking for reviews? 
Apart from that, I personally don't like the fact that they claim there's limited availability, since that's not true.
They're not putting any limit to the amount of people who can purchase this program because they want to earn as much money as possible, so I guess they want you to believe that there are limits to get you to buy this program as fast as possible.
This is an old tactic that is often used by lots of scam artists and unethical marketers.
If you purchase it for $47, you will get access to some training about making money with dropshipping.
In case you haven't heard of it before, dropshipping is a type of ecommerce that consists in selling other people's physical products.
You basically go to online stores like Amazon, find products to sell and put ads to your online store (a Shopify store in this case).
Once you have made a sale, you tell the wholesaler (the supplier store) to ship the product to the buyer. Your profit is the difference between what the buyer pays and what you pay the wholesaler. 
It doesn't sound complicated, but the truth is that it takes a lot of work and time.
First of all, you're the one who manages arrangements. So the more products you sell, the more arrangements you need to make. 
Second of all, you are the one who needs to take care of refunds and customer service. So the more customers you have, the more questions you have to answer and the more refunds you can be asked for.
Third of all, you need to get lots of visitors to your store in order to make sales. This is something that will require you to spend lots of money or lots of time, depending on the traffic method you use.
The real cost
---
The initial $47 you pay to join this program is only the beginning because there are some upsells that cost thousands of dollars.
This is something that Teo doesn't mention, but I thought I would point it out because it's important. I actually don't like the fact that he says you will not pay much, because this is only the beginning. It's quite misleading.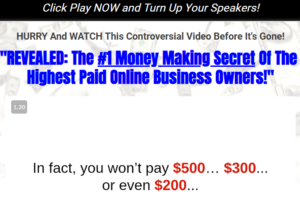 The first upsell costs about $2,000 and then it only goes up, so you need to know that building an online store is not something cheap.
There are other business models that are cheaper than this because they don't require you to spend much money upfront.
Apart from that, you need to consider the significant costs involved in driving traffic to your store. There are free and paid traffic methods, but they usually recommend that you do paid traffic.
If you pay for traffic, you can quickly bring visitors to your store, but it's also very risky because it takes a lot of testing to find out what converts better. So you will need to spend a lot of money to find your formula.
RECOMMENDED: Learn How I Make a 4-Digit Monthly Income Here!
Is The Ecom Freedom Blueprint a scam?
---
Whether The Ecom Freedom Blueprint is a scam or not really depends on how you define a scam.
If you take into account that it's a funnel to My Ecom Club, you might not consider it a scam because My Ecom Club is not a scam.
But if you consider the fact that they're not much transparent about this program and the cost, it's fine if you call it a scam.
I personally don't consider it a scam because they're providing you with some training and tools that can help you build your online store.
With that said, there's no guarantee that you will make money. That's what they state in the disclaimer:

So I believe that the testimonials they show are the people who are getting the best results. They don't really tell us about the results most members are getting, so you can earn more money than you invest or you can also lose money.
In my opinion, this business is riskier than other online businesses because it has lots of costs involved. I find it quite unethical the fact that they don't mention all the costs involved because that's something you need to know to determine if this is the right business for you.
I personally don't believe this is newbie-friendly because many of the people who get started don't want to risk thousands of dollars. 
Yes, you can get a refund on the initial $47, but when it comes to paid traffic, you cannot get your money back.
After everything I have explained, you are free to do whatever you want concerning this program. But my final verdict is that I don't recommend My Ecom Freedom Blueprint.
This is the business I prefer
---
Some years ago I actually earned money dropshipping, but I quitted it when I found a better business model.
It's a business model that doesn't require me to be in charge of refunds and I don't even need to tell the supplier to ship products to the buyers because customers buy directly from the vendor/supplier.
 Also, this business model doesn't only let you earn money from physical products, it also takes advantage of digital products.
I'm glad that I found this business model because I've been able to earn passive income everyday thanks to it.
I want to be completely transparent with you, so I want to make clear that this business takes time and effort to build. 
If you're ok with that and are willing to take action, I invite you to check out my FREE guide here:
If you decide to read my free guide until the end, you will discover how I got started, the reason this business works, the step-by-step method I used, the income potential…
Oh, and something cool is the fact that you will learn how you can drive free targeted traffic to your website! Yes, you don't need to spend thousands of dollars.
Best part is, you can start today for free and you can also receive my personal guidance! You will be able to ask whatever questions you have because there are lots of like-minded people willing to help you out =)
I'm so excited for you to get on the right track to start building your passive income business today!
CHECK OUT MY FREE EARN MONEY ONLINE GUIDE HERE!
I hope this honest The Ecom Freedom Blueprint review has been helpful to you and you will make the best possible decision.
Feel free to share it with whoever you believe that will benefit from it!
If there's something else you want to know or you have any questions, don't hesitate to leave a comment below and I'll get back to you ASAP! 🙂 
Whatever you do next, I wish you nothing but the best =)