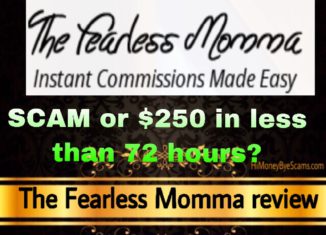 Have you been asking "is The Fearless Momma a scam to avoid" or "is thefearlessmomma.com a legit system to earn $250 commissions"?
If your answer is yes, you're in the right place because here you will find all the truth about this system.
Firstly, I want to congratulate you for taking the time to do your own research before investing in another business opportunity.
There are lots of websites out there, and many of them are scams, so doing your due diligence is the way to avoid the ugly frauds and discover the genuine way to earn passive income online!
To be completely transparent with you, I am not affiliated with The Fearless Momma so here you will find a 100% honest review.
Keep reading to see how this system really works and my thoughts about it.
The Fearless Momma review
---
Name: The Fearless Momma 
Website URL: thefearlessmomma.com
Created in: 2018
Price: $250 + $1000s in upsells
Overall Rating: 3/5
Recommended? No
---
If you're sick of scams, check out my 1st resource to make money online HERE!
---
What is The Fearless Momma about?
---
The moment I landed on The Fearless Momma first page (thefearlessmomma.com), I didn't like what I read.
They claim you can earn a $250 in less than 72 hours (3 days), even if you have never made any money online.
In other terms, this system is supposed to be a great way for newbies to make money within a short period of time.
I actually don't like systems that claim you can start making money quickly or fast because they tend to be get-rich-quick schemes that don't work for people like you who are looking to make money online.
But I didn't want to come to any conclusions without knowing what The Fearless Momma is really about, so I did my homework.
Once you have entered your email address on the form from the first page, you get access to another page where you can watch a video.
Tammy Montgomery, the woman who appears in the video presentation, claims this super exciting system is making her $250 commissions and they're coming on autopilot.
Everything she says makes this system sound amazing because anyone, regardless of skills and experience, can supposedly earn this kind of money while they're sleeping or doing anything different than working.
In other terms, this is said to be an awesome system to make passive income online. She sounds very convincing and makes this system seem like a great offer for anyone who wants to earn passive income.
So what will you have to do to make money with this system? Do the same that Tammy is doing.
This system is the kind of system that's focused on recruiting new members and getting them to buy the memberships and products.
You will be using the same page (that Tammy is using) to drive leads into the system, which is good because it's proven to convert, but there's a downside to this, which I will explain in a moment.
This is nothing new because there are loooots of systems like this one and I have reviewed hundreds of them, so I know how they work and I can say that they're not for everyone.
RECOMMENDED: Learn How I Make a 4-Digit Monthly Income Here!
How does The Fearless Momma really work?
---
Someone sent you an email concerning this system, am I right?
Then you opened that email and clicked the link to get access to a page that looks like this:

If you click "yes, show me how I can make $250 in the next 72 hrs", they ask you for your email address. 
After entering your email, you get access to another page where you can watch the sales video by Tammy Montgomery.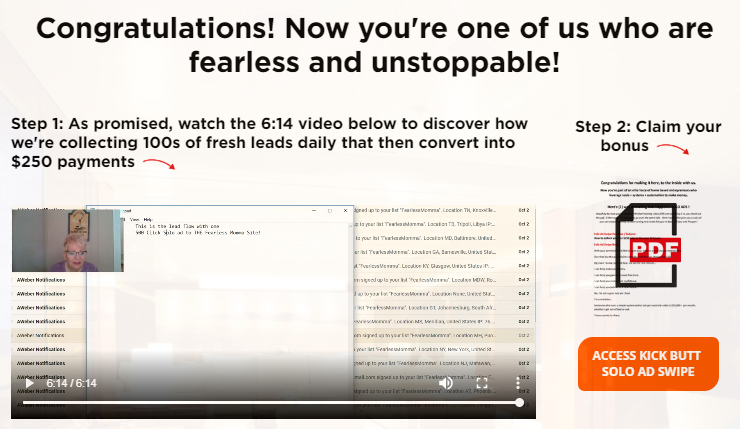 If you go to step 3, you get taken to a sales page where you can watch a sales video by Timothy Berger.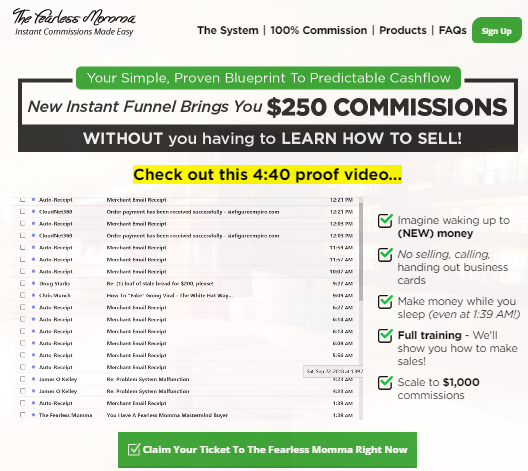 If you pay $250 to join this system, the $250 will be paid to the person who referred you to this system, who is probably the person who sent you the email.
Once inside, you get some training and tools, which include your affiliate link to bring people to the same page you first landed on (a squeeze page that you will be using to collect people's email addresses).
When someone subscribes to your email list, you will be able to market this system to them as many times as you want until they unsubscribe.
If that person clicks on your affiliate link and pays $250 to join, you will get paid a $250 commission.
So this system works in a way that the money from new members goes to old members. It's quite simple.
What will you receive after paying $250?
---
Paying $250 basically gives you some training and tools to promote this system to other people. 
Everything you get is to market this system, so the main focus is on this system. This is actually a red flag, which I'll go over in a bit. 
All your referrals (the people you recruit) will also get the same as you and do the same as you. Everyone involved is trained to do the same, which is promoting this system.
So everyone is joining because of the business opportunity, not the products.
The training you receive is divided in 7 modules and 5 bonuses.
The information provided is actually valuable, but it's focused on making money with this system.
Wouldn't it be great that they gave the option to buy each training module separately? 
I believe it would be better for members if they could buy each module separately instead of paying $250 for everything, especially because they don't give you the option to get a refund.
Also, I believe it would be great if they provided products that had nothing to do with the business opportunit.
That way, customers wouldn't be forced to participate in the business opportunity. They only show you how to make money promoting their system.
It's not risk-free!
---
This system is not risk-free because there's no guarantee that you will make at least the $250 you initially invest.
Note that they will try to get you to invest in some upsells that cost thousands of dollars. That's how they get to make high-ticket commissions.
There are three upsells that they will try to get you to buy. They cost $1000, $3000 and $5000.
In order to earn thousands of dollars in commissions, you will first have to spend at least $9000 on these upsells.
The thing is, you can only earn money on the upsells you purchase. So if one of your referrals buys an upsells before you do, the big commission will be paid to the next sponsor who's bought that upsell.
The reason these upsells are that expensive is not because of the training provided, it's for the top members to earn higher commissions.
You see, this system is very risky because you don't only need to spend money on the expensive upsells, they will also tell you to spend money on solo ads in order to drive traffic to the system.
It's possible to get free traffic to your offers, but there's a lot of work and time involved. That's why they will tell you to pay for ads.
Even though paying for traffic is the fastest way to get leads, it's also the riskier way because there's a lot of testing you need to do to determine what works and what doesn't.
You could spend a hundred dollars on advertising and there's still no guarantee that you will make it back.
And the fact that they don't let you get a refund is another indication that this is quite risky. Once you have paid the $250 and have invested in solo ads, you need to refer at least 2 people to make your investment back.
The reason they don't allow you to get refunds is because the initial $250 you invest goes directly to your sponsor a.k.a. the person who recruited you. The $250 doesn't go to the company.
Who is The Fearless Momma for?
---
The Fearless Momma is not for everyone, in my opinion. 
I don't believe this system is newbie-friendly because lots of beginners don't like to spend that much money to get started, especially when you consider that there are methods to make money online that don't require you to spend that much.
For example, there's no need to spend hundreds or thousands of dollars on paid traffic in order to get a lot of traffic to this system.
It's possible to get free targeted traffic to this system if you know how, but I noticed that the training is focused on paid traffic. 
Apart from that, I don't believe The Fearless Momma is for people who don't like recruiting because the whole system is based on that. Without recruiting, it's not possible to make money with this system.
Also, The Fearless Momma is not for people who don't like promoting the same as everyone else because everyone involved in the system promotes the same thing, so this is not for individuals who don't like doing the same as most people.
Last but not least, this system is not for people who are unemployed or don't have that much money to invest because it's a "pay to play" system, which means that it's about spending a lot of money before being able to make a lot of money.
RECOMMENDED: Check Out My FREE Earn Money Online Guide Here!
It's a done-for-you system
---
The Fearless Momma is that kind of systems that are "done-for-you" because they provide you with the training and tools to make money with this system.
I know that having most of the work done for you sounds attractive, but the truth is that it's not that good when you take into account some things.
First of all, you don't own this system so you have no control over it. You're basically helping the owner of this system build his business instead of building your own business.
Second of all, everyone involved is using the same sales funnel and tools, which means that there will come a point where it does not work because when many people use the same sales funnel, it can become less effective overtime.
Third of all, the money only comes from the people who join the system because there are no retail sales or tangible products being offered. This is a red flag because there will come a time when it collapses and people stop joining the system.
If they added other ways to make money aside from the biz op, then it could be a system that lasted for the long-term. But from my experience, I have seen lots of systems like this come and go.
Is The Fearless Momma a scam?
---
Whether or not The Fearless Momma is a scam depends on your perspective.
If you take into account that it's possible to make money with this system, then it might not be a scam to you.
But the fact that it's possible to earn money doesn't mean that it's legal or ethical.
The Fearless Momma is the type of system that is focused on self-promotion and high-ticket upselling, which is how programs like MOBE and Digital Altitude used to work.
These systems got shut down by the FTC some months ago, so this business model is not legal or sustainable for the long-term.
Also, most people who join these recruiting schemes end up spending more money than they earn, so this is something you also need to take into consideration.
Other similar systems I have reviewed are the following:
So, you're free to do whatever you want concerning this system, but my final verdict is that I do not recommend The Fearless Momma.
What about building your own biz?
---
I remember getting involved in done-for-you recruiting systems when I was getting started, and soon realize that they weren't for me.
I didn't like recruiting and the fact that they could get shut down at anytime was something that told me these systems weren't the way I could make an income online for the long-term.
When I realized that, I stopped wasting my time on done-for-you & expensive systems and focused on a legit business model.
I'm glad that I found a business model that has been working for many years and many people are using it to earn a living online. Thanks to this business, I earn a 4-digit monthly passive income online.
This business model doesn't require you to recruit or promote the same product/system as everyone. You will be able to earn money from valuable products/services you like! 
Not only that, you will not need to spend thousands of dollars in order to make money because the method I use enables you to drive free targeted traffic to your offers.
With that said, I want to make clear that this business takes time and work so you need to be committed to putting in the effort if you want to achieve your goals.
If you're willing to do what it takes, then I invite you to check out my FREE guide here:
My free guide reveals the 4-step method I used, the reason this method works, the step-by-step training and tools I used…
In addition, I also show you how and where you can start today for free!
Exactly, you will be able to start without spending a dime, so making sure that this is for you is risk-free =)
Just like everything new you start, it's easy to get stuck or lost so I want to make clear that you're not alone in this because you will receive guidance and support from me and other like-minded people.
So what about you? Will you keep wasting your time on done-for-you systems? Or will you follow the right way to build a long-term business online?
CHECK OUT MY FREE EARN MONEY ONLINE GUIDE HERE!
I hope this honest The Fearless Momma review has been helpful to you and you will make the best possible decision.
Feel free to share it with whoever you believe that will benefit from it!
If there's something else you want to know or you have any questions, don't hesitate to leave a comment below and I'll get back to you ASAP! ? 
Whatever you do next, I wish you nothing but the best =)