Welcome to my Fast Earners Club review!
Looking at Fast Earners Club (fastearners.co) and wondering if you can make real money quickly? Or are you suspicious of it and trying to find out if it's just another scam that will leave you with less money at the end of the day?
I'm glad to see that you're doing some research before getting involved with this new program. There are many scams out there so you need to make sure you know what you're in front of in order to make a wise choice.
Here in this review, I will be going over what Fast Earners Club is about, how it really works, what they don't tell you and more.
Fast Earners Club review
---
Name: Fast Earners Club
Website URL: fastearners.co
Owner: Hidden
Created in: May 2018
Price: $39 + upsells
Overall Rating: 15/100
---
If you're sick of scams, check out my 1st resource to make money online here!
---
What is Fast Earners Club about?
---
The moment I landed on the Fast Earners Club sales page I thought it would be another low-quality product because the layout is very similar to other poor quality/scam products I've exposed.
There's a lack of important information and the high income claim in a short period of time leads me to believe this is another get-rich-quick scheme.
However, it's not fair to judge something based on its appearance so I watched the sales video to find out what this program is about.
I've noticed that instead of being direct and telling you what this product is, these sales videos always start by telling you what this is not.
According to the spokeswoman, Fast Earners Club is not:
An affiliate marketing course.

A MLM or network marketing business opportunity.

A push button software.

A paid surveys opportunity.

Generating web traffic.
So what is this about? She doesn't tell us anything about it. The sales video is merely focused on how easy and fast it is to make money thanks to this method.
For example, she claims a new member earned over $100 in her first hour, which sounds very unrealistic and unheard of because there's no way a complete newbie can make this amount of money just after getting started.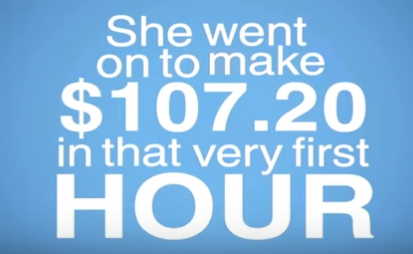 There's no magical method or secret system that you can use to get money on demand. It just doesn't work how these overhyped sales videos want you to believe.
The reason they want you to believe you can make money the same day you get started is to get you to purchase this product. They're taking advantage of the fact that they know there are people who need money immediately just to make a quick buck.
So I can tell you right now that no one who purchases this product is going to make the kind of money they talk about. 
In the next section I'm going to reveal what you're going to receive if you decide to buy Fast Earners Club.
How Fast Earners Club really works
---
The fact that the spokeswoman doesn't explain what you're going to get after paying $39 is a big red flag because it's important to know what you're paying for in order to determine whether or not it's worth the price.
In fact, she doesn't even mention how you're going to earn money or what bussiness model you're going to use. Whenever I come across programs or websites like Fast Earners Club, I end up not registering or purchasing them because of all the scam signs that are present.
However, I really wanted to know what Fast Earners Club includes in order to write a better review so I decided to purchase it.
Below you can see what's inside the members area:
As you can observe above, you're basically going to get 4 PDFs that contain information about:
Making money with eCommerce

Building an eBay store

Earning money as an Amazon affiliate

Creating a Shopify store
I got kind of surprised when I saw this content because it has nothing to do with the sales video.
Well, the spokeswoman claims this product has nothing to do with affiliate marketing but it's not true because the Amazon ebook is about building an Amazon affiliate business.
All these methods are good ways to make a full-time income online but they all require a lot of time and dedication. There's no way to make money the same day you get started and it can take you a few months to see your first sale.
That's why the sales video is very misleading and overhyped. They're promoting this product as a fast way to earn money but once you get inside the members area and take a look at the PDFs, you realize it's not possible to make quick easy cash.
Apart from it, there's another section called XtremeEdition that contains a zip file to download.
This file contains 9 videos about affiliate programs, SEO (Search Engine Optimization), video marketing and getting traffic via blogs, Reddit, Pinterest, Instagram and Facebook.
The problem I see is that these videos are short and don't go over important details. 
For example, they claim you can use Facebook ads to bring traffic to your site but they don't explain how to create the ads, something that's important to create a profitable campaign.
They don't even give you step-by-step instructions which would be useful not to get lost.
Click here to check out my top recommendation (FREE to get started)!
Is Fast Earners Club a scam? 
---
The answer to this question actually depends on how you define a scam.
If we judge Fast Earners Club based on the fact that the sales presentation is very misleading and doesn't live up to its promises, then it can be considered a scam.
However, if we judge this product based on the fact that you're getting something for your money, then it wouldn't be a scam.
In my opinion, Fast Earners Club is a low-quality product that doesn't deliver much. Other similar low-quality products I've reviewed are the following:
With that said, I'm going to point out the red flags I've found concerning Fast Earners Club so that you know what to look out for whenever you come across another program.
The owners don't show up
---
The fact that the people who have created this product don't show any pictures of them and don't even mention their name is a red flag to me. 
Whenever I come across a website or program, I like to know who has created it because it helps me determine whether or not it's worth it.
I mean, there are marketers who are known for creating many low-quality products, while there are others who create a few products that are really valuable. So knowing the people who have created something can really help you make a better decision.
I've reviewed hundreds of money-making opportunities and one thing I've noticed is that the ones that usually don't reveal the identity of its owners end up being scams or BS products, so I usually don't trust products whose owners don't show up.
Lack of transparency when it comes to the price
---
Another thing I don't like is the fact that they don't tell you anything about the upsells. They want you to believe this is only going to cost you $39 just to get you to purchase it.
But once you've made the purchase, they will try to get $149 more from you.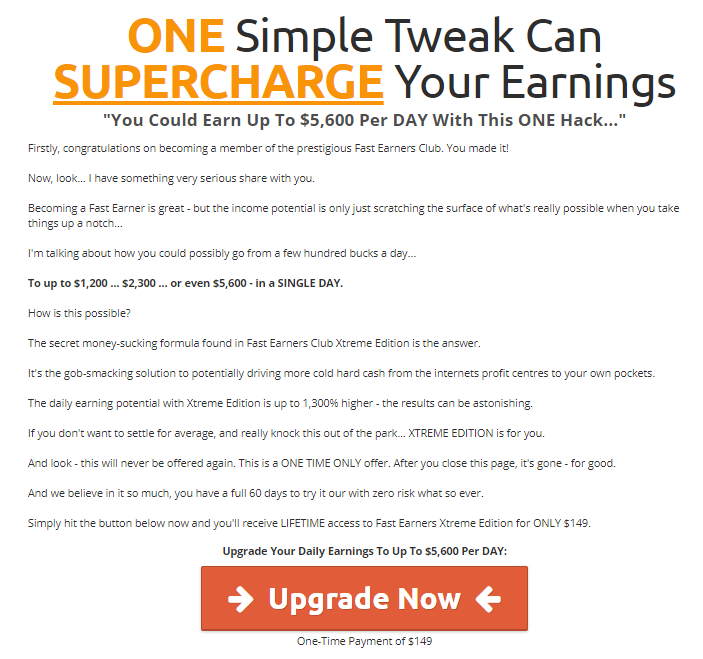 If you refuse it, they will try to sell it for $97, and then if you refuse it again it will go down to $77.  They do the most to get as much money as possible from you.
I personally don't like programs that have hidden costs because knowing all the costs involved is something you want.
I mean, you wouldn't like to purchase something and then be told that you need to purchase another product to make the first one work, right?
Lack of legal information
---
I also noticed that they don't provide a privacy policy or terms & conditions page, which are the pages you would expect from a legitimate company or website.
I usually avoid websites that don't provide information regarding the use of the members data because it's an indication that they might sell the members data to other companies, which is dangerous because it puts you at risk for identity theft.
Some fake claims
---
There are many fake claims in the Fast Earners Club sales video. Let's see some of them:
Over the past 30 days, hundreds of qualifying people just like you have joined the FAST EARNERS CLUB.
I know this claim is fake because 30 days ago Fast Earners Club didn't exist. As you can observe above, the sales video was uploaded to YouTube on April 25th 2018 and today is May 11th 2018, which means that this product didn't exist 30 days ago.
I also checked out the fastearners.co domain registration date and it looks like it was registered the same day the sales video was uploaded to YouTube: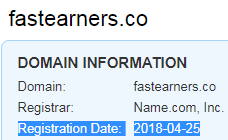 FAST EARNERS CLUB is a simple reliable 2-step system.

This claim makes no sense because this is not a system, as we've seen. Fast Earners Club is merely a platform that contains 4 PDFs about 4 ways to make money. And these methods take waaay more than 2 steps to set up.
It's incomplete
---
Even though the methods they teach you are legitimate and lucrative ways to earn money online, they don't provide enough training for you to earn money using these methods.
The training the provide is generic and doesn't go over details, which means that it's easy to get lost if you're a beginner. 
They only explain the basics of each method but don't go into everything you need to know to make a considerable amount of money, that's why it's incomplete.
Apart from that, they don't provide much support so you can't expect to get prompt replies (if they even reply).
My favorite way to make money online
---
After everything I've found and explained, I don't recommend Fast Earners Club.
Even though the methods taught are good ways to make a full-time income online, the training is low-quality and doesn't go over everything you need to know to make a considerable amount of money. In fact, some of the information can be found for free.
When it comes to making money online, there are more scams than reliable programs I can recommend. The way to stop wasting your time on scams and low-quality products is by keeping in mind that there's no easy or fast way to earn money. 
All methods require you to put in the effort and time, so forget about finding a magical system or software that works. When people realize this, they will stop falling for most scams.
If you're looking for a way to earn a living online, then it's best to build your own online business based on a topic you're passionate about.
The business model I use allows me to make a consistent monthly income while helping other people. In fact, there are many people who are generating a full-time income using this exact business model.
With a comprehensive and detailed step-by-step training and business tools, I believe you can make this business work for you if you're willing to put in the effort.
If you're interested in learning more, click the button below now:
You will learn how this business works, why it works, how you can get started for free and more!
In addition, you will get the meet other bloggers and Internet entrepreneurs you can interact with and ask questions to. Not to mention that you'll always get my personal help and support. 🙂 
So excited for you to stop wasting time on scams and start building your own online business today!
LEARN ABOUT MY TOP RANKED PROGRAM NOW!
I hope you have found the answers you were looking for concerning Fast Earners Club and you will end up making the best possible decision.
If you have any questions or you would like to share your opinion, don't hesitate to leave a comment below and I'll get back to you ASAP.
All the best =)