Welcome to my High Ticket Wealth System review!
Have you stumbled upon the High Ticket Wealth System sales page (highticketwealthsystem.com) and are wondering if you can make thousands of dollars per month? Or is it just another scam that will leave you with less money at the end of the day?
I'm glad to see that you're taking some time to do your research because there are too many frauds and scams out there, so you need to make sure you know what you're in front of.
Here in this High Ticket Wealth System review, I will show you what this system is really about, how it really works, what they don't tell you about and more.
High Ticket Wealth System review
---
Name: High Ticket Wealth System
Website URL: highticketwealthsystem.com
Owner: Saj P
Price: $49 + more than $20,000
Overall Rating: 22/100
---
If you're sick of scams, check out my 1st resource to make money online here!
---
What is High Ticket Wealth System said to be?
---
Saj P, the creator of the High Ticket Wealth System, really knows how to get you excited with the sales video and page.
This system he introduces you to sounds like an amazing system, right? I mean, everything he tells you about this is great and something you can't help but be tempted to try.
According to him, you can earn $10,000 the first month with this system and you can reach the point where you reach the $50K/month or $100K/month mark.
You will not have to do much work because this is a done-for-you system that takes care of almost everything:
The products.

The payment processing.

Customer service.

The sales pages.
The fact that this proven system is done-for-you makes it seem like this is newbie-friendly because you don't need to have any technical skills or previous experience in the Internet marketing industry.
You will not even have to talk with anyone on the phone or sell anything because you're going to get a sales team that will close the sales for you.
Oh, and you're not required to do much work to make the big bucks because this system works on complete autopilot so you will earn money without being active, even while you sleep or are on vacation. You will be able to work anywhere with your laptop, whenever you want!
So will this system finally enable you to live the luxurious lifestyle or is there something that Saj P doesn't tell you? Let's see the truth in the next section.
The truth about the High Ticket Wealth System 
---
Well, what you first need to know is that High Ticket Wealth System is not the real system they're trying to get you into. High Ticket Wealth System is a page that Saj P has created to get leads to a high ticket program that has been around for some years already.
I've come across lots of pages like High Ticket Wealth System like Wifi Millionaire system, Secret Society of Millionaires and My Hidden Pages.
They are using these websites to get people to buy into a high ticket program called MOBE (My Own Business Education). I know the real program is MOBE because of the pictures we're shown in the sales page and video: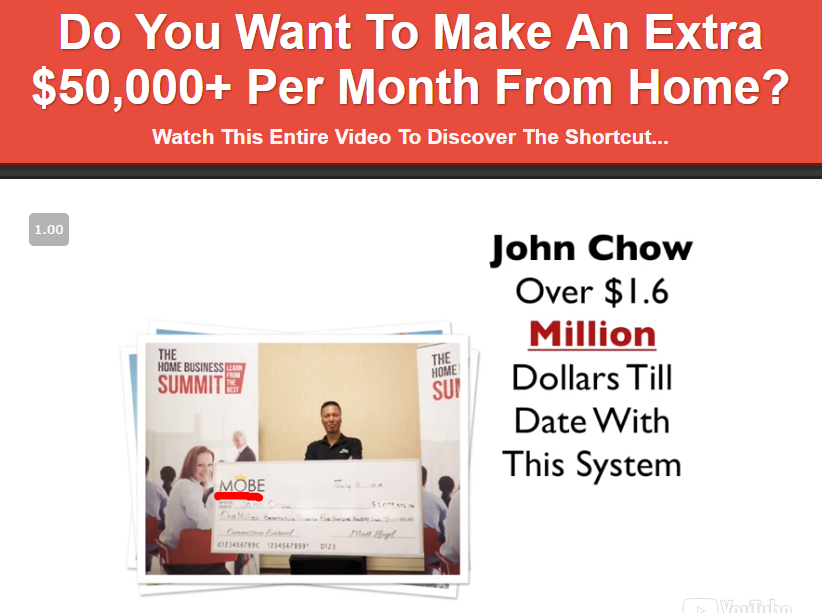 How good is a program that needs to be hidden to get people to purchase it? What are they trying to hide? Let me explain.
Saj P is just an affiliate of MOBE and he's created the website highticketwealthsystem.com to get people like you into the sales funnel. Yes, the same sales funnel he talks about in the sales presentation. The same sales funnel you will be using to get other people into MOBE.
You will basically be taught to do the same they're doing to you. You will be using squeeze pages like the one you can see in the picture above, which are very misleading because there are some important things they do not mention.
Remember that Saj P said he wouldn't even charge you $500 for this system? Well, the truth is that this system costs waaay more than $500. Yes, the $49 initial fee is only the beginning.
Below you can see the real costs:

In total, these packages cost over $50,000!! Not to mention the monthly or yearly membership fees. 
The thing is, you will need to purchase all the packages you want to earn money from in order to be eligible to promote them and earn the huge commissions.
Your "millionaire mentor" a.k.a. will not only help you make sales, his/her main goal is to get you to upgrade to the most expensive levels so that he/she can earn the huge commissions.
And then you will have to use the overhyped squeeze pages to get leads and get them to purchase the same packages you've bought.
If one of your referrals buys a package you haven't paid for, you will not receive the commission.
For example, if the most expensive level you've bought is Gold and your referral buys Titanium, the commission will go up to the next sponsor who's at the Titanium level.
So, if you don't want to miss the $5000 and $10,000 commissions, expect to spend over $50,000 plus the yearly or monthly fee. 
Why it's harder than it seems
---
The truth is that this program doesn't work on complete autopilot. I mean, you can't expect to make a lot of sales if you don't keep on getting people into the program.
And recruiting others is harder than it sounds. They way they will tell you to get people into this program is by doing paid advertising, which can be very risky if you're just starting out or are on a low budget because it requires a lot of testing to find what works and what doesn't.
Not to mention that you can expect to invest thousands of dollars in paid ads just to find the few people who are willing to invest in the expensive packages. I mean, do you think that the average person who is looking to earn money online has thousands of dollars laying around? 
This money-making opportunity is too expensive for most people and many of the people who've got involved in MOBE have never made their money back. Some have even got into huge debt.
Below you can read some negative reviews about MOBE:
Click here to check out my top recommendation (FREE to get started)!
Is High Ticket Wealth System a scam?
---
I personally don't like being deceived or misled so I consider this High Ticket Wealth System a scam because it's not the real system they're selling.
I mean, you wouldn't like to receive something different from what you've paid for, right? I know I wouldn't like to buy an iPad and receive an iPhone, I would feel ripped off.
Now I want to summarize some of the lies and red flags I've found:
It's not risk-free. This is not risk-free because the money back guarantee is not included in the expensive packages, what means that you might lose money if you don't make your money back after purchasing the packages.
The $500 cash back guarantee. The $500 cash back guarantee is only for those who invest thousands of dollars in the pricey packages, even though I've never heard of anyone who's got it. If you think about it, it would make no sense that they paid you $500 just for investing $49. 
It's marketed as a get-rich-quick scheme. The High Ticket Wealth System sales page looks like another get-rich-quick scheme because of the typical characteristics like the high income claim in a short period of time ($10,000 this month), 100% autopilot, the guarantee… I've heard the same kind of claims in other get-rich-quick schemes.
A less risky business model
---
I definitely don't recommend High Ticket Wealth System or MOBE for everything I've explained before.
Even though it's not a 100% scam because it's possible to make some money, it's not the best way to do it because it requires you to mislead people or use dishonest tactics so I personally don't want to get involved in programs like this.
It's also a risky business model because you have to "pay to play" so I don't believe it's suitable for beginners or people who are on a tight budget.
When it comes to making money online, there are more scams than programs I can recommend. Scam artists take advantage of the fact that there are people who are not aware of what it takes to make a full-time income online so they tell these people everything they want to hear just to make a quick buck. 
Therefore, the way to stop wasting your time on scams like this one is by keeping in mind that there's no such thing as easy or fast riches. 
There are many ways to earn money but after testing and testing, I've reached the conclusion that the best way to make a full-time income online is by building your own online business.
The business model I use has given me a way to earn a consistent income month after month and it's also newbie friendly because it doesn't require you to create your own products. You'll be able to take advantage of the millions of products that are being sold online everyday and you will not even need to buy them.
Also, you will not have to pay for ads to make money. You will learn how to get free organic traffic just like I'm doing. 
With the right step-by-step training and business tools, I believe that anyone who's willing to do the work can make a job replacing income using this business model. If I and other people are doing this, I believe you can do it as well. It's just a matter of effort and time.
By clicking the button above now, you will learn how this business works, why it works, where you can get started for free and more.
To add to it all, you will get the meet other like-minded people you can interact with and ask questions to. Not to mention that you'll always get my personal help and support. 🙂 
So excited for you to stop wasting time on high ticket programs and start building your viable online business today!
LEARN ABOUT MY TOP RANKED PROGRAM NOW!
I hope you have found the answers you were looking for concerning High Ticket Wealth System and you will end up making the best possible decision.
If there's something else you want to know or you would like to share your opinion, don't hesitate to leave a comment below and I'll get back to you ASAP.
Best wishes =)