Welcome to my Auto Affiliate Machine review!
Have you stumbled upon the Auto Affiliate Machine sales page (autoaffiliatemachine.com) and are wondering if you can earn easy commissions? Or is it just another scam product that's not worth it?
There are many low-quality and scam products out there so I'm glad that you're doing some research and have landed on this post I've put together to reveal the truth.
In this review of Auto Affiliate Machine, I will be going over what this program is about, how it really works, whether or not it can benefit you and more.
Auto Affiliate Machine review
---
Name: Auto Affiliate Machine
Website: autoaffiliatemachine.com
Creators: Billy Darr, David Kirby and Justin Opay
Created in: April 2018
Price: $17 ($12 if you get the $5 off discount) + upsells
Overall Rating: 4/10
---
If you're sick of scams, check out my 1st resource to make money online here!
---
What is Auto Affiliate Machine about?
---
The Auto Affiliate Machine sales page is just like other JVZoo and Warrior Plus products sales pages. A long sales page with a video and hyped up claims like:
"Push-button software that gets you free viral traffic"

"Instant commissions on autopilot"

"No hard work or content creation required"
Reading claims like that leads me to believe that this is just another get-rich-quick scheme because making money online is not that easy, so I looked deep into it to see if this product was what I was thinking.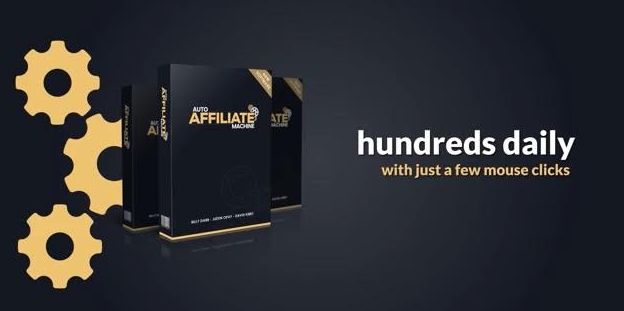 So what is Auto Affiliate Machine about?
It's a software that creates reviews in PDF format for any product you're affiliated with. I like that it doesn't need to be downloaded to use it.
You don't need any experience in Internet marketing or special skills to use this software. You just have to insert some information about the product you want to promote and the software creates the review in a matter of seconds.
Each review includes a description of the product, a picture, a list of bonuses you can add, your affiliate link, a rating and some points. You can see an example below:
Once the review is created, you can use an automatic sharing feature that posts the PDF documents to social media accounts like Twitter, Reddit, LinkedIn, Blogger and Tumblr.
And then, when people read the review and click your affiliate link, they get taken to the product page and you earn a commission if they end up buying the product.
How Auto Affiliate Machine really works
---
According to the information on the sales page, this software works in 3 steps:
Grab a copy of the software for $17.

Activate the software with a click of a mouse.

Sit back and enjoy making commissions on autopilot.
But the truth is that Auto Affiliate Machine doesn't work this easily, there's so much more to it and I'll go over it in a bit.
I mean, it's a good tool that creates reviews in PDF, but will you make money using this tool? What else is included?
If you buy it for $17, you'll get the software plus access to 6 training videos that show you how to use the software and how to find affiliate products & offers to promote.
Basically, this is what you will have to do to create PDF reviews with this software:
Step 1 – Choose a product to promote.

Step 2 – Use the software to create a review PDF.

Step 3 – Share the PDF link on social media.
You will just have to enter the product information to create the PDF, then it will generate the link ready to be shared on Twitter, LinkedIn, Tumblr… Below you can observe how it looks:
The thing is, the training is not long and doesn't go over many topics you need to know concerning affiliate marketing, especially if you're starting out.
Apart from that, you need to know that there are six upsells:
Upsell 1 – Auto Affiliate Machine Elite Edition ($27)

Upsell 2 – Auto Affiliate Machine $1K Weekly Edition ($27)

Upsell 3 – Auto Affiliate Machine Done For You Edition ($27)

Upsell 4 – Auto Affiliate Machine Reseller Edition ($37)

Upsell 5 – Auto Affiliate Machine 3X Software Bundle ($27)

Upsell 6 – Auto Affiliate Machine 50 Done For You Campaings ($27)
I found about the upsells while doing some research and got kind of surprised that they all basically cost the same. Other JVZoo or Warrior Plus products I've reviewed also have upsells, but they usually are more expensive.
I personally don't like the fact that they don't mention the upsells in the Auto Affiliate Machine sales page because knowing the total cost is something important to know in order to make a good decision. 
I mean, you wouldn't like to buy something and then be told you need to buy another item to make the first one work, right?
When it comes to what's included in these upsells, you can expect some extra videos and the right to sell Auto Affiliate Machine and earn 100% commissions. 
Click here to check out my top recommendation (FREE to get started)!
Is Auto Affiliate Machine a scam?
---
No, I don't consider Auto Affiliate Machine a scam because you're getting something for your money. I actually like the fact that the software is easy to use 
However, it's overhyped and incomplete because they don't go over everything you need to know to make money with affiliate marketing.
Here in this section I will explain the problems I see with this method and other red flags I've found.
Fake scarcity
---
I don't like the fact that they're using some tactics like the fake scarcity because that's what scammers do.
In this case, there's no such thing as a limited time discount, the fake countdown is just a trick to get you to purchase the product as fast as possible. I know this because I refreshed the page a few times and the same discount pop-up appeared.
Apart from that, I checked out the upsells sales pages and saw they also use the "limited spots" fake claim to get you to buy into it as fast as possible. Do you think they would reject your payment? They will not say "no" to people who want to put money in their pockets.
It's not beginner-friendly
---
Auto Affiliate Machine is good for creating PDF reviews and sharing them on some social media platforms.
However, they don't provide any training on how to get traffic in order to make sales.
According to them, you only have to share the links to the PDF reviews on social media and then your followers will share it and it will go viral, but this is not true in all cases.
I mean, what if you're not active on social media? What if your followers are not interested in the products you're promoting? Or what if you don't have a significant amount of followers? No one will read your PDF reviews, so your affiliate links will not get clicks and you will not make sales.
That's why I don't consider this product to be suitable for beginners who are on a low budget or don't know how to get traffic to their offers.
In my opinion, Auto Affiliate Machine is a good tool for experienced marketers who already have an audience and want to save time on creating reviews.
You don't have control over the PDFs
---
I don't like the fact that the links for the PDF reviews contain the autoaffiliatemachine.com because it indicates that the Auto Affiliate Machine owns them.
This is not good for the long-term because it means that the PDFs will not be available if Auto Affiliate Machine shuts down.
In any case, if you end up buying this tool, I would recommend that you copy and paste the reviews into another document so that they're always available for you.
Or you can also build your own website, publish your reviews there and get them ranked on the search engines. This way you will take advantage of free organic traffic just like I'm doing! Yes, I didn't pay a dime for you to land on this post =) 
You're not building trust
---
Unless you have an audience, you can't expect most people who read the reviews to buy the products because there's no trust between you and your readers. 
I don't know about you, but I wouldn't purchase something from someone I know nothing about. Especially if it's someone that doesn't show up.
Apart from it, you also need to make sure the products you promote are relevant to your audience because this is what creates trust.
If you promote a low-quality product and people end up buying it, they will get disappointed and even ask for a refund.
Learn from a complete source
---
Auto Affiliate Machine is a good tool for people who have already some experience in the Internet marketing industry, but it's not for newbies, as I've explained.
I don't recommend it if you're just starting out, but the final decision is up to you. I personally don't like the fact that they're marketing it as a get-rich-quick scheme so that's another reason for me not to recommend it.
When it comes to making money online, you need to know that there's no program or software that will make you money instantly just after buying it. Earning a living online requires effort and time, it's never been easy or fast like scam artists want you to believe.
If you're looking to make a full-time income through affiliate marketing, then I believe it's best to learn from a complete step-by-step training that includes everything you need to know like finding relevant products to promote, driving traffic to your offers, building an audience…
Also, you will need a website builder to build your own website, one of the most important elements when it comes to building an online business. 
All of this can be found in my top ranked training platform that has been around for more than 10 years already. 
By clicking the button above now, you will get to know the affiliate marketing platform where I got started and still very active today, and it's free to get started too!
In addition, you will get to meet other affiliate marketers and Internet entrepreneurs you can interact with and ask questions to, not to mention that you will always get my personal help and support!
So excited for you to leave the scams begind and get on the right track to build an affiliate marketing business!
LEARN ABOUT MY TOP RANKED PROGRAM NOW!
I hope you have found the answers to the questions you had concerning Auto Affiliate Machine. 
If there's something else you want to know or you would like to share your opinion, feel free to leave a comment below and I'll get back to you ASAP. ? 
Best wishes!