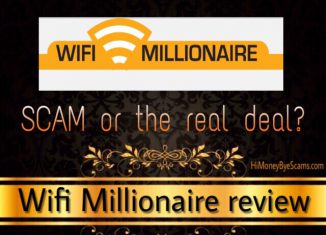 Welcome to my Wifi Millionaire system review!
You have come across the Wifi Millionaire sales page (wifimillionairesystem.com) and are wondering if you can make thousands of dollars in commissions, right? Or is it just another scam that will leave you with less money than you have?
Well I'm glad that you're taking the time to do some research because there are some things you need to know about Wifi Millionaire. Important things they don't tell you in the sales presentation. That's why I'm here to tell you the truth about it.
In this Wifi Millionaire review, I will show you what this money-making opportunity is about, how it really works, whether or not it can benefit you and more.
.
Wifi Millionaire review
---
Name: Wifi Millionaire
Website URL: wifimillionairesystem.com
Owner: Matt Lloyd
Price: $49 + thousands of dollars in upsells
Overall Rating: 20/100
.
---
If you're sick of scams, check out my 1st resource to make money online here!
---
.
What is the Wifi Millionaire system about?
---
Wifi Millionaire sounds great, doesn't it? I mean, it sounds as if this system enabled you to become a millionaire thanks to a Wifi connection, right?
That's what they want you to believe. This system will give you the financial freedom you desire and will enable you to work from anywhere with your laptop.
It's a done-for-you system that doesn't require you to have any prior experience or special skills.
You will not even need to create your own products, you will only have to drive traffic to expensive programs in order to make commissions of $1250, $3300, $5500, $10,000…

In order to do that, you will get training, resources and tools like landing pages, "done-for-you" sales pages, the payment processing…
Oh, and you will also get a 6-7 figure coach that will guide you through the process and a sales team that will close the sales for you.
And what about the testimonials that appear in the sales video? They get you even more excited when they claim to have earned thousands and thousands of dollars thanks to this system.
I remember hearing that Matt Lloyd himself has made $150 million in sales and his affiliates $75 million, all thanks to this amazing system.
In general, it sounds like the ideal system to make a fortune but the truth is that there's so much more to it.
.
Can you make money with Wifi Millionaire system?
---
The short answer is yes, you can earn money but it's not as easy and fast as they want you to believe it is.
First of all, the real name of the program they're selling is not Wifi Millionaire. Wifi Millionaire is the name of a page used to promote this program that has been around for at least 6 years already.
In fact, this program is being promoted under many different names like 6 Figure Profit Club, Massive Internet Profits… Wifi Millionaire is just one of its different names.
So what's the real name of this program? MOBE (My Own Business Education), a high-ticket MLM program.
I got to know Wifi Millionaire is really MOBE because of some of the pictures shown in the Wifi Millionaire sales video, like the one below:
If you pay the initial fee of $49, you will get access to a 21-step video training to get you started and ready for the upsells.
Yes, $49 is just the beginning. In fact, it wouldn't make sense that they sold a system that generates millions of dollars for only $49.
Let's take a look at all the packages and memberships costs:

As you can observe above, the packages are quite expensive! The Platinum and Diamond packages are where the $10,000s commissions come from. 
What does this mean? Simply put, you will need to buy all the packages you want to earn commissions from. 
So yeah, you will have to spend over $55,000 in order to earn the huge commissions. Not to mention the monthly or yearly memberships fees.
Therefore, if you end up purchasing those pricey packages, the person who recruited you will earn the big bucks.
In order for you to make your money back, you will have to recruit other people and get them to purchase the same packages you've purchased.
If they happen to purchase the Platinum package (for example) before you, the big commission will go to the sponsor who's bought that package (a.k.a. your millionaire coach) instead of you. That's why you will have to buy all the packages if you don't want to leave money on the table.
It basically works the same way as other MLM programs. Everybody who joins does the same thing: getting people into the company and get them to buy and promote the same products.
Even though your job here is to promote MOBE and its products, it's the hardest of the whole business.
.
Why it's not as easy as it sounds
---
There are many ways to promote this system but the way they will teach you to do it is by doing PPC (Pay Per Click) marketing.
Paid advertising is the fastest way to get traffic to your landing pages but it's also very risky, especially if you are just starting out and are on a low budget. It requires a lot of trial and error to find out what works and what doesn't, so you could lose a lot of money if you don't know what you're doing.
So yeah, apart from spending thousands of dollars on the MOBE packages, you will also have to spend a lot of money on paid ads.
The truth is that not most people you recruit don't have thousands of dollars to spend on systems like this one. That's why you will have to invest a lot money in paid ads in order to find the few people who are willing to do the massive spending.
Click here to check out my top recommendation (FREE to get started)!
.
Is Wifi Millionaire system a scam?
---
In my opinion, Wifi Millionaire is a scam because it's not a real system or program itself. 
I mean, you wouldn't like to purchase an iPhone and get an Android on delivery day, right? Here happens the same. 
Nobody would like to purchase something and receive something different from what they wanted, that's why it's not ok to call this system Wifi Millionaire if the real name is MOBE. 
Not to mention the fact that they're not transparent when it comes to all the costs involved. They only mention the initial fee of $49 but say nothing about the pricey packages or the paid ads, which is something important to know in order to make an informed decision.
Even though MOBE is not a scam because you can make some money, they're not teaching you to build an online business you have control over, which is a problem because it keeps you dependent on MOBE. Therefore, if MOBE falls down, you will stop making money.
A MOBE complaint
---
There are many MOBE complaints but this one I found is quite complete. You can read the whole complaint here.
As you can read above, recruiting is essential, the program has multiple names and a lot of work is required. Most of their sales presentations are misleading and deceiving.
.
A less risky full-time business online
---
I definitely don't recommend that you try the Wifi Millionaire system and end up getting into MOBE.
Even though MOBE is not a scam, I don't like the fact that they're using many fake pages to promote it and also use scam tactics to lure people in. I personally don't want to do business with people who deceive other people.
With that being said, you don't need to spend thousands of dollars to start earning a full-time income online.
The business model I'm using has given me a way to make a consistent monthly income.
It's a newbie friendly business model because it doesn't require you to create your own products and doesn't even require you to purchase the products you want to promote.
I also love the fact that it gives you the freedom to choose the products you want to earn money from. I mean, you don't have to sell what everyone else is selling. Not to mention that you will not have to spend money on paid ads. I personally didn't have to pay for traffic to get you here.  🙂
Another thing you need to keep in mind is that this requires you to do real work. You will not earn anything if you don't put in the effort and time. Just like anything worth achieving in life, it doesn't happen easily or quickly.
So, if you're committed to doing what it takes, there's no reason why you can't make it happen.
By clicking the button above, you will learn how this business works, why it works, where you can get the step-by-step training and tools I'm using for my business and more.
By the way, you will also see how you can get started for free!
To add to it all, you will get the chance to meet other bloggers and Internet entrepreneurs who want to see you succeed! Not to mention that you will always get my personal help and support =)
LEARN ABOUT MY TOP RANKED PROGRAM NOW!
It's your time to leave the high-ticket programs behind and start building your own online business today!
I hope you have found the answers you were looking for regarding Wifi Millionaire.
If there's something else you want to know or want to share your opinion, don't hesitate to leave a comment below and I'll get back to you soon.
Best wishes 🙂