Hi there!
You have come across JoinJog.online or EarningPart.com and are wondering if you can make easy cash, am I right? Or maybe you're suspicious of it and wondering if it's a scam?
Well I'm glad that you're doing some research and have come across this post because here you're going to find out the truth about these two websites, which will help you make an informed decision at the end.
I will be going over what JoinJob.online and EarningPart.com really are, how these websites really work, what they don't tell you and more.
JoinJob.online and EarningPart.com review
---
Name: 
JoinJob.online

EarningPart.com
Websites:
joinjob.online

earningpart.com
Owners: Not revealed
Price: Free to join
Overall Rating: 0/5
---
If you're sick of scams, check out my 1st resource to make money online here!
---
What is JoinJob.online & EarningPart.com about?
---
JoinJob.online & EarningPart.com are basically two websites that look the same and work the same way. The only difference between them is their name.
What they claim you have to do to make money from these websites is very simple. You only need to share the referral link you get after joining.
You can share your link on Facebook, Twitter, YouTube, blogs, forums, chats, private messages… wherever you can think of.
And then, you can earn $5 per link visit and $10 when someone signs up through your affiliate link.
In order to get paid, you need to have a minimum balance of $300 and then you can allegedly receive the payment via PayPal, bank transfer, cheque, MoneyGram and BTC.
It sounds like a great money-making opportunity that's going to enable many people to earn an income online. I mean, anyone who has an Internet connection and a laptop or smartphone can share links so wouldn't it be amazing to get paid for it?
And the fact that it's free to join makes it very tempting to try it out and see if it's really possible to make money, right?
Well, the truth is that JoinJob.online and EarningPart.com are not what they claim and are more dangerous than they seem, so you need to be careful. 
Let's see how these websites really operate in the next section.
How they try to scam you
---
When a website is free to join is hard to believe it's a scam, that's why there are people who fall for fraudulent websites like JoinJob.online and EarningPart.com.
If you have signed up to one of these websites and have started sharing your referral link and have got some referrals, I know you are excited when you see your earnings balance rise and rise and you're trying to reach $300 and get paid.
Unfortunately, all those earnings don't really exist, it's all fake and they will never pay you.
So how do they make money at your expense? Let's see why they will not pay you and how they try to make money.
They make no sense
---
According to the information on these websites, they're paying you to drive traffic to their advertisers websites, but this is not true.
I mean, there are no ads in these website, which means that they're not working with any advertiser.
Therefore, they're not making any money when people visit these sites through your referral link, that's why it makes no sense that they're going to pay you to drive traffic to JoinJob.online or EarningPart.com.
Even if they paid paid you, $5 per link visit would be way too much because advertisers don't pay that much per ad view.
And they claim that they pay $10 per referral is completely absurd because joining these websites is free, so they're not getting paid when people sign up.
So they're not going to pay anyone because they're not going to give away free money. They would get into huge debt if they paid people without them getting paid first.
How they earn money at your expense
---
Okay, now you're wondering how they make money if they're not asking you for any money, right? I'll explain.
First of all, they want as many people as possible to sign up, that's why they tell you to share your referral link and get other people to visit their sites and register.
The reason why they want a lot of people to sign up is because they want to collect as many email addresses and personal data as possible. 
And then, once they have lots of email addresses, they will sell them to other con artists and companies.
Therefore, if you have used your main email address to register, you can expect to receive spam and junk emails from people you don't know. I don't recommend that you open those emails because they might contain links and files infected with viruses or malware.
But this is not all, there's another way they try to make money at your expense. It happens if you reach the $300 minimum payout and try to cash out.
If you happen to have a balance of $300 and ask for your payment, they will tell you to complete a fake captcha test which is simply a list of offers with affiliate links embedded.
These offers involve filling out surveys, downloading apps, filling in forms… they're very time-consuming and never end, so you may get bored after doing some of them, not to mention that some of these offers might ask you for your credit card information.
And guess what happens if you complete these never-ending offers… The people behind JoinJob.online and EarningPart.com will get paid because they're affiliated with these offers.
CPA (Cost Per Action) offers are a good way to earn money but the problem here is that the con artists behind these websites are wasting your time to make money themselves because those offers are the kind of offers you'd rather not complete.
If they shared some of their profits with you then there would be nothing wrong with this, but they will not pay you anything so what they're doing is unacceptable. It's very unethical and selfish to waste people's time to earn money.
Click here to check out my top recommendation (FREE to get started)!
JoinJob.online & EarningPart.com scam signs
---
JoinJob.online and EarningPart.com are the same scam, without any doubt.
As you can see below, they look the same:
As you can observe in the pictures above, both JoinJob.online and EarningPart.com mention ForMoneyOnly.com, which is another fraudulent site like these ones but got shut down because many people reported it.
You can read some complaints below: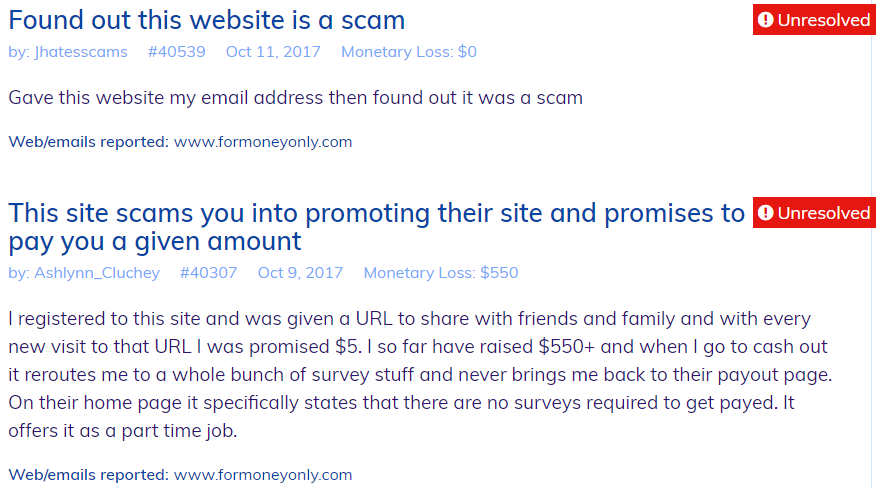 These fraudulent websites usually scam as many people as possible, then shut down and then create other identical websites with other names.
There are lots of scam websites that look similar to these ones and work the same way, the way I've explained in the previous section. Some of them are the following:
I also want to point out other scam signs that I've found so that you recognize them if you ever stumble upon another scam site:
No information about the owners. I personally don't trust websites whose creators don't show up because it's an indication that they're trying to hide something. In this case, the con artists behind JoinJob.online and EarningPart.com hide their identities to avoid getting persecuted by their victims.
Lack of support. A big scam sign is the fact that they don't provide any way to get in touch with them, which is an indication that they don't want to hear from you. I checked out their contact page and it was not found, as you can observe below:
No legal information. The fact that they don't let us know about their privacy policy, their terms & conditions or the earnings disclaimer is a big red flag because these pages contain important information that you need to take into consideration in order to decide whether or not to join a website.
The websites are not secure. If you take a look at the JoinJob.online or EarningPart.com site, you will see that it appears "not secure" on the left of the domain names, which means that any information you give them is not safe and can easily be stolen.
A real way to make money online
---
I highly don't recommend JoinJob.online or EarningPart.com because they're a total scam. The con artists created these  fraudulent websites to waste people's time just to make money themselves, which is not fair.
I hope that people who are promoting these websites will stop sharing their referral links in order to prevent other people from getting scammed.
The day people realize that making money online is not easy or fast like the scammers what you to believe is the day they will stop wasting their time or money on scams.
The truth is that making a full-time income online is like making it offline, it requires you to put in the effort and time. All great things take time to build.
There are many legitimate ways to earn money online, but if you're looking to make a job replacing income then I believe it's best to build your own online business.
The business model I'm using is newbie friendly and has enabled me to earn a consistent income month after month. In fact, there are many people who are making a living using this business model.
I love this business model because it enables people to choose the kind of products they want to make money from. Yes, you will not need to promote what everyone else is promoting. 
With the right step-by-step training and marketing tools, I believe that anyone who's committed to doing the required work, can build a successful online business.
If you're interested in learning how this business works, why it works, how you can get started for free and more, click the button below now:
You will learn to build an online business based on something you're passionate about, so you will get to enjoy the process!
It takes learning, time, patience and effort to build a long-term online business but in the end you will love reaping the rewards =)
To add to it all, if you get inside my favorite training platform you will get to meet other bloggers and Internet entrepreneurs you can interact and ask questions to. There are many ways to get help and support so you can rest assured knowing that you're not alone in this!
Looking forward to seeing you leave the scams behind and get on the right track to build your online biz today!
LEARN ABOUT MY TOP RANKED PROGRAM NOW!
I hope you have found the answers to the questions you had concerning JoinJob.online or EarningPart.online. 
If there's something else you would like to know or you want to share your opinion, please feel free to leave a comment below and I'll get back to you soon. ? 
Best wishes =)