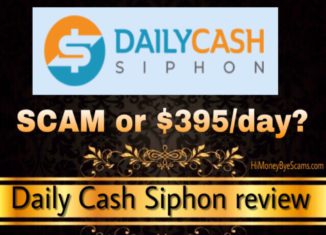 Will Daily Cash Siphon scam you out of your hard-earned money?
Or can you earn $395 a day thanks to this system?
Well, first of all I must congratulate you for taking the time to do your own research before buying another money-making product.
Unfortunately, there are too many scams out there so doing your due diligence is the way to avoid the ugly scams and find the real way to make money online!
When it comes to Daily Cash Siphon, it's not as awesome as they claim and my honest review is going to show you the complete truth.
Not only that, I'm also going to reveal the shocking discovery I made!
Daily Cash Siphon review
---
Name: Daily Cash Siphon
Website URL: dailycashsiphon.net
Owner: "William Fairbrother"
Launched in: September 2018
Price: $37 + upsells
Overall Rating: 2/10
---
If you're sick of scams, check out my 1st resource to make money online HERE!
---
What is Daily Cash Siphon about?
---
Someone sent me a "private invitation" so I thought I would check it out.
The moment I landed on the Daily Cash Siphon sales page, I started suspecting of it because it looked very similar to other scam pages I have come across.
But I didn't want to judge it based on its appearance so I started watching the sales video and did extensive research.
The spokesman makes this system sound like the perfect solution for anyone who's looking to earn money quickly.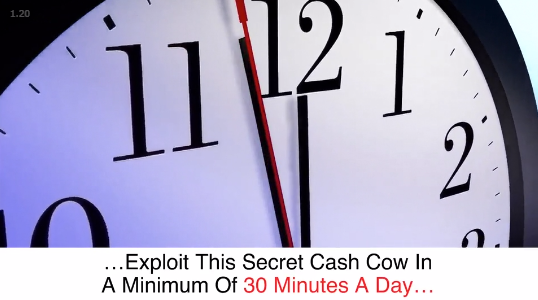 He claims he's going to show you a weird trick that can make you lots of money, but after watching the sales video I can say that there are no "weird tricks".
This guy is just showing you all those ClickBank earnings screenshots and income proofs to get you excited so that you end uo buying his system.
You supposedly don't need any previous experience or technical skills to make this work, so is this system the way everyone can finally make money online?
According to him, you need to agree on this to qualify:
This system is legal but controversial

It's only available in some countries 
As you can see, qualifying is not difficult so many people have the chance to purchase this system, which is what the owner really wants.
After that, he tells you that you are going to make money with blogging and affiliate marketing, which is a legitimate business model.
He says that if you had to do everything on your own, you could earn a few pennies within a year, but thanks to his system you can allegedly make your first dollars within a week.
Sounds cool, right? Well that's what he wants you to believe.
However, after having reviewed hundreds of products, I don't see how this one is different from these:
How Daily Cash Siphon really works
---
Daily Cash Siphon does not work like the spokesman claims.
In other words, this product will not make you money as fast as they claim.
According to them, Daily Cash Siphon shows you how to find products that can make you the most money as a ClickBank affiliate.
The nature of the products they target are controversial and weird. Some of them are brand new and very difficult to find.
Thanks to this system, you can allegedly get your blog set up today in a minimum of 30 minutes, with their "secret" traffic strategies you can have hundreds of visitors to your blog in less than a week.
There are important things that can help you determine whether or not this system is worth the price, but they leave a lo untold.
For example, they don't mention what training you are going to receive after purchasing this product.
Not only that, they don't reveal what work you will have to do on your blog or what their "secret" traffic sources are.
Will you have to write posts? What kind of websites does the Daily Cash Siphon software build? Where does the traffic come from?
They don't give us any kind of information that can help us determine if this system will work, which is a huge red flag.
I mean, do you buy stuff without knowing if it's going to work to meet your needs?
The problem with the websites
---
From my experience, I can tell you that softwares like this usually don't work because they create sites that cannot get ranked on search engines like Google.
These softwares usually grab content from other websites, which means that the problem with the sites built by this software is that their content is not unique.
Search engines rank sites that provide original content, not sites with copied content. That's why your site will not get ranked, so it will not get free organic traffic.
So how are you going to get traffic? You will have use methods like sharing your site on social media or doing paid advertising, which are not newbie-friendly tactics.
I mean, you need to have targeted followers on social networks in order to get people to purchase the products you promote.
When it comes to paid traffic, it's very risky because it requires a lot of trial and error so you need to be ready to invest a lot of money if you take this route.
Click here to check out my FREE affiliate marketing guide!
The problem with the products
---
Another thing I don't like about this system is that the products they call controversial and weird, tend to be low quality products.
Just because the products they promote are new or difficult to find, it doesn't mean they are going to help customers.
Many ClickBank products are overhyped and not good quality, so I don't believe they are the best kind of products to promote.
Yes, you might earn money if you promote poor quality products, but it's not good for the long-term because this is not a way to create trust.
If people notice that you recommend products or services that are not as good as advertised, they will not take you seriously.
Because of this, I recommend that you ensure whatever you promote is relevant and helpful to your audience.
The upsells
---
If you decide to purchase Daily Cash Siphon, you can expect to be bombarded with some upsells.
Yes, this costs way more than $37.
Let's take a look at their sales funnel:

They claim affiliates can earn up to $352.18 per sale, given that everyone buys all the upsells.
I personally will not be promoting this product because it's not something I believe in.
In my opinion, products that have upsells are not as good as advertised because when a product is complete, it doesn't need additions.
They are making money as vendors, not affiliates
---
The spokesman claims to be earning thousands of dollars thanks to this system, but I don't believe this is true.
He shows you some some ClickBank screenshots and we can see that he has not made that money as an affiliate, he's a vendor instead.
This means that he's selling his own ClickBank products like Daily Cash Siphon to make that money. That's why he has not used this system to earn those thousands of dollars a day.
I personally don't like the fact that he claims to be making money as an affiliate but everything he shows proves that he's not doing what he's talking about.
It's a done-for-you system
---
They claim that most of the work is done-for-you and you only need to work 30 minutes a day, but this is a red flag.
Done-for-you systems are not good because they keep you dependent.
In this case, you don't own the websites built by the Daily Cash Siphon software, which means that you don't have control over them.
This is not the way to go if you are looking to generate an income online for the long-term because this system will leave you with nothing if it shuts down.
Many people who have used done-for-you systems like this have reached a point where they have been left with no money to make and nothing to show for.
Check out my FREE affiliate marketing guide here!
Daily Cash Siphon scam signs
---
Apart from the fact that Daily Cash Siphon doesn't work as well as they claim, there are some red flags that you need to be aware of.
William Fairbrother is not the real owner
---
The spokesman claims to be William Fairbrother, but he's not the real owner of Daily Cash Siphon.
If you scroll down to the bottom of the page, you will read that this name is a pen name.
So the creator of this product doesn't reveal his real name, which is a red flag because it indicates a lack of transparency.
Why would someone hide when he/she is supposedly providing a legit product?
This is what scammers do. They never reveal their real identity to avoid getting caught.
Fake scarcity
---
Con artists usually claim there are limited spots available to ge you to purchase their product ASAP.
In this case, they claim that you might never see their sales page again to prevent you from leaving the page.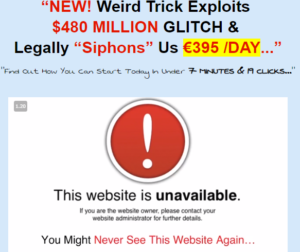 Scam artists don't want their victims to think before buying their crappy products, so they use fake scarcity tactics.
The truth is that they want as many people as possible to purchase this product, since they never limit themselves when it comes to the amount of money they can make.
It's marketed as an easy way to make money
---
Even though they claim this is not a get-rich-quick scam, they are using the same sales tactics as other scams I have exposed.
They are promoting this product as a solution for earning money fast without doing much work because they claim you only need to work 30 minutes a day to make this work.
The truth is that making a living using the affiliate marketing business model and blogging, takes time and effort.
This is just like anything worth achieving in life, it requires you to put in the work.
Don't be fooled by scammers who promise easy or fast cash, they are the ones who want to make money quickly at your expense.
My shocking discovery: it's a copy of Profit With Alex and Five Minute Profit Sites
---
Daily Cash Siphon looks very similar to two products I reviewed some months ago: Five Minute Profit Sites and Profit With Alex.
Below you can see they use the same signs and they also have the 60-day money-back guarantee on it. Isn't it curious?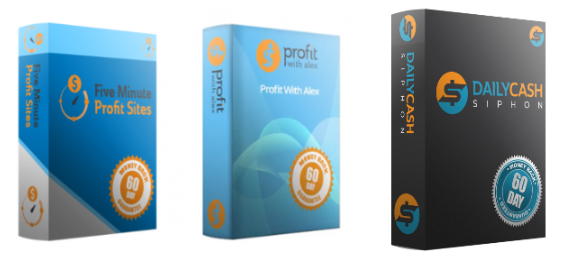 Both products are low-quality products that didn't work and I remember they were marketed the same way as Daily Cash Siphon, that's how I know this product does not work either.
I wouldn't be surprised if these three products have been created by the same con artists. It's clear that Daily Cash Siphon belongs to the same collection as Profit With Alex and Five Minute Profit Sites.
Conclusion on Daily Cash Siphon
---
Daily Cash Siphon is no better than other ClickBank low-quality products I have reviewed because it does not work as advertised and it's overhyped.
It's up to you whether or not you want to call it a scam.
I know some people will call Daily Cash Siphon a scam because it doesn't live up to its promises.
There will also be people who don't consider it a scam because it gives you something for your money so you might learn something even if you don't make the kind of money they talk about.
In my opinion, this is just another poor quality product but it's not a total scam because you can get a refund, since it's sold on ClickBank.
At the end, you are the one who decides whether or not to purchase it.
Because of everything I have mentioned, I conclude that I don't recommend Daily Cash Siphon.
How to make real money with affiliate marketing
---
If you are really serious about earning a living as an affiliate marketer, it's best that you focus on building your own business instead of looking for systems that supposedly do most of the work for you.
When it comes to creating an affiliate marketing biz that's profitable for the long-term, there are many factors that you need to take into account.
For example, you need to make sure the products you promote will help your audience so that you gain their trust.
You also have to know how to drive targeted traffic to your offers, that's the way you will make sales.
The method I use has allowed me to bring free targeted traffic to my offers so I didn't have to spend a dime on paid advertising.
There's a lot to say about affiliate marketing so I created a FREE step-by-step earn money online guide where I explain how I make money using this business model:
My free guide will show you the 4-step method I followed, why this method works, proof that it works, the step-by-step training and tools I used…
Not only that, you can also start today for free!
Exactly, you don't need to spend a penny to get the training and tools that will help you get your business started the right way.
Sounds cool?
Additionally, you also get the chance to receive help and support from me and thousands of affiliate marketers who want to see you succeed =)
So are you ready to leave the low-quality products behind and start building your online asset today?
CHECK OUT MY FREE AFFILIATE MARKETING GUIDE HERE!
I hope this Daily Cash Siphon review has been helpful to you and you will make the best possible decision.
Don't hesitate to share this post with whoever you believe that will benefit from it!
If there's something else you want to know or you have any questions, feel free to leave a comment below and I'll get back to you ASAP! ? 
Best wishes =)