Welcome to my 60 Minute Profit Plan review!
Looking at 60 Minute Profit Plan (60minuteprofitplan.com) and wondering if this program can help you become financially free? Or is it another worthless scam that will leave you with less money at the end of the day?
I'm glad to see that you're doing your research because I've seen many low-quality programs and scams lately so you need to ensure you know what you're in front of in order to make a wise choice.
Here in this 60 Minute Profit Plan review, I will show you what this program is about, how it really works, whether or not it can benefit you and more.
.
60 Minute Profit Plan review
---
Name: 60 Minute Profit Plan
Website URL: 60minuteprofitplan.com
Owners: "Brittany Francis"
Created in: 2018
Price: $27 (30% discount) + upsells
Overall Rating: 4/10
.
---
If you're sick of scams, check out my 1st resource to make money online here!
---
.
What is 60 Minute Profit Plan?
---
The moment I came across 60 Minute Profit Plan, the words get-rich-quick scheme came to mind as the sales page is very similar to other scam pages I've come across.
I didn't like the fact that I could not stop the video from playing so I decided to check it out from my phone and saw the video is over 20 minutes long!
According to the spokeswoman, you can use her 60 Minute Profit Plan system to earn over $500 per hour.
This system doesn't require you to have any kind of experience or special skills. It's said to be designed for ordinary and hard-working people who hate their jobs. 
You can finally sit on your sofa with your laptop and make five figures per week thanks to this system. You'll be able to start living the kind of life you've always dreamed of! 
Oh, and you only need to spend an hour or two each day to make this system work.
Sounds too good to be true, doesn't it? Well, if you weren't skeptical of it you wouldn't be here trying to find out the truth about this system.
I can tell you right now, the sales presentation is very misleading and there's a lack of important information. They just tell you what you want to hear to get you to purchase it.
.
Does 60 Minute Profit Plan work?
---
60 Minute Profit Plan doesn't work like the spokeswoman claims because there's no such thing as earning money inmediately just the same day you purchase a system. This is no secret system that will finally solve all your money problems.
Brittany, the alleged creator of this program, doesn't even explain how it works or what you're getting. She just talks about how much money you will make, how easily and fast it is and how her system will enable you to quit your job and live your dream lifestyle.
The fact that she doesn't say anything about what 60 Minute Profit Plan includes is a red flag because it doesn't help you determine whether or not it's worth it.
Well, the only thing that she says is that you're going to get some money-making methods. I was curious to know what this is really about so I decided to purchase it.
Just after getting 60 Minute Profit Plan for a 30% discount, I was told to upgrade to the premium version which costs $97: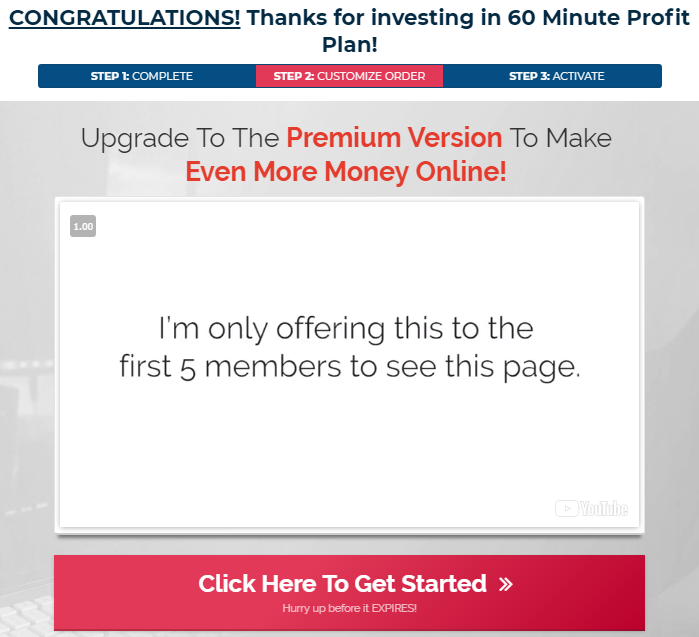 I decided to skip it and go to the members area and they tried to get me to buy it for $47, but I ignored it. 
I personally don't like these sales videos that use high-pressure sales tactics to get people to make a purchase. It's not even true that they're only offering it to the 5 members who see that page so I'll just walk away.
After that, another upgrade that would supposedly help me "100X my earnings" for $97:
So I was like "nah, I don't want any upsells, just let me check out these money methods".
Finally, I got access to the members area. Here it is:
.
What I don't like
---
After taking a look at everything included in the members area, I found 3 things I didn't like:
They recommend CoolHandle. First of all, the website you're told to claim is not free and CoolHandle has some complaints.
Their highest recommendation is a low-quality program. I checked out their highest recommendation and it's another ClickBank product I recently reviewed called

The AZ Code

. It's not a scam but it's overhyped.
A video is not available. The four method is about Fiverr but it's not available because the person who uploaded to YouTube has deleted it. All videos from the members area are from different YouTube channels, so you can find them on YouTube for free.
.
The four methods
---
The four methods they talk about in the training can help you make money, but not $32,000 in your first month.
Let's discuss them:
Method one  – Email marketing (12 videos)

Method two – Make money taking paid surveys (1 video)

Method three – Make money testing websites (1 video)

Method four – Make money freelancing (video not available as explained before)
The method two and method three are methods to only make extra money, while the best method to make a full-time income online is the method one.
Email marketing has been working for years to make money, but it's just basic information. You're not going to earn $10,000 in 90 days just for watching those videos.
When it comes to taking paid surveys, it's very time-consuming and only a way to make a few dollars. I wrote this article about paid surveys that you can check it out to learn more. 
User testing is a good way to make some cash but it's not a method to earn thousands of dollars per month.
As I said, the best method of those four is email marketing but it's not enough information.
Click here to check out my top recommendation (FREE to get started)!
.
Is 60 Minute Profit Plan a scam?
---
No, 60 Minute Profit Plan is not a scam because you're getting some training for your money. 
But is it worth it? No. The information they provide is not enough to earn over $30K per month, not to mention that it's not possible to earn money fast.
Apart from that, the sales presentation is completely misleading and there are many red flags in the sales page. I want to point them out so that you're aware of them.
.
Brittany Francis is not the real owner
---
Who is Brittany Francis? A made up character used for the sales pitch. Yes, the history about her is fake as well.
I know this because I did an image search and found out that that picture can be found in other sites, as you can see below: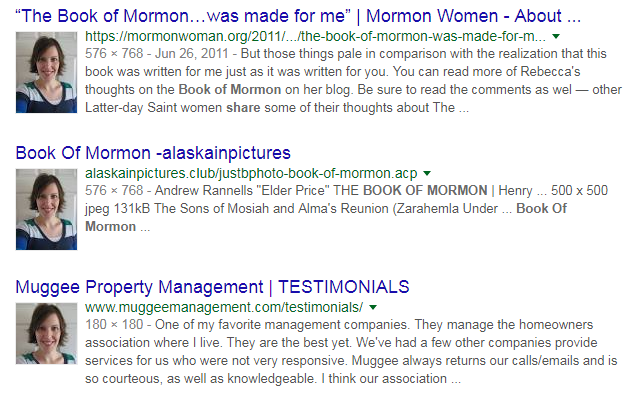 I personally don't trust sites or programs whose owners lie about their identity because that's what scam artists do.
If your program is that good, why lie about who you are? 
.
The video testimonials are paid actors
---
The people who appear in the sales video and claim to have earned thousands of dollars thanks to this system are nothing more than paid actors that sell their services on Fiverr.
They have not purchased 60 Minute Profit Plan and have not made anything trying this product. 
For example, this woman below is Fiverr actress: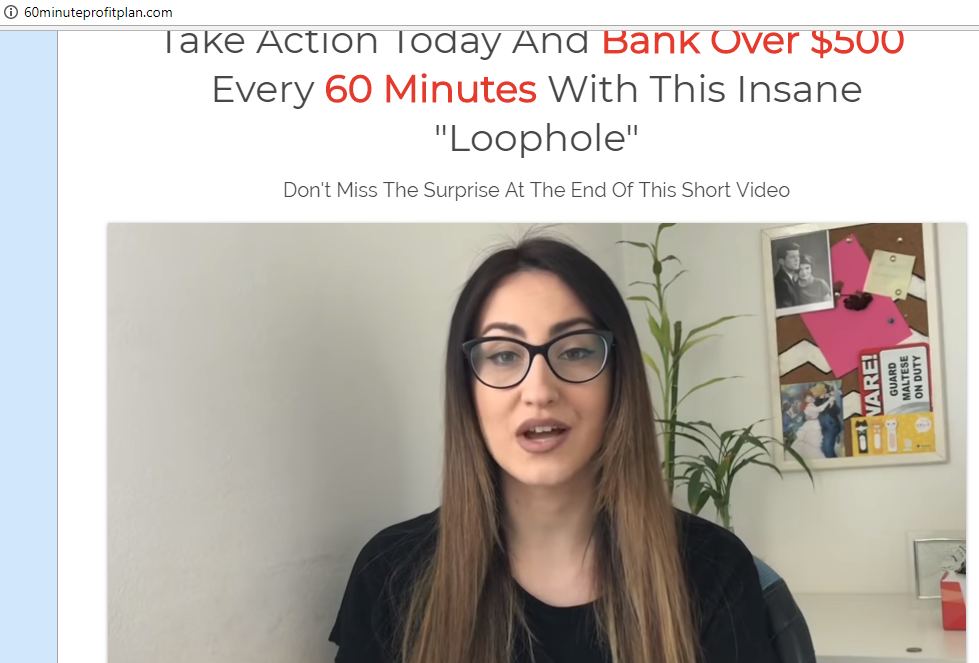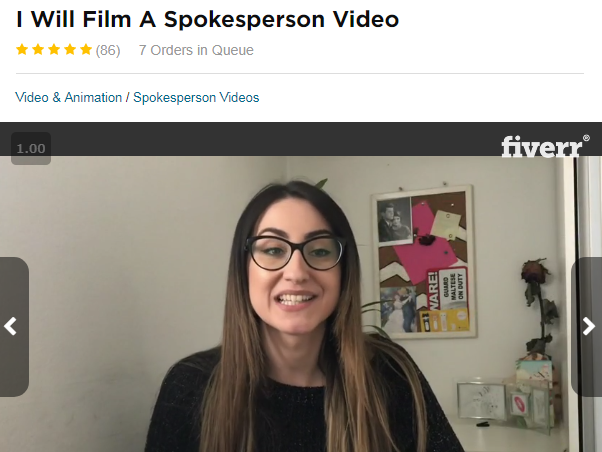 If this program really worked as advertised, then they wouldn't need to be paying these actors to get positive reviews.
.
The Facebook and Twitter comments are fake
---
What about the Facebook and Twitter comments you can read in the 60 Minute Profit Plan sales page? They're totally fabricated. 
The comments are invented and the pictures have been downloaded from other sites. There's nothing genuine about those comments.
For example, the pictures of "Tony Jeffries" and "Hillary Chipper" can be found on other sites. See the proofs below: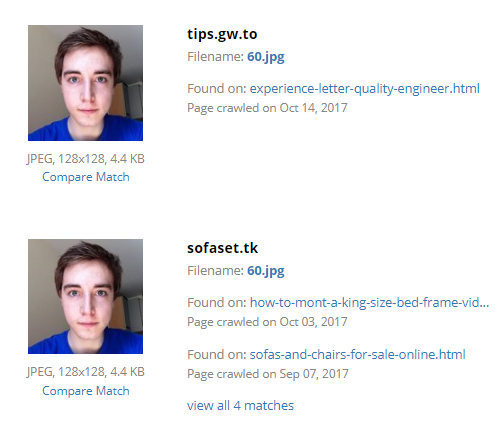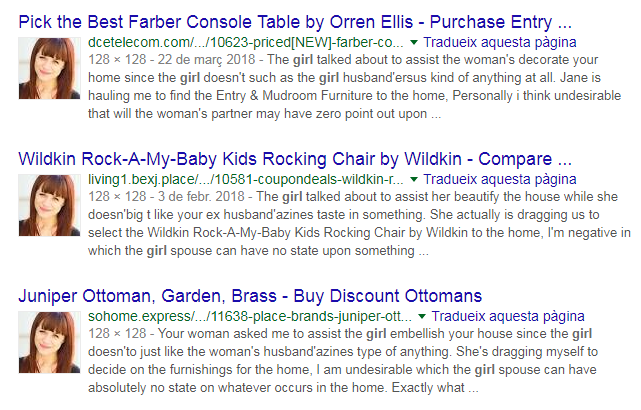 Another way I knew all those comments are false is because I couldn't like or comment any of them. Not to mention that tweets have hearts (likes) instead of stars (favs).
.
Lack of transparency when it comes to the real cost
---
Another thing is the lack of honesty when it comes to the price. You're told that there are no recurring payments or hidden costs, but this is not true because there are upsells as we've seen. Not to mention the hosting fees.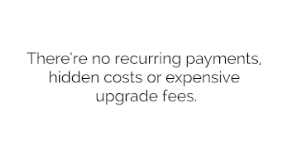 I personally dislike the fact that they lie about the real cost because this is something you need to know to make an informed choice.
I mean, you wouldn't like to purchase an item and then be told that you need to purchase another item to make the first item work, right? 
.
My final conclusion on 60 Minute Profit Plan
---
Even though 60 Minute Profit Plan is not a scam, I will not be recommending it because it's not worth it. It doesn't live up to its promises because there's no way you're going to earn $32,000 easily.
In fact, the sales page makes it look like this is a secret money-making system instead of 4 methods.
It actually reminds me of another product I reviewed that came out some months ago called 30 Minute Money Methods.
I don't like the marketing tactics they use to get people to purchase it because they're typical of get-rich-quick schemes. 
When it comes to making money online, you need to keep in mind that there's no magical website or push button system that you can use to earn quick and easy cash. Don't you think everyone would have made a fortune if it were that easy?
No matter the method you use, you will need to put in the work and time. Great things take time and effort to build.
The best way to make a full-time income online is by building your own online business using the same business model I use and having the proper step-by-step training and marketing tools.
This business model will enable you to earn money while helping people and working on something you're passionate about. 
It's newbie friendly and doesn't require you to make a huge investment. In fact, you can get started for free!
By clicking the button above now, you'll find out how this business works, the top ranked place where you can get started and more.
If you're committed to learn, work hard and never give up, I don't see why you can't make it happen. I and many other people are earning money using this business model so you can do it too.
In addition, you'll also get to meet other bloggers and Internet entrepreneurs that are on the same path as you. Not to mention that you'll get my full help and support as well =)
It's your time to leave the scams behind and get on the right way to make money online today!
LEARN ABOUT MY TOP RANKED PROGRAM NOW!
I hope this review has been useful to you and you will make the best possible decision for you.
If there's something else you want to know or you have any questions concerning 60 Minute Profit Plan, feel free to leave a comment below and I'll get back to you ASAP! 🙂 
Best wishes =)