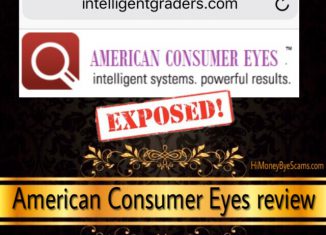 Welcome to my American Consumer Eyes review!
You have stumbled upon American Consumer Eyes a.k.a. Intelligent Graders Inc and are wondering if you can earn some money as a mystery shopper, right? Or is it an ugly scam designed to take your money?
Well, I'm glad that you're taking the time to do your research because there are too many fraudulent sites and platforms out there, and some of them even look legit, so you need to be careful.
Here in this review of American Consumer Eyes, I will show you what this is really about, how it works, why it doesn't work as they want you to believe and more.
.
American Consumer Eyes review
---
Name: American Consumer Eyes
Website URL: intelligentgraders.com
Owners: Hidden
Price: Free to sign up
Overall Ranking: 0/10
.
---
If you're sick of scams, check out my 1st resource to make money online here!
---
.
What is American Consumer Eyes about?
---
American Consumer Eyes is a website that claims you can earn up to $300 per week as a mystery shopper. 
They claim to provide market research for companies through web survey, marketing research and mystery shopping.
But they do not say what you have to do to take surveys or other tasks, they only tell you to become a mystery shopper.
Your job as a mystery shopper is to go to one of their client's store and test a product or service or do whatever the client needs you to do like evaluating the staff or customer service. 
They allegedly work with companies like MoneyGram, Western Union, Hilton, Landry's, Planet Fitness… 
The whole site looks like a legitimate site so you wouldn't think it's a scam. I mean, it's not like the typical scam page that has a sales video and outrageous claim. 
However, we can't judge a book by its cover so the same happens here.
After doing some intensive research, I can say that the red flags I've found are kind of hidden but they're still there, and have determined that American Consumer Eyes is not what it appears to be.
.
Does American Consumer Eyes work?
---
The truth is that American Consumer Eyes only works for the people who have created it.
Even though it seems legitimate and all that, it doesn't work to help you on your way to financial freedom. It works to make you lose money and time, so you need to be careful.
Now I'm going to explain how it all works so that you are aware of the huge scam.
.
How American Consumer Eyes operates
---
In order to become a mystery shopper, you will have to complete a long form with your personal details like your name, your address, your city, your state (this is only for people who live in the US), your email address, your phone number…
After all, it's free to apply so who would think this is a scam, right? That's why not many people suspect of it and end up falling for the scam.
Once you've filled out the form, you will get an email with the instructions about what you have to do. Here's an example: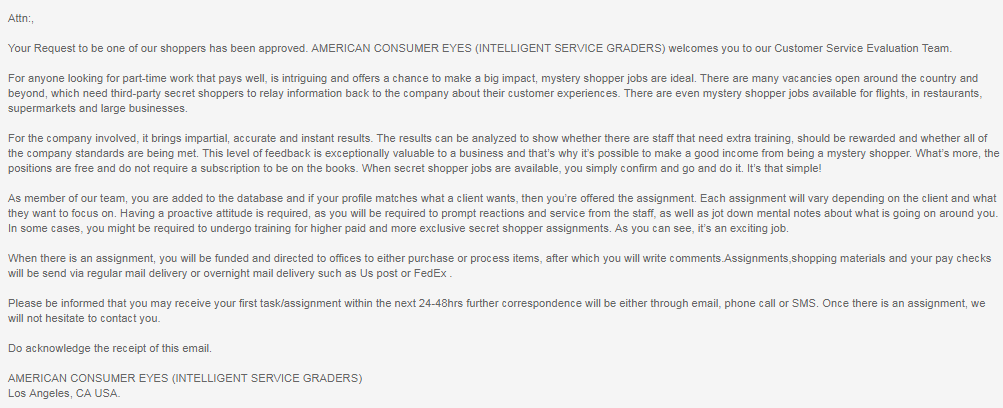 Then they will send you a check of thousands of dollars like $2,000 or $3,000, and you will have to deposit it in your bank.
Next, you will have to take the cash out and go to a Walmart Money Center, where you will have to test a product or service that usually involves performing a transaction to another mystery shopper. 
For example, if you receive a check of $2500 then you will have to send an amount like $2150 to the address they tell you in another email you're sent. See the example below:

And then, you will get to keep $350 (what you supposedly earn for this task).
So what's wrong with this? After all, it doesn't seem it's a scam because they've sent you a check right?
Well, the problem is that the check you're sent is false and the mystery shopper you sent the money to are the con artists behind this scam.
You'll get to know that the check is fake because the bank will notify you that the check has bounced so you will have to pay that money back to the bank. Not to mention that you might even have to pay more depending on your credit score.
But that's not all, there's another way they'll try to get your money.
Instead of telling you to send part of the check to another mystery shopper, they will tell you to go to Walmart to purchase an iTunes gift card, scratch off its back, take pictures of it and send them by text to the phone number they provide.
They want you to do this in order to receive the money of the gift card.
.
Is American Consumer Eyes a scam?
---
Yes, I have no doubt that American Consumer Eyes is a complete scam.
The people who created it did it with the goal of making a lot of money at your expense. They just don't care about your benefit, as I've explained.
Apart from the fact that American Consumer Eyes works to scam you, there are some red flags that already lead me to suspect of this company.
I'm going to point them out so that you see how fraudulent Intelligent Graders really is.
.
No information about the owners
---
I'm actually not surprised that there's no information about the people who are behind American Consumer Eyes because scam artists usually hide their identities or fake them. 
Scam artists are not transparent when it comes to who they are because they don't want anyone to bother them. They want to avoid getting persecuted by their victims.
The fact that they don't show up is always a red flag because it means that they're trying to hide something, so I suggest that you look out whenever you come across a website whose owners don't show up.
.
The time limit
---
The fact that they don't want you to wait for the check to clear first is a huge red flag.
Why do they want you to hurry up to send the check to the other "mystery shopper"? Clearly, if you waited you would find out that the check is fake so if you take action quickly you will realize they've scammed you when it's too late.
Apart from that, they also want you to hurry up to fill out the application and send it to them as they claim they're only accepting applications for a limited period.
This is another red flag because it means that they want to get your information as soon as possible. They're hungry for your money and personal information.
.
Another lie
---
They want to appear as a legitimate company by making you believe that they've been in business for many years.
For example, they claim they mention the year "2014" as if this company existed back then, but this is not true.
How do I know it's fake? Well, I found out that the intelligentgraders.com domain name was registered in January 2017 according to its domain information, so there's no way American Consumer Eyes existed in 2014.
.
Lack of important information
---
The fact that they don't provide any contact information, email address or phone number is something that leads me to suspect that something is not right about American Consumer Eyes.
I mean, if they're a legitimate company, why don't they let us know how we can contact them by phone or email? Not to mention that they don't even show their location.
Note that well-known companies like Walmart, Western Union or the other ones would not want to work with a company that lacks essential information.
.
Negative reviews
---
There are no positive reviews about American Consumer Eyes. No positive reviews from the companies they supposedly work with and no positive reviews from "mystery shoppers".
The only kind of reviews I've found out are negative reviews from people who have got scammed and people who've realized it's a scam.
Here's another one from someone who lost $2975 and can't pay the bills:

.
The risk of identity theft
---
This scam was not only created to steal your money, it was also created to steal your identity and use it to make money.
If you think about it, they ask you for a lot of information in order to sign up. Information that most money-making opportunities or companies do not ask you for.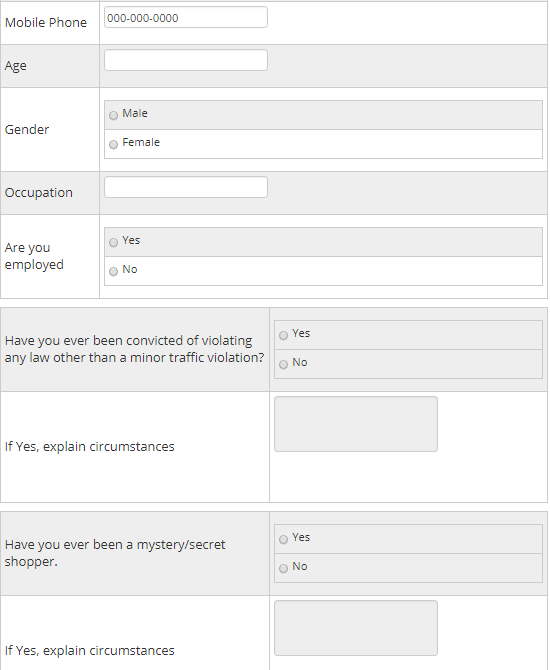 But that's not all. Keep in mind that they might even call you to ask you for more information and the fact that they want you to send them money is another way they will try to get even more information about you.
They literally want to know everything about you because the more information they get, the easier it is for them to steal your identity and use it for profit.
This is a huge problem because they can get access to your accounts and do all kind of unethical activities you can think of. 
That's why I highly don't recommend that you give these scam artists any of your information. They would at least sell it to other companies or swindlers if you gave it to them.
.
My final conclusion on American Consumer Eyes
---
My final verdict is that American Consumer Eyes is not going to benefit you in any way, so I don't recommend that you try it out.
We've seen how it works and how dangerous it can be, so I suggest that you stay away from it.
When it comes to earning money online, there are more scams than genuine programs that really can help you.
I've reviewed many websites and programs and have come to the conclusion that scams come in different forms and shapes so it's best to always do your research before getting involved in a money-making opportunity.
The way you can stop falling for scams is by keeping in mind that there's no way to make money online easily or fast. 
You know what people who make a full-time income online have in common? They all have to put in the effort and time. This is just like anything worth achieving in life.
The business model I'm using has given me a way to earn a consistent income month after month.
It's a legitimate and newbie friendly business model because it doesn't require you to make a huge investment and it doesn't require you to create your own products.
There are many products you can choose to make money from and the best part is that you can build it based on something you're passionate about.
By clicking the button above now, you will find out how this business works, where you can get the step-by-step training, easy-to-use marketing tools and more. Not to mention that you can get started for free too =)
Furthermore, you will get inside a big community of other like-minded people you can interact with and will also get support and help from me whether you pay or not.
It's time for you to say bye to the scams and get on the real track to make money online!
LEARN ABOUT MY TOP RANKED PROGRAM NOW!
I hope this review has been helpful to you and you will make the best possible decision.
If you have any questions or want to share your opinion concerning American Consumer Eyes, feel free to leave a comment below and I'll get back to you ASAP 🙂 
Best wishes!