Hey there!
The Clones is Brendan Mace's latest product that was recently launched on Warrior Plus.
I thought I would take a look at it to find out whether or not it's possible to make money with this method or if it's just another scam that doesn't live up to its promises.
I want to point out that I'm not affiliated with it so you will not see me promote it.
Here in this review of The Clones, you wll find out what this product is about, how it really works, what you're not told about it and more.
.
The Clones review
---
Name: The Clones
Website URL: buytheclones.com/the-clones-fe
Owners: Brendan Mace, Jono Armstrong and Erik Cagi
Created in: April 2018
Price: $12.95 + upsells
Overall Ranking: 41/100
.
---
If you're sick of scams, check out my 1st resource to make money online here!
---
.
What is The Clones about?
---
The sales page for The Clones is similar to other Warrior Plus products sales pages. A long sales page with a video presentation and outrageous claims.
According to Brendan Mace, he's going to give you his business "done-for-you" that will enable to make money in no time without having to do much work. 
It sounds amazing because it's said to be newbie-friendly. I mean, it doesn't require you to have any experience or special skills. 
Brendan claims to be making over $1000 per day using this method so will you finally become financially free thanks to this system or is it not as good as it appears to be?
The truth is that this is not that good for newbies or people who have no experience in the "make money online" world because the training doesn't contain everything you need to know to make a full-time income.
If you buy this product, you will get access to other Internet marketing products and courses that have also been launched on Warrior Plus like Incognito or The Banger Method.
These are products that Brendan Mace has been making money from. Some of them are his own products and others have been created by other marketers. What they have in common is that they're all about making money online.
You will be given done-for-you sales pages (similar to The Clones sales page) ready to be promoted and then will make a commission each time someone makes a purchase through your affiliate link.
This business model is called affiliate marketing and can be very lucrative when used the proper way. 
However, this product does not teach you the best way to do all this. I'm going to point out the problems I've seen later in this review.
.
Does The Clones work?
---
Yes, it's possible to make money with this method but The Clones doesn't give you all the training you need to earn money.
You will basically get a done-for-you review page for each of the products you get access to.
These review pages already contain a sales video, presentation of the product, that's why Brendan claims they've done all for you.
Apart from that, they will give you email swipes and bonus pages for each product, which you can use for promotions.
The problem here is that you're not told what to do with all this material in order to make money. I mean, they don't tell you how to drive traffic to those sales pages so that you can make sales.
Traffic is one of the most complicated things when it comes to making money online. The material and tools you get can be useful and high-converting, but without getting people in front of the product you're promoting, you will not earn a dime.
Therefore, you will have to figure it all out on your own unless you invest in the upgrades. Yes, there are 4 upsells and downsells: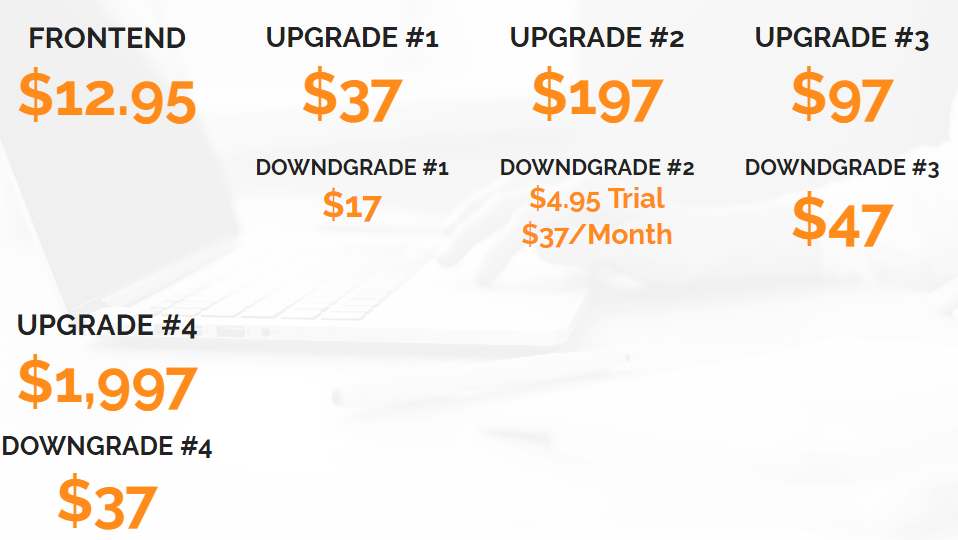 Let's see what these upsells and downsells are about:
Upgrade #1 – Training about 3 traffic sources. Price: $37.
Upgrade #2 – Lifetime access to new bonus pages to promote products that will be launched in the future. Price: $197.
Downgrade #2 – The same as the second upgrade. Price: $4.95 trial and then $37 per month.
Upgrade #3 – Licensing rights that will allow you to sell The Clones as if it were your own product and make 100% commissions. Price: $97.
Upgrade #4 – Brendan Mace's one on one coaching. It's the only way to get personal support from Brendan. Price: $1,997.
I personally have talked with people who haven't had a good experience with Brendan as a coach so I'm not sure it's worth it to pay $1,997 for coaching.
.
Is The Clones a scam?
---
No, Brendan Mace's The Clones is not a scam because you're getting something for your money.
However, it's kind of incomplete because it doesn't contain training for all the pieces of this system's equation.
Apart from that, I want to point out the red flags I've found out and other things that they don't tell you but you need to know.
.
The traffic method is not newbie friendly
---
As I've said earlier in this review, traffic is one of the most complicated parts when it comes to making money online.
And what about the traffic method they're teaching you to use (paid advertising)? It's very risky because it requires a lot of trial and error.
Therefore, you will have to spend a lot of money on paid ads in order to get to the numbers that Brendan is showing off.
It's unlikely that your first campaing will be successful so you will have to spend money to find out what works and what doesn't work.
I personally use the affiliate marketing business model to earn money, but I don't pay for traffic because I know how to drive traffic to this site for free. Yes, I didn't pay a dime to take you here =)
.
Lack of transparency when it comes to the real cost
---
I don't like the fact that they're not honest about the cost of this product because knowing all the costs involved is something you want to know in order to make an informed decision.
The truth is that I'm not surprised that they don't mention the upsells or downsells in the main sales page because it's something that happens with all Warrior Plus products.
Apart from that, they don't mention that you will have to spend money on paid traffic, which can cost you even more than The Clones and its upsells.
.
It's not risk-free
---
Brendan claims that there's no risk involved because you can get a refund, but there's a catch.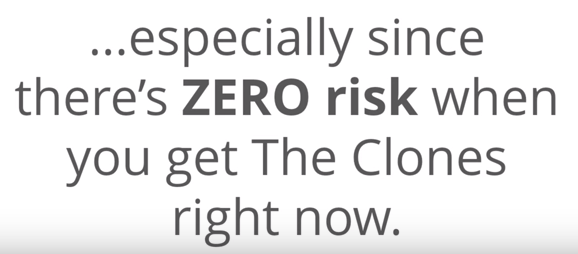 If you purchase Brendan's coaching and don't have a good experience, you can't get your money back.
Apart from that, you also need to take into consideration the money you will have to spend on paid advertising… so there's no way this is risk-free.
.
Not as easy as it sounds
---
Last but not least, you need to take into consideration that the products you will be promoting are the same that other people are promoting, so you might find it hard to stand out if you don't have any previous experience.
Note that most marketers who promote these products already know how to bring traffic to those sales pages and all that. 
Oh, and remember the email swipes you're going to get with The Clones? The only people who will use them are the ones who have a list of subscribers, yet they don't provide training about list building.
.
My final verdict on The Clones
---
My final conclusion is that The Clones is an incomplete course so I definitely don't recommend it.
When it comes to earning money online, you need to take into consideration that there's no method or system that will enable you to make money the same day you purchase it. There's no online ATM that you can use to get money on demand.
There are many people who are earning a living online, but you know what they have in common? They all have to learn, work and have patience.
With that being said, if you're looking to make money with affiliate marketing, it's best to to build your own online business that is sustainable for the long-term.
I love the fact that you can build your business based on a topic you're passionate about. There are affiliate programs for literally everything so you have millions of products & services to make money from.
You can learn more about where to find the proper step-by-step training, easy-to-use marketing tools and how you can get started for free by clicking the button below now:
You'll find out the platform where I got started back in 2016 and still very active today. There's always new training being added so there's always something new to learn!
To add to it all, you will also get to meet other bloggers and Internet entrepreneurs, who you'll be able to interact with. Not to mention that you'll get my personal help and support no matter if you pay or not =)
LEARN ABOUT MY TOP RANKED PROGRAM NOW!
So excited to see you on the right track to build your affiliate marketing business!
I hope you've found the answers you were looking for concerning The Clones.
If you have any questions or opinions, feel free to share your thoughts with us in the comments section below.
Cheers 🙂