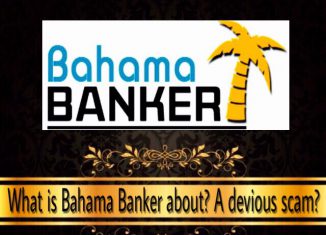 Welcome to my Bahama Banker review!
I've recently come across another so-called binary options trading software so I was curious to know if this one really worked or it was just another system designed to steal your money. 
I'm going to be explaining what is Bahama Banker, whether it can make you money or not and the conclusion I've come to after my research.
.
Bahama Banker review
---
Name: Bahama Banker
Websites:
www.bahamabanker.com

www.bahamabanker.co

www.bahamabanker.org

www.bahama-banker.net

www.bahama-banker.org
Owner: "Herald Beckman"
Created in: 2016
Price: $250 
Ranking: 1/10
.
---
If you're sick of scams, check out my 1st resource to make money online here!
---
.
What is Bahama Banker?
---
Bahama Banker is a binary options trading system created by a so called banker named Herald Beckman, who says that he's going to show you the most guaranteed and safest method to make money online.
He claims that his software is completely free and does all the hard work for you. Don't you think that this sounds too good to be true?
He then starts telling you that he got to know about the Bahama Banker software because one of his clients asked him for help to funnel $22.5 million in a week, what I believe is not possible to make in such a short amount of time.
He claims that software has a winning rate of 96.1% and it will work automatically for you, using high-frequency trading strategies in order to place "only winning trades on your behalf". 
I believe everybody would be using this software to make money if it was true that it always wins trades.
.
Why I don't consider Bahama Banker a legit opportunity
---
After having watched the Bahama Banker 2 sales videos (the main page video and the video you can watch after entering your email) and having looked for details in the main page, I was convinced it was a scam.
I'm about to show you some snapshots of the videos and proofs that this system is just another of those binary options scams.
.
Get-rich-quick system
---
He claims that you can make from $15,400 to 25,800 just with a couple of clicks. This sounds so unrealistic because making money online is not magic and not done by clicking a few buttons. 
Don't get me wrong, it's possible to earn $15K or more in a month, but not how "Herald Beckman" claims. Hard work and dedication are some of the essential factors required to make money online.
If it was that easy to make $15K or more, everybody with an Internet connection would be rich by taking advantage of this software.
.
Those fake testimonials
---
As you can see, this guy who appears in the video saying that Bahama Banker has made him like $800 a day, is the same guy who can be found in Fiverr by the username of kylebrauch.
He's an actor that sells his services for prices like $5, so the real creators of Bahama Banker paid him to do a video telling how Bahama Banker changed his life for the better, a false claim.
.

I also searched for that testimonial image on Google and found out that it can be found on LinkedIn by the name of Travis Connors. This just shows that the Bahama Banker scam artists stole that picture and made up the whole thing.
.
Fake bank account screenshots
---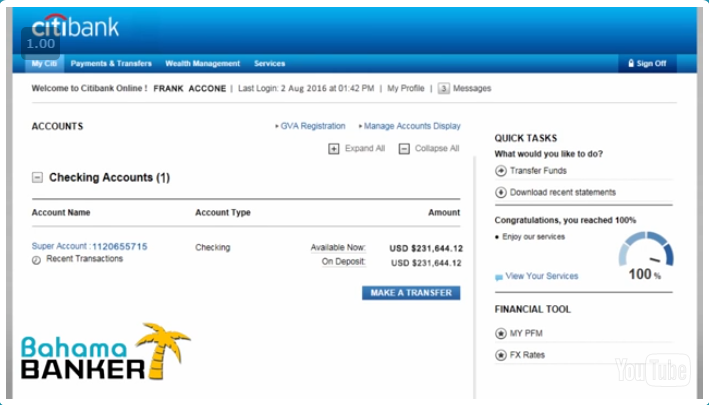 As you can observe, the bank account balance date is August 2nd 2016, but the domain bahamabanker.com was registered on December 2016, a later date. I don't think it makes sense that the system was already working before the domain was registered, so the bank account balance picture is simply photoshopped.
.
The hype
---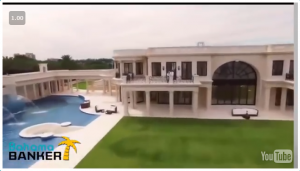 The promo videos are full of pictures of mansions, yatchs, luxurious places… This is a very common tactic between scam artists and they just show these kind of pictures to make get you excited and believe that you can have that lifestyle by joining their crap.
.
Other shady stuff
---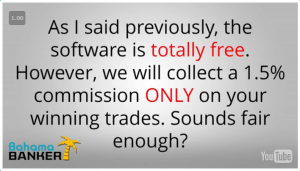 See how he contradicts himself? He first says that his software is absolutely free but then he tells you to fund your trading account with at least $250, the minimum requirement to start trading. 
This is when the scam comes to play. As soon as you invest the $250, their recommended broker will take your money and pay a commission to the Bahama Banker's creators and whole team (a.k.a. the scammers).
You'll be the only one who will lose money and they won't even let you make any kind of withdrawal. They'll try to incite you to invest more instead.
.
See how they urge you to join? They want you to feel like this is the only chance you have to make money online just to get you to sign up and then fund your account so they can steal your money.
.
My final verdict and recommendation
---
My advice for you is that you avoid Bahama Banker at all costs, because you'll waste your time and money and will get upset and frustrated otherwise.
We've seen proofs that everything about Bahama Banker is fake and designed to put your money in the fraudsters pockets.
This scam software is no different from other binary options scams like Profit Maximizer and Dubai Lifestyle App. 
What these scammers do is to prey on people's dreams and hopes of making money online while having a luxurious lifestyle in a short period of time. Unfortunately, unexperienced people and newbies usually fall for these kind of scams in their attempt to earn money online, and then is when people start getting discouraged and think that it's not possible to earn money online.
Let me tell you that generating an income online is definitely possible, but it will take you hard work and dedication as I mentioned before in this review. 
If you're really serious about building a digital business or improving your financial situation, I highly recommend that you check out Wealthy Affiliate, an online business platform.
You'll be taken step by step through task-based courses and training, and you'll receive support and help from the owners and the members (included myself 🙂 )!

.
I hope this review has been useful to you, hopefully I've helped you find the truth about it and saved you some money and time.
Please feel free to share this review on social networks so more people get to know about this scam and avoid it.
If you have any questions or opinions about this fraud, other scams or anything related to making money online, don't hesitate to leave a comment below. I will be more than happy to connect with you 😀 
Thank you for dropping by!