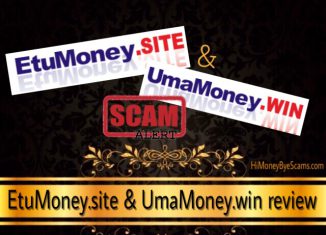 Hey everyone,
I've recently come across many websites that look similar and it turns out they all are scams. Two of them are EtuMoney.site and UmaMoney.win.
If you have come across one of those sites, I'm glad that you're doing your research and have landed on this post because here you're going to find out the truth about them.
Here in this review, I'm going to show you what these sites are really about, how they try to scam you and more.
.
EtuMoney.site and UmaMoney.win review
---
Name: 
EtuMoney.site

UmaMoney.win
Websites:
etumoney.site

umamoney.win
Owners: Hidden 
Created in: April 2018
Price: Free to sign up
Overall Rating: 0/10
.
---
If you're sick of scams, check out my 1st resource to make money online here!
---
.
What are these money-making sites about?
---
These websites are identical, the only difference is their name, but everything else is the same.
They claim that you can make money viewing ads and inviting others to join their site.
According to the information on both websites, you can earn 10 cents per ad view, so it doesn't seem difficult to make $100 per day.
If it was true what they say, you could easily view 1000 ads per day and that's enough to make 100 bucks daily.
The other way you can apparently make money is by getting other people to sign up through your referral link and earn 50% of their earnings. 
In my opinion, paying 50% of your referral earnings is way too much. I mean, are they going to take their earnings and give it to you? Where does the money come from?
This is something unheard of and the first thing that made me feel something was not right about these websites.
What about getting paid? In their homepage they don't say anything about the minimum payout threshold but they claim to make payments via PayPal, credit card, Western Union or bank account.
It's also free to join so what do you have to lose? Well, this is what makes it very tempting to try it out.
It sounds way too good to be true because the tasks you need to do to make money are easy and don't require much time to do.
But the truth is that these sites are not what they appear to be and they can make you lose more than you can imagine.
.
How they try to take your money
---
So how can they scam you if they aren't asking you to make an initial investment? These kind of scams might be hard to spot but they're still scams.
Okay, let's see how these sites really work.
In order to join, they will ask you to fill in a form with a username, an email address, a password and a number. 
Then you will get access to the members area and will see that you only need to type some numbers to confirm you've viewed the ads. You will see your balance earnings rise and rise, something that might lead you to believe you're making money.
However, don't get too excited because those earnings are fake. It doesn't even make sense that they paid you 10 cents just for viewing an ad. 
The truth is that they want you to believe that you're making money to recommend those sites to other people. 
Their goal is to collect as many personal details as possible and use this information to make money. That's why they want as many people as possible to register.
Then they will sell it all to other companies or con artists. So, if you have used your main email address to join one of those sites, you can expect to receive spam and junk emails from people you don't know. 
With that being said, let's see what happens when you claim your payment. 
You will have to choose a payment method and enter your information.
However, they will not let you make any withdrawal. You will see a message like the one in the picture below:
Therefore, if you try to reach the minimum payout threshold of $150, they will say that you need at least 40 referrals to cash out. They will tell you to buy those referrals and this is how they try get you!
If you buy those referrals, they will kick you out of your account and will not allow you to log in.
Once they have your money, they don't want anything to do with you so they will try to get away with it. That's when you will realize you've been scammed.
If you've fallen for it, I suggest that you get in touch with your bank and let them know that you've used your credit card in a fraudulent site.
They should be able to cancel the transactions and get your money back, and then cancel your credit card and replace it with a new one in order to prevent the con artists from charging you.
Click here to check out my top recommendation (FREE to get started)!
.
EtuMoney.site and UmaMoney.win scam signs
---
It's clear that EtuMoney.site and UmaMoney.win are scams, as I've explained earlier.
In fact, it's possible to determine they're scam sites without joining them because they have some scam signs and red flags that indicate they're not legitimate.
Now I'm going to point out some of these scam signs that you need to be aware of.
.
The comments are fake
---
Both sites have the same comments, something that makes no sense.
I mean, there's no way the same people have joined both sites. That's why it's clear that the comments have been written by the con artists who are behind these sites.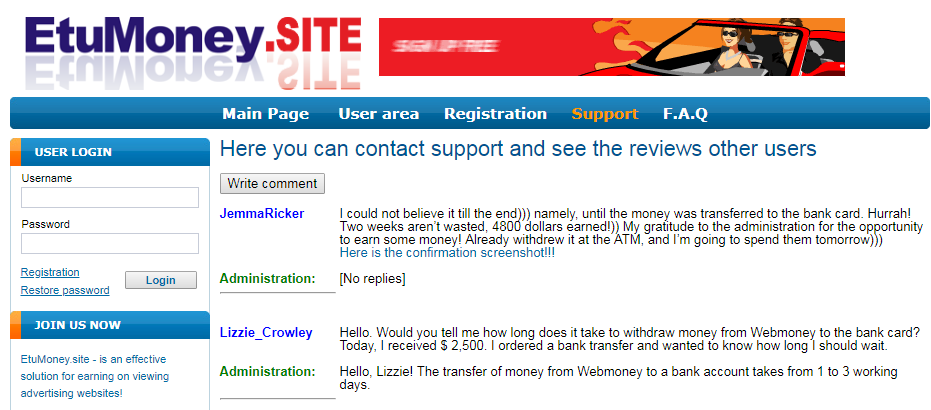 As you can observe above, the comments are exactly the same. Both sites look the same and the only difference is their name. They are almost clones.
All the comments are invented. They want you to believe that people are making money with that site but it's all fake.
Apart from that, they don't let you post a comment without signing up. This means that there's no support for non-members, which proves that they don't really care about our questions.
.
Who's running those sites?
---
There's no information about the people behind those sites. Well, I'm not even surprised that they don't show up because this is something that usually happens in scam sites.
Scam artists usually hide their identities in order not to get caught by their victims. They just want your money and information and that's it. They will never let you know who they really are.
.
Lack of important information
---
Another indication that these sites are not legitimate is the fact that they don't provide any legal information. They have no privacy policy, terms & conditions or earnings disclaimer pages.
Those pages contain important information that you need to take into consideration in order to make an educated decision concerning a company or website.
Without revealing what they're going to do with the information you provide or what their rules are, we can reach the conclusion that their intentions towards us are not genuine.
.
Negative reviews
---
What about the experience other people have had concerning these sites? I personally haven't found any positive reviews about EtuMoney.site or UmaMoney.win.
In fact, I've only found negative comments from people who've tried them and haven't got paid.
The truth is that they will never pay you. No one who's tried those sites has got paid, so I don't recommend that you try them out. 
.
The truth about making money online
---
I highly suggest that you stay away from UmaMoney.win and EtuMoney.site because they're not going to benefit you in any way.
If you're using one of those sites, I recommend that you stop sharing your referral link and stop wasting your time on them.
The people who run those sites only want to profit at your expense, which is very unethical and unacceptable.
When it comes to making money online, you need to keep in mind that this is not easy or fast. If it happened to be easy, don't you think everyone would have made an online fortune already? 
So that's it. Sites and platforms that claim you can earn easy cash without doing much work end up being scams. 
If you're serious about making a full-time income online, it's best to build your own online business that makes you money for many years to come.
The business model I'm using is newbie friendly and has show me a way to make a consistent income month after month. In fact, there are many people who are earning money using this exact business model.
I love the fact that this business model makes it possible to generate passive income while helping other people. You can also build it based on a topic you love, which makes the process more enjoyable!
With that being said, note that this will require you to learn, put in the effort and have patience because a profitable online business takes time to build.
But I can't find any reason why you can't do this if you have the right step-by-step training, marketing tools and are willing to work your butt off.
If you're interested in learning more (where you can find the training and tools that will help you build this business, as well as how you can get started for free), click the button below now:
This place where I got started back in 2016 and still very active today has a huge community of bloggers and Internet entrepreneurs you can interact with and ask questions to, so you can rest assured knowing that you're not alone in this!
I also let you know that I'll personally be there to help you and support you =)
I'm so excited to see you leave behind the scams and start building your online asset today!
LEARN ABOUT MY TOP RANKED PROGRAM NOW!
I hope you have found the answers you were looking for concerning UmaMoney.win or EtuMoney.site. 
If there's something else you want to know or you want to share your opinion, please feel free to leave a comment below. 
Best wishes 🙂