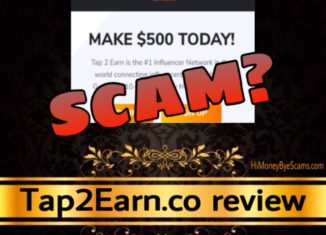 Welcome to my Tap2Earn review!
Have you been wondering if tap2earn.co is a scam or legit website? Can you really make $500 per day?
No matter the questions you have about tap2earn, you're in the right place because here I reveal the complete truth about this platform.
I have to tell you that I'm glad to see you have done your research because that's the way to avoid scams and find the real way to generate passive income online.
To be straightforward with you, this is not one of those Tap2Earn reviews where you will find a referral link. Here there are no referral links for various reasons that I'm about to explain.
My purpose with this post is to help you decide whether you tap2earn.co is worth your energy or not.
Tap2Earn review
---
Name: Tap2Earn
Website URL: tap2earn.co
Founders: "Henry Chaplin and Davis O'Brien"
Cost: Free (but it can end up being very expensive)
Best for: The founders
Recommended? No
---
If you're sick of scams, check out my 1st resource to make a 4-digit monthly passive income HERE!
---
What is Tap2Earn.co about?
---
Tap2Earn (found at tap2earn.co) claims to be the #1 influencer network that is connecting influencers to advertisers.
They claim influencers consider tap2earn to be the fastest and easiest way to earn money, but I personally haven't seen any influencer talk about Tap2Earn.
According to the information on the tap2earn.co website, you can make $500 today. It sounds amazing because many people would love to earn that money in a day, but is it realistic?
Making $500 per day is possible, but it definitely does not happen the same day you get started.
Another claim they make is that you can earn from $10 to $15 per referral. I've heard the same thing in other websites I have reviewed and all of them have turned out to be ugly scams.
Tap2Earn.co makes the process of earning money online sound very easy and fast because sharing referral links is something that anyone with basic computer skills can do.
So is Tap2Earn the ideal website for everybody to make an income online? I mean, most people in the world can join and start sharing their referral links.
After all, it's free to sign up, so what do you have to lose? Most people who join this kind of sites don't see any dangers because they're not being asked for money.
However, there are too many red flags that indicate Tap2Earn.co does not work as advertised.
Will Tap2Earn help you make money?
---
Tap2Earn.co only helps its owners make money. It wasn't created for people like you to profit.
If you sign up and try it out, it might look like you're making money because your Tap2Earn account balance grows and grows, not to mention that you will see "$25" after joining.
But the problem is that they will not allow you to withdraw it. They claim you need to reach a minimum payout threshold for the money to be sent to you, but they will never send you money.
The reason you see an amount of money in your tap2earn account is that this is something that can get you excited. It's definitely something that can lead you to believe that Tap2Earn works for you to make money.
It's just a trick that the owners are using to get you to share your referral link. If you believe tap2earn works, you'll share your referral link to get more referrals.
But the ugly truth is that it doesn't work like that. The referrals you get only help the owners of Tap2Earn make more money.
You see, it doesn't make sense to make $10 per referral if nobody pays to sign up. They claim to generate income with ads but do you see any ads on the tap2earn.co site? I personally haven't seen any ads. Do you see it would make no sense to pay $10 per referral?
It doesn't matter if you make money by referring others or if you complete the tasks they tell you because those tasks are not what they first seem.
They claim you can earn $30 per task but that it way too much because there's no way they earn $30 per task.
Those tasks are about downloading apps, taking surveys, filling out forms, giving away your phone number and other info…
The problem with these tasks is that they require you to install files that are filled with malware and viruses, which can harm your laptop or device you're using.
And that's not all! They require you to give away your number to get some text messages, which can cost you a lot of money.
If you don't want to pay for BS text messages and don't want to have the need to spend more money on a new phone or computer, I don't recommend that you try to complete those tasks.
After all, completing those tasks won't compensate you in any way. The only ones who make money with this it's the con artists who have created Tap2Earn, not to mention the unethical owners of the third party sites they want you to visit.
Sick of scams? Want to make passive income every day?
Check Out My FREE Earn Money Online Guide Here!
The real goal of Tap2Earn.co
---
So what does Tap2Earn.co want from you? If it's free to join, how are the owners making money?
Like I said before, the tasks they want you to complete make them money, so the more people who try to complete those tasks, the more money these con artists will make.
But that's not all! They also want your personal information to profit from it.
They allow you to sign up for free because this is how they can get a lot of people to sign up. Many people don't suspect tap2earn is dangerous because it's free to join, so there are many people who join without thinking twice about it.
When someone joins, the owners of tap2earn.co immediately collect your email address, name and password. So imagine the big amount of personal info they will get if many people join tap2earn.
The more information they store, the more money they can get. They will basically sell this information to other scammers and hackers, who will do the same. This is very dangerous because your information can fall into the wrong hands.
If many dodgy individuals get to have your personal information, you can be sure they will try to steal your identity, not to mention that they will also try to hack your personal accounts.
There are people who have fallen for other copies of this scam and they have had all the money from their bank account stolen.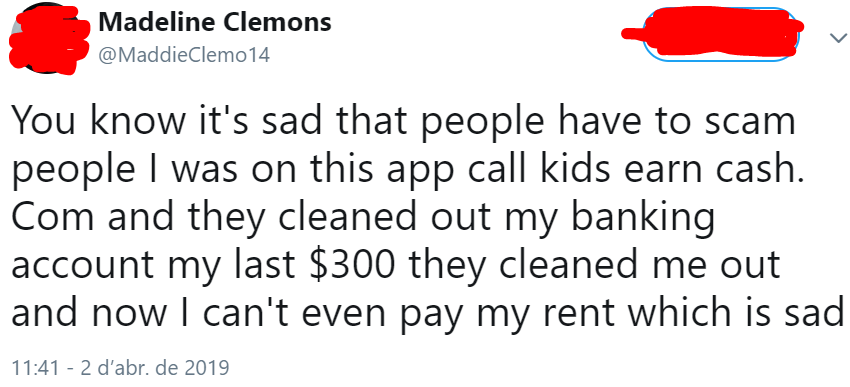 Who are Henry Chaplin and Davis O'Brien?
---
Henry Chaplin and Davis O'Brien are said to be the creators of tap2earn.co, but there's nothing to confirm it.
They don't provide any photos and they don't even provide you with any information about them. If they're influencers or are on social media, don't you think they would have social media profiles?
But there's nothing about them and I personally believe that those names are invented because of other red flags I have seen.
If Tap2Earn.co is that awesome, there would be information about its owners, but there's nothing about them. This is an indication that they are trying to hide the fact that tap2earn.co does not work for members.
The story of Tap 2 Earn is not real
---
Tap 2 Earn is said to be founded in 2013, but that's not true. It's not even been a month (as of this review) since it was created.
According to a reputable website called whois, the tap2earn.co domain name was created in September 10th 2019, as you can see here: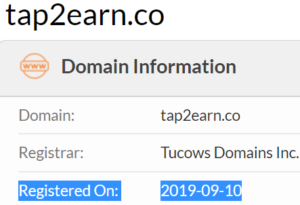 This is a valuable proof that exposes how fake the testimonials are. "Alissa" (I don't think that's her real name) claims to have joined Tap2Earn a year ago, but that's not possible because tap2earn didn't exist last year.
Sick of scams? Want to make passive income every day?
Check Out My FREE Earn Money Online Guide Here!
Fake video testimonials
---
Another red flag is the fact that the video testimonials are fake too. These people are not real tap2earn members and I know it because I have seen them in other scammy pages.
I have reviewed hundreds of websites & programs and I have concluded that the ones with fake testimonials tend to be scams that don't work.
Here you have the video from a fake testimonial:
This guy has appeared in other programs and scams I have reviewed. He sells his acting services on a freelancing website called Fiverr.
He has appeared in AZ Millionaire Method, PaidLeaf.co, Spring Profits… Below you can see his Fiverr gig:
If you search for tap2earn.co reviews, you won't find any positive review outside the tap2earn site. You will find YouTube videos of members who are promoting tap2earn, but the truth is that they haven't got paid.
These members are promoting tap2earn because they think they will get paid, but they will not. They don't even provide real payment proofs, so it's clear that they haven't made any money with tap2earn.
Another thing I want to point out is that the YouTube comments you can find in the fake testimonials videos are fake. Nowadays it's possible to create fake youtube accounts just to post comments on other videos. 
So don't let them fool you! These con artists do the most to scam people who are in need of money. Don't let it happen to you!
Will Tap2Earn.co scam you?
---
Tap2Earn.co is not a reliable website to make money online.
There are some people who will not call it a scam because it's free to join, but what's the point in joining if it doesn't work? Don't you see it as a waste of time?
I personally consider Tap2Earn to be a scam because of the fake claims, the lies, the fake testimonials, the fake payment proofs, the fake owners, the fake account managers (yup, they're not real)… Is there anything about tap2earn.co that is not fake?
There are too many websites like tap2earn that are trying to rip people off. For example, CloutPay, Paid4Clout, InfluencerCash, CashOG, MoneyChaser, CloutBucks, ReferralPay, ViralMarket… I have lost the count of the number of scam sites.
All these sites have the same claims: #1 influencer network, "make $500 today", $25 sign up bonus, $10-$15 per referral…
They're free to join and make making money online seem very easy. But the truth is that they all work the same way. When one of them gets exposed, the scammers behind it create a new one under a new name just to keep ripping people off.
If you have already joined Tap2Earn.co and are promoting it, you're free to decide what to do next.
You can keep promoting it or stop doing it if you're convinced it's not worth your time. Many people who fall for this kind of sites end up feeling guilty after finding out it's a scam that they have been promoting to their family members and friends.
I personally won't be wasting my time on it because it wouldn't benefit me in any way, not to mention that I would end up feeling bad for the people who join it.
In case you regret giving away your personal info, I recommend that you add extra protection to your personal accounts to protect them.
What you decide to do is up to you. I hope this Tap2Earn review has been insightful to you.
What about sharing legit links?
---
Instead of sharing scam links a.k.a. links to fraudulent sites, what if you spend your precious time on promoting links to legitimate sites?
If you bring traffic to legitimate websites, you can profit when other people buy products/services on those sites.
For example, you can drive visitors to Amazon and get paid commissions if someone purchases an item through your link. There are many websites like Amazon that will pay you to help them make sales.
Even if you're not good at selling, you can do this because your job is to send traffic to legit sites.
Different people around the world are using this business model to make passive income every day, so I don't see any reason you can't do it. If you believe you can, you will make it happen!
As long as you're committed to putting in the work and time, you can get results like this and even better: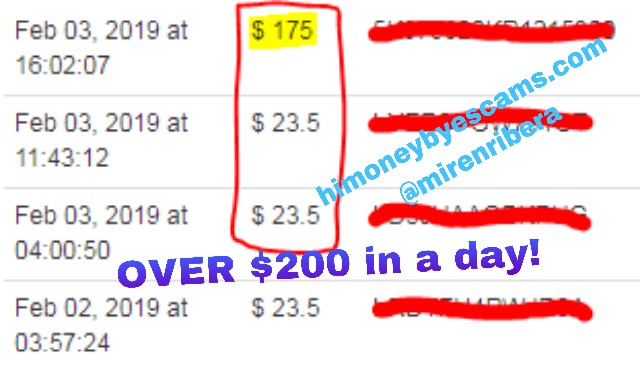 This is not MLM and it doesn't require you to recruit anyone. This is a newbie-friendly legit business model that allows you to make money while writing & talking about a topic you have a passion for.
If you're interested in learning how this business works step-by-step, I invite you to read my FREE guide here: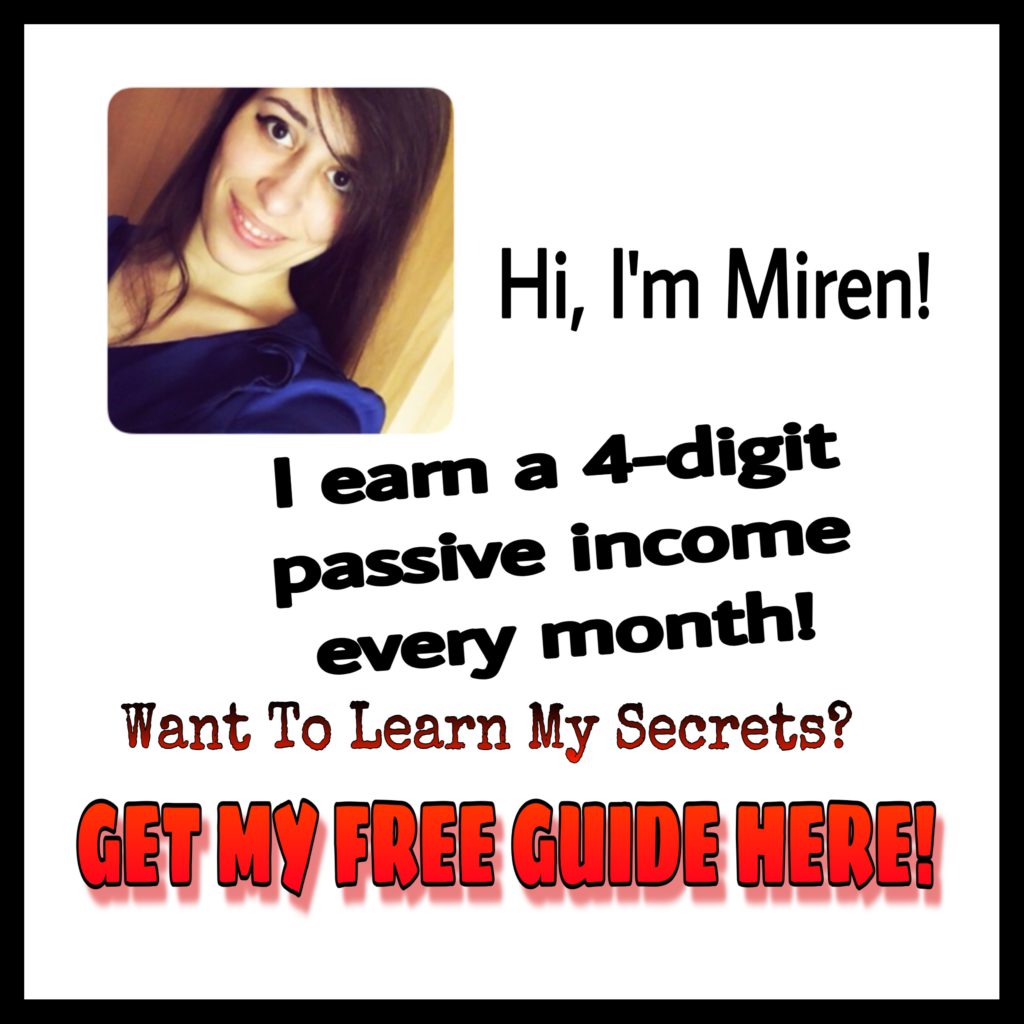 My guide is FREE (no login information required, just click here to start reading it), which means that you have nothing to lose and a lot to gain 🙂
Oh, and don't you worry if you ever get lost! I'm not like those scam artists because I show you who I am and I also tell you how you can reach out to me.
In my free guide you will learn how you can get answers to your questions and help from me and other like-minded people.
Stop wasting your time on data harvesting scams and get your online business started today!
I will leave this quote here:
If you want something you have never had, you must be willing to do something you have never done.
I hope this Tap2Earn.co scam review has been helpful to you and you will make the best possible decision.
Feel free to share it with whoever you believe that will benefit from it!
If there's something else you want to know or you have any questions or would like to share your experience, please leave a comment below. I love hearing from you all!
Whatever you do next, I wish you nothing but the best =)