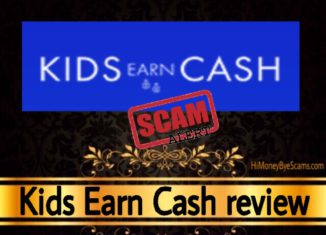 Welcome to my Kids Earn Cash review!
Are you wondering if kidsearncash.com is a scam or legit site that can help you make $500 today?
I'm happy that you are doing your own research and have found this post, since here you will find the complete truth about this program.
The Internet is full of fraudulent websites, so it's important to do your due diligence before getting involved with another money-making opportunity.
That's the way to avoid scams and discover the legitimate way to make passive income every day!
When it comes to Kids Earn Cash, I'm not affiliated with it so here you will not find any referral link. Here you will find nothing but the truth!
Kids Earn Cash review
---
Name: Kids Earn Cash 
Website URL: kidsearncash.com
Owner: Hidden
Price: Free to join
Overall Rating: 0/10
Recommended? No
---
If you're sick of scams, check out my 1st resource to make a 4-digit monthly passive income HERE!
---
What is Kids Earn Cash about?
---
Kids Earn Cash claims to be an influencer marketing platform that connects influencers with advertisers & brands like Apple, Amazon and Target.
They claim advertisers pay them to drive traffic to their products & brands, so people behind Kids Earn Cash apparently share some of their revenue with you for bringing traffic to kidsearncash.com.
All you have to do is to join kidsearncash.com for free, where you will find your referral link ready to be shared on chats, forums, blogs, social networks like Facebook & Twitter, anywhere you want.
When someone signs up through your link, they are supposed to pay you $10. The more referrals you get, the more money you can supposedly earn.
Apart from that, they claim to provide their members with the opportunity to get paid for trying new products & services found in their members area.
When it comes to getting paid, you have to reach the $150 minimum payout threshold and they claim to send payments via PayPal, Western Union, emailed checks, CashApp and more.
Overall, it sounds like an amazing money-making opportunity because anyone can do it. Don't you agree?
Anyone can join Kids Earn Cash, get a referral link and share it on social media! So is this the ultimate platform that is going to help everyone make money online?
I actually liked the layout of their website, it looks pretty professional and easy to navigate. But that didn't stop me from finding some red flags that are very common in scam sites. 
As someone who has reviewed hundreds of websites, I know what to look out for to determine if I'm in front of a legitimate or fraudulent website.
The moment I saw the Kids Earn Cash website, I thought it was legit until I read "Make $500 today!".
Claims like this one are very unrealistic and make Kids Earn Cash sound like a get-rich-quick scheme that doesn't work because making hundreds of dollars the same day you get started doesn't reflect how making money online works.
It makes it sound as if this was something easy or fast, when in reality it takes effort and time. 
Not only that, the websites where I have seen claims like that have turned out to be complete frauds, so whenever you read something like that, start suspecting. 
RECOMMENDED: Learn How I Make a 4-Digit Monthly Income Here!
The truth about Kids Earn Cash
---
Kids Earn Cash is nothing more than a website that only works for the people who have created it. It's not a platform that works for people like you who are looking to generate an income online.
That's the ugly truth. It first looks like an awesome opportunity to make money online, but the truth is that they will never pay you.
I know it's easy to get excited because after joining you get a $25 bonus and you can also earn $50 if you create a YouTube video about Kids Earn Cash.
However, you cannot request a payment until you have reached $150. So you cannot to get paid just for joining. 
Anyway, they will never send you the money, like I said. Kids Earn Cash does not work as advertised.
You see, it doesn't even make sense that they are going to pay you to get other people to join! Signing up is free, so where does the money come from?
Yes, they claim to work with brands like Amazon, Target or Apple, but this is not true. They are not working with any of these brands and this is something you realize after signing up. 
There are no ads or anything related to well-known brands like Apple or Amazon on KidsEarnCash.com, so they are not really working with them.
Therefore, it would make no sense that they paid you just to get other people to join because Kids Earn Cash is not getting paid when people sign up.
Also, they are not selling any products or services so how are they going to pay you $10 per referral? 
I know it's easy to think that you are making money when you see your earnings increase and increase, but once you have reached $150 and request your payment, they will not pay you.
Fake success stories
---
All the comments, "recent payments" and proofs are invented. People who have joined Kids Earn Cash are not getting paid, not even the people who have created those YouTube videos.
How do I know this is true? Well, some of the comments are said to have been written by people who joined in 2016 and 2017. 
But Kids Earn Cash didn't even exist in 2018! That's what I've found after searching for in on whois.com.
The domain name kidsearncash.com was registered last week (as of this review), which proves that the comments on their website are not genuine. They have been written by the con artists behind this scam platform.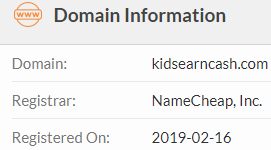 Lack of support
---
What if you have some issues regarding Kids Earn Cash? Is there someone you can get in touch with to get your questions answered?
As you can see, their FAQ page was not found:
Not only that, they don't provide any customer service and the email addresses they mention are fake!
I look for their email addresses on email-checker.net to see if they are real or fake, and the results was "bad", which means that they don't exist.
This is a huge red flag because it means that they don't want to hear from you. Companies or marketers who wanted to help you wouldn't lie about their contact information.
If you send them an email address, they will not receive it because those email addresses don't exist. So it's clear that they don't care about their members.
No information about the owners
---
Something that indicates a big lack of transparency is the fact that the owners don't show up and don't tell you anything about themselves.
There are no pictures of them and they don't mention any names, so there's no way to know who we are dealing with.
Just the fact that they are not honest about their contact information is enough for me not to trust them.
I have reviewed lots of websites and I have also realized that many of the websites with no information about the owners tend to be frauds.
Scammers usually don't reveal their real identities because that's how they can get away without facing the consequences of ripping people off.
RECOMMENDED: Check Out My FREE Earn Money Online Guide Here!
It's the same as other scams
---
KidsEarnCash.com is just another domain name that is being used to promote an old scam.
Some days ago this scam was under the domain name kidsgetmoney.co and last year it was called socialcash.club, cashoutapps.com, teensmakecash.com… 
You see, scam artists are constantly changing the name of this scam to prevent potential victims from finding honest reviews like this one.
They know that if you knew the truth, you wouldn't join that fraudulent platform.
KidsEarnCash.com scam – Final verdict
---
Kids Earn Cash a.k.a. kidsearncash.com is a complete scam because it doesn't live up to its promises.
The fact that it's free to join is something that can make you think it cannot be a scam, but scams come in all forms and sizes.
Just because a website is not asking you for money, it doesn't mean it's not a scam. A website that is full of lies and wastes your time can also be considered fraudulent.
In this case, Kids Earn Cash doesn't ask you for money but it's asking you for your time. They are basically using you to make money themselves.
Even though they are not getting paid when people sign up, they can get paid thanks to the personal information you provide.
They want to collect email addresses and sell them to other con artists or marketers, so you can expect to receive emails from people you don't know.
Also, if you provide them with other information like your PayPal email address, they could even try to access your account and steal your money. 
Because of this, I don't recommend that you provide them with any personal or financial information. It's clear that they only care about making money themselves and they don't really care about wasting other people's time, so there's no way I can trust them.
What they are doing is unethical and unacceptable, so I personally will not waste my time on kidsearncash.com.
After everything I have seen and explained, you can do whatever you want but my final verdict is that I do not recommend Kids Earn Cash.
Here's a genuine way to earn passive income every day
---
If you are really serious about making money online, you need to stop looking for ways to make easy or fast money and you also need to ignore anyone who claims to have the shortcut to success.
There are no websites or push-button systems that work. Most websites (not to say all) that claim you can earn hundreds or thousands of dollars within a short period of time are websites that were created to take your hard-earned money.
The moment I realized that, I stopped wasting my energy on these kind of sites and looked for other alternatives.
I'm grateful that I found a business model that has given me a way to make passive income every day. Passive income is the kind of money that you earn even if you are not actively working.
There are days that I have earned over $200, as you can see in the screenshot below: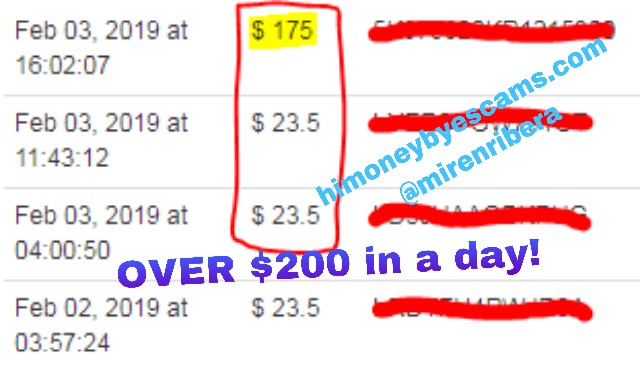 This business model allows you to make money from products or services that you personally love. You will be talking and writing about a topic you love, which means that you will get to have fun during the process!
This business model doesn't require you to recruit other people into the same website and it doesn't even require you to promote the same as everyone else.
To be frank with you, you will have to work hard to succeed. Just because this business is online, it doesn't mean it's easier than if it was offline.
Because of this, I believe this is not for everyone. This is only for people who are willing to learn, take action and get out of their comfort zone.
If you are the kind of person who's willing to do the required work, I invite you to check out my FREE guide here:
If you read my free guide until the end, you will learn how this business model works, how I got started, the 4-step method you can follow, real proof that this method works…
Also, I reveal how you can start today for free! The place I show you lets you check it all out without spending a dime. That's how you can determine if this business is right for you risk-free =)
In addition, you will be able to get my support and guidance so you are not alone in this new venture! You get the chance to get inside a community full of people who want to see you succeed 🙂
I love the feedback I have been getting lately. The message you can read below is from one of the thousands of people who decided to join me:
And now let me ask you: What's next for you? Will you keep wasting your time on fraudulent sites? Or will you get on the right way to make money online?
CHECK OUT MY FREE EARN MONEY ONLINE GUIDE HERE!
I hope this Kids Earn Cash review has been helpful to you and you will make the best possible decision.
Feel free to share it with whoever you believe that will benefit from it!
If there's something else you want to know or you have any questions, please leave your thoughts below and I'll get back to you ASAP!
Whatever you do next, I wish you nothing but the best =)