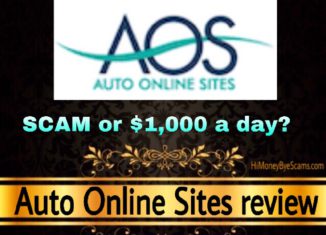 Welcome to my Auto Online Sites review!
Are you wondering if this is a legit system that can help you make $500 per day? Or is autoonlinesites.com a scam that will waste your time & money?
I'm happy that you have landed on this post because here you are going to find everything you need to know about this program.
Before answering your questions, I must congratulate you for taking the time to do your own research before making another purchase.
You see, the Internet is full of fraudulent websites that have the goal of getting your hard-earned money, so doing your due diligence is the way to avoid the ugly scams and discover the legitimate way to passive income online!
When it comes to Auto Online Sites, it's very similar to other systems I have reviewed, so I know how it works and here I am to reveal the complete truth.
Auto Online Sites review
---
Name: Auto Online Sites
Website URL: autoonlinesites.com
Owner: "Paula Shaffer"
Price: $97 + upsells
Overall Rating: 2/10
Recommended? No
---
If you're sick of scams, check out my 1st resource to make a 4-digit monthly passive income HERE!
---
What is Auto Online Sites about?
---
The second I saw the Auto Online Sites sales page, I thought this program would be very similar to other I have exposed in the past because the sales page looked very familiar to me, as if I had seen it before.
But I didn't want to conclude this was another scam, so I took the time to do my homework before coming to a final verdict.
According to the spokeswoman, "Paula Shaffer", you are one of the few lucky ones who have been invited to see that video.
This is something that I don't believe because that video is a YouTube video that already has 147 views, which means that multiple people are watching it.
She claims that she has created a website that will start making you money immediately, with just a few clicks.
Her websites are supposedly making her over $1,000 a day and now she's copying them to make you money. How generous of her, isn't it?
She even says that her websites are making you money as you watch that video lol. I couldn't help but laugh after hearing that claim because it sounds ridiculous.
I have heard claims like that in other sales video and they are always fake. They want you to believe that making money online is so easy and that you can get it without doing much work, just to lure you.
You see, if you had got paid to watch that video, you wouldn't be searching for answers to questions like "is Auto Online Sites a scam?".
It makes no sense that they are paying everyone who's watching that video. If what they say was true, then millions of people would be watching it right now.
Wouldn't you tell your family and friends that they can get paid to watch a video? I know I would lol. Lots of people would have already quitted their jobs, don't you agree?
"Paula" also talks about how the Internet is full of scammers & cheaters and how many people are failing to make money online.
She acts as if Auto Online Sites was different than the others, when in reality is the same as the other products that promise you the world and deliver little to nothing.
The whole sales video is basically about how easy it is to earn thousands of dollars online. The hardest thing you allegedly have to do is to check your account to see how much money is coming in.
RECOMMENDED: Check Out My FREE Earn Money Online Guide Here!
How Auto Online Sites really works
---
Auto Online Sites doesn't work like "Paula" says because it's not a system that can help you earn a lot of money within a short period of time.
The way it's marketed can make you think that you only need to activate this system and then the money comes into your account on complete autopilot.
Truth be told, you will not earn anything if you don't put in the effort and time. The Auto Online Sites sales page is pure hype and lacks a lot of important information.
Just the fact that they don't tell you how it works or what you are going to receive after making the payment is a big red flag.
Most programs that provide little to no information about how they operate tend to be poor quality or scams, and the truth is that Auto Online Sites is no different.
"Paula" says that everything is done for you and that when you make money, everyone in the network makes money.
Because of this, I believe that Auto Online Sites is not even the real name of the program they want you to get involved with.
I believe Auto Online Sites is basically a name they are using to hide the name of the real program and the reason they are doing this is because the real program is probably a high-ticket system that doesn't have positive reviews.
I looked for technical information about autoonlinesites.com and I found this domain name is on the same server as other websites I have reviewed.
You see, Auto Online Sites was created by the same people who created Clone My Sites, One Click PayDay, Your Easy Business, Profit With Our Sites and Instant Income At Home.
I've reviewed all these websites and I remember finding out that Instant Income At Home wasn't the name of the real program. It was a page that was used to funnel people into a done-for-you system called VSN Cash System.
Therefore, I believe that Auto Online Sites is also a page that is being used to get you into VSN Cash System or another done-for-you/high-ticket system.
These are the kind of systems that require massive recruiting to make them work. They are "done-for-you" because they give you the tools, the websites and the training that will help you recruit other people into the system.
So, everything they give you is about this system. They don't give you what you need to build your own business and they don't teach you independence, which is the main reason I don't like this kind of systems. 
Not only that, they usually require you to spend thousands of dollars on their expensive upsells!
That's right, the $97 initial fee is only the beginning. If you get involved, they will try to convince you to purchase other products that cost thousands of dollars.
Oh, and that's not the only cost. They usually recommend members to spend money on paid traffic to drive prospects to their landing pages, so promoting this system can cost you much more than you would expect.
Who is Paula Shaffer?
---
We are told that Paula Shaffer is the owner of this system, but I have my doubts because she's not transparent about who she is.
She doesn't show any picture of herself and she doesn't even tell us how we can get in touch with her. 
If she claims to help you make money, why can't she reveal her real identity? The fact that she's hiding who she is is something that makes me not trust her.
Not only that, last year (as of this review), I exposed another page like Auto Online Sites called Your Easy Business (I mentioned it earlier), which was also created by "Paula Shaffer".
She didn't show up in the other sales video either, so I believe that "Paula Shaffer" is not the real name of the owner of this product.
In my opinion, the sales video is presented by a voice actress and the people behind this system remain hidden, which makes sense because scammers usually avoid showing up in order not to get sued or persecuted by their victims.
Success stories are probably invented
---
Do you remember the written success stories that appear in the Auto Online Sites sales video?
In my opinion, they are not genuine success stories because there's no way to know they are real. They don't provide any link or any photo that can prove members are making money with this system.
Don't you think they would show some proofs if they had them? Just the fact that they are hiding information and lying to us is something that makes me not trust them.
If they have lied about the owner and how this system works, who says that they are not lying about the testimonials?
I have reviewed hundreds of products & websites, and it usually happens that the ones with fake/hidden owners have fake testimonials too.
RECOMMENDED: Learn How I Make a 4-Digit Monthly Income Here!
Is Auto Online Sites a scam?
---
The answer to the question "is Auto Online Sites a scam?" really depends on what a scam is to you.
One one hand, if you define a scam as something that takes your money for nothing, then Auto Online Sites wouldn't be a scam because you get something for your money.
On another hand, if a product or system that doesn't live up to its promises is enough for you to consider it a scam, then Auto Online Sites is a scam.
In my opinion, Auto Online Sites is not a complete scam because it's being sold through ClickBetter, which means that you can get a refund. 
However, high-ticket systems don't offer refunds for their expensive products, so this is still a risky business. 
After realizing how this system works, I concluded that making money with this system wouldn't be for me because this system requires you to give people false expectations.
You would have to send people to pages that promise they will make thousands of dollars overnight, which is unethical and cruel to the people who are in need.
This system wasn't created for you to make $1000 a day, not to mention that it was only created for the owners to make money at your expense.
In fact, at the bottom of the Auto Online Sites sales page, you can find this disclaimer:
As you can read, the typical buyer doesn't earn any money using their system. This is the opposite of what they tell you in the sales video, isn't it?
You see, they can promise you the world and then use the disclaimer to state the ugly truth. The reason the disclaimer is at the end of the page is to prevent you from noticing it. They hope that you will watch the sales video and immediately buy this product without doing your own research.
Even though it's possible to get a refund, I decided not to buy this product because it would be a waste of time. 
After everything I have explained, you can do whatever you want, but I have to conclude that I do not recommend Auto Online Sites.
Why done-for-you systems are not the right way to financial freedom
---
Some years ago, when I was getting started, I got involved with some done-for-you systems that required me to do massive recruiting, which is something that I was not comfortable doing.
I realized that done-for-you systems and recruiting schemes eventually ended up falling down, so they were not the way to go to generate a long-term online income.
Because of that, I looked for other alternatives and I'm glad that I learned about a legitimate business model that has been working for many years already.
This business model doesn't require you to recruit or sell the same system that other people are selling. You will not even have to purchase the products you want to profit from.
In fact, you will be able to choose between millions of products that are available online! Sounds cool?
You will get to enjoy the process because you will be talking & writing about a topic you are passionate about, so you will definitely not get bored!
I'm grateful that I discovered this business model because now I'm earning passive income every single day thanks to it. There are days that I have earned over $200, as you can see below: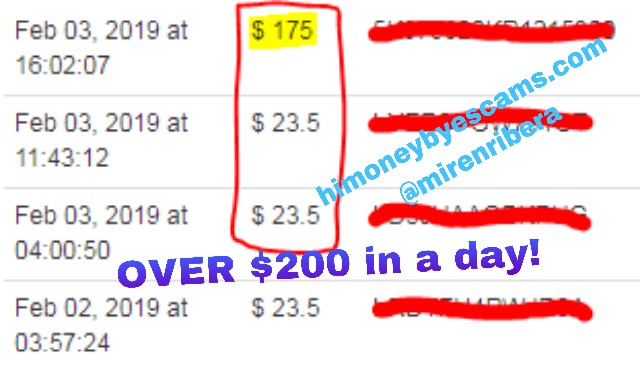 I want to be completely transparent with you, so I'm not going to say that you will make money without doing much work.
This is not a get-rich-quick scheme, this business is only for those who are committed to learning and taking action, so this is not for you if you need money fast or you don't want to make efforts.
If this sounds good to you and you are serious about making money online, I invite you to check out my FREE guide here:
If you read my free guide until the end, you will learn about the method I followed step-by-step, the reason this business works, real success stories from people who started from 0 (you will be able to read them)…
In my free guide I also reveal where and how I got started and how you can start today for free! The place I show you allows you to take a look at everything without spending a penny =)
Furthermore, you will be able to get my help and guidance, so you don't have to do this alone! You can even ask as many questions as you need because inside my favorite community there are thousands of like-minded people who are willing to give you a hand 🙂
I really appreciate the comments and messages I have been receiving lately, for example this one below:
And now let me ask you: What will you do next? Will you keep wasting your time on done-for-you systems that don't work? Or will you start your own online business today?
CHECK OUT MY FREE EARN MONEY ONLINE GUIDE HERE!
I hope this Auto Online Sites review has been helpful to you and you will make the best possible decision.
Feel free to share it with whoever you believe that will find it useful!
If there's something else you want to know or you have any questions, please leave your thoughts below and I'll get back to you ASAP!
Whatever you do next, I wish you nothing but the best =)