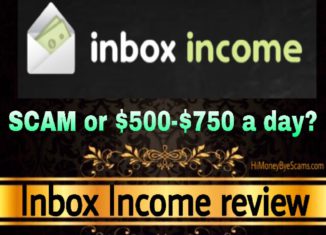 Will Inbox Income scam you out of your hard-earned money? Or will this system help you earn $500 to $750 per day?
If that's what you're wondering, you're in the right place at the right time because this review will show you all the truth.
Before answering your questions, I must congratulate you for taking the time to do your own research before taking out your credit card.
There are sooo many frauds out there, so doing your due diligence is the way you can avoid the ugly scams and find the legitimate way to earn passive income online!
When it comes to Inbox Income, the truth is that it's not as awesome as they told you so keep reading to see all the red flags and how this system really works.
Inbox Income review
---
Name: Inbox Income
Website URL: inboxincome.co
Owner: "Steve Allen"
Launched in: 2018
Price: $49 + upsells
Overall Rating: 1/5
Recommended? No
---
If you're sick of scams, check out my 1st resource to make money online HERE!
---
What is Inbox Income about?
---
The moment I landed on the Inbox Income sales page, I thought I was in front of another scam because it looked very similar to other scams I have come across before.
But I didn't want to only judge this system based on its appearance so I did my homework before coming to a conclusion.
According to Steve Allen, the spokesman, people who have tried this system earn thousands of dollars a week and only work half an hour a day.
That's something that made me feel something was not right about this program because it makes it seem a get-rich-quick scheme.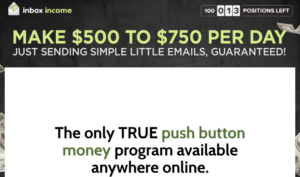 He says that he's going to show you how you can make $500-$750 a day for sending simple emails, which is allegedly only going to take you 25-30 minutes a day.
This is supposed to be a money-making system that doesn't require you to have any special skills or previous experience. So is Inbox Income the perfect system for everyone to earn lots of money online?
If it really works like Steve claims, anyone can earn money with this system because anyone can copy and send emails, don't you think?
Everything he says about this system sounds awesome, right? Wouldn't it be cool to make thousands of dollars doing something that you do every day? It definitely sounds like the system that's going to make all your dreams come true.
But I've personally heard the same thing in many scam websites I have exposed, and there's nothing that makes me believe Inbox Income is different from the others.
"Steve" basically tells you everything you would like to hear instead of what you need to hear.
I have reviewed lots of systems and programs like this one and I can say that Inbox Income belongs to the same collection of the following:
RECOMMENDED: Learn How I Make a 4-Digit Monthly Income Here!
How Inbox Income really works
---
Inbox Income does not work as well as "Steve" claims. This program really works for the people who have created it, not people like you who are looking to make money online.
The truth is that he only shows you a part of what you have to do, he does not mention everything you need to do before sending emails and making money. 
Before sending emails, you need to get subscribers to build your email list. Without a list, you don't have anyone to send emails to.
So how do you go about getting people to subscribe to your list? You need to set up an autoresponder in order to collect email addresses and and send automated emails to your subscribers.
In the sales video, "Steve" shows you how he sends an email to a list of 400 subscribers from Aweber. But he doesn't say how he built that list.
After that, you need a squeeze/landing page, which is a one-page website that you use to get people to enter their email addresses into a form. Anyone who fills out that form becomes your subscriber.
And then, you need to have a product or offer that you want to earn money from. This is the product that you will promoting within your emails.
According to "Steve", after you copy & paste the emails and push "send", you get paid. But it's not really like that because this is not about getting paid to send emails, this is about selling products.
In other words, you can send out lots of emails to promote a product lots of times, but if no one buys that product, you will not earn a dime. 
That's why it's essential to build a list of targeted subscribers, and this is something that takes time and work. So if you don't have a big high quality email list, it's not possible to earn $500-$750 a day in a short period of time after getting started.
I mean, if it were that easy, don't you think that most people would be already making this kind of money online? 
It's not risk-free!
---
Even though Inbox Income costs $49 to start, building this kind of business costs way more than that!
If you decide to buy this program, you will be bombarded with upsells because that's how this kind of products really work.
People behind these products want to earn way more than $49 per customer, so they will try to get you to spend as much money as possible.
Apart from that, you also need to consider some costs that "Steve" doesn't mention.
First of all, autoresponders like Aweber are not free so you will have to spend at least $19 a month to get started, and the more subscribers you get, the more you will have to pay to keep them all.
Second of all, you need to buy a domain name and pay for hosting. A domain name can cost you $11-$16, but hosting usually costs hundreds of dollars per year.
Third of all, there are multiple ways to bring traffic to a website, but depending on the kind of website, there are ways that don't work.
When it comes to a squeeze page, the way they are bringing traffic to it is by paying for traffic. So, in order to drive a lot of people to your page, you will have to spend hundreds and even thousands of dollars, which is not refundable and doesn't even guarantee that you will make money.
Because of that, I don't consider paid advertising to be for beginners or people who are on a tight budget. Free traffic methods are better for newbies, but this is not taught in the Inbox Income system.
You can also promote your squeeze page on social media, but if you don't have any targeted followers, you cannot expect people to sign up to your list. Building a list of targeted followers on social networks also requires you to invest time and money. 
Who's the real owner of this system?
---
We are told that the creator of Inbox Income is Steve Allen, but I personally don't believe it.
He doesn't show any picture of himself and doesn't even mention his social media profiles or how we can get in touch with him, so there's no way to confirm he's the real owner.
From my experience, I believe that Steve Allen is just a fake name and everything the spokesman says about him is invented.
If he had really created a great system, don't you think he would be proud enough to show his face? 
I have exposed lots of systems and have reached the conclusion that most websites whose owners don't show up are low-quality programs or outright scams. Scammers usually hide their real identities beause they don't want to get persecuted or sued by their victims.
Fake success stories
---
So, who has made money with Inbox Income? According to the sales video, people who have tried it are earnings hundreds of dollars a day only working 25-30 minutes.
But that's not true. Have you noticed that these testimonies only talk about how easy and fast it has been to make that kind of money? Have you noticed that they don't talk about their journey or the difficulties they have had to reach that level of financial success?
They act as if earning money online was easy or fast, don't you agree? This is something that doesn't make them seem genuine to me.
And the truth is that they're completely fake because they haven't even bought this program. They are Fiverr actors who have got paid to recite scripts given to them.
You see, these video testimonials cost $5 more or less, which is no big deal for the scam artists behind Inbox Income.
Just take a look at the undeniable proofs below: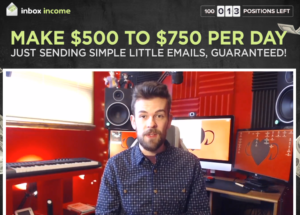 The con artists behind Inbox Income are the only ones who are making money with this program.
There are no real success stories and all the testimonials are fake, which means that there are no real members who are succeeding thanks to Inbox Income.
RECOMMENDED: Check Out My FREE Earn Money Online Guide Here!
It's promoted as a get-rich-quick scheme
---
Something that I don't like is the fact that this program is being marketed as a way to make hundreds of dollars easily and quickly, which is known as a get-rich-quick scheme.
There are lots of push-button systems like this one and they only work to make the scam artists richer. 
Apart from that, I don't like the kind of programs that they are recommending because they are from ClickSure, which is an affiliate network known for having scam/low-quality programs. 
So, the emails that "Steve" sends to his subscribers are about get-rich-quick schemes like Inbox Income. He's making money by ripping people off, which is unnecessary and so cruel to the people who get scammed.
He's not providing value to his subscribers, he's spamming them with BS "make money online" programs, and this is not a legit or sustainable way to build a business because when people realize that he's recommending programs that don't work, they will unsubscribe from his list.
That's why it's important to make sure that the products/services you send to your subscribers can help them.
Inbox Income scam – Final conclusion
---
Is Inbox Income a scam? If you're still wondering this, the answer really depends on your perspective.
There are people who might not consider this program a scam because they give you something for your money, even though they don't provide the kind of training that can help you earn the amount of money they say.
And there are other people who will call Inbox Income a scam because of the lack of transparency, the misleading claims, the fake testimonials…
In my opinion, Inbox Income is a scam because it doesn't live up to its promises. 
Oh, and I also want to point out what they state in the disclaimer found at the bottom of the Inbox Income sales page:
The typical purchaser does not make any money using this system
As you can read, the average buyer doesn't earn any money with that system, so they're basically telling us that Inbox Income does not work.
Apart from that, I wanted to point out "My Millionaire Mentor" because that's the name of a program that used to be a scam so I wouldn't be surprised that the owners of My Millionaire Mentor were the same people who are running Inbox Income.
Therefore, after everything I have shown and explained, I have to conclude that I do not recommend Inbox Income.
Your time to say bye to the get-rich-quick scams!
---
The way you can leave all the get-rich-quick schemes behind is by keeping in mind that building an online business takes commitment, effort and time.
You can ask any experienced marketer or anyone who's earning a substantial income online how long it took them to succeed and you will see that this is like anything worth achieving in life. Without working your butt off, nothing changes for the better.
So, forget about working 25 or 30 minutes a day if you want to reach your goals and make your dreams come true.
When I realized that, I stopped wasting my time on the "latest" and the "greatest" money-making systems. I'm grateful that I found a legitimate, newbie-friendly method that has been working for decades.
It's a method that doesn't require me to spend a dime to drive traffic to my affiliate offers and I'm earning passive income every day thanks to it, which is so cool.
This method actually allows you to build your online business based on a topic you love, so it's about making money while talking & writing about something you have a passion for =)
There's a lot to say about this business so if you're really committed to putting in the effort, I invite you to check out my FREE guide here:
If you read my guide until the end, you will see that there's nothing hidden! I talk about how I got started, the business model I use, the 4-step method I followed, real success stories, the main reason this method works…
Best part is, you will find how and where you can get started today for free! 
That's right, I'm not kidding, your free account will give you access to step-by-step training lessons and tools that will help you get your business started the proper way.
Furthermore, you also get the chance to receive my personal guidance and help so you can rest assured knowing that you're not alone on this 🙂
So what are you going to do? Will you keep wasting your time on scams or will you start building your online asset today?
CHECK OUT MY FREE EARN MONEY ONLINE GUIDE HERE!
I hope this Inbox Income review has been helpful to you and you will make the best possible decision.
Feel free to share it with whoever you believe that will benefit from it!
If there's something else you want to know or you have any questions, please don't hesitate to leave your thoughts below and I'll get back to you ASAP! 
Whatever you do next, I wish you the best =)