Will Auto Chat Profits scam you out of your hard-earned money? Or is autochatprofits.co a legit system to earn $423.67 a day?
If that's what you're wondering, let me tell you that you're in the right place at the right time because in this review you will find the complete truth about this system.
Before getting started, I need to congratulate you for taking the time to do your own research before investing in another money-making program.
You may already know that there are just too many frauds on the Internet, so you're smart for doing your due diligence. That's the way to avoid scams and find the genuine way to generate a substantial income online!
When it comes to Auto Chat Profits, it's not as amazing as they told you in the sales page, and if you decide to read this review until the end, you will find something that no one has told you before!
Auto Chat Profits review
---
Name: Auto Chat Profits
Website URL: autochatprofits.co
Owner: Hidden
Launched in: January 2019
Price: $37 + upsells
Overall Rating: 1/5
Recommended? No
---
If you're sick of scams, check out my 1st resource to make money online HERE!
---
What is Auto Chat Profits about?
---
The second I saw the Auto Chat Profits sales page, I thought it wasn't different than the other ClickBank products I have reviewed because of the high-income claims and layout.
But I didn't want to come to a conclusion without doing my homework, so I decided to watch the sales video and did intensive research.
The spokeswoman claims she doesn't know how you have found that private video, which already is a red flag to me.
I mean, that video is not private because anyone with an Internet connection and electronical device can access it. 
She says that this is something completely new and unseen that has enabled them to make money every single day.
It's a software that can allegedly build a done-for-you website to earn fast money as an affiliate marketer.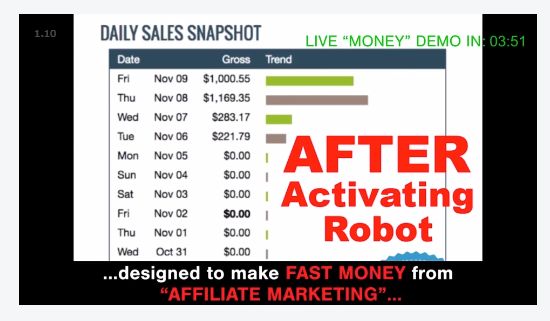 Just when I heard this, I thought it was not as awesome as she wants you to believe because there's no fast money to be earned on the Internet.
I personally earn a 4-digit monthly income with affiliate marketing, so I know how this business works and the truth is that it's not a way to earn quick cash. This is what any experienced marketer would tell you.
"Samantha", the spokesperson for Auto Chat Profits, claims this is the only set-and-forget software on the Internet that works, but I have my doubts about it because I've heard the same thing in other scam videos.
Everything she says makes this software sound awesome, but the truth is that it's too good to be true. 
I mean, how is she going to give you a free license to use this software? She wants you to believe that this is free to get you to watch the sales video until the end.
And then, at the end of the video you realize that this system is not free at all.
She also shows some income screenshots to prove that they know how to make lots of money online, so that you can trust them.
But the fact that they know how to make money online doesn't mean that we can trust these people because they don't prove if they have earned that money honestly or deceiving people.
After watching the full sales video, I got an idea of how this system really works and the truth is that it's no better than these other systems I have exposed:
RECOMMENDED: Learn How I Make a 4-Digit Monthly Income Here!
How does Auto Chat Profits really work?
---
I hate to be the bearer of bad news, but the truth is that Auto Chat Profits doesn't work as advertised.
If you decide to give it a try, after paying $37 to get started, you will get access to the members area.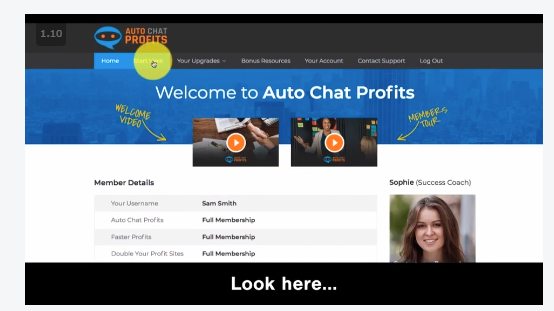 In the members area, you can find videos and instructions on what you have to do to get started:
Create a ClickBank account (if you don't have one)

Type your ClickBank nickname into the software

Choose a name for your website

Sign up to an email service

Copy and paste a piece of text to connect your email service account to the software
Once the site is built, you have to drive traffic to it and then the chat bot will start talking to your visitors.
The chat bot will ask your visitors what they're looking for and then it will match them with some ClickBank products that meet their requirements.
If your visitors purchase one of those products through your affiliate link, you will earn a commission. Also, the chat bot will ask your visitors for their email address, so you will be able to send them emails concerning the products you want to sell. 
It doesn't sound hard to do this and it actually looks like a method that could work for you to earn affiliate commissions.
However, I looked into some details and realized that this is not as awesome as it first seems.
Problems with Auto Chat Profits
---
Let's see some things you need to take into consideration:
You don't own your website
The done-for-you website built by the Auto Chat Profits software is not good for the long-term because it has some limitations.
It's a website that you don't own, so you don't have any control over it, which means that relying on it for the long-term wouldn't be a smart decision.
If your goal is to earn money for the short-term, a website like this might not seem that bad. But if you're looking to build a long-term business, then this is an issue.
Just the fact that you cannot choose your domain name is a big red flag because it means that you are not the owner.
So, the done-for-you website built by Auto Chat Profits is owned by the creator of this software, which means that you depend on what he/she does.
Domain names are usually renewed every year, so guess what it will happen if the creator of this software decides not to renew it? You will be left with nothing! You will no longer be able to earn money with this website.
Because of this, I don't believe that having a done-for-you website is the way to go if your goal is to earn money online for the long run. 
Note that most people (not to say all) who have built long-term online businesses own their websites. I personally don't know anyone who has succeeded with a done-for-you website.
Not all ClickBank products are good
The products that the software is going to recommend to your visitors are sold on ClickBank, which is known for being a marketplace where there are available products from all niches.
However, there are products whose quality is poor and don't work, so these products are also going to be recommended because the software cannot separate the good products from the bad ones.
Like I said, you don't have any control over the website so you cannot prevent these products from being shown to your visitors.
If your visitors buy these products, you will earn some commissions, but when they realize that these products are not what they needed, they will not trust your website anymore.
Also, if your visitors ask for refunds, you could end up losing money. That's why it's best when you're in control of your website and can decide the products you want to earn money from.
It's definitely not a good idea to let the software do all the work!
The traffic method is not the best
Auto Chat Profits has some training on solo ads to drive traffic to the done-for-you website. 
Solo ads is about paying someone to promote your affiliate offers to their subscribers. This is a way to grow your email list and earn money when people purchase your recommended products.
The thing is, solo ads are quite expensive and don't guarantee that you will make money. So it's actually very risky.
You could spend $200 on 250 clicks and get little to no sales because not everyone who clicks on your affiliate link will buy the recommended product. Even if you get some sales, if the product is not good and customers want their money back, you could end up making less money than what you spent.
Apart from that, you also need to consider who you purchase solo ads packages from because not everyone delivers quality clicks. Some sources deliver bots, irrelevant or duplicate traffic that doesn't convert.
In my opinion, solo ads is not a great traffic source for beginners because many of the people who are getting started don't want to risk that much money, especially when there are methods to get free targeted traffic.
Auto Chat Profits scam signs revealed!
---
Apart from the fact that Auto Chat Profits doesn't work as well as they want you to believe, I want to point out a few red flags that you need to be aware of.
The real owner does not show up
---
We are told that the spokeswoman for the Auto Chat Profits sales video is named Samantha Smith, but that's not true because at the bottom of the sales page they state that they're using a pen name.
They don't provide any page or document where we can find who's the real creator of this program, which is a big red flag if you ask me.
If they have created such a great software, why don't they show up? Wouldn't they like to be recognized for helping a lot of people change their lives for the better?
The fact that they don't show up indicates that they are trying to hide something, which proves that they are not transparent.
I have reviewed lots of programs like this and have realized that products whose owners don't show up thend to be low quality or scams.
RECOMMENDED: Check Out My FREE Earn Money Online Guide Here!
Has anyone made money with Auto Chat Profits?
---
There are no real success stories from people who have used Auto Chat Profits, which doesn't surprise me to be honest.
Auto Chat Profits was launched some days ago so it's still too soon for people to report earnings. If you see someone promote this product without proofs that it works, you can be sure that that person is only promoting this product to make affiliate commissions.
There are some affiliates who don't really care if the products they promote work or not. Some only care about the profits they can generate.
I personally believe that the only ones who are making money thanks to this software are the owners. But they are not making money using this software, they are earning money selling it which is different.
Remember the ClickBank income proofs they show in the sales video? I noticed that they have earned that kind of money as vendors, not as affiliates.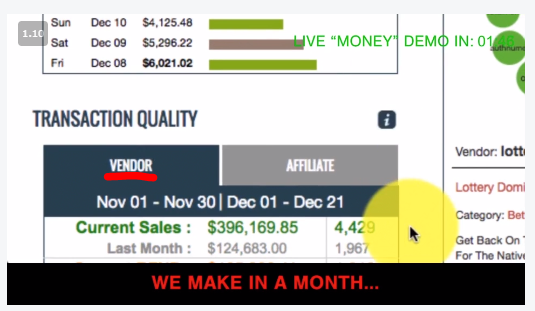 The fact that they haven't made that money using that software is something that tells me that it doesn't really work like they claim! 
I personally don't like the way they are trying to make money because I see it's unethical, since they are not being honest about what they're selling.
They're not honest about the price
---
The fact that they first say this is free is a huge red flag because it makes this program sound too good to be true.
First of all, it makes no sense that they gave a way a valuable system for free. If their system works that well, why don't they keep using it themselves?
And it doesn't even make sense that they are selling this software for only $37. 
The truth is that $37 is only the beginning of their sales funnel. If you decide to buy this product, you will immediately get bombarded with some upsells that cost hundreds of dollars.
Just take a look at their sales funnel below:
So there you have it. They will try to convince you to spend more than $500 on this system.
If it actually worked, there would be nothing wrong with this, but that's not the case. They are using deceit and lies to market this program, which is not ok.
My discovery: it's the same as Daily Cash Siphon and its partners!
---
Just when I saw the layout of the Auto Chat Profits sales page, I thought I had seen something similar before and I was right.
Auto Chat Profits has been created by the same marketers who created Daily Cash Siphon, Five Minute Profit Sites and Profit With Alex!
I remember writing reviews of those products when they came out and it turns out that they didn't work as advertised either because I received some comments & complaints from customers (you can read the comments by clicking on the name of each product above).
Not only that, those products were also advertised as free and they were also softwares that created done-for-you websites.
Just take a look at the similatiries between these 4 products: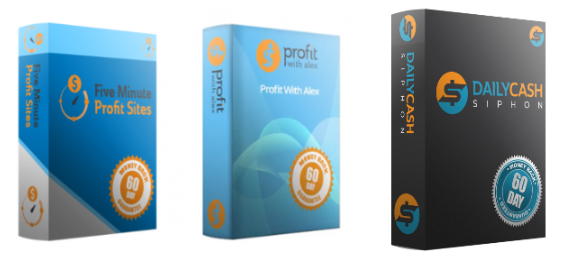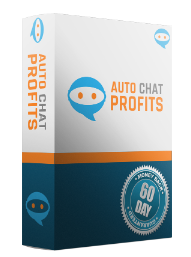 See how similar they are? They all have share the same colors (blue, white, orange) and have the 60-day money-back guarantee.
Conclusion on Auto Chat Profits
---
Auto Chat Profits doesn't work to make you money. It works to generate profits for the unethical marketers who created it.
So is Auto Chat Profits a scam? It really depends on your perspective. 
The misleading claims and the fact that it doesn't work is something that can make you think of Auto Chat Profits as a scam.
However, they provide you with something for your money and it's a product sold on ClickBank, which means that you can get a refund.
In my opinion, Auto Chat Profits is not a 100% scam because at least you can get your money back in case you buy it and don't like it.
I usually only call scams websites and programs that take your money for nothing, so Auto Chat Profits wouldn't be a complete scam.
With that said, do you think this product is worth your time? After realizing it doesn't work, I decided it was not worth my time.
If you are still skeptical and want to try it, you are free to do it. But note that you can't get back the time that you spend on trying to make it work.
Final verdict: I do not recommend Auto Chat Profits.
The way to build a long-term affiliate business
---
If your goal is to generate a long-term full-time income online, then I suggest that you forget about "done-for-you" systems or softwares.
When I realized that, I stopped wasting my time on this kind of programs and started building my own website, which makes me passive income every single day.
Like I said before, I make a 4-digit monthly income online with affiliate marketing, which is great because I can work anywhere I want as long as I have an Internet connection and computer.
The method I use is not as risky as Auto Chat Profits because it doesn't require me to spend a dime to get visitors to my site! Sounds cool? 
Also, I'm in control of the products or services being promoted and I'm not forced to promote ClickBank products that don't work.
You see, affiliate marketing allows you to build your business based on a topic you are passionate about, which makes the process more enjoyable!
I also want to be completely transparent with you, so I'm not going to say that this is super easy or that you can start making money within a short period of time.
This is only for people who are committed to learning and taking action. If you're ok with that, I invite you to check out my FREE guide here:
If you read my make money online guide until the end, you will learn how you can use affiliate marketing to build a business you own, the reason the method I use works, real success stories…
Best part is, I reveal how I got started and how you can get started today for free! 
Exactly, I'm not kidding, you don't need to spend a cent to make sure this business is for you!
Additionally, you also get the opportunity to get my personal guidance and help!
You see, you are not alone in this new venture because I show you a supportive community full of affiliate marketers who are willing to give you a hand.
I'm very happy with the messages I have been receiving. The message below is just one of those messages that make me smile:
So what's stopping you from getting started? Will you keep wasting time on useless done-for-you systems or will you start building your own affiliate biz today?
CHECK OUT MY FREE EARN MONEY ONLINE GUIDE HERE!
I hope this Auto Chat Profits review has been helpful to you and you will make the best possible decision.
Feel free to share it with whoever you believe that will benefit from it!
If there's something else you want to know or you have any questions, please don't hesitate to leave your thoughts below and I'll get back to you ASAP! 
Whatever you do next, I wish you the best =)