Welcome to my Money Looper review!
Have you come across this new system and are wondering if it's a scam? Or will it help you earn the kind of money that you desire?
First of all, congratulations on taking the time to do your own research! 
There are so many frauds online, so it's great that you're doing your due diligence. That's the way to avoid scams and discover the legitimate way to make passive income online!
Money Looper is not as awesome as they told you in the sales video, so here I am to show you how this program really works.
To be completely transparent with you, I am not affiliated with this system, so here you will not find any affiliate link.
Keep reading to find everything you need to know in order to make an informed, wise decision.
Money Looper review
---
Name: Money Looper
Website URL: copyhissuccess.com
Owner: "Mike Dee"
Price: $37 + upsells
Overall Rating: 1/5
Recommended? No
---
If you're sick of scams, check out my 1st resource to make money online HERE!
---
What is Money Looper about?
---
I received an email concerning Money Looper, so I thought I would check it out to see if it was legitimate or just another "too good to be true" system.
In the sales video, the spokesman claims he's going to show you how to an easy way to earn a huge automatic income.
He claims you don't need any previous experience or special skills to make this work for you. All you need is a computer or smartphone and only 5 minutes of spare time.
You don't even need a keyboard because all you need to do is click and tap on your smartphone. Sounds cool?
Well, that's what he says. But he's making it seem way too simple in my opinion.
He even says that if you have any doubts, he's going to pay you $70 at the end of the sales video, and he doesn't even need your money. So what's in it for him? Is he too generous that he's doing it for free?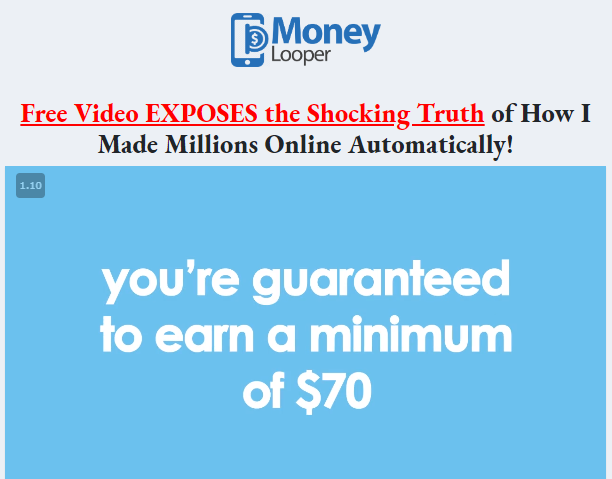 Honestly, I couldn't help but laugh when I heard that. It's not the first time that I hear something like this so I know it's fake.
Scammers usually make this kind of claims to get you excited, but you realize it's all fake once you have given them your money.
This guy keeps talking about how this is different from the other scams or BS systems that are being sold by selfish gurus.
He says that they're so rich because they're great at hype, but isn't this the same thing that the spokesman is doing?
I mean, he's also trying to get you excited, so why is he criticizing other con artists when he's doing the same?
The truth is that he's trying to lead you to believe that he hates scams, just so that you think that he's not going to scam you.
He also talks about his story, but I've heard other similar stories before so I don't believe what he says. More on this later.
So what is Money Looper? It's supposedly a system that allows you to easily find "money loopholes" and profit from them. 
Everything he says sounds amazing, so is this the system that will help you improve your finances? Is this your ticket to financial freedom? 
I'm sorry to say this, but this system is no different than the other systems that have been created to take your hard-earned money.
How Money Looper really operates
---
Money Looper only works for this guy to make money at your expense. This software system wasn't designed for you to profit.
The reason it doesn't work is because there are no loopholes or secrets that you can use to make money easily and fast.

What about the $70 he said that you would earn? At the end of the video he says that he's going to use $70 to cover your initial fee, but this is nothing more than a marketing tactic to "get" you.
He wants you to believe that he's giving you something super valuable for only $37. But if you buy it and get inside, you realize it's not what they told you.
It's a rehashed program!
---
Money Looper is nothing new! I knew I had watched a very similar sales video before so I did some research and found that it's a rehashed program.
You see, the real program is called "Mike Dee Rich Janitor", and the reason they've changed its name is to prevent potential victims from finding honest negative reviews like the one I wrote.
Mike Dee Rich Janitor came out in 2009-2010, so it has existed for more than 8 years! 
In my opinion, it hasn't been updated because the sales video they're using to market it it's the same. That's what I realized after seeing that they show ClickBank earnings screenshots from 2009:
If you end up buying Money Looper, you're going to get outdated training and a method that doesn't work anymore.
This program is focused on affiliate marketing, which consists in earning commissions for helping other people/companies sell their products.
It's a business model that I personally use to make a 4-digit passive income every month, so I'm familiar with the way this business works.
When it comes to Money Looper, you get an article generator that is said to create articles for your website. That's why the spokesman says that you don't need a keyboard.
These articles contain good keywords, which help get them ranked in search engines like Google and Yahoo.
Once you have your articles ranked, people will find them and click on them. If they read these articles, click on your affiliate links and purchase the recommended products/services, you will earn a commission.
So what's the problem? Why won't this work?
The number one reason this doesn't work is because the articles will not get ranked! 
You see, the articles created by this article generator are not unique or original because this article generator grabs content from other websites. 
Nowadays, websites with copied content are not liked by search engines, so they don't get ranked. That's the main reason Money Looper doesn't work.
If you build a site with this software, you cannot expect to earn any money because your site will not get ranked, which means that it will not be seen by anyone! That's why it will not make you money.
When it comes to the training, it doesn't go over everything you need to know to build a profitable affiliate marketing business. Not everything is bad but they don't teach you important things like creating unique and valuable content for your website.
Because of everything I have explained, I conclude that Money Looper does not work.
RECOMMENDED: Check Out My FREE Earn Money Online Guide Here!
Mike Dee or Mike Thomas?
---
I personally believe that the spokesman doesn't reveal his real name.
He claims to be Mike Dee, which is the same guy who created Rich Janitor. But I even doubt that's his real name.
I mean, how can I trust someone who doesn't show up? How can I trust someone who is hiding the real name of this program?
Not only that, at the bottom of the page you can read "Mike Thomas is an abbreviated pen name", which makes me wonder who's Mike Thomas because they don't mention him in the sales video.
So, Mike Dee or Mike Thomas is not the real name of the owner of this program.
The fact that he doesn't show up is an indication that this program is not as good as advertised.
Scammers usually hide their identity to avoid getting sued or persecuted by those innocent people they rip off.
Only $37?
---
We're told that this system only costs $37, which is something that can lead you to believe that you only need to spend $37 to start making money.
However, the truth is that you will be bombarded with some upsells if you end up buying it. Products like this usually come with upsells that cost hundreds of dollars, which indicates that the main product is not as good as portrayed.
A complete product wouldn't need any upsells, in my opinion.
You need to keep in mind that these scam artists will try to get in touch with you to convince you to purchase whatever they want.
They never limit themselves when it comes to the amount of money they can make, so it's clear that they will try to get way more than $37 from you.
Lack of legal information
---
If you scroll down to the end of the Money Looper sales page, you can find a bottom menu.
I wanted to know their terms and their privacy policy, but when I tried to access these pages, I got redirected to the Money Looper sales page again.
In other words, they don't provide any terms or privacy policy pages, which is a huge red flag.
I have noticed that websites that don't provide any legal information tend to be websites that were created for data collection.
So I believe that the owner of Money Looper wants to collect email addresses and use them for profit.
Con artists usually sell email addresses and other personal information to other companies or scammers. That's why, if you provide them with your main email, you can expect to receive lots of spam and unwanted emails.
RECOMMENDED: Learn How I Make a 4-Digit Monthly Income Here!
Is Money Looper a scam?
---
If Money Looper is a scam or not really depends on your perspective.
If you take into account that you get something for your money, then you might not call it a scam.
But if you consider that Money Looper is a rehashed program and that what you're going to get doesn't work, then it's fine if you call it a scam.
I believe many people will call it a scam because it doesn't live up to its promises.
Something good is that Money Looper is being sold on ClickBank, which means that you can get a refund.
However, I personally wouldn't buy it because you might have trouble getting your money back.
Rich Janitor, the actual program, got unauthorized from getting sold on ClickBank so I wouldn't be surprised if the same happens to Money Looper.
Apart from that, Rich Janitor has had lots of complaints over the years so that's another reason why I cannot trust Money Looper.
Customers usually complain about not getting their money back and not getting any support, which proves that the owner/s don't really care about their customers.
Because of everything mentioned, my final verdict is that I don't recommend Money Looper.
Other products that you need to stay away from are the following:
The key to making a full-time income online
---
In order to generate an income online, you need to keep in mind that you will need to put in the effort and time to make it happen. 
Nothing worth achieving in life comes easily, you need to make efforts to achieve your goals. 
When it comes to making money online, it's also important that you learn from a program that keeps getting updated and improved. That's the way you will not waste time on methods that no longer work.
Building an online business to the point where you're making $5,000 a month or more is completely possible, but you definitely need to do a lot of learning and take action.
If you're committed to doing what it takes, then I encourage you to check out my FREE step-by-step earn money online guide here:
By clicking the button above, you will learn what method I use to make a 4-digit monthly income, the reason this method works, proof that this business works…
But that's not all! I also show you how and where you can start today for free!
Isn't it cool the fact that you don't need to spend a penny to check out everything and decide if it's right for you?
In addition, you also get the chance to receive free help and guidance from me and other like-minded people!
You can finally rest assured knowing that there's always someone willing to give you a hand =)
The comments and messages I have been receiving lately make me very happy. This one you can see below is one of them:
So what about you? Will you keep wasting your time on outdated programs & scams? Or will you follow the right path to build a long-term business online?
CHECK OUT MY FREE EARN MONEY ONLINE GUIDE HERE!
I hope this honest Money Looper review has been helpful to you and you will make the best possible decision.
Feel free to share it with whoever you believe that will benefit from it!
If there's something else you want to know or you have any questions, don't hesitate to leave a comment below and I'll get back to you ASAP! ? 
Whatever you do next, I wish you nothing but the best =)