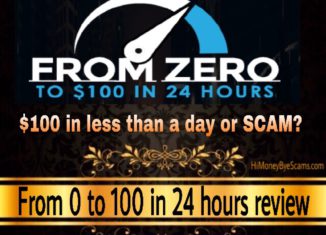 Will From Zero to $100 in 24 hours scam you and waste your time?
Or is this program going to help you generate the kind of income that you desire?
First of all, congrats on doing your own research before buying into another money-making program!
As you may already know, there are too many frauds out there so doing your due diligence is the key to avoid scams and find the real way to make passive income online!
When it comes to From Zero to $100 in 24 hours, it's not as great as it sounds and this honest review is going to prove it to you.
Here you will find the truth about this product, how it really works and everything you need to know to make an informed choice.
From Zero To $100 In 24 Hours review
---
Name: From Zero To $100 In 24 Hours
Website URL: 0to100in24hrs.com
Launched in: November 2018
Owners: Jono Armstrong & Brendan Mace
Price: $12.95 + upsells
Overall Rating: 6/10
---
If you're sick of scams, check out my 1st resource to make money online HERE!
---
What is From Zero To $100 In 24 Hours?
---
The moment I landed on the From Zero To $100 In 24 Hours sales page, I thought it was another product like the ones that overpromise and underdeliver.
In the sales video, Jono claims he's going to show you how to earn money fast starting today.
He says that you don't need any previous experience or special skills to make $100 in less than a day. Sounds cool?
The sales video is even different than the ones I've watched before, it kind of seemed like a movie lol.
What I didn't like is the fact that Jono doesn't exactly explain what this system is about or what you will have to do to make money.
This method doesn't require you to build a website, build an email list or sell your own product. That's what we're told.
But like most products, these sales pages don't mention what they're really about. 
This is actually a red flag because not knowing what you're getting or what actions you need to take to earn that money, doesn't help you determine whether or not this method is for you.
The whole sale page is very similar to other overhyped sales pages, since they tell you that this method will help you make money faster without doing much work.
It actually sounds like the typical get-rich-quick scam, in my opinion.
So is this as good as they want you to believe? Will you make $100 in less than 24 hours?
RECOMMENDED: Check Out My FREE Earn Money Online Guide Here!
How From Zero To $100 In 24 Hours really works
---
From Zero To $100 In 24 Hours is about making money with affiliate marketing.
I'm very familiar with the term "affiliate marketing" because it's a business model that I personally use to make a 4-digit monthly income online.
If you've never heard of it, as an affiliate marketer your job is to promote other people's products/services and earn a commission per sale.
There are various ways to use this business model, so depending on the way you use it, you can make more or less money.
In this case, From Zero To $100 In 24 Hours will teach you to promote affiliate offers/products through YouTube videos.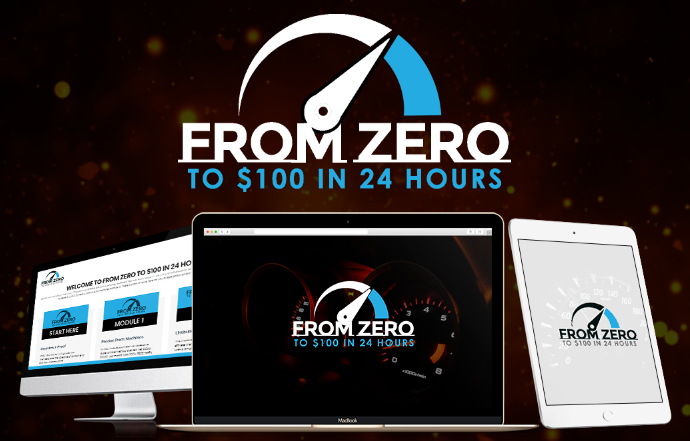 This method is simple and it's being used by many marketers all around the world.
The thing is, YouTube is one of the greatest platform that you can use to drive traffic to your offers. 
So you will learn how to find affiliate products to promote, create YouTube videos and rank them to get traffic.
It's only for the "make money online" niche
---
Something I don't like is the fact that they only show you to find "make money online" products to promote.
I understand that it's easier for them to show you this because that's what the creators of this course are doing to make money themselves. They're promoting this kind of products as affiliates.
They will tell you to join affiliate networks like JVZoo and WarriorPlus and promote the top products on there.
These products are not 100% scams but they're not high-quality products either, which is the reason I wouldn't feel comfortable promoting them.
The sales pages for these products are overhyped and make them look like get-rich-quick schemes, so I decide not to promote them.
Not only that, not everyone likes to promote or review "make money online" products because that's not their passion.
There are people who might get bored talking about these products, so this method is not for everyone.
Can you earn $100 in less than 24 hours?
---
It's possible to make $100 in less than a day, but if you're starting out it's not that easy.
I mean, you first need to acquire some knowledge and apply it, and there's no guarantee that it will go as planned.
You can create your first review video the day you get started, but then you need to rank well and make multiple sales to reach $100.
Even if your video gets a high ranking, it doesn't mean that you will make commissions because not everyone who watches it will buy the product you promote.
I believe it's kind of misleading to say that you can make $100 in less than 24 hours because that's not typical results.
Most people who start out don't make any money their first day or their first month, so saying that you can earn $100 in less than 24 hours is overhyped.
The upsells
---
Just like most Internet marketing products, From Zero To $100 In 24 Hours also has upsells and downsells.
In other words, they want you to spend way more than $12.95.
Let's take a look at their sales funnel:
Upgrade 1. Training on how to get free traffic.
Upgrade 2. Traffic for 365 days
Upgrade 3. DFY (Done-For-You) funnels
Upgrade 4. DFY campaigns
Upgrade 5. License rights that will allow you to sell "From Zero to $100 in 24 hours" as your own product.
Each affiliate can earn 50% commissions from all upsells. Well, if they buy the license rights, they can earn 100% commissions.
The material is good, but I don't like the fact that they're promoting this opportunity as if you only needed to spend $12.95 to make the kind of money they say.
When a product has upsells and downsells, it's clear that it's not as good as advertised because a "complete" product wouldn't need upsells.
I personally don't like the fact that they're not transparent when it comes to the total cost because knowing the amount of money you need to build this kind of business is important to determine if this is the right business for you.
RECOMMENDED: Learn How I Make a 4-Digit Monthly Income Here!
Will From Zero To $100 In 24 Hours scam you?
---
Whether or not From Zero To $100 In 24 Hours is a scam depends on your perspective.
If you buy this product thinking that you will make money fast, then you might feel ripped off because there's no guarantee that you will earn $100 in less than 24 hours, especially if you're starting out.
If you purchase it thinking of building your YouTube channel to promote "make money online" products, then you will find it helpful.
But I don't like the fact that the sales page is overhyped because it gives people false expectations when it comes to making money online.
Some people will think that this is a get-rich-quick scheme just because the sales page looks like other scam pages.
No matter the method you choose to earn an income online, it's never as easy and fast as many marketers want you to believe. 
Another thing I want to point out is that this product is not for everyone because not everyone likes to talk about making money online or showing their faces on camera.
There are people who would like to choose a topic they're passionate about to build their business, while others would like to write instead of talking.
Not only that, when it comes to building an online business, it's best not to put all your eggs in one basket.
In other terms, it's best not to rely only on YouTube to drive traffic to your affiliate offers.
That's something that they don't teach you in From Zero To $100 In 24 Hours.
So, even though it's not a scam, it's not a complete product either. That's why I conclude that I do not recommend From Zero To $100 In 24 Hours.
What about building a complete business?
---
If you want to earn a substantial income online for the long-term, then it's best that you don't put all your eggs in one basket.
You can build a YouTube channel to promote Internet marketing products, but what if one day your channel gets taken away from you? Your affiliate offers would stop getting traffic, so you would stop making money.
That's why I believe it's best that you have your own platform a.k.a. your own website, since that's something that you own so no one can take it away from you.
In case you don't like promoting online money-making products, you could build an affiliate marketing business based on a topic you're passionate about.
There are affiliate programs for all niches so you can choose between lots of products/services to promote.
The method I use allows you to drive free targeted traffic to your offers, so you will not have to spend a dime on paid advertising.
You will learn to build your site and find products that are relevant and helpful to your audience, no matter the niche you choose.
There's a lot to say about this method I use, so if you're serious about building your business, I invite you to check out my FREE step-by-step earn money online here:
In my free guide, you will learn the 4-step method I followed to earn a 4-digit monthly passive income online, the reason this method works, real success stories…
And best of all, you can start today for free! That's right, the place I show you allows you to start this business without spending a dime, so ensuring this is the right business for you is risk-free =)
In addition, you also get the chance you get my personal guidance and help!
Not only that, you also get access to a big community where you can ask questions knowing that there's always someone willing to give you a hand 🙂
I'm so happy with the feedback and messages I've been getting lately… Just take a look at the message below:
So what about you? Are you ready to follow the right path to start building a long-term business online today?
CHECK OUT MY FREE EARN MONEY ONLINE GUIDE HERE!
I hope this honest From Zero To $100 In 24 Hours review has been helpful to you and you will make the best possible decision.
Feel free to share it with whoever you believe that will benefit from it!
If there's something else you want to know or you have any questions, don't hesitate to leave a comment below and I'll get back to you ASAP! ? 
Whatever you do next, I wish you nothing but the best =)